15 Modern Switzerland Houses With Simple Designs and Gorgeous Views
Switzerland is famous for its beautiful landscape, especially in the Alpine region.
It has tons of gorgeous mountain cabins that take advantage of the amazing views and lots of stylish houses in general so today we're going to have a closer look at some.
We have a selection of 15 beautiful Switzerland houses, so let's go ahead and see what makes each one stand out.
Beautiful Modern Houses in Switzerland
Stunning Villa With A Curved Roofline Inspired
This is Villa Courbe, a contemporary residence designed by architecture studio SAOTA and completed in 2018. It has a large floor plan with undulating borders towards the back of the site. This is a fully glazed section with full-height windows that wrap around the spaces and expose them to the beautiful surroundings.
The roof has a sinuous shape and the walls curve and follow its outline giving the house an organic look and allowing it to more easily blend in with the landscape. The house was indirectly shaped by the topography of the land, the location and the views.
Long and narrow house with beautiful surroundings
This is a house designed by studio Ralph Germann architectes. It's 36 meters long and 6.5 meters wide and it takes inspiration from its beautiful surroundings. The grey exterior and simple shape help it blend in with the landscape, giving it a look similar to that of a large rock.
It has an eco-friendly design and part of the project was creating a wall that stabilizes and protects the slope, allowing the house to follow the organic lines of the hill and to occupy a site with gorgeous views. The interior is simple and modern, making use of neutral and natural colors and materials and always emphasizing the gorgeous panoramas.
Blackwood cladding
This is a structure that was designed and built by studio Daluz Gonzalez Architekten in 2017. The requirements were rather unusual. The owners wanted a house built with a small budget and in a short period of time and they wanted it to be inserted into a plot already occupied by a residence.
In order to achieve that, the architects looked for inspiration in the design of the main house which had curved walls and a semi-circular floor plan. Based on that, they designed a simpler and more modern box-like structure to go along with it. It has a black exterior and an eye-catching shape which gives it great expressivity. The house has 6.5 rooms and includes a concrete basement and two wood-clad floors.
Rustic barn style
In 2013 studio Beck + Oser Architekten took on a rather challenging conversion project. Their task was to preserve and transform a mill and its surroundings. They tried to mix the old and the new as best as possible and managed to create four duplex apartments which are all accessible from the courtyard.
Some of the spaces serve as common areas which are used by all residents and that creates a really nice sense of comfort and familiarity. Two of the apartments have their own garden spaces while the other two have balconies which overlook the lovely surroundings.
As far as the overall design and architecture are concerned, this ended up being an eclectic project defined by contrasting elements but with a common ultimate goal: to bring the building back to life and to take advantage of its location. (images by Börje Müller).
Large windows house
The Hemishofen House is situated on the bank of the Rhine river which of course offers a series of very beautiful views and opportunity to become closely linked to its surroundings. It was a team of architects from studio Dost who turned this into a dream home for its owners.
They gave the house a simple and modern aesthetic and they made sure to put an emphasis on the connection between the building and the surrounding nature. The exterior of the house is mostly covered in wood.
Of the two floors, the upper one is the most opaque and private, with the lower one being very transparent. In total, the house offers 151 square meters of living space which are distributed over two floors. The lower section is the living area and contains all the social functions, with the bedrooms being placed upstairs.
Warm and cozy Swiss home
Swiss houses are generally known for their simplicity but also for their ability to look and to feel super warm and cozy. That's exactly how we'd describe this lovely house designed by studio Wohlgemuth & Pafumi Architekten.
It features a simple outline with clean lines and geometric forms but underneath it all it's a very welcoming place.
This is a case where modern and traditional design elements blend together harmoniously and bring out the best in each other. It's built with very basic and common materials such as concrete, stone, steel and wood which gives it plenty of character but doesn't really make it stand out that much.
Villa Jonc
Villa Jonc is another really cool project from Switzerland. It's a set of three attached houses designed by architect Christian von Düring. This shared design was chosen in an effort to minimize the impact of the building on the surrounding environment and to show respect towards nature in general.
The shared design also has other advantages such as the fact that it encourages social interaction between the occupants and keeps the maintenance costs low. Each of the three houses has a separate entrance through a private courtyard.
At the back, a large garden is shared between all three houses. Although they're part of a single big structure, each one has its own individuality. The layouts are different and the interiors are customized in various interesting ways.
Concrete structure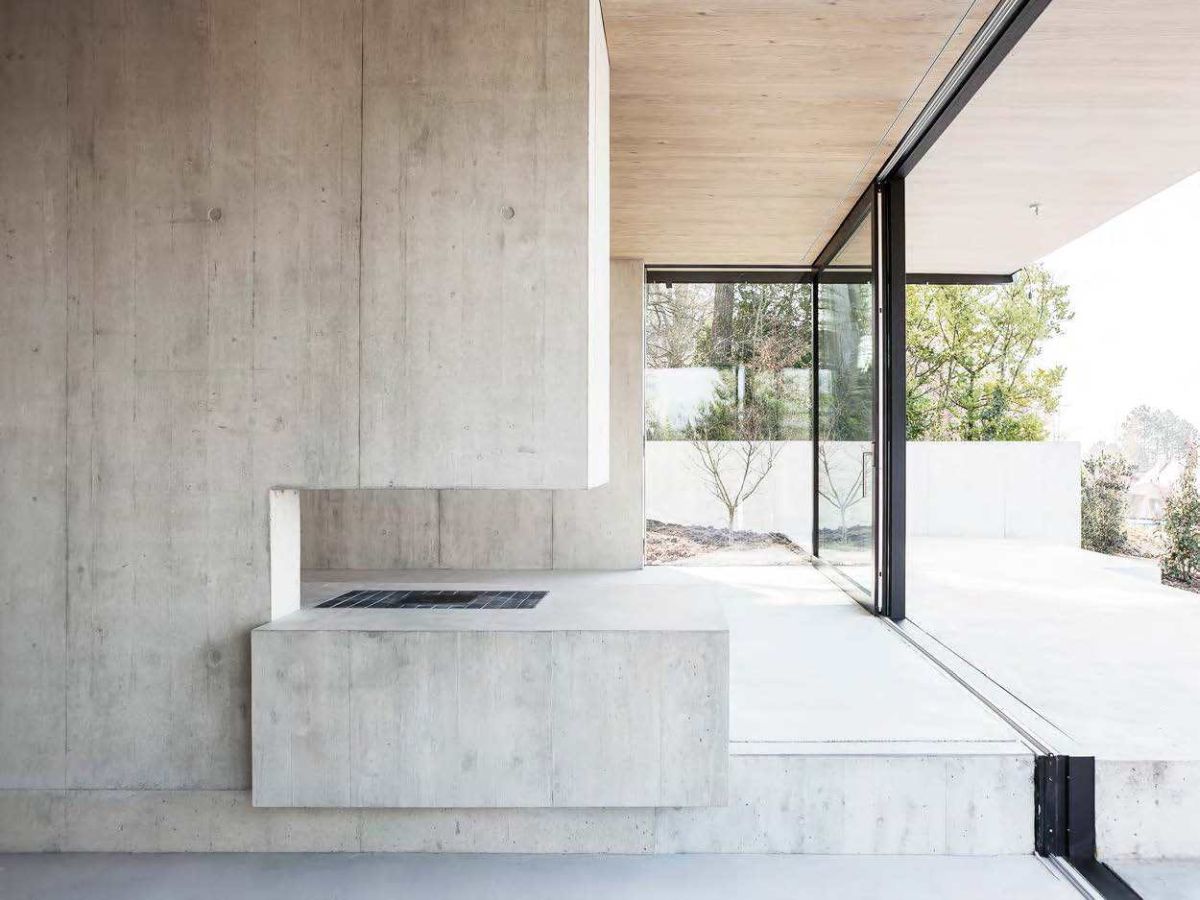 This is a house located in Riehen which was designed by studio
Reuter Raeber Architects. It consists of two large contrasting volumes. There's the lower section which is cast in concrete and has a very robust and structurally-sound look and there's also another volume on top of it which is clad in solid wood.
They balance each other out and give the house a modern look. Large windows and sliding glass doors connect the interior spaces to decks, terraces and the courtyard while also exposing them to the beautiful views and allowing lots of natural sunlight to get inside. Also, the same simplicity which defines the exterior of the house is also expressed indoors.
Small hillside house
The house designed by Meier Architekten is also defined by contrasts. On the outside, it's a very simple-looking structure. It has a clean white facade and very few details. Inside the design really warm and welcoming, with areas that stand out and have lots of individuality.
Large windows bring the outside in and a terrace extends the upper floor and takes advantage of the view in a very pleasant and organic way.
The kitchen, dining and living area are interconnected and form a large social area that invites people to spend time together and interact. It's also the ideal space for entertaining.
Modern A-frame
Villa Erard is a house that becomes one with the landscape, quite literally. It was designed by Andrea Pelati Architecte and is partially built into the hillside, taking advantage of the sloped terrain in a really cool and unusual way.
The villa is situated in the proximity of the Swiss Jura Mountains which gives it marvelous views and also presents various challenges. It has a contemporary design which reinterprets the classic gable roof.
The entrance is encased in stone and leads into a wine cellar which is directly carved into the stone and has a very unique and authentic look. A concrete spiral staircase leads upstairs where floor-to-ceiling windows open the rooms to the outdoors and offer a view of the garden and the mountains in the distance. From there's access to an open plan attic area with skylights.
A refreshed lake house with a small and charming interior
This is a small holiday home originally constructed in the 1950s, located on a beautiful site that overlooks Lugano Lake in Switzerland. The site is quite small and the house itself only has a 50 square meter interior. It's accompanied by a dock on the opposite side of the property.
Studio Raffaele Cammarata architetto worked on the renovation of this place in 2019 and the goal then was to restore the original structure and to preserve its charm but to also update it with a modern aesthetic. Large glass panels invite the gorgeous views inside and a covered porch extends the cozy interior outside.
A futuristic design surrounded by nature
This is definitely a house designed to stand out. From a distance it becomes apparent that it has a bold and modern aesthetic, with lots of clean lines, striking angles but also a simple palette of materials and finishes. This is a project completed by studio Angela Deuber Architects in 2019.
It sits on a plateau with a gentle slope, with a gorgeous mountain backdrop in the distance. Exposed concrete was used extensively throughout the house both for the interior and exterior design. This gives it a clean and modern look and puts more emphasis on the architecture but also the entire area surrounding it.
A house with Singapore-inspired flavor
The Twin-Lah residence is unique for many different reasons. It occupies a beautiful piece of land in Thônex with a great view of Mont-Blanc and it was created by studios ColliNFontaine architectes and G8A Architecture & Urban Planning.
The idea behind it was to create a modern house with a design inspired by the buildings and culture in Singapore, as a way for the owner to bring a little piece of their hometown with them in Switzerland.
The house has a very distinctive facade design with a really cool texture and a vibrant and warm color. The beautiful green surroundings help to ground the whole structure and contrast nicely with the clean architecture.
A concrete house with lush surroundings
Hidden among huge trees and lots of tropical and lush greenery, this house has a really distinctive aesthetic. Raw concrete is one of the primary materials chosen by Wespi de Meuron Romeo architects for this project.
The building has an unusual irregular shape dictated by its location, namely the proximity to the road, the studio as well as a neighboring architecture office. The rugged concrete exterior allows the house to stand out and also means it gains a lovely patina as it weathers naturally over time.
A family house divided into halves
On the outside this house looks quite interesting due to how open it is. Located in Zurich, the house has a simple and fresh aesthetic and big glazed surfaces that open it to the surroundings. It was designed by architect Christian Kerez and the most interesting part about it is actually inside. This is where the a dividing wall was installed which separated the interior into two houses. It's a solid wall without any openings, the only interior wall in the entire place. This creates two separate living units within the same shell and under the same roof.