Basement Storage Shelves And Design Ideas Full Of Potential
Houses with basements are amazing and have a ton of potential. However, for some unknown reason, not everyone takes advantage of the basement area which is a real shame because there's so much you can do with this space. If not for anything else, you could at least use it for storage.
A few shelves would be all that's needed to turn this into a functional basement storage room. Now let's task design. Sure, there's not much reason to make this space look super fancy but you can definitely be creative with your basement shelves. Here are some ideas that you might like:
A simple set of shelves can give you plenty of versatility. You can use them to store various different things down here like canned goods, jars, veggies and other items that take up too much space in the pantry or the kitchen for example. Check out the plans for building something like this on thewoodgraincottage. It's a project that you can do yourself from start to finish and that doesn't cost much, a perfect combination.
When designing and building your basement storage shelves you should focus as much as possible on making them sturdy and durable. That way you have more freedom both in the present or the future when deciding what to store here. These shelves for example can hold heavy loads and they're perfect for a space such as the basement. You can fill them with a bunch of boxes and label them all so you can easily identify their contents. Check out the tutorial by unhwildcat333 for more details.
To maximize your basement and its storage capacity, build the shelves on multiple levels. They can all have the same depth and proportions but you can also come up with a more custom design if you have something more specific in mind. You can build everything you of wood and/or plywood using a few basic tools and it can all be made to measure so be sure to inspect your basement first. You can find a tutorial by The Provider for these particular shelves on youtube.
If you have all the necessary tools and materials, building some shelves for your basement can be done in an evening. This can be a project for the weekend and a great opportunity to also do some cleaning around the house at the same time. The shelves themselves can be simple and don't have to include unnecessary details. These for instance are made using only some 2x4s and a few sheets of plywood. There are many ways to customize them if you want to. Check out whitehouseblackshutters for more details.
Since you're redoing the basement and you're building storage shelves for it from scratch, perhaps it would be cool and useful to include a workstation as well. This can end up being a space where you later come to work on a few DIY projects so it might be nice to have a sort of desk or a counter in addition to the shelves. The design featured on rogueengineer is versatile and has a lot of potential in this sense.
Basements can be pretty spacious but still, you probably don't want all the shelves to make it feel cluttered or to take up the entire room. A simple and light design like this one from ana-white can look really nice. The shelves and the frame are not very think but they're still strong and sturdy. You can built something like this in modules and make as many as needed.
Another possibility is to leave the floor area in your basement open and to have floating shelves instead. That way you can still use this space for storage but you can also add more furniture if you want to. You can build the shelves in relation to the ceiling. This tutorial from instructables explains the whole process and is very informative if you ever want to build something similar.
Related: 10 Best Garage Bike Storage Ideas To Keep Your Space Organized
A freestanding shelving unit is also a good option. It's the best option if you want more flexibility for your basement because it allows you to reorganize the space with more ease. Something simple like this shelving unit featured on instructables would fit in most basements. It's easy and cheap to build and you can potentially make several units if you need more storage.
Every project starts with a plan. When building basement shelves there's typically not much to worry about. The tools that you're going to need include a drill and a saw and for the shelves themselves, you can choose from a variety of different materials. Wood, plywood and OSB are the most common choices. The design and building project is explained in steps in this tutorial from instructables if you want to find out more about this sort of project.
If you break a project into components it's easier to grasp its complexity and difficulty. Of course, building shelves for the basement is not very demanding but it still helps to see the project process organized into different steps. You can check out a detailed tutorial with all these elements on makingthingsisawesome. As far as the design is concerned, you can add your own style to the project both during and after it's in place.
It may very well be the case that you're already using your basement for storage or for something else. However, you might not use the space to its full potential. We often overlook the upper part of the room and the fact that more shelves can be added here. You can also potentially hang more shelves from the ceiling if necessary. You can find some plans for such a project on instructables if you're interested in the details.
In case you want to add more storage to your basement but you don't want a massive unit that takes up a lot of space, this shelving unit featured on virginiasweetpea could definitely be something to consider. It can quite easily fit in an existing basement setup and can be paired with other storage modules as well. It has three big shelves to store things on as well as more space on top if needed. It's sturdy and strong, with a simple design and exposed wood and metal which gives it a bit of an industrial look.
There's a few things to consider before building a bunch of basement storage shelves and they all have to do with your specific storage needs. So before you start cutting the boards and putting everything together, take some time to visualize your project. This can help you decide the details of the project and the design such as how far apart the shelves should be, how long and how deep they should be and so on. A great option is to store everything in boxes and bins and to label them. The project featured on diydesignfanatic can tell you more about that.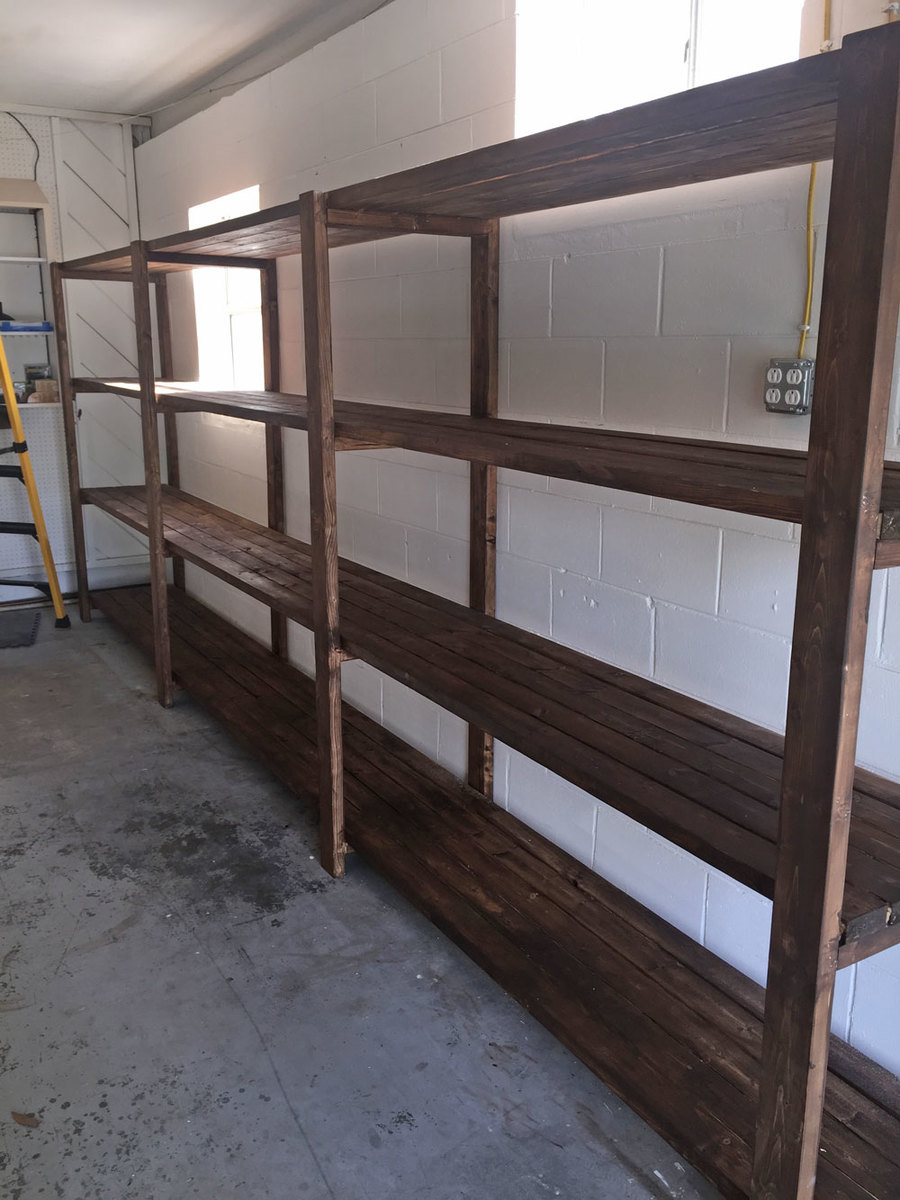 Another practical idea can be to have everything stored in one place. In other words, you can pick a wall in your basement and build a custom shelving unit that covers all or most of it. This could make it easier to organize everything and it means you can use the rest of the space for something else without worrying the storage would get in the way. You can check out a few plans that might work on ana-white.
Smaller shelving units like these towers featured on bowerpowerblog are really great for small spaces. You can add something like this to your garage or basement. These units can fit nicely in the corners and can be paired with existing modules quite easily. You can also built several of them and combine them into a large and modular storage system.
Besides using it for storage, a basement can also be used as a really great workshop. This is a cool idea if you're passionate about DIY project and you plan to build more things in the future. Your first project can be to make a bunch of storage shelves and modules for your new basement workshop. Consider putting them on casters so you can easily reorganize the space if needed. Check out the plans and details on carolinesearshome.
Of course, if you want to simplify and speed up the process, buying some shelves for your basement is always an option. This Kinzel shelving unit is a nice option. It's made of metal which allows it to have a slender but still very sturdy frame and to offer you more storage for less space. It also has wheels on the bottom so you can easily move it if or when needed. The shelves are big and spacious and they can be adjusted as needed.
Szymon 30″ H x 55″ W Shelving Unit
The Szymon shelving unit is smaller compared to most of the ones we've looked at so far. However, it's perfect if you want to make your basement look and feel more inviting and more like an actual part of your home rather than just a purely functional extension of it. This unit is made of wood and metal and has an elegant and simple design with a retro-modern sort of look.
Individual shelves are also a great option to consider. The Nueva storage rack is made of steel and gives you two shelves that can mounted onto a wall. The wire shelves are slender and sturdy and can look perfectly at home in a space such as a basement or garage. You can add them to other existing storage modules and use them to fill the empty spaces in the room.