15 Best Garage Storage Systems For All Your Needs
There's this sort of urban legend going around that says being disorganized is a sign of a creative mind, of an artistic personality. While in some cases that may actually be true, usually that's just an excuse people use so they don't have to admit to being lazy and not wanting to take the time to come up with a practical storage system that actually works for them.
It's typically the garage that has a lot of potential for storage yet is rarely taken advantage of. Now would be a good time to invest in a proper garage storage system. Check out our favorite choices below.
A set of cabinets such as this one offers plenty of storage space for all sorts of essentials such as tools, equipment and other items that are usually kept in the garage. This particular set includes two tall cabinets, height-adjustable shelves or closed modules in between them and a rolling tool cabinet. The tall cabinets/ lockers are very versatile and have a weight capacity of 800 lb (362 kg) while the rolling one can hold 600 lb (272 kg). You can combine the modules however you see fit.
Overhead storage racks are very practical in the garage because they keep the floor empty, giving you space to actually park your car. they're also out of the way yet easily accessible in case you want to reach the contents and they're ideal for avoiding water damage which is often possible. These shelves provide lots of storage for seasonal items and unused things. They measure 96 in. L x 48 in. W x 22-40 in. H. and are very strong and sturdy
Good organization also applies to all the gardening tools, sports equipment and everything else you might store in the garage. A mobile storage option is often prefered in this case because it's more practical and convenient. This utility cart is a really cool option. It measures 26″ L x 18. 75″ W x 40. 25″ H and can be easily assembled right out of the box. It has four wheels which let you roll it with ease and transport the stored items right where they're needed. It can also be locked in place.
A storage rack designed specifically for tools can also be very practical in the garage. This one is designed to be mounted on the wall and it stores the tools vertically. It's made of heavy-duty steel and can hold up to 200 lb (90 kg) of gear. It's great for things like rakes, shovels, ladders, hammers but also skateboards, backpacks and all sorts of other items.
Garage storage systems typically have a very industrial look which makes sense a lot of times but isn't for everyone. If you prefer to give your garage a more finished look, closer to what the living space is like, there are some cool storage options to choose from. One example is this stylish wall-mounted storage system made of a large cabinet, an upper unit and a module with three drawers.
This is also a very stylish garage storage system, one which has a simple and modern design and is great for storing and organizing tools. It keeps everything lined up and easily accessible, with hooks of different types and sizes for different types of items. The hooks are made of heavy duty steel and the wall panels are eco-friendly, easy to clean and modular. You can change the configuration and add more elements as needed.
Shelves are extremely versatile and practical so they're often a prefered storage option for garages given how diverse everything in here usually is. Your typical garage storage shelves look something like this. These have strong metal frames with black coating complemented by MDF boards. They have a heavy-duty industrial look and feel and they can each hold up to 300 lb (136 kg). The height is adjustable and the shelves can be organized so that they fit your storage needs perfectly.
This compact storage module is very versatile too. It features steel panels and is built to withstand extreme temperatures which makes it perfect for any garage, no matter where you live. It's very sturdy and durable and goes through a powder coating process which bonds and bakes the protective coating to the bare metal, creating a very effective barrier against corrosion. Each shelf has a weight capacity of 75 lb (34 kg), with a capacity of 300 lb (136 kg) in total.
If you also like to do some work in your garage and you don't use it purely for storage, then a workbench is a must-have. This one is strong and sturdy and also includes a series of shelves that allows it to double as a storage system for things like tools, supplies and a variety of other items. It can be customized as needed, depending on your requirements and preferences.
It's also important to have a proper storage system in place for all the small items in your garage. For example, if you do a lot of DIY projects you might have a bunch of leftover screws, nails, rope and various other things that need to be stored and properly organize so you actually know where to find them when needed. This storage rack is just right for that. It has severn shelves which hold 22 polypropylene bins in three different sizes.
This five-tier steel wire shelving system is great for small garages and super versatile too. It features a set of five shelves each measuring 30″ x 14″ and with a capacity of 300 lb (136 kg) for a total of 1500 lb (680 kg). The base features smooth-rolling casters, two of which have locking mechanisms. You can adjust the height of the shelves to create a well-suited custom storage system.
If you prefer something simple that doesn't take up much space and maintains an airy ambiance in your garage, check out this shelf kit. It's easy to install without any outside help and has a versatile, universal design that lets you place on the wall and leave the floor and the ceiling open. It's strong, durable and good-looking and it's also user-friendly, space-efficient and convenient.
Here's another great garage storage system for those into DIY projects, specifically anyone who has lots of power tools. It's small and compact and made from solid wood particle board. The overall dimensions of the cabinet are 19.5" (W) x 9.2" (D) x 12.2" (H). The main advantage of power tool charging storage module is that it lets you organize the tools and keep them all in one place, easy to find and always ready for use.
It's usually things like brooms, rakes, shovels and other tools that make the garage look messy and that's because there's typically no good storage system for them. That can become a thing of the past thanks to organization systems such as this tool tower. It's designed specifically to hold garden tools and basically everything with a long handle.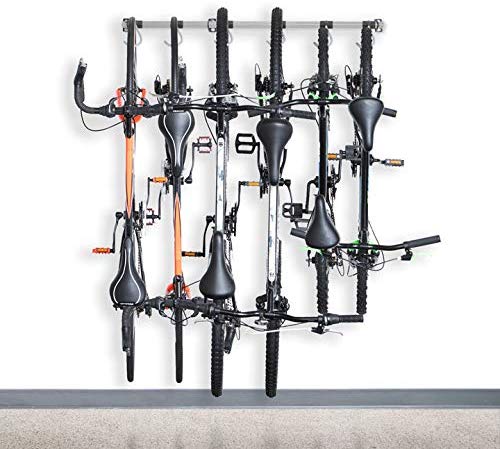 If you're looking for a practical and space-efficient way to store and to organize your bikes in the garage we recommend a wall-mounted system. These racks can hold up to six bikes and has a total weight capacity of up to 300 lb (136 kg). It has hooks which can be adjusted side to side without being disconnected from the bar. The hangers are rubber coated and don't damage the bikes.