Decorating The Bathroom On Budget – Cool DIY Ideas You Should Try
We don't typically think of bathrooms as being stylish but that doesn't mean they can't or shouldn't be beautiful and charming. This is one of those times when the little things matter and that's exactly what we're going to focus on today. Get ready to be bombarded with a ton of cool bathroom decorating ideas on a budget, each meant to improve the space without breaking the bank. These ideas will show you how to keep the bathroom remodel cost low by crafting all the accessories yourself. In order words, let's plan a DIY bathroom remodel!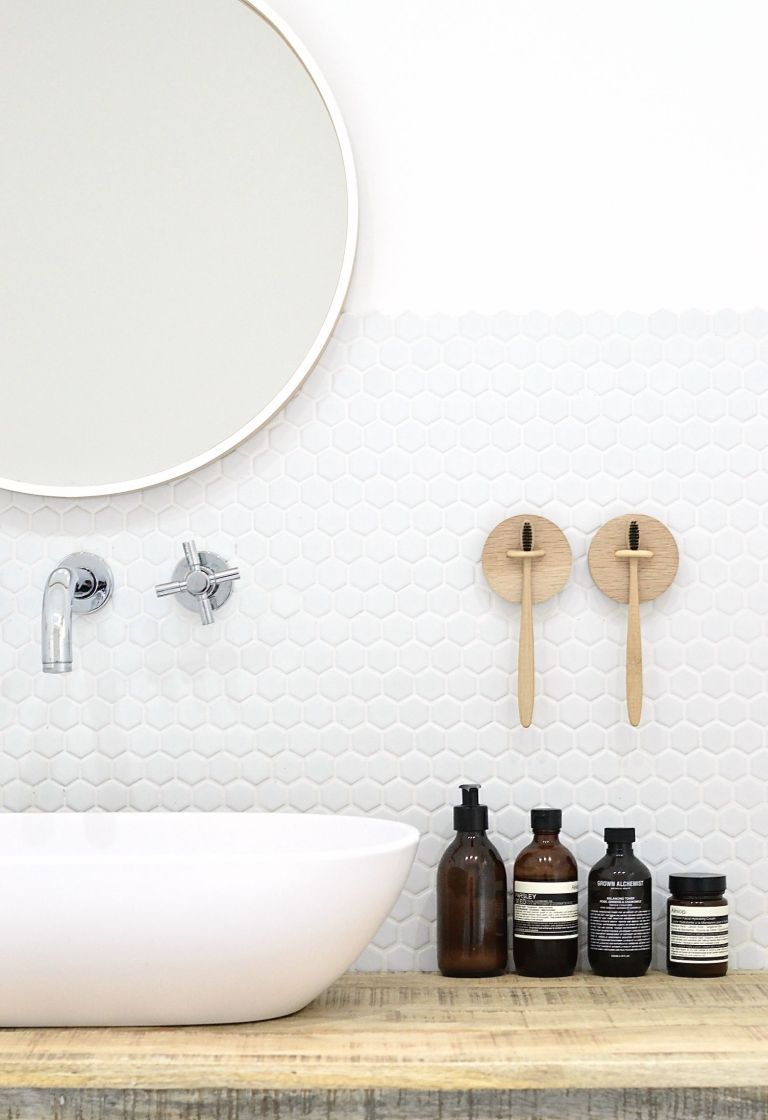 In every bathroom there are those everyday must-have items like the toothbrushes or the liquid soap dispenser. Since you basically have to have these things anyway, why not make them look nice and turn them into decorations? This brings us to our first DIY project which comes from yourdiyfamily. Its mail goal is to teach you how to make a stylish wall-mounted toothbrush holder so be sure to check out the tutorial if you like the design.
But what about the makeup brushes? They can get pretty annoying because they leave stains everywhere and they also roll right off a shelf or counter if you're not careful. Well worry about that no more because we found a way to store them in a way that's practical and that also looks nice at the same time. The solution comes from fun365.orientaltrading and involves the repurposing of mason jars plus lots of beads and cute tags tied with leather cord.
Having all sorts of beautiful and useful accessories and toiletries in the bathroom is definitely nice and all but they need to be stored or displayed somehow too and for that we suggest this easy-to-build and wall cubby. You can find the tutorial along with everything else you need to know about the project on fun365.orientaltrading.
Next up, a really cool idea for a toilet paper cover planter. The gist of the project is that you can make a faux planter with a hollow interior so you can hide an roll of toilet paper inside it. Keep it on top of the toilet or on a shelf and never be caught off guard. Also, that extra tp roll won't look unaesthetic and your guests will have something cool to talk about when they discover this stash. Find out the details on ohohblog.
Baths can be really relaxing but sometimes you feel the need to do something while you're soaking in the tub and that's actually what trays/ bath tables are for. In case you don't have one yet, be sure to check out lovecreatecelebrate to find out how to craft a bath table with built-in glass holders from scratch.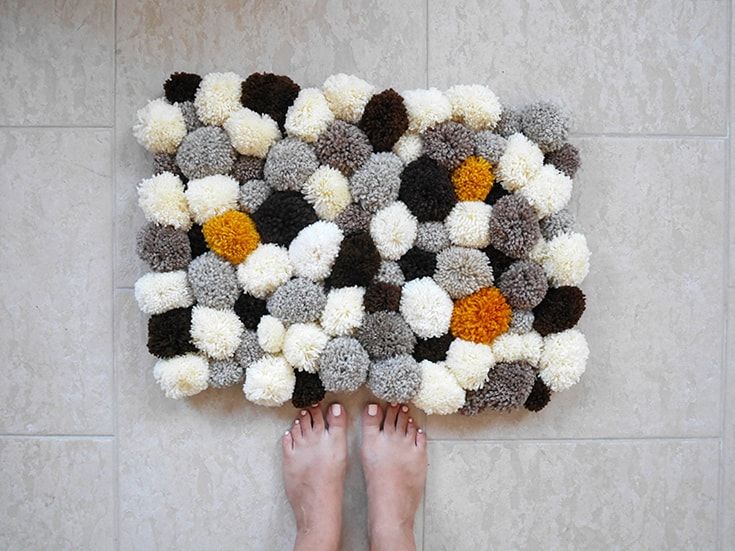 Some of the things we mention in this article are fun to have around while others are items that everyone has in their bathroom in one form or another, such as the bathroom rug. Most rugs or mats are plain and boring so if you want one that's also funky you either have to be lucky finding one in a store or you have to craft yourself. We're big fans of the latter so here's one of our favorite DIY bathroom rugs. It's made of pom-poms and was featured on mallooknits.
Open shelves are great in the bathroom because they don't take much space, they can be installed anywhere and they're easy to put together which makes them great DIY projects. We have a funky examples for you to take a look at. It's a project from heylilahey and it shows you how you can use copper pipes an fittings plus some wooden boards to build a shelving unit for your bathroom.
Speaking of common things that everyone has in their bathroom, a soap dish is an interesting case now that liquid soap dispensers are around. In any case, if you do use one, be sure to check out lovecreatecelebrate to find out how you can make it out of concrete. It's one of the simplest projects ever and there are plenty of cool ways in which you can make the design your own.
Let's not forget about the always useful towel rack. Sure, those radiators that double as towel racks are pretty practical but a bathroom still needs a separate hook or two because these are not just for towels but also for bath robes, clothes and other things. Want to see how you can make a lovely farmhouse-style rack? You can find all the details on angelamariemade.
Aren't these shelves charming? The horseshoe accessories are both practical and decorative at the same time and the actual shelves are easy and inexpensive to make which means that decorating the bathroom on a budget is actually quite simple. We suggest using reclaimed wood for this because it has more character plus it's cheaper and chances are you already have some leftover pieces from other projects. To learn more about the requirements, head over to mountainmodernlife.
The shower curtain is another important element in a bathroom's interior design and decor. A lot of times it's a must-have, not just a decorative element. That being said, it's totally understandable to want to customize this element. A particularly interesting idea in this sense can be to make a macrame shower curtain by gluing lace onto a plain and regular curtain. The inspiration for this comes from abeautifulmess.
Another idea can be to paint a plain shower curtain. You could create an ombre effect and you could even use a stencil to paint something on top, like this "I woke up like this" text featured on abeautifulmess. The project is not as messy as you'd think and it really encourages one's creativity.
A box would come in handy for all those small items that usually clutter up the counter space or the cabinet. Of course, a simple cardboard box isn't very aesthetically pleasing so you should find a way to customize it somehow. One option is to wrap rope around the outside of the box and to cover the interior with some fabric as shown on ourkidthings. You can use the box to organize toiletries and other things.
Let's talk about shelves a bit more. We found these really cool DIY marble shelves on abeautifulmess and we really like the direction the project is headed. We're pretty excited about the idea of having a way to put those leftover tiles you might have from previous home renovations to good use by attaching them to wood boards to make these lovely bathroom accessories.
These rustic-industrial bathroom shelves featured on cherishedbliss are quite charming too and so is that sign. Isn't it amazing how much something as small and as simple as a sign can change the decor and the ambiance of a room? The shelves themselves don't lack character either, especially with that worn look and the industrial details.
Not totally committed to the idea of attaching shelves directly onto the bathroom walls? That's understandable in some cases. But what about the ceiling? Maybe you could use that surface somehow. The swing shelf featured on deeplysouthernhome shows you how such a strategy can work out. This is basically a swing used as a shelf. It's fun, unusual and pretty all at the same time.
Looking for a way to organize and group up the items on your bathroom counter? Use mason jars. They're great for that and you can paint them to make them look pretty or so they can match the accent color you've chosen for your bathroom. If you like this vintage look showcased here then check out the tutorial on masonjarcraftslove to learn how to obtain it.
You know those bath mats that are rigid and don't actually soak the water but let it drip onto the floor? They're quite nice even though they're not soft and fluffy. They're also quite easy to craft in case you're interested in the idea. We found a nice tutorial on themerrythought which could help.
Everyone has at least one or two mason jars around the house and if you don't you can just buy something that comes in a jar and use the content. You can then repurpose the jar and turn it into a soap dispenser. You'll obviously need to make a few modifications to the jar itself. You'll require a soap pump, some spray paint, a paring knife, glue and sandpaper. With these things you'll be able to make a unique mason jar soap dispenser that you can proudly display on your bathroom counter.
Decorating a bathroom on a budget is easier than you think as proven by all the cool DIY projects we've gathered here but the list is not over. We have plenty of things to share with you today, like this nautical towel holder that would be absolutely perfect for a beach house bath or any nautical-themed home. As you can imagine, it's super easy to put together but check out h2obungalow just to be sure everything is done right.
Most bathrooms have cabinets which are great for storing a bunch of things and for keeping them out of sight. You might think there's not much you can do to improve or to personalize a cabinet's design or look but that's not actually true. One of the options is to give the cabinet a cool barn-style door like the one featured on shanty-2-chic.
Let's not forget about the lighting fixtures. Their role in very important in any bathroom. Did you know you can make your own bathroom light fixtures if you want to? We suggest an industrial fixture because it's easier to put together and because the design can be simple and even a bit rough around the edges. This one, for instance, has three Edison-style bulbs and can be installed above the bathroom mirror.
Yes, I know we've already discussed shelves and we showed some great design ideas but let's check out one more project. These DIY floating shelves stand out through the fact that they're unusually thick. That gives them a sturdy and also minimalist look which would suit most modern and contemporary bathrooms.
Not enough room in your tiny bathroom for wall-mounted shelves? Well don't be disappointed about that too much because there's probably one space which you didn't take into consideration: the portion of wall above the door. That's actually a perfect place for a storage shelf. You could use it to keep extra towels or toilet paper rolls up there or to display things like small planters or cute little flower vases.
We almost forget about the mirror which is perhaps the most important bathroom accessory. You can change the look of your bathroom by simply replacing the old mirror with a new one. It could be nice to try a different shape and even a different size this time. You can install the mirror yourself if you follow some easy steps. Check out the instructions on how to professionally install a bathroom mirror first.
There are also a few things you can do to make your existing bathroom furniture look nicer and to give it a fresh and new look. For instance, you could give the vanity a quick makeover. You can change its look from boring and generic into original and chic. This can be done by slightly altering the design of the drawer fronts and by installing new hardware. You can find more tips and ideas in the project describing how to turn a builder-grade vanity into a custom piece.
Perhaps your countertop could use a makeover too. Replacing the counter with a new one can often be an expensive project plus that would mean you'd have to make other changes around it as well and at the end of the day it's just not worth it. On the other hand, simply change the look of the existing counter sounds like a more appealing option. Perhaps you'd like to try this faux marble countertop look. Spoiler alert: it's actually concrete.
If by chance there's any space next to your toilet, you could fit this brass toilet paper holder in there. Well, the actual top holder is actually just a small part of this wooden organizer but you get the idea. There's a compartment in there for the brush too so you don't have to keep it on the floor anymore.
Speaking of DIY brass toilet paper holders, we have one more project to show you on this subject. This one is in fact just that: a separate wall-mounted toilet paper holder and its design is simple and quite elegant actually, with a bit of industrial flair. Check out the full article to find out what you need in order to make something similar.
Right now you should have a general idea of how you can decorate and personalize your bathroom on a budget and we hope you'll try some of the projects we showed you here today. Remember that the finishing touches are important and that the little things matter.