DIY Simple Brass Toilet Paper Holder
Sure, dispensing  Toilet Paper isn't one of the most glamorous of style's duties. But if you could DIY a simple, brass number that added form and function to your bathroom space, would you do it? I think you should give it a try. Especially when paired with this side vanity storage unit, your bathroom will look amazing.
Ready to tackle this one? It'll only take about 15 minutes to make, and you'll love it for years.
DIY Level: Beginner
Materials Needed:
6-gauge brass wire (example uses a single 1' length)
Two (2) brass screw hooks
Heavy duty pliers and/or needlenose pliers
Old towel or rag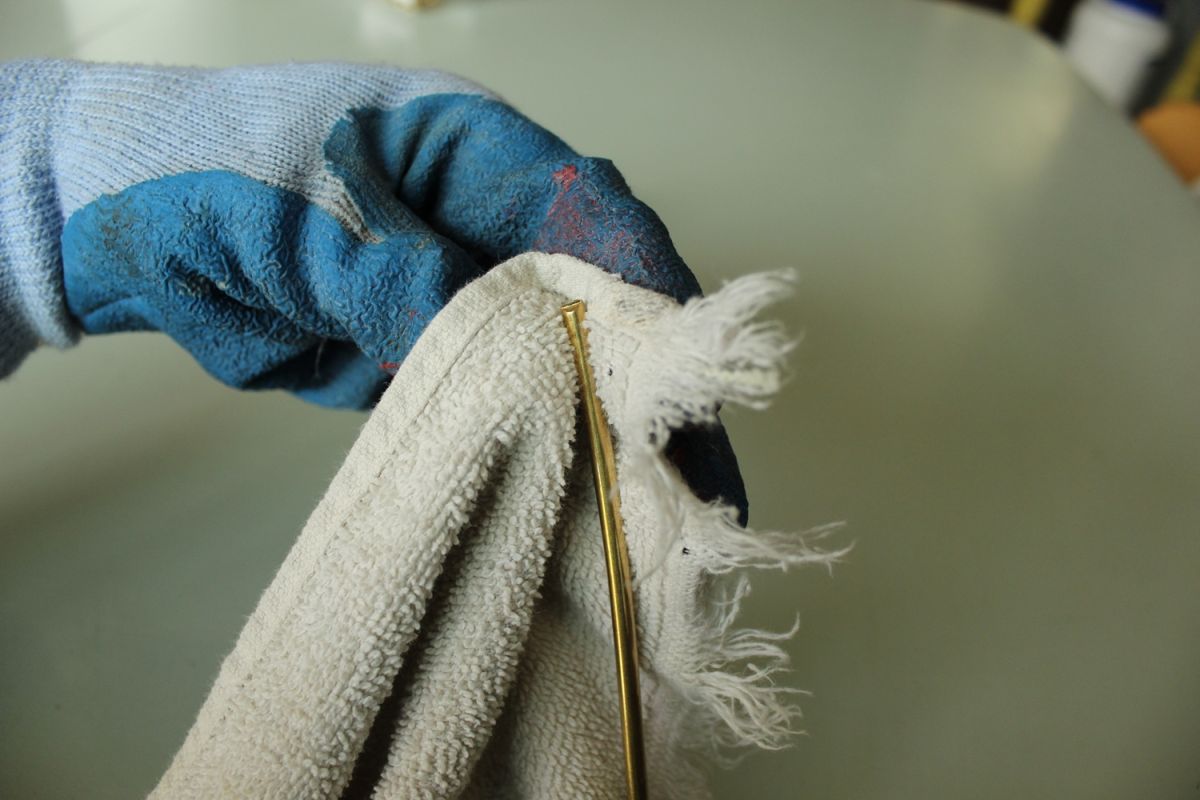 Before you begin, you'll want to remember that every time you use pliers to bend your brass wire, you will want to soften the pliers' potential damaging factor by using an old towel or rag as a buffer between the pliers teeth and the wire itself. Now, to actually start your brass toilet paper holder, begin by wrapping one end of your brass wire in the towel.
Grip the very end of your brass wire (covered in towel) with your heavy duty pliers. (Note: The thicker the wire, the lower the gauge, so 6-gauge is pretty thick, meaning it's not super easy to bend.)
In as smooth and strong a motion as possible, curve your pliers-holding wrist toward you to tightly bend the wire's end.
You're trying to create a small hook on the end of your wire.
Repeat this process (don't forget the towel's buffer) on the other end of your wire. The two hooks should be facing the same way.
Grab a roll of toilet paper to use as a measuring benchmark.
Also, grab a measuring tape or book that is the width of your toilet paper-holding space.
Lay the measuring tool (in this case, the book) on a work surface with the toilet paper roll on top. This is to help you visualize the space constraints of your toilet paper dispensing space. Also, lay your two brass hooks on the sides of your book, flanges aligned with the sides of your measuring tool and hooks facing inward. The center of your hook arcs will be your target for your brass wire hooks as you craft the toilet paper holder width.
Gently bend the brass wire evenly so the end loops are even with the centers of your side brass hooks. Looks like a grin, doesn't it? Feel free to smile back.
Using your pliers of choice and your old towel, begin bending 90-degree corners in your brass wire so it creates a flat line horizontally and two shorter vertical lines (each with a looped end). This longer flat part will be where the toilet paper roll goes. Tip: When trying to create sharper corners, grip the towel-covered wire with pliers in one hand, then use your other hand to bend the remaining wire around the pliers. In other words, to create loops in the wire, move the pliers-holding hand/wrist. To create corners, hold the pliers-holding hand/wrist still and move the rest of the wire.
Bend until the loops line up with the hooks and the lines are relatively straight. This might take some trial and error bending and unbending and rebending. This photo represents the first attempt, and you can see it's a little off.
When the corners and lines are satisfactory, lay the toilet paper holder on a flat surface and check for alignment there. In this example, the left side was raised a bit. I simply used my old towel and pliers to straighten out the longer straight piece.
Slide a roll of toilet paper onto your brass wire.
Hold it up in the space where it will hang as a kind of "dry fit." Consider how high/low you want to hang it, as well as how forward/back you want it. Remember that not all toilet paper rolls are the same size, so you want to allow for larger/thicker rolls if needed.
Screw in your first brass screw hook, based upon your dry fit.
One trick for easily screwing in screw hooks and screw eyes is to use a screwdriver, hooked into the hook or eye, to turn it near the end as it gets harder to turn. It's a finger-saver, this tip is.
Measure the position (vertically and horizontally) of your first screw hook so that you can mirror the second screw hook. This will keep everything level and even.
Mark, then screw in your second screw hook. Adjust the hooks so that the openings face upward and slightly backward – opposite the direction most people would pull their toilet paper off.
With the toilet paper holder's looped ends facing backward, install it onto your two screw hooks.
Congrats! It looks awesome.
Such a simple yet unique way to dispense toilet paper in a stylish bathroom. We love the small touch of brass here, a nod to luxury and class. (Which almost makes things even when positioned next to a plunger. Almost.)
The beautiful thing about this easy DIY toilet paper holder is that it's easy to take off, switch out, and put back on. Let's be honest – the ease of those three steps are key to actually getting it done.
As with any DIY project, this can be modified and customized to fit your space and needs. You could do the same thing with screw eyes attached to the wall behind the toilet paper roll; the toilet paper would hang against the wall in that instance.
You could also create a triangle and hang it from a single screw hook above the roll. However you choose to make it, we hope you love the simple sophistication of style in the details.
Note: The author is an experienced, although not professional, DIYer. Neither the author nor Homedit is responsible for any injury or damage that may be a result of following this tutorial.