Small House Plans Under 1000 sq ft Reveal Their Secrets
One of the cool things about living in a house as opposed to an apartment is the fact that the floor plan is more flexible and you can basically structure it however you want. House plans are typically larger than those of a typical apartment. However, not everyone wants a big house. Some find small house plans under 1000 sq ft to be just right for them. That's somewhere in the area of 92 square meters which is not a lot, not even for an apartment. Some would argue it's too little for a house but we'll let you decide that for yourself after you take a look at some of the small house plans that we've selected for you today.
90 Square Meters / ≈ 970 Square Foot
This flat roof house stands on a site in Fukaya, Japan in a region with super hot summers and cold and windy winters. It was designed by Nobuo Araki and it only measures 90 square meters across which is around 970 square feet, small enough to be included in our top favorite small house plans under 1000 sq ft. The architect and the clients agreed on a simple and welcoming design with roof eaves that extend 1.5 meters in all directions. The interior has almost no partitions at all so it's basically a large open space organized into various different zones.
This is a prefab home located in José Ignacio, Uruguay. It's designed by MAPA and like all prefabricated structures it was built in a factory and then transported on site and assembled there. It has a simple, box-like structure and it measures 90 square meters across. The living area is positioned at the center and receives natural light through the tall windows and glass doors. The other functions are pushed to the sides of the house.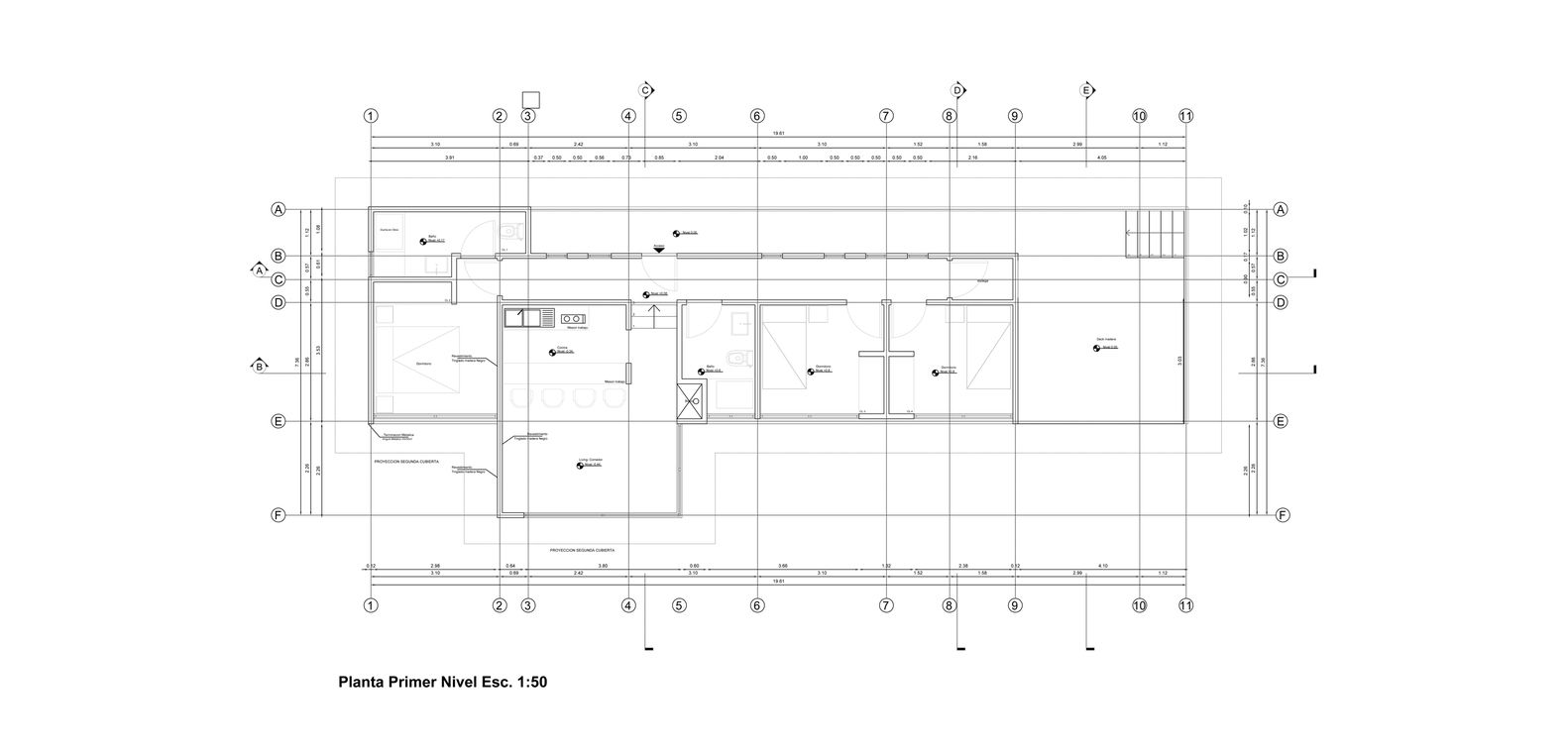 Not all small house plans have the same simple and straight-forward structure as the two we just showed you. Speaking of which, there's this rather unusual retreat in Hijuelas, Chile which has a 90 square meter floor plan and serves as a secondary residence for its owner. It was designed and built by Estudio 111 Arquitectos in 2017. What's unusual about it is the fact that the exterior decks are actually integrated into the floor plan and are framed by metal panels. The house is oriented towards the mountain which allows the internal spaces to be directly connected to the views and the landscape.
Another unusual project is the house that wooden box. The upper floor contains all the private spaces and has a two-slope slate roof with a bunch of small windows scattered across. There's a park nearby so the house offers some really views towards it and these can be admired from all the main areas.
There's another 90 square meter house that we'd like to show you today and it's located in Santa María, Chile. It was designed by Etcheberrigaray + Matuschka as a single big volume divided into two zones. One of the zones has a variable height and contains and the social functions and the service areas while the other houses the bedrooms. The site on which the house was built was originally used for farming so there are many fruit trees present on it. A lot of them were preserved and integrated into the design and the structure of the house. Once again, the architects found a way to make small house plans look cool and inspiring.
80 Square Meters / ≈ 860 Square Foot
We now move on to some even smaller house plans and we'll have a look at some structures that measure only 80 square meters across. One of them is a small, contemporary house designed by CoLab Architecture for a family in Christchurch, New Zealand. The house stands in an area previously populated with lots of small cottage-style structures. Unlike those, it seeks to serve as a stand-alone house and is oriented towards the North, welcoming the outdoors in. The site on which it was built is 20 meters long and 10 meters wide and the house has a square floor plan split into two zones and rotated to form a rectilinear layout with various outdoor extensions such as a car parking space or deck which serves as an outdoor living room extension.
The house that ARTELABO architecture designed in Saint-André-de-Sangonis, France has a really interesting geometry as well. Small house plans once again stand out in a cool and unexpected way. The interior space in this case is a repeated sequence of four volumes arranged in a regular pattern. Further more, the house is also unusual through the fact that it's enclosed on three sides. This gives it plenty of privacy and also focuses the views and allows them to become an important part of the interior design.
Another example of small house plans under 1000 sq ft which are surprisingly roomy and impressive can be seen in the case of the modular housing project prototype created by architect Felipe Assadi. This structure has an 80 square meter floor plan and was entirely built off site in 45 days. It then took the team only four hours to move it to its site in Pichicuy, Chile and then six days to assemble everything. The house is composed of four identical modules and the interior includes three bedrooms, two bathrooms, a pantry and a living, dining and cooking area at the center of it all.
Inspiration can come from just about anywhere and that applies to everything, including architecture. an interesting example is a house designed by Tropical Space and located in the Thanh Khê District, in Vietnam. The design of the house is inspired by termites, more exacts the nests which they build. As a result, inside the house there's this large common area while the rest of the functions are separate spaces linked by a lobby. There's also a mezzanine level which houses a bedroom and a small library.
The house that Cadaval & Solà-Morales built in Tepoztlán, Morelos is the latest addition to a project developed by the same studio. Previously, they gave the property a lounge area and a pool to complement its large garden and now they also built this wonderful bungalow as part of the same project. It's a minimal and quiet little house with beautiful views, lots of natural light and wonderful nature all around it. Since it's not meant to serve as a permanent residence, both the social and the private areas were prioritized and the floor plans include two volumes which highlight a clear separation between the areas.
70 Square Meters / ≈ 750 Square Foot
Let's now move on to some tiny house plans which are limited to only 70 square meters of space which is somewhere in the vicinity of 750 square feet. It's not a lot, especially for a house. Some architects, however, manage to make this tiny space look a lot bigger, even when the layout is not exactly flattering. Take for example this tall and narrow house from Abeno Ward, Japan. It was a project by Fujiwaramuro Architects / Shintaro Fujiwara and Yoshio Muro. The house is squeezed between two existing buildings and has multiple layers, including a basement and three floors on top of that.
Speaking of tiny house plans, check out this cool project done by studio abarca+palma in Lampa, Chile. It was completed in 2016 and the house is really cute and also really stylish and beautiful. It has this nice wooden construction and it's slightly raised off the ground which makes it seem like it's floating. It has an angled roof and this cool row of windows just under the ceiling on one side of the structure. The internal floor plan is designed to capture a maximum amount of natural sunlight while feeling open, spacious and welcoming overall.
The Tinhouse project is another beautiful example showing how cool house plans can be even when dealing with a small space. This is a small but very charming house completed by Rural Design in 2016. It's situated on the island of Skye in Highland, UK. It stands out thanks to its contemporary design which features corrugated aluminum cladding on the exterior walls and the roof and a contrasting interior created using timber, concrete and plywood. The floor plan shows two main areas, the social space and the private area.
Speaking of cool house plans, we'd also like to show you this intriguing project from Larvik, Norway. It was designed by Reiulf Ramstad Arkitekter for a client who ultimately wanted to enjoy a cabin with the whole family but at the same time wanted to ensure a clear division between the spaces and to offer each member or members the privacy they need. The solution found by the architects was to think of this project as a cluster of three separate cabins rather a single one. Each one can be used individually but together they all form a single large unit.
Last but not least there's also this cool house in Los Molinos, Argentina which was designed and built by BLOS Arquitectos. It has this unusual unfinished look on the outside because of the exposed brick walls and the metal sheets which can slide to cover up the windows and openings, turning the house into a closed box which is great for when the structure is not used. As far as the floor plan is concerned, the interior is pretty simple and common, except maybe for the deck which is partially framed by walls and the roof.