The Coolest Shipping Container Homes For Sale Right Now
The reasons for building shipping container homes are diverse and include the fact that these containers are globally available, affordable, sturdy, water-tight and versatile, not to mention that they're meant to be easily transported.  This makes them perfect candidates for prefabricated homes and there are plenty to choose from in fact. A lot of them are very impressed and not at all as industrial and as rugged as one would expect. Check out our top favorites below:
The HO series by Honomobo
Honomobo is a company based in Alberta, Canada which specializes in building modern homes, offices, residential complexes and more out of shipping containers. The HO series includes prefabricated homes which range in size from a tiny 208 square foot studio to a three-bedroom house measuring 1,216 sq ft. The unit you see here is the HO2, the second smallest in the series. In has an open living area with a kitchen, a sleeping nook, a workspace and a bathroom.
Large full-height windows let in an abundance of natural light and the actual shipping container volume is set on top of a precast concrete garage which is convenient, practical, safe and quite advantageous, ensuring that the living space at the top gets to enjoy panoramic views of the surroundings. The heating and cooling of the house is done with an efficient air source heat pump.
Price:  $98,318 – $302,768
Size: 208 sq ft- 1,216 sq ft
Rustic Retreat XL by Backcountry Containers
The Rustic Retreat XL was built by Backcountry Containers and comes with a really cool feature: a rooftop deck. The tiny but charming home was built out of a 40′ shipping container and has a rustic-industrial appearance emphasized by its bright red exterior and the wooden elements such as the deck, the staircase and those cute little window shutters. Inside there's a generous closet with shelves and room for a washing machine, a kitchen with a breakfast bar, a fridge and a farmhouse sink and a large bathroom with a sliding barn door. This layout is just one of the options. Several others are available, including one with two bedrooms and one with an ATV storage room.
Price: from $40,000
Size: 270 sq ft
The Montainer backyard homes
Mountainer offers a complete package when it comes to planning and building backyard homes or extensions out of shipping containers. You place your order, you come up with a list of features and layout details that you'd like to include into your new container home then a design team helps you finalize your plan and also checks the property's permitting requirements and offers a pricing estimate. If you're happy with the process so far, the project moves forward and your new custom container home is built and then installed on your property. You can choose between several different configurations. The smallest option is a one-module structure and you can add as many modules as you want, as long as there's enough space on the property for them.
Price: from $ 45,000
Size: varies with the number of modules (1 – 3+)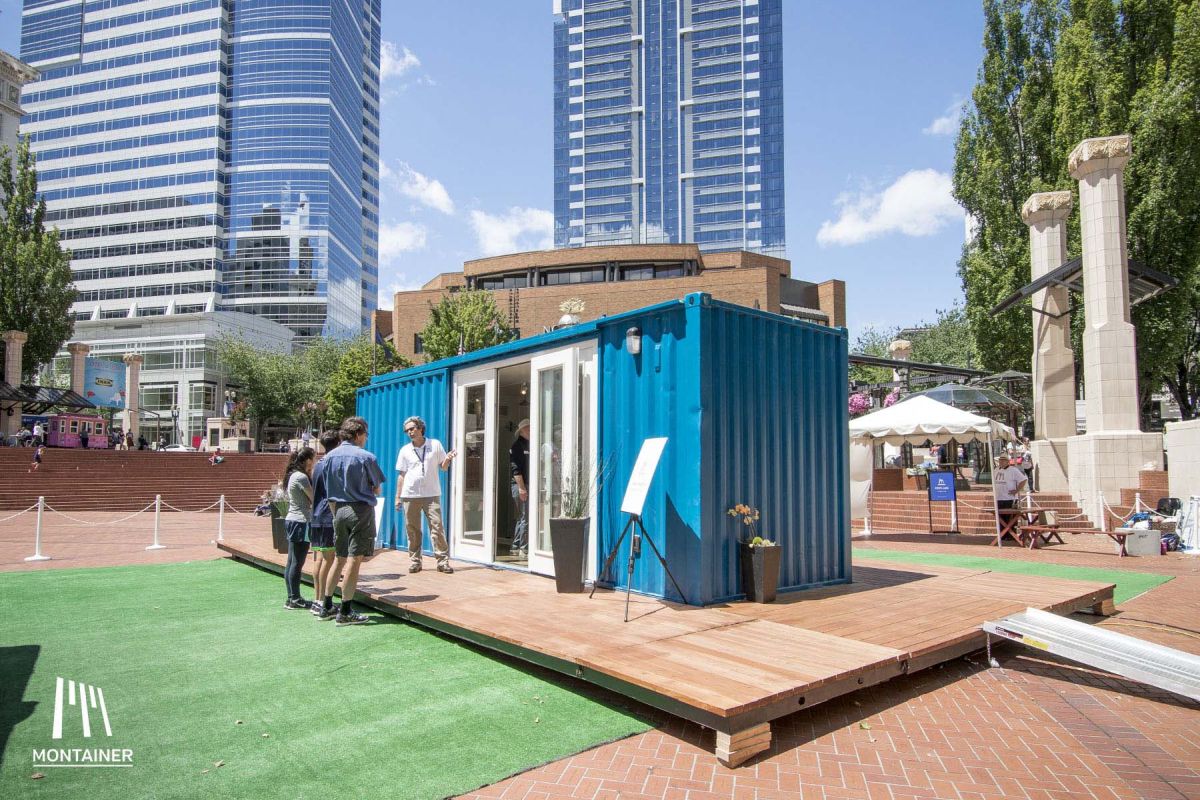 Custom Container Living units
Custom Container Living specializes in building structures out of 20′ and 40′ shipping containers, designed to serve a variety of purposes. They can be used as offices, guest houses, dorm rooms or as fishing and hunting cabins. Each container home is custom-built to specifically suit each client's needs and requirements. You can choose between several standard floor plans and then personalize the design by selecting specific colors, stains, window placement, flooring, cabinets, countertops and several other elements. The prices vary depending on the size and features included in each design.
Price: from $27,900
Size: varies based on type
Rhino Cubed cubes
Rhino Cubed is a company founded on the belief that spending time in nature enriches the soul and that the modern human needs a small and simple housing solution designed to facilitate that. The solution is a series of Cubes which are small and robust structures made out of shipping containers. They come in a variety of sizes, ranging from 160 sq ft to 640 sq ft and they offer a variety of custom designs and options.
The fully equipped cubes include all the base features such as insulated walls, fiberglass energy-efficient windows, roof and floor insulation plus electrical wiring, plumbing, lighting, a kitchen with a sink, stove, refrigerator and cabinets and a bathroom with a full-size shower, a toilet, sink and storage cabinetry.
Price: $33,600 – $79,000
Size: 160 – 640 sq ft
Off-the-grid container home
This one-of-a-kind container home was built by architect Ty Kelley who wanted this to be an off-the-grid retreat with all the luxuries of a modern home and the charm or a rustic dwelling. The home was listed at $125,000. It has a total surface of 720 sq ft and includes a bedroom, a bathroom, a kitchen, a laundry area, a workspace and a stylish living area. The architects used a lot of reclaimed materials including the lumber used for the flooring and the counters. The back facade is glazed and designed to bring the outdoors in and a wooden deck extends the living space outside and acts as a connector between the interior spaces and the landscape surrounding the house.
Price: $125,000
Size: 720 sq ft
The insta-house
The insta_house is a prefab home designed and built by MB Architecture. It's made out of four 8 by 40 ft shipping containers and is organized on two floors. It's completely prefabricated and it includes two bedrooms, two bathrooms, a full kitchen and a living room. The fabrication process is complete in only 8 weeks and the installation takes a day. The double height living space is the most impressive of all, offering a very airy and open feeling throughout this unconventional home. Large windows allow natural light to enter all the spaces and at the same time bring in views of the surroundings. The focus is on the views and the interior design is minimalist and centered on neutral colors and finishes.
Price: $169,000
Size: 960 sq ft