20 Home Decor Trends to Leave Behind in 2020
The turn of the year brings the desire for a fresh start in many areas of life and home decor is no exception. Freshening up your surroundings is a great way to enhance daily life and rejuvenate perspective. Ahh, but with trends coming and going, deciding what to change can be a challenge. No matter which new trends you choose to embrace, there are plenty of existing trends that have had their moment in the limelight long enough. Whether they were popular for five days or five months, these are the design elements and styles that are best left behind now that it's 2020:
All-White Kitchens
Many designers have been over the all-white kitchen craze for a while now but customers have still been demanding these neutral designs. While white is a grand base for a room, an all-white space can pretty quickly seem devoid of personality and become a rather sterile space. Kitchens are trending more colorful and personal, so perhaps painting walls and adding bolder elements as accents can freshen up an all-white space without a full-on remodel.
Millennial Pink
It was the color that would not go away — millennial pink. The hue rose to popularity at the right time and has washed across all elements of home decor, capitalizing on being different and retro at the same time. The Cut said that "it's cheeky, sincere, and nostalgic all at once." But now, the time has come for it to bow out and make room for other colors. Aside from Classic Blue, which has been crowned the 2020 color of the year, earthier, warmer neutrals are trending and they offer a wide range of colors for making spaces feel cozy and different.
Word Art
Enough with the "Live, Laugh, Love" signs. The word art trend might have started with a vintage street sign or a phrase in artsy calligraphy, but in whatever form, the time for it to go is now. There are many more creative, artful and personal ways to express your emotions and feelings that generic words seem like a cop-out. Family photos or artfully displayed mementos and memorabilia make a much more personal impact than a sign on the wall.
Mosaic
Whether it's an intricate design in the bathroom or a multicolored kitchen backsplash, mosaic designs were trending for a number of years. Alas, they have now become an element that can make a space seem dated. Large-format tiles and even slabs of stone are trending for kitchens as well as bathrooms, leaving these tiny tiles in the past. Clean lines and a less distracting backdrop are what homeowners want, preferring to put the focus on personal items rather than the floor. Mosaics feel a bit too fussy for today's modern interiors of any style.
Edison Bulbs
The advent of LED technology and a fondness for old-fashioned incandescent light bulbs fueled the meteoric rise of Edison bulbs. The melding of modern technology with this old-school design made them long-lasting, energy-efficient and accessible. From string lights to individual vintage pendants, they are everywhere but it's time to swap them out for better lighting. Space-appropriate statement lighting is extremely wide-ranging with distinctive styles for every decor style, so skip this passé trend and opt for something more dashing.
Matchy-matchy curtains and upholstery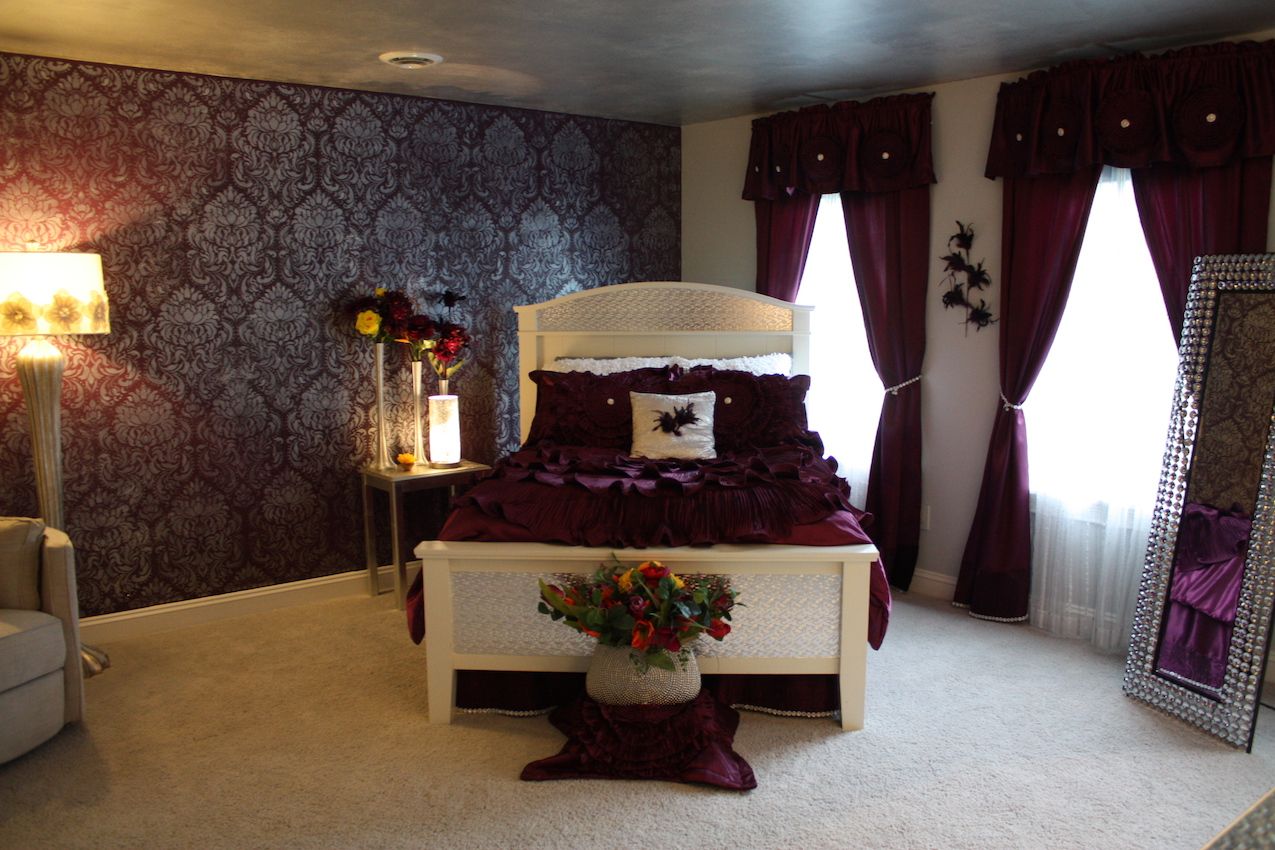 Vintage is good but your grandmother's (or mother's) matchy-matchy curtains and upholstery immediately date a house and make it seem stuck in an un-original, cookie-cutter era. The same goes for bedding and curtains that match (so pass over that bed-in-a-bag set!). Opting for coordinating patterns and textiles instead of matching materials is a fresher look that is supremely individual and far more interesting.
Lots of Granite
Granite countertops have become ubiquitous in kitchens, especially in American suburbia. There was a day when buyers wanted all granite, but with the introduction of new countertop materials, the choices for durable and stylish surface are many. Moreover, the mixing of materials in the kitchen — even for countertops — is becoming more common because it adds interest. Too much granite has started to look like overkill, especially the heavily patterned types that seem to swamp the look of the kitchen. It's time to consider other options for a more modern kitchen in 2020.
Bed Skirts
Face it, folks, bed skirts have been out for quite some time but plenty of people have held onto this unfortunate trend that is so old-school and not in a good way. More and more new bed designs don't use a box spring and instead have a platform for the mattress making a bed skirt — once also called a dust ruffle — obsolete. If you have to deal with a box spring, try covering it with a fitted sheet or special wrap. For unattractive utilitarian frames, it's possible to build a box around it. Just skip the skirt, please.
All-Grey Palette
Grey is the sophisticated neutral that everyone discovered, covering their walls, beds and furniture with this classy shade so much, that it became boring. Any one single color used from wall to wall can quickly become tiresome and grey is no exception despite its appeal as a neutral. While grey won't entirely go away, warmer neutrals, especially those in the brown range, will be trending. If it's time to paint, consider other color options and if not, swap out bedding, drapes or other smaller elements to mix up the color scheme away from a totally grey palette.
Pale Neutral Color Palettes
Much the same can be said about all-neutral spaces that are pale. Often, they can feel a bit insipid and lack personality. Fortunately, the warmer hues trending for 2020 may be able to meld with your current pale neutrals and punch up the space, making it feel fresh. If you're not sure of which tones will work best, try out a new rug, pillows, throws and other elements before you invest in a large piece of furniture or repaint an entire room.
Showroom Style
Showrooms are great for featuring furniture but you really don't want your living room to look like one. The artificial brand-new perfection of that set-up generally has no personality and it looks like no one lives there. While you don't want your space to be cluttered, a perfectly pristine setting that looks like it was just delivered isn't comforting. It's the personal items that make a space a home — from family photos to your favorite throw to that artful vessel you picked up on trip to Asia. These are the elements that make a stylish room special.
Industrial Decor
Despite its recent appeal, there's no denying that industrial decor has a cold, hard edge that for many homeowners is no longer relevant to the way we want to live at home. Obvious tech is not as desirable and most people want a warmer, more welcoming interior where they can escape from the outside world. Industrial elements were not made for cocooning and coziness. If edgy design is what appeals to you, try incorporating one-of-a-kind artful pieces that use industrial elements in a more organic way.
Concrete Floors
Concrete was a darling of the design world for quite some time, but similar to industrial design, its cold, sterile personality is no longer feeling the love among homeowners. Sure, it's super durable and easy care, but it just doesn't have the right feel for an up-to-date space, even in modern decor. Natural materials, as well as durable new products that mimic wood and stone at affordable prices, are more attractive. Even old-school terrazzo is seeing a resurgence in residential use.
Fully Matched Dining Sets
It's so easy to walk into a store and walk out having purchased a dining table and matching chairs, but it's also a very boring option. Matchy-matchy dining sets are going the way of matched bedroom sets — out of favor. Mixing a table with not only different chairs, but different types of seating makes any kitchen or dining room more interesting. Try chairs on one side of a rectangular table and a bench on the other. Maybe the dining table looks better with stool instead of high-backed chairs. Mixing and matching to suit your personality is the way to go, not a pre-determined, fully coordinated dining set,
Too much open shelving
Open shelving looks cool when optimally styled, but let's be honest: Who really wants the contents of their kitchen cupboards on display all the time. Your favorite mismatched logo coffee mugs won't look that stylish on display and neither will the unbreakable dishes you might use for your toddler. Another drawback to open shelving is maintenance, and it often involves more than just dusting. Airborne grease from cooking can collect on surfaces meaning that everything has to come off and the shelf thoroughly cleaned. Do you really want to spend more time and effort cleaning?
Bling Overload
Luxury is always in style but these days it tends to be more understated. Lots of metallics, mirrored surfaces and over-the-top ornate decor is generally far too busy and precious for everyday life. If your style tends toward the formal end of the spectrum, it's possible to create an opulent and luxurious room that feels very special without seeming like you bought the pieces at a Versailles garage sale. Skip the shine and ornate gold pieces and opt for furniture that exudes luxurious comfort and opulent textiles. The same can be said for too many shiny surfaces…a little goes a long way.
Subway Tile Everywhere
Subway tile is another trend that seems to have taken over kitchens and bathrooms. While it's a good basic and affordable tile option, it has also become overdone, especially in standard white installed in a basic pattern. Ultimately, these little tiles will likely remain popular, but there are countless affordable options so you don't need to limit yourself to basic white. They can be installed in a herringbone pattern and come in different materials for added interest. Part of the popularity of white subway tile was driven by the all-white kitchen trend, which is also fading fast.
Barn Doors
With the rise of rustic farmhouse design, sliding barn doors saw amazing popularity but this is one trend that many designers hope will die a quick death — and are surprised hasn't already. A lot of the fuel behind this trend came from popular television home makeover shows that focus on farmhouse style. But how many of us actually live on anything resembling a farm? Maybe in the right place in the right room, this type of door is still appropriate, but for most of the country, it's out of place and too contrived. If you're looking for a space-saving door, a pocket door that slides into the wall is more functional and takes up zero wall space.
Modern Farmhouse Overload
And speaking of farmhouse style, as already noted above, full-on farmhouse decor is out of its element in most areas of the country. The desire for a homey feeling is understandable as homeowners try to make their spaces more of a comforting retreat, however, there are ways to do this without totally falling into this fad. Even Realtor.com has declared that this trend needs to die a quick death.
Macramé
Millennials and Instagram brought about the resurgence of macramé, especially combined with the Jungalow trend. This explosion of seventies accessories and a house full of plants is not for every home. Hanging planters and chairs knotted from rope just don't work in most spaces and are dust magnets that are not easily cleaned. If you're looking for ways to add texture to your space, try out some cushions, artsy throws and textural rugs. Unless this is a favorite hobby of yours, it's time to retire the macramé.
Of course, the right decor style is one that you are personally happy with and you certainly don't need to follow the trends. That said, if you're planning to redecorate or make some changes, it's worth considering this list. Moreover, if you're going to be putting your home up for sale any time soon, you'll want to heed some of these cautionary points if you want to sell faster.