Modern Gray Kitchen Cabinets Beat Monotony With Style
Gray is not the most exciting color. But modern gray kitchen cabinets can bring the style of your kitchen up to a completely new level.
Yes, gray can be very bland, boring, and monotonous, often being associated with the coldness and roughness of concrete or with the color of the cloudy sky on a rainy and depressing day. All of that is true but, despite everything, gray is also a very surprising color.
Sure, sometimes it's boring and not at all attractive but sometimes it stands out in exciting ways. Interior designers know that all too well.
The same things that make gray seem cold and bland also allow it to be a very calming color, one that can help you achieve the relaxing ambiance and modern decor you always wanted. This brings us to another defining characteristic of gray as a color: its versatility.
Because it's a neutral characterized by emotional absence and a lack of energy overall, gray is an excellent background color and a suitable option for every space and style. In the kitchen, it can actually look very chic.
What Does Gray Mean in Interior Design?
Gray is one of the hottest colors trending in interior design in the 21st century. This color goes well with both industrial and rustic interiors.
Traditionally, gray has signified many different things in design. Here are just a few of the traits that the color gray is associated with:
Achromatic: Achromatic gray is a gray where there are amounts of red, green, and blue in the color. Silver, a shade of gray, is an example of an achromatic gray shade. Chromatic gray shades are shades of gray where there is a greater amount of green, blue, or red, giving the gray a tint of that color.
Neutral: Gray is a neutral color that can easily be paired with other neutrals such as natural materials or colors like black, white, and earth tones. Neutral tones act as a good backdrop for brighter accent colors, such as red, blue, and other jewel tones.
Peace and balance: Gray is symbolically associated with many different concepts such as peace, balance, and truth. Gray is also associated with refinement and can make an interior look more elegant.
No matter what kitchen design you're working with, including gray in your palette, can help add a much-needed element of sophistication to your design.
Materials for Modern Gray Kitchen Cabinets
When it comes to gray kitchen cabinets, the easiest material to use a wood that stains easily, such as oak. This will allow you to either paint the cabinets gray or apply a gray stain to the wood without having to work up to multiple coats.
Another way to incorporate the color gray into your kitchen cabinets is to incorporate gray materials around the cabinets themselves, such as the countertops and accent pieces.
Here are a few materials you can use to accentuate your modern gray kitchen cabinets:
Stone
Marble
Granite
Concrete
Pewter
Stainless steel
Along with these gray materials, it's common for interior designers to combine gray cabinets with other neutral materials, such as natural wood and white marble. Adding some other colors to the kitchen can help keep the gray cabinets from looking too monochromatic.
Interior Design Styles for Gray Kitchen Cabinets
Since gray is a neutral color, it goes well with several different interior design styles. Gray can either act as the focal color or can act as the supporting backdrop for a brighter accent shade.
Here are just a few of the interior design styles that work well with a gray color palette in the kitchen cabinetry:
Rustic
Industrial modern
Minimalist
French country
Coastal
Gray looks great with a wide variety of colors, so it's easy to mix in no matter what your aesthetic is. The shade of gray you use also makes a big visual impact on the final look of the kitchen.
Grays with a touch of slate blue in their tone are useful in coastal palettes, while silver and gunmetal gray shades look best in industrial and modern looks.
Popular Kitchen Cabinet Types
Before actually worrying about the right color for your kitchen cabinets, it would be best to focus on the actual type of cabinets that you want to include in your design.
There are a few common options to choose from and, of course, you can mix and match or come up with new and original combinations and configurations.
Shaker-Style Cabinets
A lot of the differences between the different types of cabinets are aesthetic ones. The Shaker-style cabinets are some of the most common and popular ones.
You can easily recognize them by their iconic design which consists of five pieces of flat panel, four of which create a frame, and the fifth one which is the flat center panel.
This gives cabinet fronts a simple and classic look.
Flat-Panel Cabinets
When it comes to cabinet doors or fronts, the flat-panel or slab ones are highly appreciated for their simplicity. The lack of any intricate details, frames, or ornaments gives these cabinets a very clean and modern look and makes them ideal for minimalist kitchens.
Flat-panel kitchen cabinets are also easy to clean and less expensive than other types but they can also be customized in lots of different ways.
Inset-Style Cabinets
The idea here, as the name suggests, is that the door on this sort of kitchen cabinet is inset into the frame rather than placed on the outside. This makes installation more difficult and tricky and the measurements, in this case, have to be very precise.
The look, however, is a very distinctive one, and these cabinets have a lot of personality.
Louvered Cabinets
You can recognize louvered kitchen cabinets by the fact that they feature these horizontal wooden slats which create a nice pattern on the front.
It's a design that's reminiscent of window shutters and, like those, they have small spaces between the slats which provides ventilation. This can be a very useful feature in certain cases.
Beadboard Cabinets
Speaking of patterns on kitchen cabinets, this is also a very popular style. Beadboard cabinets have a classic aesthetic and their doors consist of rows of vertical planks with indentations or ridges also known as beads.
This is a nice look for a retro, farmhouse, or cottage-style kitchen. Keep in mind however that all these indentations can trap dirt and make cleaning more difficult.
Thermofoil Cabinets
Thermofoil cabinets are inexpensive compared to other types and are easily recognizable as well. They're made of medium-density fiberboard or MDF for short and wrapped in plastic coating then sealed under intense heat.
They're generally quite durable are moisture-resistant but they're not usually heat-resistant which can be a problem if installed near a heat source such as an oven for instance.
Common Materials Used for Kitchen Cabinets
Besides the style and appearance of your kitchen cabinets, there's another important decision that needs to be made in the early stages: what material the cabinets should be made of.
There are quite a few options that you can choose from but generally, it's all reduced to a few common ones which we're going to discuss below.
Solid wood is not one of them because, even though it's a sought-after material, it's not the best for kitchens given that it expands and contracts and it's also expensive.
MDF
MDF (medium-density fiberboard) is a material made from recycled wood fibers and resin. It's heavy and dense and it's very popular for kitchen cabinets and furniture in general.
MDF cabinets are appreciated for their durability. They don't crack or peel easily, they have a smooth and simple aesthetic, they're easy to clean and to recondition and they're very versatile.
Plywood
Plywood kitchen cabinets are also highly popular. They're low-cost and similar to MDF cabinets but, compared to those, they have the advantage of being a bit more resistant to moisture.
Each plywood board is made of layers of woodpiles glued on top of one another. The exposed surfaces are then coated with wood veneer or thermofoil for added protection.
Particleboard
Unlike MDF or plywood, particleboard kitchen cabinets are not known for their durability. That's because the material itself is not designed to be strong.
Particleboard consists of wood chips and particles combined with adhesive and then formed into panels. These cabinets are inexpensive but they also don't last long.
Stainless Steel
Moving away from wood-based materials, kitchen cabinets nowadays can also be made from stainless steel.
This is actually the most common material found in professional kitchens. It's the most durable but also quite expensive.
Unlike wood, stainless steel doesn't expand or contract and it won't take the wear and tear in moisture-rich environments.
50 Gray Kitchen Cabinets to Refine Your Kitchen Style
1. Gray with Neutrals
One of the easiest ways to incorporate gray kitchen cabinets into a kitchen design is to use them together with other neutrals.
Neutral colors include earth tones such as beige and brown as well as natural materials like wood and stone.
White and black are two other popular neutral colors that are used alongside gray for a monochromatic look.
2. Dark Gray Tones
When it comes to decorating with gray, tone means everything. Darker gray tones will read more like a black in the room. This quality helps make spacious rooms feel a little cozier while adding a touch of drama.
Placing dark gray tones against lighter gray tones or white can help to lighten up the room and keep it from feeling cramped.
3. Gray Cabinets with a Wooden Countertop
Gray kitchen cabinets are a suitable option for modern, contemporary, traditional, and even rustic homes. They can look futuristic, simple, or full of charm, depending on the design direction you choose.
You could say that gray is the color of compromise given how it's the combination between black and white, two totally contrasting tones. However, that's just one of the directions you can take.
4. Gray and White Combination
Gray and white is a classic combination that can make a kitchen look ultra sleek and put together.
In this example, gold storage cabinets help to break up the look of the gray in the room, but the fact that gold is a neutral helps keep this accent from clashing with the rest of the kitchen's design.
5. Gray Cabinets with a Yellow Gold Kitchen
Just because you're going with a neutral gray cabinet in your kitchen doesn't mean that your kitchen has to be a full-on neutral palette.
Instead, use gray cabinets to tone down a brighter-colored kitchen like in this canary yellow kitchen above. In a colorful room like this one, the gray cabinets actually act as the accent rather than the yellow.
6. Versatile Gray Look
One of the biggest advantages of gray in interior design is that it can be applied in so many different ways.
In the kitchen above, gray is used with simple rustic cabinetry in a monochromatic look that is only broken up by the bright white countertop and the off-white plate ware.
Even though gray is used throughout this space, it doesn't come across as overwhelming.
7. Warm and Cool Gray Tones
Because of its quiet and detached nature, gray can help you create a pleasant and relaxing ambiance in the kitchen, the bedroom, and every other room of the house.
The kitchen is an interesting case because this is usually where you need a lot of storage and where the decor becomes complex and less minimalist because of all the appliances, utensils, and all the things on display.
8. Cohesive Gray Kitchen Cabinets Against Matching Gray Wall
The key to placing gray cabinets against a gray wall is to slightly change the tone of the cabinets to the wall. This helps to break up the space visually and set the gray cabinetry apart from the wall color.
Utilizing open storage such as in these metal gray cabinets helps to keep everything stored visible and in easy reach.
9. Gray with Eclectic Materials
The type of materials you use for gray cabinetry can impact the way the cabinets look in the room. A reflective surface such as metal is going to give a very different feel to the kitchen than if you did the same gray cabinets in stained wood.
Metal materials tend to make a kitchen feel more modern and industrial, while wood makes it feel more rustic.
10. Mix and Match Shades of Gray
To keep gray from looking boring, one tactic used in contemporary interior design is to mix and match different shades of gray together in the same space.
Layering these shades of gray on top of other neutrals lends visual interest to the room without any one single element in it clashing with the rest of them.
11. Mix and Match Finishes and Textures
Along with mixing and matching different shades of gray, another strategy you can use to help break up the monochromatic look of all-gray cabinetry in the kitchen is to mix and match different finishes and textures.
Choosing matte, glossy, and natural surfaces can keep the viewer's eye moving throughout the room while still maintaining an all-neutral palette.
12. Modern-Industrial Interiors
One of the best applications of gray in kitchen cabinets is as part of a modern-industrial interior.
Even if the cabinets themselves are constructed in natural materials, such as wood, gray cabinets help highlight other unnatural materials in the design that are associated with an industrial interior, such as stainless steel or white tile.
13. Pale Gray Kitchen Aesthetic
If a dark charcoal or ash gray seems too harsh, you can help tone down the bright white of a kitchen by adding cabinets in a very pale gray tone such as oyster.
Pale gray tones help bring depth to the space without making it look and feel cramped. This shade of gray matches well with stainless steel fixtures, too.
14. Warm Gray Kitchen Tones
You can use your gray kitchen cabinets as a neutral canvas which you can then complement with all sorts of colorful and contrasting features.
Don't think of gray as a conservative color but rather as the color that can help you highlight the things that matter the most without looking totally impersonal and austere.
In a way, gray is a less conventional alternative to white.
15. Gray Kitchen Island
Gray doesn't have to just be used on your kitchen cabinets. By incorporating the same shades of gray into your island, you can help carry your chosen gray color around the room.
Reflective gray surfaces pair well with a stainless steel countertop for a futuristic vibe. Pair with industrial features like these minimalist bar stools and pendant lighting to help complete the look.
16. Modern Gray Kitchen Cabinets with Wood Accents
If you're doing a heavy gray look with the color on many different surfaces, it helps to break up the monochromatic look of the space with some wood accents.
Wood accents help soften the unnatural look of gray in industrial-modern spaces and can still help carry the theme as long as you keep your shapes geometric.
17. Monochromatic Gray Kitchen Design
If you use gray as your main color in the kitchen as well as on the kitchen cabinets, this will help you achieve a monochromatic look.
Keep your grade shades in the same tone family (warm or cool) to help keep them from clashing with each other.
You also need to keep lighting in mind with a monochromatic gray room since it can look heavy without enough lighting to illuminate it.
18. Unusual Forms and Angles
Gray cabinets can feel sort of bland if all the lines in the cabinet are symmetrical and repetitive. In industrial designs, adding some asymmetrical angles and forms can help keep things from looking bland.
Try adding some natural touches in the form of fresh-cut flower bouquets or hand-craft curved pottery to help soften things up.
19. Unified Gray Kitchen Cabinets Look
Kitchens can look more unified when you incorporate gray throughout the space, not just in the cabinets. To keep this from looking monotonous, however, it's a good idea to bring in touches of different textures so that the room doesn't start to look flat.
In this room, lattice-style cabinet doors and fine art pottery act as secondary focal points to lead the viewer's eye around the room.
20. Gray Kitchen Cabinets with White Door Fronts
Medium to dark gray can be too much in kitchen cabinets in a smaller space, but you can help lighten up the look by using white cabinet fronts and then pulling gray around the room on the countertops and the cabinet sides.
A few trailing plants on the shelf are just enough decor to keep this room cozy. Leave the counters uncluttered to maintain a minimalist modern look.
21. Colorful Highlights with Gray Palette
If you're trying to get the most out of a kitchen that is decked out mostly in gray, a smart tactic is to incorporate small colorful accents.
If you are using a warm-toned gray, try going with warm-toned accents such as orange, gold, and yellow. If you're using a cool-toned gray, try going with purple, green, or blue instead.
22. Diverse Gray Kitchen Cabinet Tones
Just because you're using an achromatic color palette in your kitchen doesn't mean it has to be boring. Using a diverse set of gray tones can add the visual illusion of texture and depth to your design.
Softening the interior with some natural wood accents helps keep the gray-on-gray design from looking too stark and stripped-down.
23. Contrasting Materials
While it's normally useful to keep all of your shades of gray in the same tone family, there's also something to be said for mixing and matching different tones of gray along with other neutrals such as cream and wood.
These contrasting colors and textures will give your gray kitchen a bit of a more bohemian, eclectic vibe than most modern kitchens with a gray palette.
24. Light Natural Wood Accents
Black furniture is a popular pairing with gray kitchen cabinets, but darker-colored furniture can make the kitchen feel small if you don't have an open floor plan.
To lighten things up and keep the room feel more farmhouse than industrial, try adding light wood accents such as pine to soften your kitchen's aesthetic.
25. Gray Kitchen Cabinets and Earth Tones
Just because your kitchen cabinets are gray doesn't mean you have to have a gray kitchen. In this design, gray cabinets are counter-balanced with copper fixtures and medium brown wood accents.
These accents help ground lighter accents like the white flooring and countertop. Even though it might not seem like brown, gray, and white would go together, these neutrals mesh well.
26. Modern Gray Kitchen Cabinets and Yellow Combination
Here's another kitchen that pairs yellow and gray as a color combination. In the other yellow kitchen we've featured, yellow was the primary color with gray as a secondary color.
In this kitchen, gray and yellow have equal billing thanks to the yellow-toned hardwood flooring. Adding strip lighting to a bright yellow accent wall can give it an alluring glow.
27. Futuristic Gray Look
In certain environments, gray can have a strong industrial or gothic allure. It can also look cool and futuristic and it can even make a decor look more sophisticated and mysterious.
It's also a strong and resilient color and this makes it a perfect match for the kitchen. Also, keep in mind that there are a lot of shades of gray to choose from.
28. Stylish Marble Accents
Because grey is a very neutral color, using it exclusively in the design of a kitchen can make this space look and feel boring. This is especially true when the design of the kitchen is a very simple one as well, with flat-panel cabinets, minimalist details, and so on.
Introducing an accent color or materials can prevent that. Here's a beautiful use of white marble in a design by studio OOOOX.
29. Diverse Finishes
Another good way of making sure your kitchen doesn't look bland even if you're using neutral colors in its design is by opting for a variety of different finishes and textures as opposed to just one.
This modern kitchen design by interior designer Ifat Mentesh is a nice example in which you can surely find inspiration.
30. Interesting Accent Pieces for a Modern Gray Kitchen
Although simple and subtle in nature, light grey can be a nice accent color. Pair it with white in a kitchen to create a stylish, airy, and modern design.
And add interest to it through accent pieces such as the lighting fixtures, the backsplash, the chairs, and so on. Here's another beautiful design by Ifat Mentesh for more inspiration.
31. Wooden Accents
Wood is a very common material often used for making furniture. However, it can also be a really nice accent material and you can use its aesthetic to add warmth and contrast to your kitchen design.
Take for instance this contemporary and minimalist kitchen design by ORKO Studio. The wood is a perfect companion for these flat and simple grey cabinets.
32. Multiple Shades of Gray Furniture
Another interesting and subtle way in which you can make your grey kitchen cabinets look more natural is by pairing them with other furniture pieces and surfaces that have similar colors.
In fact, using different shades of grey in a design combined with different textures and finishes adds enough diversity while still keeping the color palette very simple and neutral.
This apartment interior by QUADRUM STUDIO is a nice example in this sense.
33. Smooth Transitions
You can use contrasting materials, colors, and finishes in your kitchen's design without making these elements clash with one another.
Creating a smooth transition between them helps the space look harmonious and to feel inviting and comfortable. In this case, the grey cabinets match the walls very well as well as part of the floor which seamlessly transitions into a wooden floor.
This is a design by Olga Paliychuk.
34. Light Nuances
The contrast between the light grey and the white surfaces is very subtle here but still enough to diversify the kitchen design.
Combined with the Shaker-style cabinets, the grey looks very soothing and gives this space an inviting feel.
At the same time, the white backsplash tiles and countertops give the kitchen a clean and modern vibe. This is a project by Newmark Homes
35. Dark Gray Accents
Dark grey kitchen cabinets can look wonderful too and here they're paired with black countertops and wooden accents which creates a super welcoming and cozy ambiance.
It's a look that suits this fairly narrow kitchen designed by studio Tom Bassett-Dilley. The white subway tiles have a classic aesthetic and unify the room.
36. Reflective Finishes
What immediately stands out when looking at this contemporary kitchen is how airy and open it feels.
There's a combination of factors at work here such as the high ceiling, the large windows, the light-colored floor but also the glossy finish on these beautiful grey cabinets.
This is a project by architecture studio California at Home.
37. Gray Kitchen Cabinets and Glass Pendant Lighting
Another way to keep gray kitchen cabinets from looking too severe is to introduce lighter-looking materials. A good choice is glass, like these glass island pendants at Lily Ann Cabinets.
The transparency in the glass makes the kitchen's design look more delicate while also adding reflective surfaces that make the room look bigger. Glass goes well with gray kitchen cabinets in modern designs.
38. Gray Kitchen Cabinets with Open Storage
If you're afraid that gray kitchen cabinets will be too much gray in your design, a way to keep things a little lighter while also carrying the theme is to go with an open storage design like these lattice-style cabinet doors from Elizabeth Taich Design .
Bright gold pulls and fixtures are an unexpected and beautiful choice since many gray kitchen cabinets come with stainless steel or silver-colored fixtures instead.
39. Gray Cabinets with Recessed Lighting
To get the most out of your gray kitchen cabinets, they'll need to be lit well. Recessed lighting is one way to add lighting to your warm gray modern kitchen design without washing it out with a bunch of fluorescent lighting.
Recessed lighting like this design from Remodelholic gives the kitchen a clean look and can be supplemented with task lighting under your cabinets so that you're always presenting your gray kitchen cabinets in the best light.
40. Glass Shelving with Dark Gray Kitchen Cabinets
Using gray kitchen cabinets at the floor level and above the countertops can sometimes be a little bit of overkill with the color, especially in small kitchen spaces.
To give things a more airy feel while still keeping them contemporary, try installing glass shelving above your gray cabinets instead of more cabinets. While this somewhat limits your storage space, it'll give your kitchen a more minimalist look.
See an example of how to pull this look off at Centered By Design.
41. Dark Gray Cabinets and Copper Accents
Metallics are always a good match with matte gray shades in the kitchen since the gray color acts like a neutral backdrop to help copper accents pop. Try pairing copper accents with warm-toned grays to give the whole kitchen a cozy feel.
You can either use copper fixtures or go with even larger accents like these copper-colored bar stools at MassaRossa.
42. Modern Gray Kitchen Cabinets with Greenery
Gray kitchen cabinets can feel gloomy on their own, especially if you choose a medium shade of gray like a rain cloud gray. Help keep your kitchen from feeling washed out by adding a pop of natural green to the space in the form of live plants.
Live plants in a gray kitchen can take the edge off a contemporary industrial design and can act as a focal point in the space. See an example of this concept at work in this gray kitchen design from IKEA.
43. Super Light Gray Kitchen Cabinets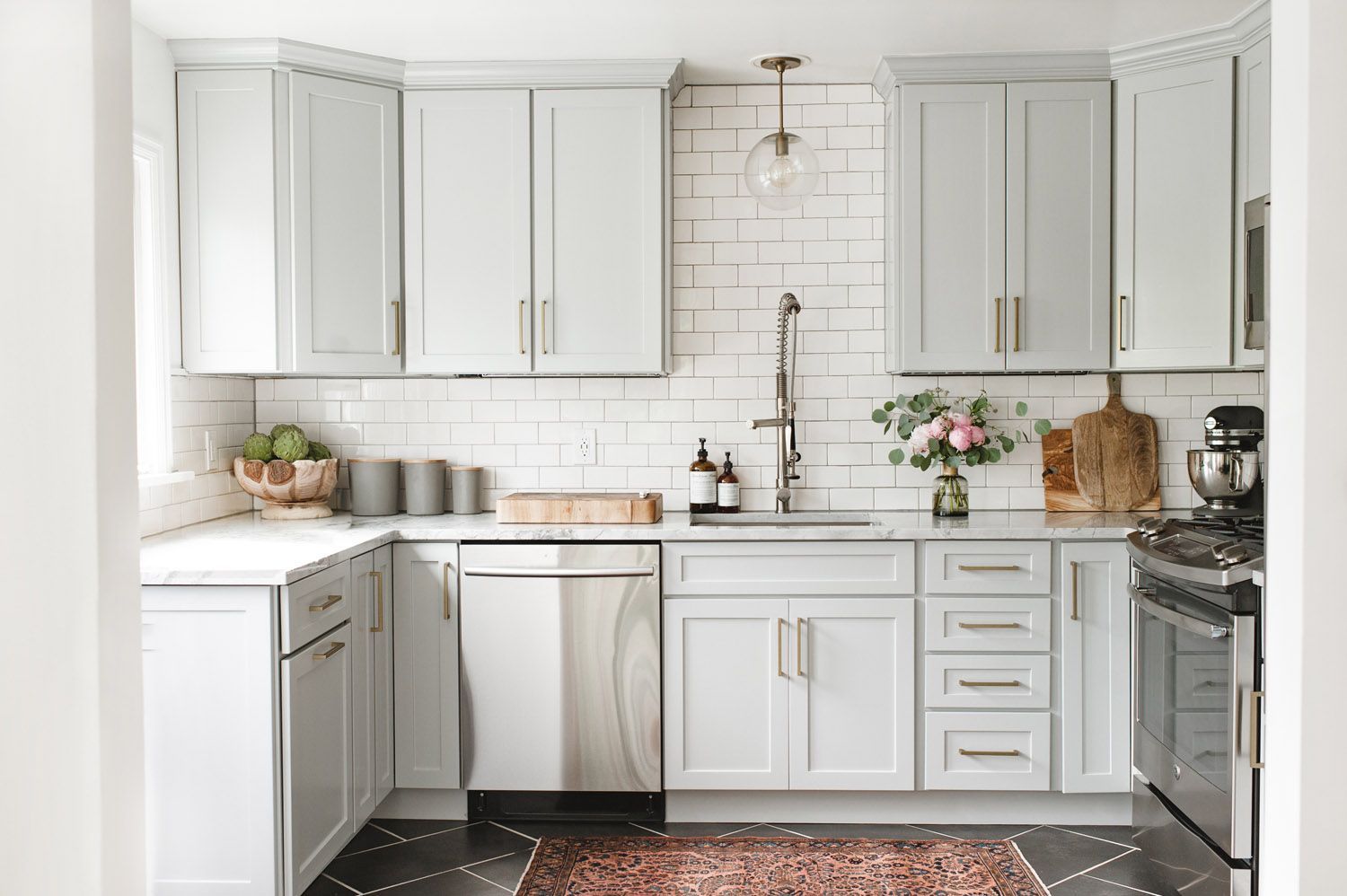 Sometimes just the slightest tint of gray is enough to liven up a kitchen space. In this gray kitchen from The Spruce, the gray cabinets are such a light shade that they almost appear off-white rather than gray. However, placing them against a true white subway-style tile backsplash helps pull out their gray tone and makes them stand out in a nuanced and subtle way.
44. Gray Kitchen Cabinets and Warm Lighting
Along with including warmer-toned neutral accents with your gray cabinets, another way to keep things warm is to use warm lighting. Warm lighting casts a light with a yellowish or orange cast.
This is opposed to lighting like LED lighting, which is typically a bright white light that can look sterile and stark in a kitchen setting. See how warm lighting and a warm-toned backsplash are used to keep things comfortable in this kitchen design at Backsplash.com.
45. Light Gray Kitchen Cabinets with Warm Metallic Accents
Dark gray cabinets aren't the only style of gray kitchen cabinet that looks great with metallic accents. Here's another kitchen with gray cabinets from Wolf Home Products sporting warm metallic accents.
Copper looks much different against this pale warm-toned gray than it does against charcoal gray cabinets. Gray has a lot of versatility depending on which shade you decide to go with.
46. Gray Kitchen Cabinets with Black Backsplash
White backsplashes are a popular choice to pair with gray cabinets, but they aren't the only option at your disposal. You could go a little darker and more dramatic with a black backsplash like this backsplash at Simply Kitchen USA.
The backsplash is made even bolder by placing it against the white cabinets, while the gray cabinets are reserved for the island as a cool counterpoint to the black and white in the rest of the kitchen.
47. Gray Stain on Wooden Cabinetry
You might associate gray kitchen cabinets with metal and plastic, but a softer look for gray cabinets that can go as well in farmhouse and rustic designs as it can in contemporary ones is a gray wood stain.
Putting a gray wash on light-colored cabinetry like pine can give you the smoky color you're seeking while also preserving the look of the beautiful wood grain in the cabinets. Check out these gray-stained wooden kitchen cabinets from The RTA Store.
48. Gray Island with Wooden Cabinets
Want gray kitchen cabinets but think that they'll be overwhelming on every wall? Try adding a gray kitchen island complete with cabinets and do the rest of your cabinets in a neutral material, such as the light wood in these cabinets at Schrock.
The contrasting colors between the cabinets on the walls and the kitchen island make the island an instant focal point of the room.
49. Dark Gray Kitchen Cabinets with Gold Interiors
Another way to brighten up dark gray cabinets is to try painting the interior of the cabinets a different color.
These dark gray cabinets with gold interiors from Christopher Peacock add an unexpected twist to the design and help repeat the pattern of the natural wood drawer accent directly beneath them.
50. Black Countertops
White or marble countertops are popular choices to match with gray cabinets, but take a look at these black swirled countertops at Cabinet Corp.
Black counters add drama to industrial and modern looks, but placing them on top of gray cabinets helps keep them from clashing when they might be too strong of a contrast for white cabinetry.
The traces of white throughout the counters help pull the white in the backsplash and the window frame, too.
Modern Gray Kitchen Cabinets FAQ
What Is the Best Cabinet Finish?
The best cabinet finish for kitchen cabinets is a semi-gloss finish. Semi-gloss is durable, which makes it a smart option for the kitchen where a lot of water, oil, and other substances will need to be scrubbed from the finish.
Semi-gloss also reflects light, which is an important trait for gray cabinets. Gray cabinets without a reflective surface can seem dark and flat, but reflective surfaces make the kitchen look bigger.
Is Satin or Semi-Gloss Better for Modern Gray Kitchen Cabinets?
Satin finishes are almost as popular as semi-gloss finishes in kitchen cabinets. However, satin finishes tend to not be as durable as semi-gloss finishes, which makes them a little less practical in working kitchens.
However, a satin finish can be a smart option if you want your kitchen cabinets to have a more velvety-looking texture. While the satin finish doesn't reflect light back as brightly as semi-gloss, it can help give a more matte-looking texture to your painted cabinets.
What Are the Different Types of Kitchen Cabinet Doors?
There are many different types of kitchen cabinet doors that can be used in conjunction with a gray color palette.
Here are just a few of the gray kitchen cabinet door styles that might work in your design:
Raised panel cabinet doors: A raised panel kitchen cabinet door has a raised center section and a grooved design. This gives the cabinets an interesting three-dimensional look. However, raised panel cabinet doors also need to be cleaned well since the grooves in the cabinets can trap dust and grime.
Recessed panel cabinet doors: Recessed panel cabinet doors are the opposite of a raised panel cabinet door. Instead of the central panel of the cabinet being raised, the central panel is recessed instead. Recessed panel cabinet doors are one of the simplest cabinet designs and can be easily integrated into many different designs.
Shaker cabinet doors: Shaker cabinet doors are very similar to recessed panel cabinet doors. Unlike more complicated cabinet door designs, Shaker cabinet doors do not possess bevels or other trim features along the rails.
Slab cabinet doors: Slab cabinet doors are one of the simplest types of cabinet doors and don't feature any kind of central panel. Instead, these cabinet doors are formed by a single slab of smooth wood. Slab cabinet doors were popularized in Europe, but they fit in well in kitchen designs from all over the world.
Mullion cabinet doors: Mullion cabinet doors are similar to recessed cabinet doors except that instead of a solid recessed panel, a mullion cabinet door features a recessed panel of glass. This gives the kitchen an open storage look and can help open up smaller kitchens, making them seem more spacious. Some mullion cabinet doors are reinforced with lattice or other framings for added protection.
What Colors Pair Well with Modern Gray Kitchen Cabinets?
Since gray is an achromatic neutral, it goes with pretty much any color you can think of. These are some of the most popular colors to pair with gray kitchen cabinets:
Neutrals: Neutrals such as white, black, and beige are popular additions in the kitchen anyway, but they are especially useful for brightening up shades of gray in an interior design.
Yellow: Yellow is a popular color choice for cabinets, but too much yellow can make a kitchen look outdated or kitschy. Adding some cabinets in a sophisticated gray shade can help tone down bright yellow walls or flooring in the kitchen and make the room look more modern.
Blue: A cool pastel teal or robin's egg blue can help to lighten up gray cabinets without causing the room to look darker. Pair blue walls or accents with a cool-toned gray to create a unified look.
Green: Green walls and accents can help give gray kitchen cabinets a bit of a more natural feel, especially when paired with a few live houseplants for visual interest.
Modern Gray Kitchen Cabinets Conclusion
Gray cabinets aren't just for contemporary designs. This color works well even in more casual kitchens. The key to installing modern gray kitchen cabinets without giving your kitchen a monotonous look is to break up the space.
This can be done with other materials such as wood, metal, or stone countertops. Bringing in other neutral shades and using multiple shades of gray will make your kitchen cabinets anything but boring.