Subway Tiles – The Fascinating Story Of Their Versatility
The subway tile trend is strong and popular, especially in kitchens and bathrooms. Its history dates back to the early 1900s when the New York subway system was unveiled. It featured these beautiful walls covered in white 3"x6" tiles and it didn't take long for interior designers to adopt the look when remodeling homes. Kitchen subway tiles are very popular and appreciated for how low-maintenance and easy to clean they are but also for their classic yet still quirky look and the thin grout lines, all of which are qualities that also make a subway tile bathroom look exquisite.
Installation is fairly easy and you could probably do it yourself. If you don't know how to lay subway tiles, we can help with a few tips and ideas. There's a bunch of patterns to choose from and a lot of designs you can create. You can mix and match different colors, pick a theme for your design or keep thing simple and go with a monochromatic and classical look. Either way, your new kitchen tile backsplash or wall should be ready to make a style statement in no time.
White subway tiles
Use as inspiration the elegant white subway tiles that actually stand at the base of this whole trend: the New York subway platforms. Sure, their look has changed over time but that initial impact is something that you can recreate in your home by keeping the decor simple and monochromatic.
Beveled subway tiles
Beveled subway tiles, like the name suggests, have beveled edges and this gives the impression of a three-dimensional design. The tiles are appreciated for the play of light and shadow that they create but also for the fact that they add texture to the decor and that they stand out more than others. If you like the look, keep in mind that these tiles are a bit more difficult to clean that the regular kind and that can be an inconvenience in the kitchen.
Glass subway tiles
These tiles are obviously made of glass and that gives them a beautiful shine but also makes them heat and water resistant which makes them ideal for kitchen backsplashes, the area behind the sink and even the bathroom. There's also another advantage: glass subway tiles come in every color imaginable, both solid and translucent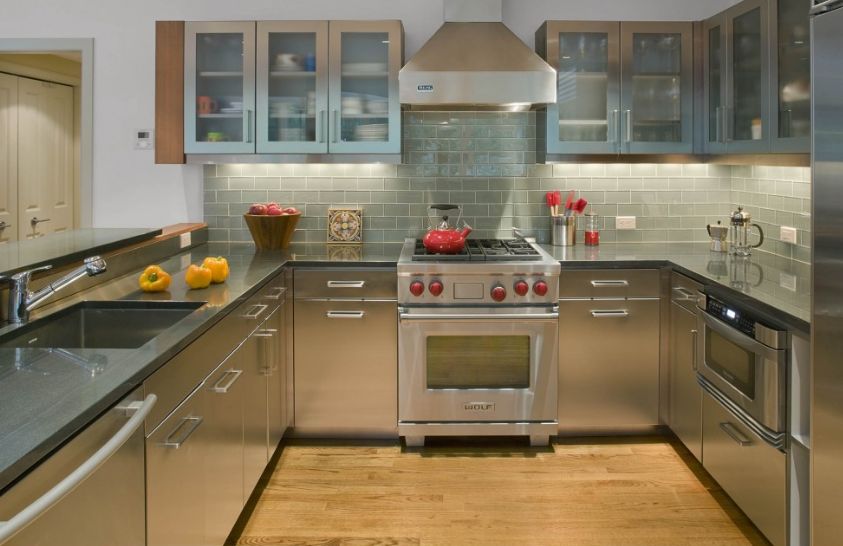 Marble subway tiles
Working with marble and exploiting its unique beauty and elegance is not easy. Still, it's all worth the effort when the final picture starts to form. Even small tiles like those used in subway patterns can showcase this material's beautiful veins and lines . Marble subway tiles come in various different finishes and color tones and their price varies according to the region of provenance and type.
Black subway tiles
Black may not be a very popular color when it comes to tiles or any kind. Nevertheless, this isn't necessarily a bad thing. You can take advantage of that and create a kitchen design that stands out and plays with contrasts in unusual and interesting ways. In addition, black is a very practical color that hides stains well and that makes it great for kitchen backsplashes.
Gray subway tiles
Gray is a neutral color, the marriage between black and white, two timeless colors, so very different from one another. Some consider this color dull and boring without considering how elegant and stylish it can look in the right setting. We love the look of gray subway tiles paired with white grout. They make spaces feel unexpectedly warm and welcoming.
Blue subway tiles
Blue is the color of the sky and is often also associated with water, peace and tranquility. It's a color that can be both vibrant and soothing and with many different variations that can really make a space stand out. Blue is only a mainstream and boring color if you let it be. There are many ways to avoid that when decorating and one of them has to do with subway tiles which can make any color look beautiful and sophisticated.
Yellow subway tiles
Yellow is a bright and cheerful color and a perfect choice for spaces like the kitchen. There aren't that many ways in which you can introduce a color into the kitchen but those that are available can be exploited in a lot of creative and beautiful ways. For instance, a yellow backsplash can look amazing and to make it even more stunning you can use subway tiles.
Pattern options: herringbone tiles
There are several patterns to choose from when installing subway tiles and this is one of them. The herringbone pattern is commonly used when installing wooden flooring but can look just as beautiful on walls. It's a good option when working with pain white tiles, a way to avoid creating a monotonous decor and of allowing the subway tiles to stand out in a subtle and efficient way.
Offset tiles
This could very well be the most commonly used and most popular pattern of all when it comes to subway tiles. It's easy to work with, easy to install, easy to clean and simply practical and efficient in general. It looks good in a lot of different settings and in combination with just about any color or type of space.
The diagonal offset pattern
This is more or less the same thing as the offset tile pattern but with a twist. It's an interesting variation of the design, a sort of hybrid between the offset and herringbone patterns. Installation is a bit more tricky although not overly difficult. It's a style that proves you can be creative and completely change the look of a tiled wall without actually modifying its structure and without relying on color or material to take the spotlight.
Straight set tiles
This is a very simple and straight-forward pattern. It has clean lines and it actually puts an emphasis on the space between the subway tiles and the grout rather than on the tiles themselves. You can take advantage of that and create all sorts of interesting combinations of colors and play with the contrasts between them or you can use the minimalism and freshness of white on white to create a sleek and contemporary design.
Vertical tiles
There's not much to this really…it's the offset tile pattern with one exception: the tiles are arranged vertically instead of horizontally. This strategy can be useful if you want to make a small room seem larger by giving the impression of a higher ceiling or if you want to simply stay away from the mainstream horizontal subway tiles and try something a bit more interesting yet equally simple.