Travertine Backsplash Ideas For Nostalgic Kitchen Designs
Travertine is less popular than marble or other materials and it's exactly this obscure nature that inspired us today to take a closer look at it. Travertine is a form of limestone deposited by mineral springs and is often used as a building material. The Colosseum is the largest building in the world constructed mostly out of travertine but this material's usefulness isn't limited just to large structures which brings us to the main subject of the article: travertine backsplashes.
Travertine is one of the several natural stones often used for paving patios and garden paths, being appreciated for its beautiful natural texture, simplicity and durability. Although it's less common to see this material being used in interior designs, there are many interesting ways in which the tiles can add character to a space.
You can find travertine tiles in various different shapes, sizes and even colors. That means you can mix and match them in all sorts of cool ways in you want to create an eye-catching display or to turn the backsplash into a focal point for the space.
Travertine is available in a wide variety of colors which include the natural tones it comes in such as white, tan, cream and a few rusty varieties but also a selection of artificial color tones which makes the list infinite.
Travertine backsplashes are interesting because they give kitchens a warm and inviting look thanks to their porous texture and the fact that they're imperfect and irregular in so many ways which is exactly what makes them charming and special in the first place.
Travertine backsplashes are appreciated for their simplicity and versatility. They can complemented numerous different types of kitchen decors, from rustic and traditional to modern and contemporary.
A travertine backsplash can look great in combination with a countertop made of marble and furniture made of wood. Of course, lots of other combinations are worth being considered, each offering unique features.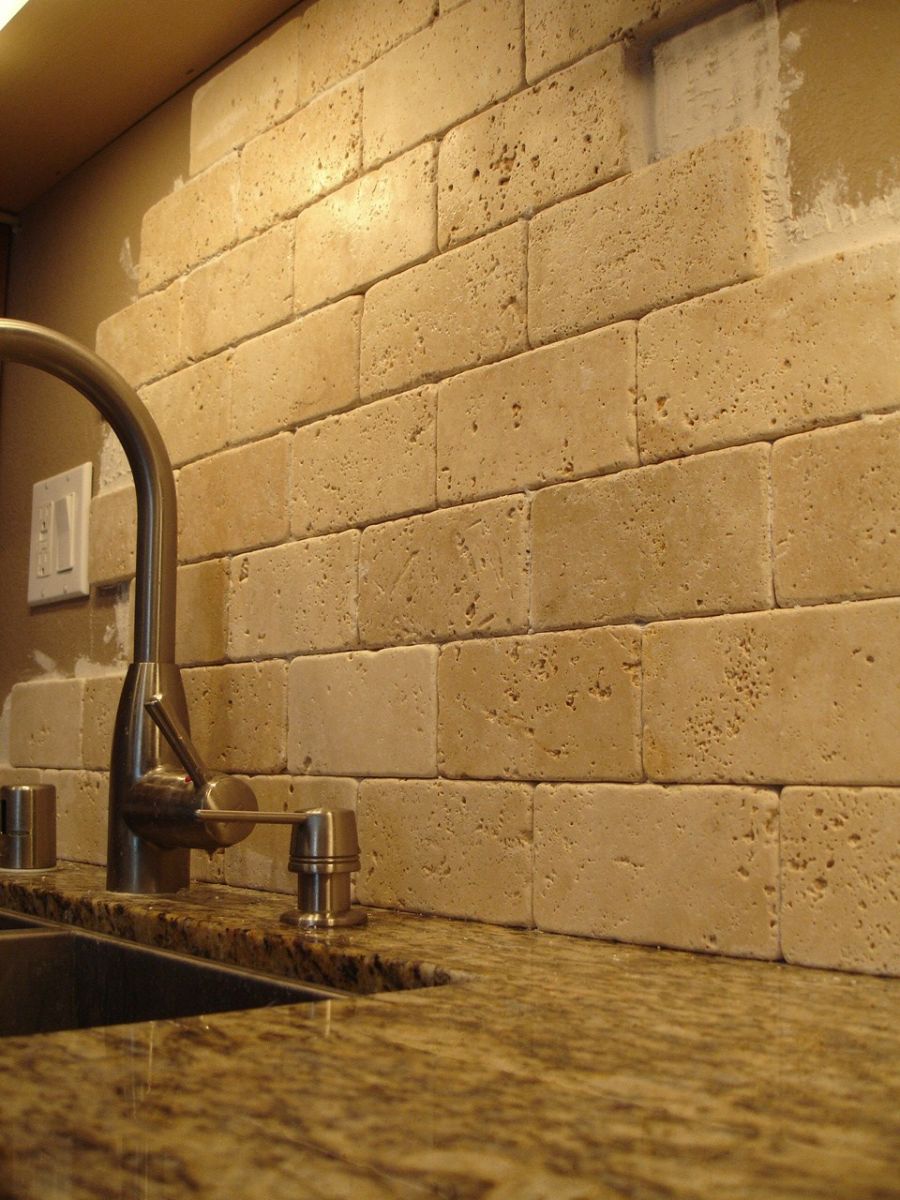 A granite countertop would go well with a travertine backsplash as well, especially considering that both materials are available in a similar range of colors. The resulted design combo would have traditional and rustic influences.
There are many ways to highlight the beauty of a travertine backsplash. Sure, its design can be simple but it's actually the material itself which stands out from all the others and adds beauty to the kitchen. One idea is to install LED light strips above the backsplash to emphasize the beautiful texture of the travertine tiles.
As always, it's possible to mix and match various color and color nuances to create a special pattern or a combo that complements the kitchen in the best possible way. consider a sort of mosaic backsplash made out of travertine tiles.
This traditional kitchen found a great way to direct the attention towards its travertine backsplash. That has to do with the backsplash ledge which serves as a sort of built-in shelf for storing small everyday items or for displaying things on.
If you can't pick a single color or even a single pattern to work with, then don't. Be creative and incorporate all the different elements that you find beautiful into a backsplash design that defines you and your home. Take this one for instance. It combines travertine tiles into two different patterns, each with its own role.
A travertine backsplash is an elegant option for a kitchen which is meant to feel homely and welcoming and which blends common and simple materials in ways that simply make sense.
It's natural to associate travertine backsplashes with rustic, traditional or farmhouse kitchens. That's where they look most at home but that doesn't necessarily mean you can't successfully incorporate the trend into a modern setting. You just need to find the right balance of textures, colors and materials.