20 Best Rugs For Your Dark Wood Floors
When it comes to interior design, you won't easily find a person who would choose tile or carpet over hard wood floor.
Wood floors are beautiful and bring so much character into a home, plus they wear well and are easy to clean. But sometimes, there is concern over dark wood flooring. Is it too heavy for the space? Will it make things look too dark?
If you're considering a re-staining job just because you have dark hard wood, you will be glad to know that there is an easy fix for your quandary.
A rug! Rugs will enhance the beauty of your dark hard wood floor while adding some flair to the rest of your room's decor. Here are 20 rugs that will make your dark hard wood floors pop.
Top Tips for Choosing a Rug for Your Home's Dark Wood Floors
If you are opting to add a rug to your home's dark wood floors, there are certain considerations you'll want to take into account. Dark wood generally looks best with a lighter-colored rug. This could either be a lighter shade than the wood, or you can add a splash of color to your room with the pastel rug. A colored rug is a great way to bring more light into a dark room, especially if you have dark walls on top of dark floors.
Natural materials are a good option for dark wood floors. Jute rugs are a popular option, and they'll create a natural feeling in any room in your home. When it comes to choosing a rug, the texture is also very important. Adding a textured rug, such as a shag pile rug, will help to absorb sound and add more light to your space. This would be a great option for a bedroom or a living room with dark wood floors. Keep reading to see some of our favorite rugs which can be added on top of your home's dark wood floors.
1. A Simple Rug in a Light Color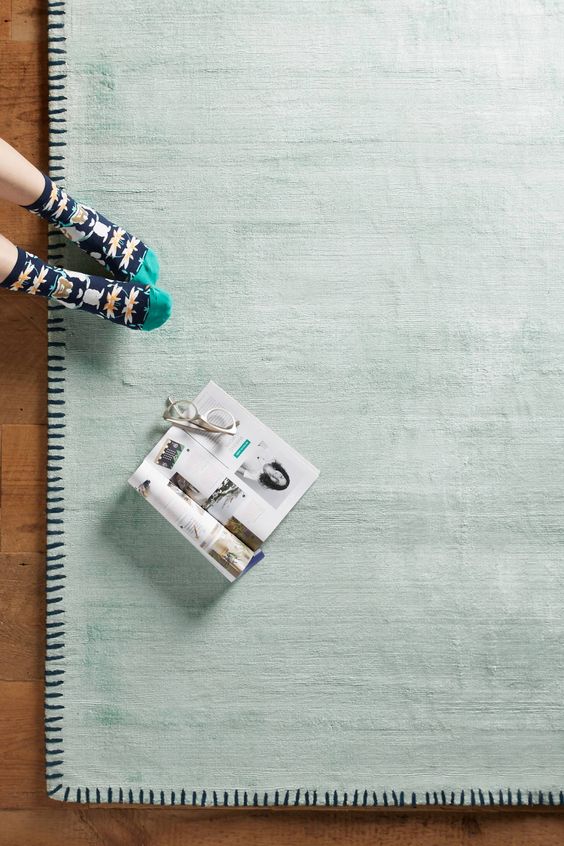 Sometimes simplicity works best in a space. If you want more attention on the wood than the rug, go for a rug with a whip stitch edge like this one. A light color will make the dark floor stand out while the stitch gives it a bit of fun. (via Anthropologie)
2. An Artsy Rug for Your Dark Wood Floors
Maybe you prefer a rug that feels more artsy in your artsy space. This brush stroked rug looks just like somebody put a modern painting on your floor. Its swirling colors will look great against the backdrop of dark wood. (via West Elm)
3. Choose an Opposite Color Rug for Your Walls
One surefire way to lighten up a dark wood floor is to get an opposite color rug. In this case cream. This will make you happy because these patterned ivory rugs are on trend so here is your excuse to get one. (via Lulu and Georgia)
4. Lighter Animal Hides
Animal hides make such great rugs to step onto first thing in the morning, but if you have a dark wood floor, a cow hide might be too dark for the space. Opt for a lighter hide like this reindeer rug. (via CB2)
5. Bright Colors and a Lively Pattern
There's no harm in going classic in the rug department. The bright colors and lively pattern on this beauty will make a great show piece when you lay it on your dark wood floor. (via Anthropologie)
6. Quilt Patterns for a Cozy Feel in Your Living Room
Here's a rug that whispers of a country living room and family nights in front of a cozy fire. Maybe it's the woven durability but I think it's the quilt pattern. (via West Elm)
7. Native Patterned Rugs in Bright Colors
Eclectic homes often have hard wood floors and native patterned rugs. If you're thinking though that there's too much black and blue in those patterns for your dark wood floor, get this bright option instead. (via Lulu and Georgia)
8. A Chunky Woven Rug for More Comfort
Are you focused more on comfort than looks? Lucky for you, this chunky woven rug will provide both to your space. Whether under the bed or by the couch, choose a light color and you'll have a winner. (via Anthropologie)
9. A Rug with a Light Border
Speaking of light colors, the main reason for a light rug on a dark floor is to provide a space in the deep brown. But if you find a rug like this with a light border, who cares what else goes on in the middle. (via West Elm)
10. A Geometric Patterned Rug
There's just something about a geometric pattern that is so mid century modern and friendly. This one especially will look awesome against your wood floors. (via CB2)
11. A Cute Animal Design
Where there are flowers, there is happiness. And isn't that sleepy fox adorable? So how can you resist putting this rug on your dark hard wood floor? (via Anthropologie)
12. A Sunny Yellow Rug
While we're talking about happiness, yellow is the color of choice. This pattern will look amazing in any room with the dark hard wood that you choose. Especially your child's. (via Lulu and Georgia)
13. Break Up the Dark Floor with a Bold Rug
For some rooms, you just need to step out and choose a bold color to break up the monotony. This rug promises to bring some life into your sea of dark wood. (via Anthropologie)
14. Classic Checked Patterns
Is it just me or are the classic checked patterns making a come back? I'm totally okay with it though. Especially when it comes to this gorgeous checked cream rug. (via CB2)
15. Neutral Colored Rugs
If you're wanting to go the safe route in buying a rug, neutral colors are always a good idea. Jute rugs are light brown and wear extremely well so they're a great option for any space in your home. (via Lulu and Georgia)
16. Beige Floral Rug
This hardwearing floral rug is designed for indoor and outdoor use, and the eye-catching design will help to break up the dark floor in your room. You'll enjoy a selection of colors, such as blue, orange, beige, and green, which create a natural and earthy look. Also, you'll find this rug to be super easy to clean with your vacuum or by spot cleaning any problem areas.
17. Round Floral Multicolor Rug
Dark wood floors often need some color to break them up and lighten up your room. This multicolor floral rug is perfect for adding more style and color to any room in your home. We love the bold green, red, blue, and orange colors, and it has a low pile height which makes it great for anywhere in your home. The design is also fade and water-resistant, so you can be sure you'll get many years of use from this rug.
18. Green Tropical Rug
If you always wish you were on vacation, you'll feel like you are transported to a tropical island with this green floral rug. The modern palm tree design would look great in your living room, and it will go well with any wooden furniture in your home. The rug is UV-resistant and weatherproof, and you can also place it on top of floors with underfloor heating. It will give your home a more cozy feel, and it's the ideal rug to spruce up your home this summer.
19. Geometric Turquoise and Brown Rug
While floral patterns look great in any home, we also love the simplicity of a square geometric rug. This rug combines brown and turquoise to create a modern look that will add a splash of warmth and color to any room in your home. The rug itself is very durable, and it looks like something you'd purchase in an expensive designer store. For anyone who is worried about it getting dirty, you'll be relieved to know it's also dirt-repellent and can be placed in a room with underfloor heating.
20. A Patterned Navy Rug
This patterned navy rug is made in Egypt and offers a unique addition to any home. It's ideal for the entryway to your home and won't be damaged by dirty shoes as they enter your home. You'll find the pile height creates a cozy feel in any room in your home while also being easy to clean if it's placed underneath your dining table.
All of these rugs would look great when placed upon your dark wood floors. They'll help to add more color and excitement to a dark room and are the perfect addition ahead of the summer months. As long as you care for your rug and clean it regularly, you'll find it will last you for many years to come and be one of your favorite home décor additions.