New York Design Fair Picks That Will Give Your Home a Fresh New Look
New York hosted a design trifecta that presented the latest offerings from a range of suppliers, from small makers to large brands serving the residential and business markets. The long-awaited combined fair was the first big home decor and design event in nearly two years and it had plenty of creative designs on show.
The combined International Contemporary Furniture Fair (ICFF), WANTED Design and Boutique Design New York (BDNY) took place concurrently at the Javits Center in November 2021. It was clear that many designers spent their pandemic period creating amazing new designs that we were so happy to see.
50 Things We Loved at ICFF/Wanted Design/BDNY
In fact, we've rounded up 50 favorite pieces from the event to inspire your home decor and furniture dreams.
Fun and Tactile
The entire Woodfin Collection by Brent Warr is a must-have for its neutral look and extremely appealing tactile vibe. The designer/maker and self-taught abstract painter creates his sculptural pieces by using a unique process that involves dozens of layers of wood, plaster, and paint mix. The Rachel Floor lamp is definitely our favorite.
Tiny, Elegant Orbs
Brooklyn-based designer Aaron Ethan Green created Roe, an ethereal glob of little glass orbs that come together in an elegant and eye-catching sconce. The work is also available as a pendant.
Green says that the collection celebrates "the organic variations that collectively contribute to the elegance of our natural world." It's a small fixture that packs a lot of creative design punch.
Small and Multifaceted
Another lighting fixture that's small in stature but big on impact is Model 375 presented by Ameico. Originally designed by Esben Klint in 1942, the table lamp is a reinterpretation of Klint's iconic Model 107. It was redone to make Ameico's 75th anniversary and uses light oak with brass details for the base underneath the folded paper shade.
Inspired by Fireflies
Mexican design studio Bandido is dedicated to promoting local production and these NAGA pendant lamps are a fabulous example. The petite pendants are inspired by the fireflies in the forests of Nanacamilpa, Tlaxcala. The design beautifully balances the opal glass of the diffuser with the dark shade crafted from dark marble, capped with brass. The studio also makes furniture.
Beaded Nests
Stunning luminous, cloud-like lights suspended from the ceiling create a dreamy look. The Birds Nest multi-drop pendants from Currey and Co. lighting are a glam take on their namesake. Each shade has hundreds of beads string on wire that is shaped into organically shaped nest-like swirls.
These lights are available in configurations including anywhere from one to 36 individual pendants.
Geometric Perfection
Indo's dramatic Mooda Collection of wall sconces have a fascinating design — a hyperboloid for the geometry geeks — that's actually inspired by a technique from India that involves stitching together cane or bamboo to create a low stool called a Mooda.
The technique has made its way into a variety of furnishings all based on this handed-down technique. The way it plays with light and geometry, especially on the wall is fitting for any living space.
Industrial Individuality
The designer behind Lorekform's Surround Pendant creates textured glass shades that add incredible dimension to the resulting fixtures. This particular fixture is fully adjustable and features iron-cast glass. The studio's techniques in glassmaking allow the shade to have a simple connection point and be adjusted on the metal rings.
Stylish Portability
As much as we love a great lighting fixture, we love a portable one even more! Zafferano America's Olivia Pro Lamp comes in different finishes and is ideal for a dining table or anywhere you need a very stylish but unobtrusive little lamp.
This portable LED model has an induction charging base and it provides about 9 hours of illumination per charge. It features touch dimming and you can use it outdoors as well as inside.
Organizational Perfection
This wardrobe system from Anna Gratia Studio makes getting ready every day a spectacularly stylish experience. The entirely customizable storage is back in fuchsia pink velvet as well leather.
Drawers are designed to hold jewels and valuables in perfect style while the rest of the cabinets have space for hanging items as well as displaying art items or covetable handbags and accessories. There are men's versions too!
Texture, Texture Everywhere
With texture among the big home decor trends for 2022, it's not surprising that the fair included great examples like this wall covering from Arte International.
Designed for all kinds of settings, it not only adds depth but it also helps absorb sound. This three-dimensional effect comes from a combination of soft chenille and bouclé fabrics.
Sophisticated Curves
Another one of the biggest home decor trends for 2022 has to do with curved silhouettes for furniture. Soft lines, rounded corners and elegant swoops are what we'll be seeing a lot of and the Turner chaise lounge from Arteriors is a great example. It has a lovely rounded back but even the entire length of the seat has a design that gently curves.
Superior Simplicity
This is the Belmont chair by Terry Crews, the well-known designer, action-movie hero, sitcom star, game show host, pitchman, former NFL player and best-selling author.
This was actually Crews' fifth collab with Bernhardt. The chair is a modern version of the classic wingback and was inspired by the pandemic year of disruptions and uncertainty.
Unique Modularity
Two simple but ingenious wooden wedges called Together and Apart are a modular furniture system that works for every space. For the home or office, designer Bjarke Ballisager devised two saw-toothed wedges that interlock and can do so at lots of different levels.
This feature lets them be combined to create chairs, benches, booster seats for kids, side tables, laptop desks, coffee tables, and more. While these are available in wood, an eco-friendly EVA foam version is coming soon.
Asymmetrical Style
The unique silhouettes of these pieces from Cam Design Co., bring a new dimension to handcrafted furniture. Founder Christopher Miano welcomes projects that let him explore ways to combine new processes with established craft techniques to create imaginative designs. The collection features high-quality wood, exceptional metals and Carrara marble. We really love the asymmetry.
Architectural Flair
A hint of art deco with modern flair, the Lucy Lounge Chair from Charter Furniture is a great armchair for living rooms or offices. The sculptural stainless steel arms are elevated further by a leather arm panel with decorative metal buttons for extra contrast. The box cushion is filled with synthetic down and the seat deck and back panel. It's style with a dose of edginess.
Plush Velvet Upholstery
The latest new chair from Kenneth Cobanpue, a well-known Filipino industrial designer, is a new riff on his usual weaving technique. Instead of natural materials, he wraps a plump tube upholstered in plush green velvet around the frame instead. The resulting chair deftly melds the luxurious fabric with the technique most often associated with rattan or cane.
Hand-Hewn Planters
The Concordic Planter is a dynamic piece that attracts attention no matter what kind of plant it holds. The planter's namesake studio combines the wooden ribs of what it calls the exoskeleton with the interior ceramic pots.
These are also very special because they are hand-thrown by an independent pottery studio in Pennsylvania. The exoskeleton comes tall or stout and in a wide range of sizes, as well as 32 colors.
Stylish Low Credenza
A sideboard or credenza is far more than just a spot for storage, especially when it incorporates a design like this teak graphic black sideboard by Alain van Havre.
In order to create a feeling go movement on the front, van Havre started layering and combining triangular shapes. The multiple layers give the facade of the cabinet a sense of depth and dynamism, which is enhanced by the wood.
Sophisticated Luxury
This glam living room from Gabba Furniture of Turkey combines elegantly carved and painted wood with a textured upholstery fabric that creates a very luxe and refined look.
The off-white upholstery is the perfect hue to show off the design. Combined with dark wood accents and gleaming shelves and tables, it's a super sophisticated living room.
Creativity With Sustainable Materials
Thanks to the increasing focus on sustainability in design and decor, bamboo is showing up in more designs. Greenington has been manufacturing bamboo home furnishings for more than 20 years. This Azara sideboard includes an accent made from solid exotic Tiger bamboo. This dramatic stripe of patterning is achieved with heat and pressure alone and no stain is used.
Design-Forward Recycling
Your designer Hali Barthel created the Quill Chair and Meadow Screen, both of which play on the "intersectionality between recyclable materials and the unexpected." Barthel writes that many of her designs are meant to be tongue-in-cheek and lighthearted, which these certainly are.
New Designs With Old Materials
Hannah Vaughan says that her Crushed Low Table is a prime example of her mantra "designing for the future by reimagining the past." This piece is a base of salvaged metal including chromed car fenders and doors, corrugated roofing material, and discarded metal shelving that has literally been crushed to shape. It is topped with a ⅜" glass tabletop.
Perfect Designs From Imperfect Materials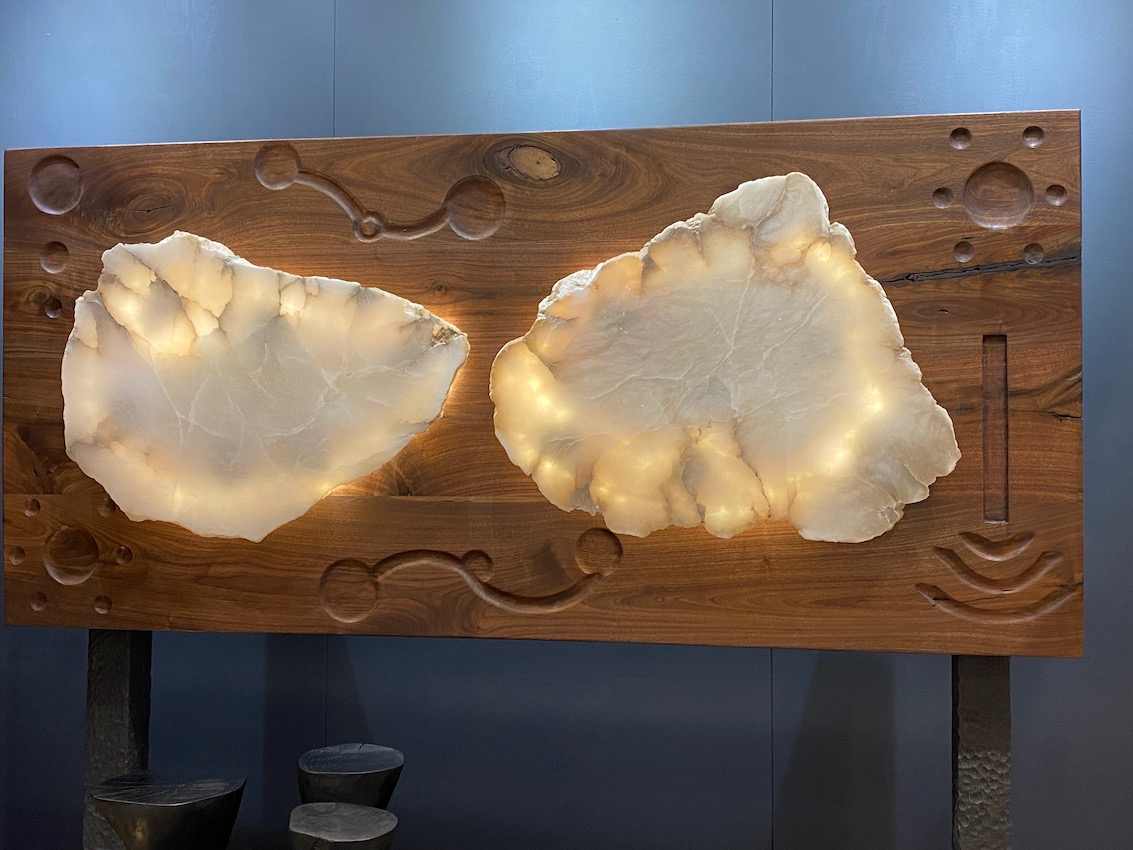 This will beauty is Ian Love's Sculptural light panel made from carved walnut and thin alabaster stone. The designer has always been attracted to spalted (diseased) wood because it has a unique grain pattern that appears marbled.
He uses all types of woods and combines the pieces with resin, concrete, alabaster, stone, metals and mixed-media found flora. The soft light that emanates from this is a perfect mood-setter.
Touchable Textiles
We've already mentioned that texture is among the big dome decor trends for 2022 and throw pillows are an excellent way to add a fresh look and loads of touchable, nubby fabrics. The different warp and weft materials on these pillows from In2green create lots of interest even when the pillow is monochrome. You can never go wrong when you add tactile fabrics to your decor.
Artful Conversation Pieces
There are chairs…and then there are artful chairs like these from Jaeyon Park. Inspired by a song titled "La Ballade de Jim" by Paradis (2011). The colors and the gold represent his state of mind along with his car and his dreams. Park says that the irregular forms are intended to evoke speed and motion. the chairs are formed with epoxy.
Evoking Nature
Nature calls strongly these days and this Branch floor lamp by Joel Seigle is a marvelous work for adding both natural materials and an icon from the forest. Behind it on the wall is the Tonna Mirror, which was inspired by the Tonna shell and its graceful curves and the interesting combination with the mirror. Both pieces are crafted from white oak and the mirror includes steel.
Outdoor Stylishness
There's no reason that your outdoor living space can't be as stylish as the indoors. These pieces from Kettal of Spain are ideal for a deck or patio and can blend with existing outdoor furniture. Woven pieces like the ottoman are easy to incorporate and the chairs have a unique style to set your yard apart from the rest of the neighborhood.
Small Bathroom Chic
Small bathrooms can indeed be chic and La Cava creates a stunning one in blue and brass. The wall-mounted toilet and the wall-mounted Linea vanity provide plenty of ease in the bathroom. Keeping everything up off the floor also makes the space seem larger.
Sculptural Textile Art
Designer Lizan Freijsen is fascinated by the world of fungi and has used these agents of decay as inspiration for artful, sculptural textiles. The wall hangings feature earthy tones that help Freijsen recreate the beauty she finds in the moss, fungus and breakdown of material that most of us overlook.
Studio Marta Manente of Brazil presented its lovely outdoor chair, but we were particularly drawn to the small table. Designed or use inside or out, the Andros Side Table was inspired by Brazilian marine corals and the mix of materials — teak wood, the aluminum tube and concrete makes a stylish combo. The table is easily transported by the metal tube, which is like a handle.
Nest-Like Comfort
A professionally trained shipwright and furniture maker, Michael Javidi creates organic forms that aim to balance form, function, beauty and comfort.
These NID hanging chairs — one in wood and one in brass — creates a very comfortable next, whose swaying motion can lull anyone into a restful state!
Bold Bathtubs
MOMA Design of Italy brings bold bathtub design to a whole new level with its Chaise Longue Vitré bathtub. Set between two panes of sturdy glass, the tub is not for the shy!
The design is especially intriguing because of the combination of the glass on both sides with the softly undulating Corian tub bottom. Inspired by the traditional chaise lounge, this bathtub version has a slit filter at one end for the water to drain.
Throne-Like Seating
Motivo Furniture's New York Chair is big and bold just like its namesake city. Said to be inspired by the Chrysler Building, the tall back has art deco styling and the seat bottom is deep and comfortable. This might technically be a piece designed for the hospitality sector, but we know plenty of homeowners who would love a chair like this!
Upgraded Pedestal Sinks
Pedestal sinks are great for smaller powder rooms, but sometimes they can be a bit…boring. That's definitely not the case with MTIs pedestal sink that features a fluted surround in a stylish, neutral gray tone. The different exterior is a fresh look for any powder room or bathroom where you don't need counter space.
Lighting for Bling
Designer Nina Magon's hanging fixtures for Studio M Lighting are reminiscent of earrings capped off with lustrous pearls. The Alina fixture has different configurations for the French Gold arms so that you can choose what complements your space best. The jewelry-inspired lighting is definitely the right bling for any room.
Biophilic Design
From the moment we saw Brooklyn-based Opiary a few years ago, we were hooked! The biophilic design and production studio integrates live greenery and organic shapes into its furniture and home accessories. This year's newest piece is the modular wall, which allows you to create a section as big or as small as you want, and incorporate as much greenery as you desire.
Handcrafted Hideaways
Artisan pieces for the home are always a great investment so the Path Cabinet by Orbita Furniture is a good choice for secreting away your possessions in any space. The white oak cabinet seems to float atop a metal frame, while the rounded back adds interest, emphasized by the round metal knob.
Modern Portable Lighting
Portable, rechargeable lights are among the best new lighting innovations and an increasing variety of styles are available. This is the Candel LED Table Lamp by Pablo Pardo of Pablo Designs. It's a simple design with clean lines and a minimalist aesthetic. It has a long-life battery in an aluminum housing that sits in the base of the flared body, emitting light that suffuses the space around it.
Versatile Benches
Every house needs a bench or two because they are so versatile and functional. These new styles from Paradigm Trends are especially nice because of the rounded shape and thick cushion paired with the wide metal frame. The thin legs give them a hint of midcentury modern flair.
Black and White Beauty
This two-toned beauty is the dining chair from Point's Havana Collection. It has a lacquered aluminum frame and Shintotex fiber weaving in ivory and black while the foam cushion adds comfort. The chair back looks like it is checked while the arms and legs appear as if they have white accent stitching. Altogether, it's a stunning design.
Irish Wool Designs
Rhyme Studio focuses on using traditionally spun, high-quality Irish wool. From stunning rugs like the round marvel on the wall to the shaggy, earthy ottoman, Rhyme celebrates sculptural forms. art and Irish craftsmanship. The wool is sourced, spun and dyed by hand in various Irish workshops before heading to Rhyme's Irish workshop to be crafted into the final product.
Natural Comfort
Sentient Furniture's Wave Chaise Longue is super inviting with the sheepskin cover on it. The low, undulating design looks very comfortable and the fleece, oh-so-soft. It's actually made of two elegantly curved shapes: wood base and the seat.
If you look at it from the back, it actually looks a little like a woman's stiletto. Available in a range of woods, the chaise was designed by Nersi Nasseri.
A Focus on Gemstones
Mexico City-based Sten Studio is a design company born from a passion for geology and the beautiful and varied characteristics of stones. One of the results is Hotai, a lamp that combines three elements: wood, quartz and light.
The name means "complement" and the lamp is crafted to the principle of fukinsei, which means unbalance — the lack of symmetry in nature. The design and light really allow the natural beauty of the stone to literally glow.
Updated Dining Chairs
Look for something a little different when it's time to refresh your dining chairs. These two are a great sample. The low Frisé chair from StyleNations has a cute detail of a scalloped edge along the chair's back. The Taller two-tone stool has an elegant gold frame and gracefully curved backrest. It's a design that will look far more stylish than your average barstool.
Italian Design Ingenuity
Innovative Italian design is visible in the UNAM chair from Suite 22. Designed for the wear and tear of a public location, it would also be a durable — and very stylish — addition to the home. The nautical rope weaving is also super long-wearing.
The ebb and flow of this chair design were indeed inspired by water. U.A.I.X,'s Sit Here For It Chair is made from molded plastic and was designed by Steven Clarke. The digitally-driven furniture brand devised the sensual smooth flow shape for the chair, which sits on the Lick the Top Rug.
Low Profile Silhouettes
This low-slung armchair from Ethnicraft has a cane back and a super stylish cushion upholstered in glen plaid. The tapered legs and arms add extra style while the genuine leather straps are an unexpected embellishment. Overall, it's a chair we imagine slinking down into and relaxing!
Quirky Graphics
Putting some personality into your space is of paramount importance and these textiles and wallcoverings from Weirdoh Birds will do that. The whimsical graphics are cute and lighthearted, but not so "out there" that you couldn't include some in any living space for a touch of fun.
Artisan Craftsmanship
Buying less and buying quality is the mantra for many these days and artisan pieces like the Bar Dresser from Wren and Cooper. It's made of solid wood panels that have been patched and lap joined. The drawers feature dovetail joinery and the solid brass drawer pulls with black lacquer and also hand-crafted. On top is the Sumi Arch Lamp made from bleached maple.
Modern Trompe l'Oeil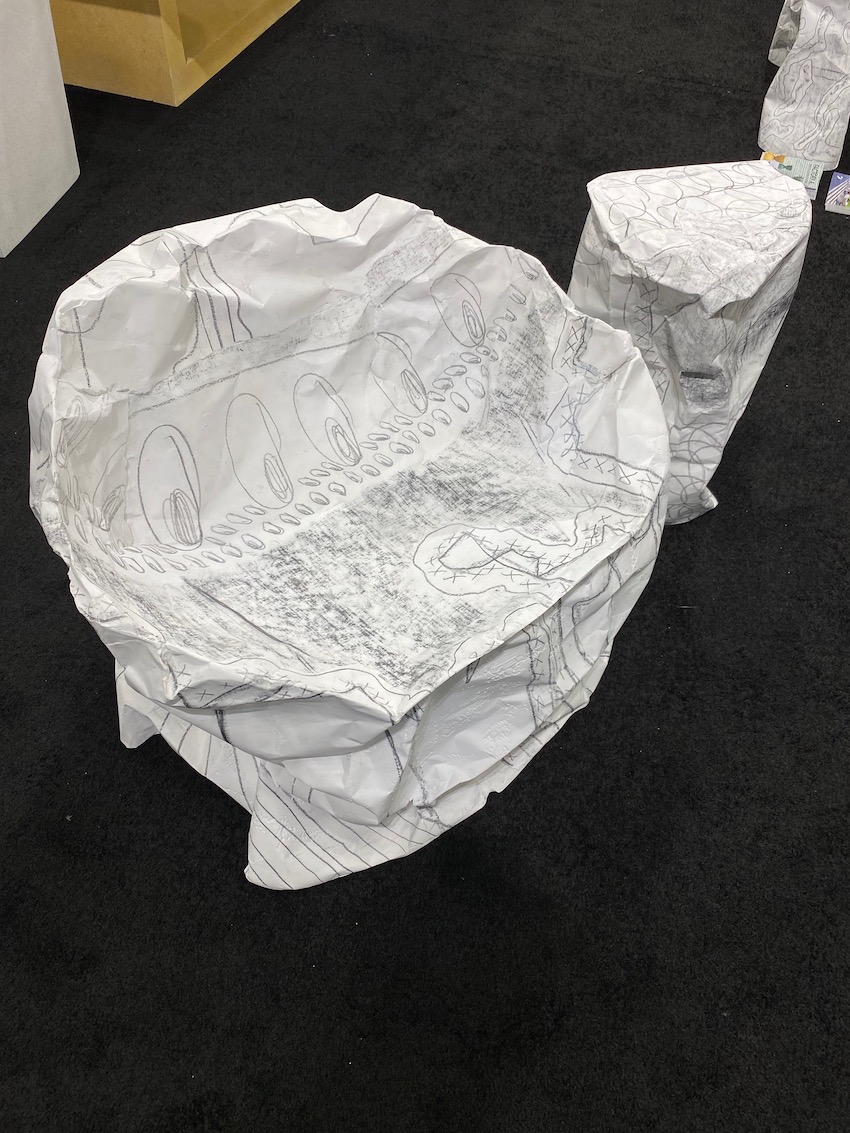 It looks like crumpled paper in the form of a stool, but don't worry — take a seat! It's actually a stable stool that is covered in resin material. Zachary A Design has a special process by which he draws on huge sheets of paper and coats them with a resin that transfers the drawings from the paper. Once solidified, the paper is peeled from the surface. These pieces are great fun.
So there you have it: Fifty of our favorite pieces from the show, which combined ICFF, Wanted Design and BDNY under one roof.
There's plenty to fuel your redecorating imagination, especially when so many of the pieces fall into the biggest home decor trends for 2022. Check them out and make your decorating plan!