The Stylish Defining Characteristics Of A Luxury Kitchen
Some types of spaces make it easy to create a refined and sophisticated interior design, and that's usually the case with leisure areas while utilitarian spaces tend to be more focused on functionality rather than visual appeal, hence they sometimes lack style.
The kitchen is an interesting case. With so many appliances and features that need to fit in this space, we sometimes ignore the fact that a luxury kitchen can be an awesome addition to a home. Plus it can have a substantial impact on the entire home interior, especially if the kitchen is part of an open floor plan.
Luxury Kitchen Materials
When creating a luxury kitchen, elegance, finishes, high-end appliances, as well as functionality, are paramount. Whether your design preference is contemporary, classic, or historic, there are an infinite number of ways to build a luxury kitchen. Make a point of being selective while selecting all of the must-haves for this high-profile room.
Refrigerated drawers
A drawer refrigerator is an excellent upscale equipment. These can be used to supplement your cold storage capacity.
One should be placed at a child's height to store juice, soda, and after-school snacks. Establish a drawer solely for fresh vegetables and fruit. Utilize a separate container for condiments and dairy items.
They can be stacked in a cabinet or stretched out to create multiple cooking stations. Additionally, you'll require a standard upright refrigerator. Many of these may be integrated into a cabinet. You can also opt for glass doors on a reach-in LED refrigerator.
Warming drawers
A warming drawer is a luxurious addition to any high-end kitchen. If you're forced to postpone dinner time, this drawer will come in handy. If you're preparing a huge supper, you can maintain the temperature of the food by adjusting the thermostat.
Numerous types are available with numerous beneficial functions, including bread proofing, slow-cooking capacity, and even plate warming.
Quality countertops
Nothing quite captures the essence of luxury kitchen design quite like a stunning stone countertop. Without a monetary constraint, you can utilize big slabs of quartz, granite, or marble.
These materials are durable and lend an air of luxury to any kitchen. Quartz is the most durable one in the list, and requires no coating due to its impervious nature. On the other hand, granite and marble demand upkeep.
If you want to give your kitchen an extra edge, you can choose the same material for the backsplash that you did for the countertop. This creates a streamlined and sleek appearance for the kitchen.
High-tech appliances
If you're building a luxury kitchen for your home, you want to ensure that you equip it with the most cutting-edge appliances available. This equates to elegant, high-tech, and even integrated designs.
High-tech appliances range from a smart refrigerator equipped with a touchscreen, camera, transparent doors, and built-in recipes to a smart oven equipped with Bluetooth and wireless connectivity, smartphone-based temperature management, and compatibility with different smart-home devices.
Wine racks
While a built-in wine rack may not be appropriate for every kitchen (especially when placed in the reach of children), it does convey a sense of luxury, especially when used as a focal point in the kitchen.
If you are a wine fanatic, you can devote an entire wall (or a portion of a wall) to wine storage. This will take custom work, but when done correctly, it can truly transform any kitchen into a hyper-luxurious space.
Additionally, you can incorporate a wine cooler or a wine rack into the kitchen island or beneath a kitchen counter. While this solution is less stunning than a built-in wine rack, it is still an excellent addition for wine enthusiasts.
Exotic wood countertops
Exotic countertops are a major must-have if you want to set up a luxury kitchen. Exotic woods with rich wood textures continue to be a luxury trend. Among the most popular wood species are the following:
African mahogany, which has a figured and fractured texture. It features marks in the shape of an intermittent ribbon. Natural coloration varies from pale to dark reddish brown.
Zebrawood is an exceptionally durable wood that features gorgeous pale brown to black stripes running through the bright yellow heartwood.
Teak is available in a variety of hues ranging from pale yellow to orange-brown. It may have black striping with medium brown tones. It is distinguished by its varied hue.
Chechen rosewood is an exquisite wood with numerous grain variations and a color spectrum ranging from tan to dark reddish-brown.
Custom cabinets
Cabinets of this sort are often characterized by a combination of high-quality materials, expert craftsmanship, and distinctive styles.
Particle boards are not used in the construction of luxury cabinets. They are manufactured with cabinet doors made from solid wood, while the boxes are made from furniture-grade plywood.
In terms of cabinetry style, luxury does not always imply Corinthian columns and other intricate carvings. However, if you prefer a more modern style, you might choose plain shaker cabinets or cabinets with minimal detail work.
If you choose a simple design, you may add a touch of glam by selecting stunning hardware. It could be anything from leather pulls to quartz knobs.
Walk-in pantry
If you truly want to have a luxurious kitchen, you must have a spacious walk-in pantry. However, it does not end there. A luxurious pantry features built-in cupboards and drawers for keeping extra china, crystal, and cutlery, as well as kitchen towels and other backup goods.
Additionally, the pantry should have an additional refrigerator, a wine cooler, maybe another microwave, and ample storage for home canned products, gourmet delights, and spices.
Assemble a mix of open and glass-doored shelves. Provide convenient access and storage for small appliances that are not utilized on a daily basis.
Floor heating
You spend valuable time in your kitchen preparing meals and socializing with your family. The kitchen is a highly sensitive area of the home. It contains food that requires protection from dust and pathogens.
The underfloor heating technology does not stir up dust and distributes heat evenly across the area. Additionally, food may degrade more quickly when temperatures near an air vent rapidly rise when the furnace is turned on.
The benefit of underfloor heating is that the temperature is maintained consistently, ensuring that your food arrives as fresh as you left it.
Rather than standing on icy floors while preparing eggs and waffles, radiant floor heating allows you to cook in peace. By installing underfloor heating, you can take advantage of all of its benefits.
Chef-grade stove
If you are the least bit passionate about cooking, then you already know that you are only as good as your instruments. Choose a high-end luxury chef-grade stove to make a gourmet statement.
Although most chef-grade stoves and ranges run on gas, some provide dual fuel options, meaning you can choose products that combine wood and gas fuel. Most include multiple ovens and many range cookers that may be switched for indoor grilling, griddle use, and rotisserie cooking.
Luxury Kitchen Tiles Ideas
Mediterranean Kitchen
If someone asked us to imagine how a luxury kitchen with a medieval style would look like, this is what we would describe. This Mediterranean kitchen is perfect, with every element being carefully chosen and placed to indicate the luxury of the space: from large hanging chandeliers to marble countertops.
Modern Luxury Kitchen
Feast your eyes and the gorgeous contrast between the dark brown cabinets and the gray backsplash. One of the things we love about this setup is that it uses recycled bottle glass to make the tiles. Notice how the stainless steel appliances are present as one of the key elements that indicate you're dealing with a luxury kitchen.
Gray Glam Kitchen
We are absolutely in love with this glam luxury kitchen that shows how combining just two colors makes everything look so elegant. It comes with stainless steel appliances and quartzite countertops, two of the elements that you commonly find in luxury kitchen setups.
Granite Island Countertop
You know how we mentioned earlier in the article that granite kitchen countertops scream luxury? Here you can see exactly what we mean, as this kitchen setup sweeps us off our feet. The combination between stainless steel appliances, granite countertop, and beige backsplash is just what we're looking for in a luxury kitchen.
Contemporary Kitchen
How amazing does this contemporary kitchen look? The mosaic-style backsplash incorporates small glass tiles in different shades or brown and blue, pairing perfectly with the gray cabinets and quartz countertops. Everything is shiny and looks impeccable, from the undermount sink to the paneled appliances.
Characteristics Which Make Your Kitchen More Luxurious
1. Consider The Materials, Colors, And Lighting
There's no clear definition of what makes a kitchen or any other space look luxurious and sophisticated in the first place. For beautiful kitchens it can be any number of things, such as the materials used, the colors, the finishes, the backsplash, the lighting, the fixtures, etc. You can find a wide array of beautiful designs to choose from offered by J&J Teixeira. This is one of them.
2. Mix Minimalism With Functionality
Here you can take a peek at the Aria luxury kitchen. Its minimalism and beauty are only matched by its functionality and user-friendliness. This luxury kitchen is designed with great attention to detail and a simple yet sophisticated array of materials, finishes, and colors. Gray is definitely the star of the design, being complemented here by wooden tones and stainless steel accents which balance out the design perfectly.
3. Enjoy Wood Finishes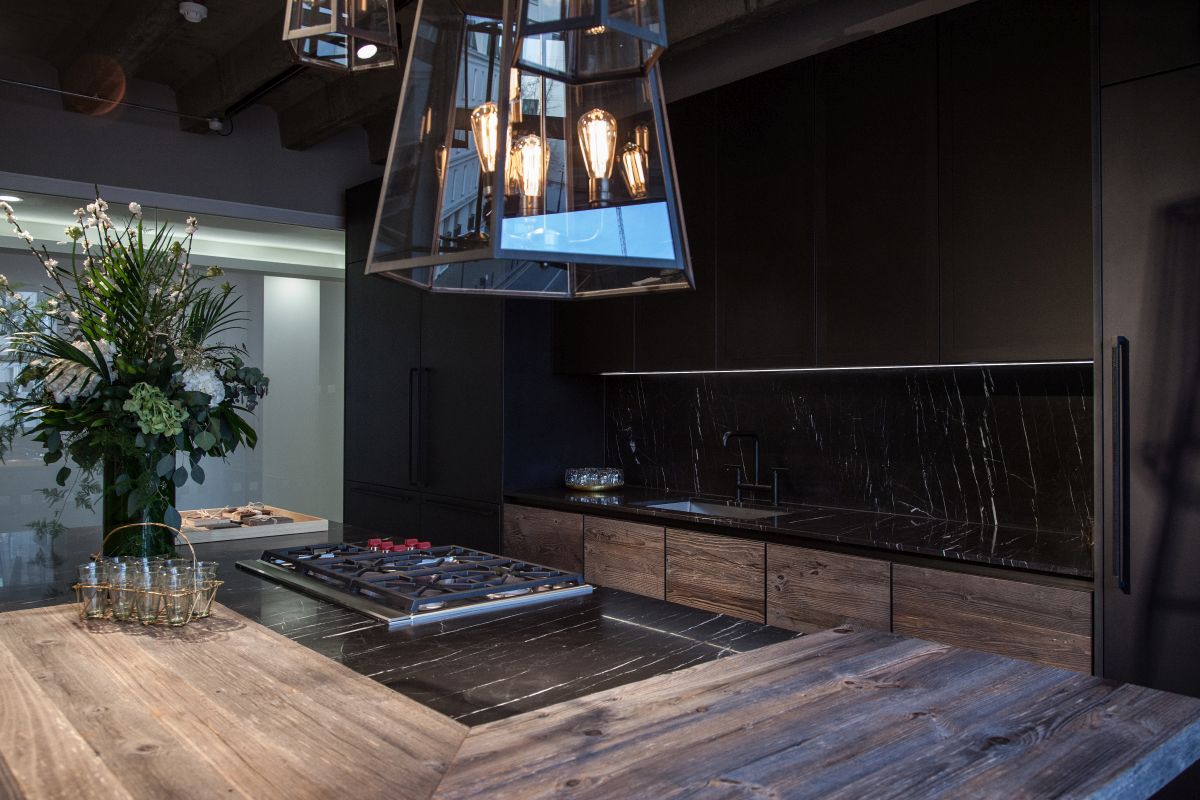 A lot of times the beauty of an interior design doesn't come from the materials or the finishes involved. Wood, for example, is an incredibly versatile material and here, for example, it helps to add warmth and texture to an otherwise extremely simple luxury kitchen design.
4. The Simplicity Of A Marble Backsplash
Similarly, this kitchen has an extremely simple design and is mostly all white. Even so, espresso design managed to make it look refined and sophisticated by carefully maintaining simplicity and beauty. The marble backsplash is a beautiful feature and you can see it extend all along the backside of the cabinets, creating a back panel at the top in order to maintain symmetry and fluidity in the design.
5. Pay Attention To Details
The Motra Collection designed by Christopher Peacock combines clean modern aesthetics with the charm of suburban home kitchens. You can best observe this charming blend by looking at the details such as the hardware of the cabinets.
6. Combine Wood With Marble
The luxury kitchens in this collection come in a wide variety of natural and stained wood finishes as well as any paint color requested by the client. Marble countertops and backsplashes give the kitchen a refined and elegant allure while the woods ensure a warm and welcoming aesthetic.
7. Charming Farmhouse Touches
The Motra collection can also be defined by a rich diversity of designs, finishes, and even colors. This particular model, for instance, has a subtle farmhouse-style charm featuring glass front cabinets set right on top of the countertop, detailed cabinet door pulls, and appliances with plenty of industrial flair.
8. Statement Chandeliers
There are a lot of different details which can elevate a kitchen from common to sophisticated. For example, an eye-catching chandelier like this one would definitely become the focal point of the room. Naturally, the furniture should be designed in the same ornamental manner.
9. Elegant Detailing Is A Must
The kitchen cabinets can themselves become the focal point of the space if they're detailed in such a manner that they're eye-catching or simply unusual enough. Check out this luxury kitchen and all its elegant detailing for example.
10. Unique And Sophisticated Seating Solutions
Of course, it's not all about the kitchen cabinetry or the appliances, especially if the kitchen is big enough to incorporate a dining area. For example, this is a kitchen island with a table extension. The marble top matches the kitchen's counters and backsplashes and the base has the same elegant and sculptural details on it as the cabinets.
11. Find The Right Color Combination
Sometimes the trick is simply finding the right proportions for the kitchen furnishings and the right combination of colors and finishes. We love how the black cabinets complement the dark backsplash and the ivory-colored wall-mounted modules in this kitchen designed by Verona mobili.
12. Having Balance Is Crucial
In some cases, all the effort goes into not making the kitchen look like a utilitarian space but rather as an integral part of the living area. That means there has to be a perfect balance between looks and functionality and that special attention is given to the idea of comfort and everything related to it.
13. The Whole Room Should Be Decorated
When there's a table in the kitchen, that naturally means that there are also chairs and maybe even a beautiful and sophisticated chandelier hanging above the table. It can also mean that there's an area rug on the floor and even some artwork on the adjacent wall. A mirror can also work.
14. Retro Style Can Be Luxurious
A luxury kitchen might also be characterized by a style other than the contemporary one, a style that's less common, retro, and thus special and sophisticated in a lot of ways. A kitchen with rustic cabinets could be included in this category, for example.
15. Aesthetic Matters
Similarly, a luxury kitchen might also emphasize the aesthetic details of its design. For example, the cabinetry could more or less be very common and simple in terms of structure but the door fronts and the hardware could be the focal points of the design. In other words, it's the facade that matters in this case.
16. Geometry Is Incorporated Into The Design
A luxury kitchen might also feature a very interesting and unusual geometry. The Vision kitchen, for instance, is characterized by soft and fluid lines, symmetrical forms, and perfect geometries. It evokes a sense of purity and extreme simplicity, basically reinventing all the things we take for granted in the kitchen.
17. Designs Which Support Social Traditions
The Aran Cucine luxury kitchens are characterized by elegant and innovative designs oriented towards the idea of a social, family home where this space is the central meeting point for all family members. The design evokes tradition and passion and is created using high-quality materials and refined methods.
18. Textures Match
This is the Petra kitchen designed by TM Italia. Its design shows great attention to detail and beautiful texture matching with a focus not only on the counters and cabinetry but also the way in which these elements interact with the kitchen flooring or other environmental elements.
19. Space Planning Is Important
The worst mistake you can make when redesigning your kitchen to make it more luxurious is to have a design which uses up too much space. This will just make your kitchen feel cramped rather than sophisticated. Luckily, there are many things you can do to save space, such as stacking appliances and having custom cabinets designed specifically for your space like these pictured in Bow Valley Kitchens. Notice in this kitchen how there is maximum storage available without sacrificing the space.
20. Don't Skimp On Kitchen Appliances
Although it may be tempting to buy that white second-hand fridge with a scratch near the bottom. But the truth is, high-end appliances are an essential part of a luxurious kitchen. This is because, after the cabinets, the appliances are often what people notice next. Your appliances should at least match each other, but for true extravagance, they must blend with the design as well. In this kitchen on Kitcheniac, the appliances are all stainless steel and are very cohesive with the handles featured on the cabinetry.
21. Kitchen Islands
Gone are the days when kitchen islands were not considered part of the perfect luxurious kitchen. Kitchen islands can be the central and most eye-catching feature in a kitchen which is designed properly. In this elegant kitchen by Intrim Mouldings, the kitchen island is designed in a unique shape to fit the space, while also giving maximum functionality. The countertop matches the features in the rest of the kitchen and can be used for a number of purposes while retaining its classy feel.
22. Clutter Free Countertops
This may be a tough one if there simply isn't enough storage in your kitchen, but one characteristic of a luxury kitchen is clutter free countertops. This means placing all appliances in cupboards, and dishes will need to have their own spot as well. As you can see in this design by Bentwood Kitchens, the countertops being completely empty shows off the wood finishes and split island design—which conveniently helps the storage issue, as both islands feature storage for items that normally clutter countertops.
23. A Stylish Hood
When it comes to kitchen appliances, people don't often think of the range hood as an appliance. But it is, and fortunately, a hood is a piece that can easily be used in the design of a luxurious kitchen. As you can see in this kitchen by Haute Residence, the range hood is incorporated into the elegant and flawless cabinet design while still retaining its full functionality. It gives the kitchen a nice upgrade as opposed to having a white or metallic range hood against the stunning white cabinets.
24. Less Is More
You don't always have to go full opulent to create a luxury kitchen. In this example by Revuu, a minimalist but striking kitchen is designed to leave the windows uncovered by high cabinets to allow light into the room. And people can easily pass on either side of the impressive island thanks to the minimalist stools which offer seating while also being small. And these stools also add a simple, but beautiful, pop of color to the off-white cabinetry and countertops.
25. Personal Touches
Even the most luxurious kitchens have personal touches. See this renovation project on Pico Living, which took a number of the previous characteristics on this list, combining a retro style with attractively detailed cabinets. Contrasting chandeliers were also installed over the island, and the range hood was incorporated into the design. But what really makes the room is the unique, gold textured wall which was used to accent the completely black and white room. This is a personal touch that truly makes the kitchen unique in its luxury.
26. Open Shelving Is An Option
Sometimes people think that a luxury kitchen means you have to hide all of your dishes and appliances. And this isn't necessarily true. A luxurious kitchen can make use of open shelving like in this gorgeous kitchen in Black Line Renovations. The open shelves just need to be artfully placed and incorporated into the design. They also need to be kept free of clutter of course, and the dishes you place there should be of display quality.
27. Include The Ceiling
When designing a luxury kitchen, it's imperative not to forget the ceiling. The way a ceiling is styled can both help and hurt the cohesion of a room. Sometimes a coat of paint is enough, or in this kitchen on Bellicisma Blog, finished wood touches were added to accent the ceiling to match the cabinetry. The ceiling can also be redone completely to add different levels and more advanced light fixtures.
28. Hide The Fridge
One common characteristic a lot of luxury kitchens have in common is that the fridge is built into the design. This is because the fridge can often be large and unsightly when it comes to your kitchen aesthetic. In this kitchen featured on Bow Valley Kitchens, you can see how well the cabinets flow when the bulky fridge is incorporated into one of the cabinets. This gives the kitchen a much sleeker and more cohesive look.
29. Intricate Lighting
Even if a chandelier isn't right for your home, this doesn't mean you can't have a luxurious kitchen. Lighting has a lot to do with luxury, so simply picking a beautiful and elegant lighting solution can really transform a kitchen. In this home by Bentwood Luxury Kitchens, a hanging sphere light is used to tie the room together. The spherical shape really stands out next to the rest of the kitchen which is filled with straight lines, leading the light fixture to catch the eye of anyone who enters the room.
30. Adjustable Lighting
Besides just having unique lighting, nothing says luxury like having multiple sources of lighting which can be adjusted to suit the mood. If you are installing new light fixtures, adding a dimmer switch is an easy upgrade to add. Then you can quickly and easily shift the mood from meal prep to a romantic dinner for two. In this luxury kitchen by Cesar NYC, there is shelf lighting in addition to multiple sources of ceiling light that can be mixed and matched to create the desired mood.
No matter how you look at it, the kitchen is one of the most frequently viewed rooms in your entire home. Not only is a kitchen the center of activity, but it is also where guests can relax and feel comfortable. Therefore, there is no reason not to have a luxury kitchen that is both functional and extravagant at the same time. Even just incorporating a few of the ideas from this list in your next remodel can take your kitchen up a level that will have everyone in the neighborhood jealous of your amazingly lavish kitchen!