An Easy Guide To Kitchen Flooring
Function, staying power and style are three main components when it's time to pick out the material that will create your kitchen floors. Whether you're renovating or starting from scratch, you'll need to take some time and do some research in the realm of underfoot materials. From bamboo to vinyl, there are more choices than you may think for kitchen finishes. But have no fear, we've compiled 10 of the best options and we're providing the breakdown of each from benefits to price points.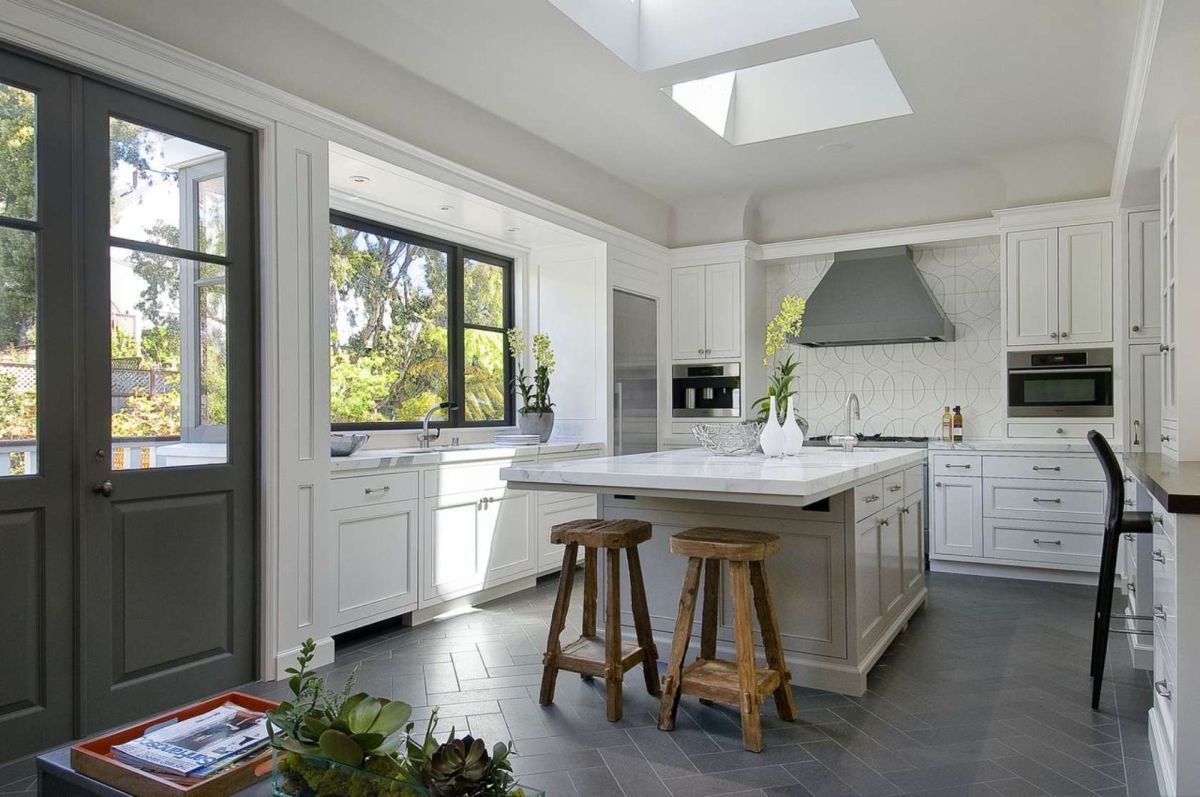 What type of kitchen are you creating? What kind of durability are you in need of? Look for low-maintenance flooring that work well within a kitchen setting where there's high foot-traffic and inevitable spillage.
10 of the best kitchen floor materials & what they're known for :
Bamboo: Trendy, Ecofriendly
Vinyl: Traditional, Versatile
Rubber: Water & Fire Resistant
Wood: Chic, Durable
Cork: Anti-Microbial, Padded
Stone: Edgy, Long-lasting
Tile: Easy to Maintain, Stylish
Concrete: Modern, Moisture Resistant
Laminate: Cost-Effective, Easy to Install
Brick: Interesting, Enduring
What To Think About:
Before you make a decision on what material to go with, there are some major points to keep in mind.
Consider the usage of your kitchen: Before your plunge into a textural brick or cement choice, think about who is in your kitchen and how much it will be used. Do you have a large family where spills are imminent? Will you be spending a lot of time on your feet while inside?
Think about the style: You may not want to go with a super modern floor when creating a country, rustic kitchen. And you may not want to go with an unfinished wood if you're shooting for an ultra contemporary kitchen. You'll need to think about the size of the space you're working with and if think floor will spread throughout the breakfast nook and dining area as well.
Evaluate your price point: Whether you're renovating or starting from scratch with your construction of a forever home, budget is always a key point when deciding on materials. Keep in mind that you'll need to figure in not only the material pricing but labor and installment, delivery, preparing the underfloor and removal of the existing.
Bamboo
At first glance, one may assume that this is a classic, hardwood floor but it's actual made with bamboo! With a look like its traditional twin, it's got the traditional, chic value but a trendier choice.
BENEFITS: Bamboo flooring is durable and can last a long time which makes sense since it's made from bamboo itself.
CONS: They can scratch and dent, making them a far-cry from a family-friendly safe choice.
AVERAGE PRICE POINT: $5 – $7 per square foot, installation averages at $8 per square foot
Vinyl
You can choose from vinyl tiling to pieces that look just like hardwood flooring. Because of this, there are a plethora of options making it one of the most versatile options on the spectrum.
BENEFITS: Vinyl flooring is easy-to-install and water-resistant – which is a major benefit when it comes to the kitchen.
CONS: It will take time getting the subfloor ready for the installment as it needs a nearly flawless finish. And it can be easily gauged by other materials such as glass.
AVERAGE PRICE POINT: $1.50 – $5.00 per square foot, not including installation
Rubber
Who would have thought to use rubber inside your house …. as flooring no less. But in actuality in can cause quite the fashionable scene and provide a functional surface.
BENEFITS: Rubber flooring comes in a variety of styles and colors. It's also quite durable, easy to clean and water and fire resistant!
CONS: Unfortunately, this choice can be rather expensive and is easily stained by certain cleaning agents and oils.
AVERAGE PRICE POINT: $3.50 – $9.00 per square foot, not including installation
Wood
One of the top choices for flooring throughout the entire house, this will always be a traditional sound way to build your home. It's very chic, versatile and will only make your house appraise for more.
BENEFITS: Wood is durable and one of the most stylish choices for your home.
CONS: You'll need to keep a special coating kept on this flooring to keep it from moisture damage.
AVERAGE PRICE POINT: $4 – $12 per square foot, installation averages at $8 per square foot
Cork
Cork flooring is gaining in popularity for several reasons and one of them being its unique look and the transformation is has on any room, let alone the kitchen.
BENEFITS: When you install a cork floor you're getting a soft, padded feel against your feet but one that's also microbial meaning it will repel insects and pests.
CONS: This flooring can easily be damaged including dents and scratches.
AVERAGE PRICE POINT: $2 to $15 per square foot, not including installation
Stone
Stone is another way to add a bit of edge and uniqueness to your kitchen. It mixed neutral traditionalism with spunky, trendy vibes that are still very versatile.
BENEFITS: Stone flooring is incredibly easy to clean and has immense staying power.
CONS: More delicate pieces of stone may chip and others may stain.
AVERAGE PRICE POINT: Depending on the material, $2 – $25 per square foot. Installation averages at $8 per square foot
Tile
Here's another traditional choice with a whole love of wiggle room in terms of design, color, patterns and even size.
BENEFITS: Tile is moisture resistant – making it a top seller for both kitchens and bathrooms – and it's proven to be durable over time.
CONS: Its surface is hard and not as comfortable at some other choices, and the grout between the pieces can become stained.
AVERAGE PRICE POINT: $1 – $8 per square foot for material, installation averages at $7 per square foot
Concrete
One the more posh choices of the bunch, concrete flooring will give off a gleam unlike other more traditional suspects.
BENEFITS: This choice is also moisture resistant and a super stylish choice for modern homes.
CONS: After time, concrete will need to be resealed and has the possibility of being stained.
AVERAGE PRICE POINT: Depending on the level of preparation required to install and finish concrete, cost averages range widely between $2 – $30 per square foot installed
Laminate
Laminate flooring is another popular choice seen in a lot of family homes' kitchens. And it mocks hardwood flooring quite well!
BENEFITS: This choice is very cost-effective and easy to install.
CONS: It doesn't put value in your home like that of real wood flooring.
AVERAGE PRICE POINT: $1.50 – $5.00 per square foot, not including installation.
Brick
Brick gives off a rougher, masculine edge and a textural look providing more interest and depth inside your kitchen. It also meshes well within a variety of style themes.
BENEFITS: These pieces can last for decades upon decades and are virtually damage-resistant.
CONS: Although brick is extremely durable don't choose it as flooring if you mind a more weathered look over time.
AVERAGE PRICE POINT: Range in cost from about $5 – $10 per square foot
The Most Beautiful & Unique Of Kitchen Floor Styles We Love
Here's a beautiful example of how natural wood floors can take on a life of their own and transform a space. It's provide a more organic and fresh feel to the kitchen.
Painting your wooden floors could also be in the cards for you. If you're feeling bold go with a pistachio green or shade of cranberry.
Black and white checkered flooring is a great way to utilize the versatile of vinyl or tile. It's a classic, timeless appeal that bring in a retro vibe.
Of course, a more creative design can be dawning the floors. Tiles can make this neutral, yet surprising pattern come to life.
Stenciling on your wood floors could be right up your alley as well. You'll have the value but also the personalization you need and want to make it feel like home.
Crisp whites can also enhance your space and give the illusion of more space. Get this by using porcelain tiles or even vinyl pieces.
An even bolder pattern for the floor could be what inspires you, just look at this plaid-print being held inside this vintage-contemporary kitchen.
You can even get stone in multi-colors to create dimension and a "wow" factor inside your more spacious kitchen.
Different tiles with different designs can fill your kitchen floor with tons of charming personality and a personalized feel.