How To Choose The Kitchen Sink That's Right For You
It's important to always do some research before buying an item, whatever it may be. This is especially necessary when you buy something basic that you'll be using for several years to come, like a kitchen sink for example. So where would you start from and how would you organize this major task? We suggest breaking it into subcategories based on the features that matter the most such as size, shape, the material from which the sink is made and the type of installation required. After you've considered all the pros and cons and you've made up your mind regarding these details, you'll be better equipped to choose a kitchen sink that suits you and your home.
Size selection – small vs large
When it comes to size, there are two main options to choose from. You can either have a small kitchen sink or a large one. Each of these two types involves a series of subtypes so not all small sinks have the same dimensions and sometimes size is closely linked to other details such as the shape of the sink or the type of installation. In any case, you can usually know right away if your kitchen can accommodate a large sink or not or if you even need one. Be sure to also consider your lifestyle and the way in which you usually use your kitchen. If you have a dishwasher and you're rarely using the sink for other tasks anyway, there's really no point in wasting valuable space.
Pick a shape: round sinks
Round sinks are really popular. They look chic and they're pretty versatile as they can hold dishes, pots and pans of all sorts of different shapes and sizes. They're usually not small but not very large either and they come in a variety of different materials with various types of finishes and in all sorts of colors. That means you have plenty of options to choose from once you also decide on the other details related to the sink's design. Keep in mind that round sinks are also usually great for corners in case you're considering such a placement.
Modern, rectangular sinks
Rectangular sinks with sleek, clean lines and minimalist designs are very common in all the contemporary kitchens and they're usually embedded into the countertop. Compared to round sinks, they can be a bit more difficult to clean and less versatile but their biggest advantage is the modern look and you can't argue with that, especially if you want the sink to be built into the kitchen island.
Farmhouse sinks
This style is very recognizable by the distinctive apron front and the vintage vibe that these sinks have. They're rectangular in shape but they have curved edges which soften their look a little bit. Curved sinks are easier to clean than those with sharp lines and angles. Farmhouse sinks don't come in many colors, finishes or materials so you'll be limited to their signature look without the possibility to customize your kitchen decor too much (at least not as far as the sink is concerned).
How to choose a kitchen sink's material: stainless steel
The material from which a sink is made sometimes also dictates how the sink looks and the way it influences the entire kitchen's interior design. Stainless steel, for example, is a pretty common material when it comes to sinks. It's very durable and easy to clean but it doesn't suit all styles equally well. A stainless steel sink could look natural in a modern kitchen or in one with a industrial vibe but it wouldn't fit great in a vintage or a traditional kitchen.
Porcelain kitchen sinks
Porcelain sinks are super common in bathroom but not as much in kitchens, at least not in the modern and contemporary ones. That's because porcelain sinks tend to have a vintage vibe. A perfect example would be the farmhouse sink. On the other hand, porcelain sinks come in just about any color you can imagine so that's a big plus if you put a lot of emphasis on customization.
Granite composite sinks
These sinks are very resistant and very durable but not everyone likes their speckled appearance. Keep in mind that not all such sinks are speckles as you can find designs which have a uniform, monochromatic look and look awesome in modern and contemporary kitchens. The biggest advantage that comes with granite composite sinks is the fact that they're resistant to scratches, chips and water stains.
Natural stone sinks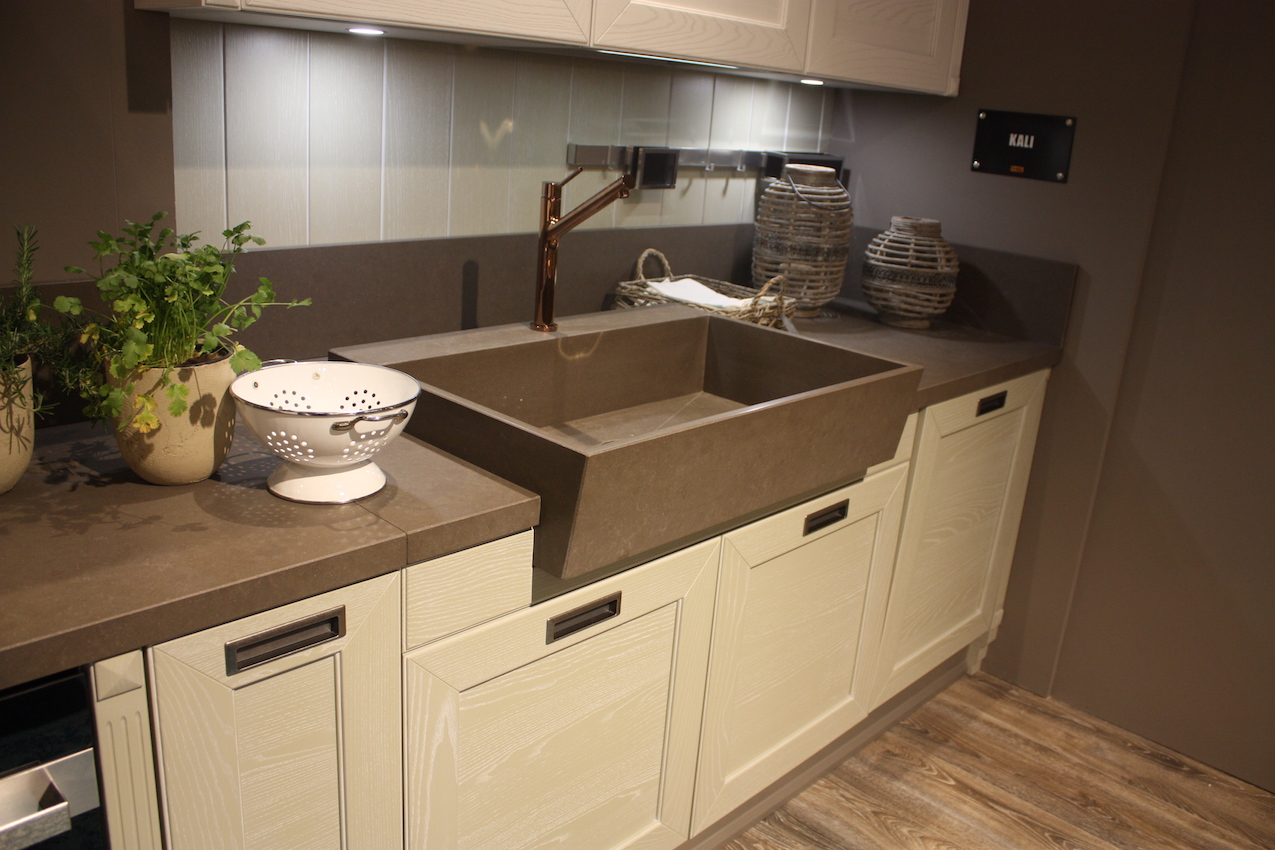 Yes, these sinks can look very cool and stylish and before you fall in love with them completely, take some time to also consider the downsides of having a natural stone sink in the kitchen. First of all, it will be susceptible to scratches, chips and stains and it will require special maintenance. You'll have to clean it with special products and to seal it regularly. Also, stone sinks can be pretty expensive so there's also that.
Sink configuration – the number of bowls
Another aspect that you need to take into consideration when you choose a kitchen sink is the number of bowls that the sink will have. The simplest option is a single-bowl sink. It's pretty self-explanatory. It's just a regular sink. This option gives you the possibility to choose from a variety of different shapes and sizes and is suitable for small kitchens. Then there's the double-bowl sink which has two bowls. Such a combination offers more versatility when prepping, drying and washing dishes. Of course, such a sink would be quite large and will cost more than a single-bowl sink. You should also take into consideration that various different configurations are possible and this includes having a regular sink plus a smaller bowl, two bowls of equal dimensions or two or more separate sinks.
Installation type: top-mount sinks
These sinks are the most common type of all. They're inserted into a pre-cut hole into the countertop and they have wide rims which support them. They're very easy to install compared to the other types. However, the fact that the lip of the sink is exposed limits their versatility and also means that they're more difficult to clean.
Undermount sinks
An undermount sink is attached to the underside of the countertop using special clips but can also be supported from below by the base cabinet structure. These sinks take up less space compared to top-mount sinks as their rim is not exposed. They're easy to clean and they look very modern. At the same time, they're usually more expensive.
Flush-mount sinks
these are by far the most expensive type of kitchen sink and also the most problematic. In their case, the surface of the countertop flows seamlessly into the sink so there are no visible edges or changes in material and the transition is seamless. This makes the sink very space-efficient and easy to clean. However, such sinks are difficult to find and have to be custom-oredered together with the countertop.