Bountiful Shiplap Wall Ideas For Stylish Interior Spaces
Shiplap is a popular wall decor. The material is made of wood or vinyl boards with grooves along the edges. Each piece provides a tight seal as the pieces fit together.
The shiplap material was first used for shed construction and barns.
How To Use Shiplap In Interior Design
The following examples demonstrate the best ways to use shiplap decor.
Beach House Decor
From Geoff Chick & Associates, this example showcases the beach house vibe.
Beach House Living Room
Shiplap is displayed horizontally, but can be installed vertically. Vertical shiplap will make a room look bigger as it draws the eye upwards.
Shiplap Staircase
In this example, colors are combined with texture. The stylish pattern makes the staircase a focal point. Muted jewel tones will help white trim stand out.
Check out thisoldhouse if you want to find out more about the house.
Shiplap Fireplace Surround
A shiplap accent wall comes in many forms. An interesting idea from Bria Hammel Interiors. the studio which designed this charming shiplap fireplace surround.
Using shiplap on only a portion of the wall can help act as a visual divider and also add more texture to the room. Texture can help make a room look more layered and put together when it's arranged in neutral colors.
Shiplap For Transitional Areas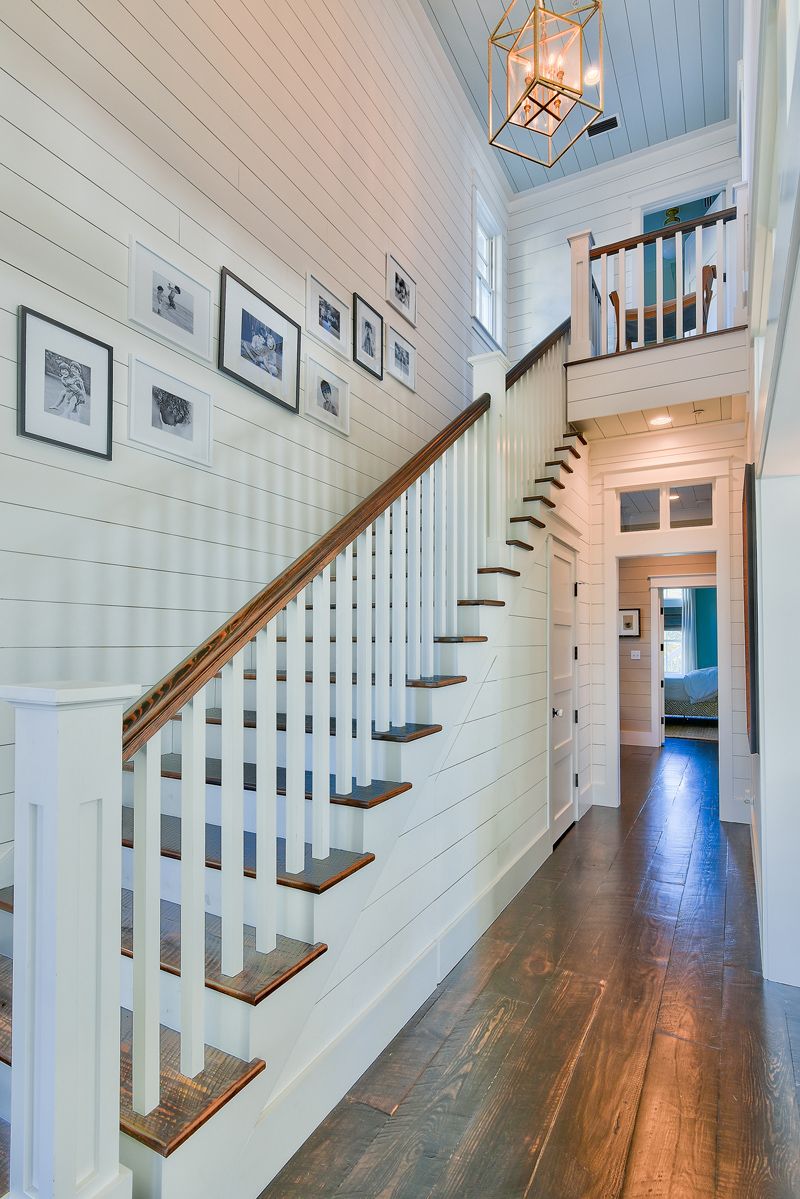 Shiplap gives walls a finished look and is a great option is you want to bring a farmhouse vibe into your home. You can make the most of this look by extending it throughout the house.
For more inspiration, check out Urban Grace Interiors.
Dedicated Color Wall
Even if all the walls in a room are covered in shiplap one of them can still stand out and become an accent wall. One option is to paint it using a color that contrasts with the rest of the walls. Accent walls break the look of an all-shiplap room.
Shiplap Bed Nook
A shiplap accent wall behind your bed makes a statement. In this example, by Dawson Design Group, a built-in nook and light sconce offer a stylish setting. The saturated shiplap is offset by calming neutrals and wood accents.
Beach Living Room
Shiplap is not just for farmhouse-inspired decors. This is in fact a very versatile design feature which can look awesome in any type of space or decor.
Check out this beach-style living room by Mawr Design for instance. It features a gorgeous shiplap accent wall that truly brings the space together in a wonderful way. The dark slate blue coloring of the shiplap brings to mind the color of the ocean on a stormy day.
Natural Accents
Rather than painting the boards white or staining the wood, give your shiplap natural appearance. The wood's texture creates imperfections that offer a rustic appearance.
Rustic Mountain Design
In this rustic mountain retreat designed by LivingStone the bunk beds blend into the shiplap wall while at the same time contrasting with it.
When used in a mountain setting, shiplap can help to emulate the interior look of an old-fashioned log cabin without having to go through the trouble to build one.
Shiplap Reclaimed Look
The shiplap accent wall created by AMW Design Studio is super charming and we love everything about it. From what it seems, the boards have the look of reclaimed wood and this gives the decor a lot of character.
What sets reclaimed wood apart from other natural wood looks is that different planks of wood may have completely different shades and tones, giving the shiplap accent wall an eclectic and charming appearance.
White Shiplap Wall
Shiplap can also be a nice alternative to wallpaper, especially if you want to add texture and pattern to the wall. It's simpler and some would also say it's also more practical and easier to install.
Some shiplap accent walls can be installed for less than a $100. Check out this minimalist decor created by Chelsea Lauren Interiors as an example.
Shiplap With Mood Lighting
Shiplap makes a great centerpiece in the room all on its own, but adding lighting to your shiplap can help take it to the next level. From The Stonybrook House, this project combines shiplap with Christmas lights above the crown molding.
White Shiplap & Dark Walls
Bright white is a popular color when it comes to shiplap installation because this highly reflective surface makes it easier to see the texture of the shiplap on the wall.
The shiplap tutorial from Making Manzanita provides an example of how to use vertical white shiplap to contrast a darker wall color.
Shiplap For Loft Ceilings
Shiplap isn't just for outfitting accent walls in beach and farm houses. Use it for accent wall material or pair with a loft conversion.
In a space this large, you can afford to go with darker colors, or you can stick with traditional light-colored shiplap like this loft conversion in Metrie for a brighter look.
Shiplap Accent Wall
When using shiplap as a room accent, you can't do much better than just using it as a traditional accent wall. When people think of accent walls they think of one dark or brightly colored wall against a room full of neutral shades.
The dark teal vertical shiplap accent wall at Plank and Pillow makes this tiny alcove office look visually distinct.
Modern Farmhouse Shiplap
If you're adding a shiplap accent wall to a rustic or farmhouse design, it's a good idea to keep your shiplap light in color. White or off-white shiplap is a farmhouse design staple. It can look more authentic when paired with vintage wall lamps.
Check out this shiplap accent wall at The Duvall Homestead to see an example of farmhouse shiplap in action.
Pastel Pink Shiplap
Options other than dark or light shiplap are available. Try pastel pink shiplap from The House of Hood for a romantic vibe. Pale pink shiplap and white look great in bathrooms and nurseries.
Rich Colored Shiplap
Pastels aren't the only option when it comes to installing a shiplap accent wall. A forest green shiplap accent wall from Meg Del Design creates dramatic flair.
A rich-colored shiplap wall can overpower a room. You'll need to balance the look with muted neutral tones.
Shiplap Stairwell
Stairwells are sometimes a difficult area of the house to decorate, but adding accent shiplap to this transitional space can provide visual interest and style without distracting from other rooms that are in the viewer's line of sight.
Herringbone Shiplap Design
Vertical and horizontal shiplap are both popular variations on this accent wall theme, but if you really want a unique look, try installing shiplap in a herringbone design. This diagonal design helps draw the eye to the center of the room.
With Beach Life Bliss, the herringbone design makes the bed the focal point. The sea foam green color makes for the ideal beach house.
DIY Shiplap Projects
DIY Shiplap Bedroom
The best place for a shiplap accent wall is the bedroom. You can redo all the walls in the room if you want to and there's a great tutorial on drivenbydecor that can help you along.
You don't need much to do a shiplap wall. If you want to also save a bit of money in the process you should use plywood sheets which you can cut with a saw.
You can also use a nail gun to attach them all to the wall and once they're in place the customization process can begin. Check out this video tutorial from Jenna Sue if you want more details.
DIY Textured Shiplap
Every once in a while a change of color is needed for the walls of a room in order to change the ambiance but it can also be nice to add a bit of texture to the new design as well.
A CIY shiplap accent wall is an easy way to do so. As mentioned before, you can use plywood to reduce the cost of the project and apart from that you only need nails and spacers to install the planks onto the wall.
Check out hoosierhomemade if you want to find out more about this.
Underlayment Shiplap Construction
This lovely shiplap wall was made using 1/4'' underlayment in 4×8' sheets. In order to cut these to size you'll need a circular saw but you can make the project a lot easier and more convenient by having the sheets cut at the store.
Once you have them, sand them down a bit and get on with the project. We found this detailed tutorial on maisondepax about installing shiplap at home that we think you're going to find quite informative.
Discount Shiplap
The cost of creating a shiplap accent wall varies based on several factors, such as the size and shape of the wall, the materials involved, the tools available as well as any distinct design details that you want to include.
Check out this beautiful wall made for less than $30. You can find out more about it on makingjoyandprettythings.
DIY Shiplap Installation
When installing a shiplap wall you can either start from the top or the bottom. If you start from the bottom you're going to have to modify the board at the very top so it fits and sits flush with the ceiling.
First, prep all the materials and the wall itself. Then start to nail the board onto the wall starting from the edge. You might need to align two or more boards depending on how long the wall is. You'll need a spacer in between the boards. You can find more info on farmhouseonboone if needed.
Formal DIY Dining Room
Shiplap walls are great if you want a farmhouse-inspired vibe. In this example, the living room is from shegaveitago. Check out the tutorial to see how its décor changed and how this wall design was made from scratch.
Finished Trim Shiplap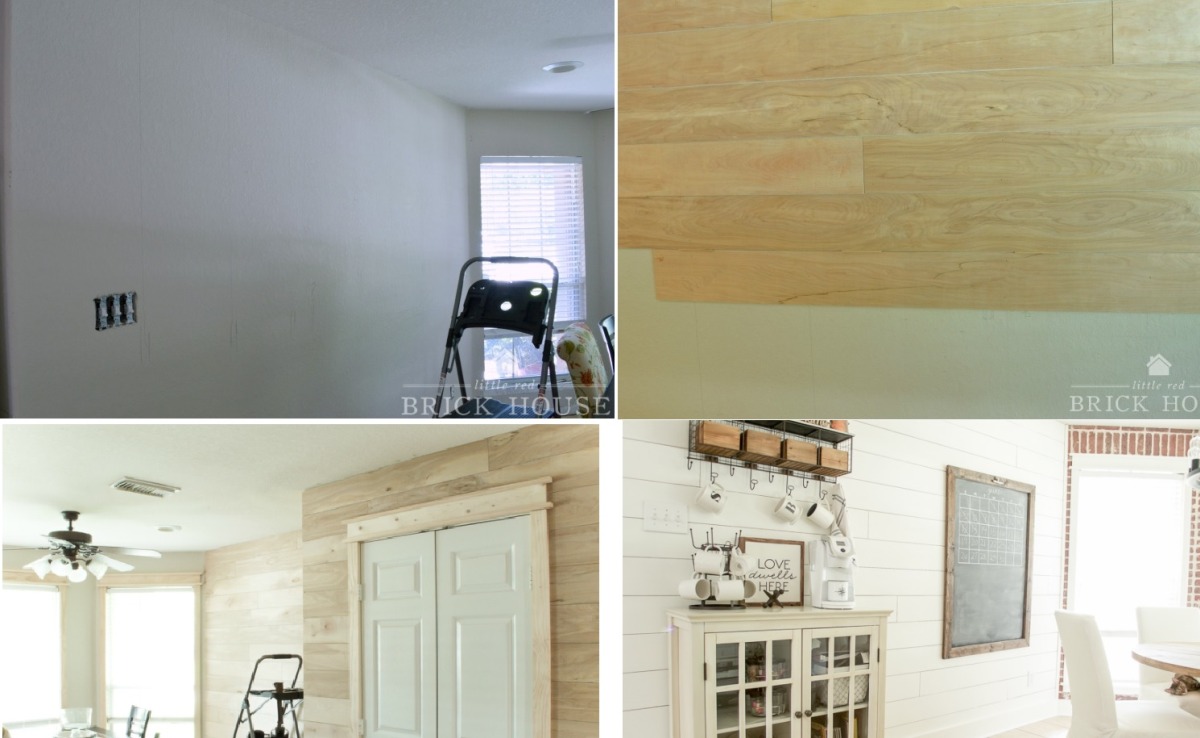 As you might have seen, installing shiplap on walls is easy and straightforward. This however can get a bit more complicated if you're dealing with corners and if you want the planks to cover more than just a single wall.
It might be the case that you need to add baseboards and trims to your walls. To make the corners look nice and smooth you can use wood filler once the boards are in place. Check out sarahdaisyco for more useful tips.
Partial Shiplap
When you cover part of a wall with boards, you create a shiplap wall treatment. You can do this for a hallway for example as a way to add a bit more texture to it but to still be able to keep the upper part of the walls nice and simple.
The installation process in this case is very similar to what we mentioned so far and you can find a tutorial for it on creeklinehouse.
Windows And Doors
Preparation is essential for a DIY shiplap wall project. Windows and doors will need to be measured. Until you know the measurements you cannot cut your boards or plan the layout.
When covering the bottom section of a wall, add trim to the top. For information visit the link underneath the photo.
Frequently Asked Questions (FAQ)
FAQ
Can Shiplap Be Used To Soundproof A Room?
The wall material is decorative. It is not designed to soundproof a room.
Can Shiplap Be Used For Flooring?
Shiplap is made for walls and not floors. The panels are not thick enough for floors and they don't provide foot traction.
How Can I Make A "Pallet Board" Accent Wall?
Use natural wood colored shiplap. Apply a stain to the shiplap so it will look like pallet boards. When your shiplap arrives, remove the boards from the box and distribute the them according to their colors. 
What Can I Use As Trim Pieces To Join Two Protruding Walls On A Fireplace?
Trim pieces should be installed 14 inches away from the fire's source. You can check the manufacturer's label for more precise information. 
How Should I Install Faux Shiplap?
With faux shiplap, install the baseboards, crowns, and trim first. If you install the trim before shiplap, you'll need to notch the pieces with a jigsaw so they'll fit around your doors and windows.
Shiplap Wall Ideas Conclusion
Take your pick from any number of shiplap wall ideas to transform a living space. During the preparation stage, decide if you'll need shiplap for the entire room. Before you begin, conduct research on shiplap styles and make a list of your favorite shiplap wall ideas.
Whether adding shiplap to a small space or children's room, take advantage of natural light sources. Remember, the goal is to create visual interest. Adding the right shiplap will turn a room from boring to brilliant.