Fresh Thanksgiving Table Decor Ideas Featured On Instagram
Planning a wholesome Thanksgiving celebration this year? Don't forget about all the little decorations that could make this entire experience even better.
There's a ton of interesting and cool ideas to be found on the internet and Instagram is a great source. A picture is worth a thousand words and there's a lot you can learn from others.
18 Beautiful Thanksgiving table decor ideas
Now would be a perfect time to check out some Instagram Thanksgiving table decor ideas and maybe you could later share your own beautiful creations with the rest of the world.
Different pumpkin sizes
Thanksgiving isn't about glamour or opulence but about simplicity and good vibes and a great idea is to put together a table decor using whatever you can find in your own garden. It would be nice if you had a few white pumpkins for the centerpiece. They look especially charming. Check out this lovely setup shared by country_dog_homes for more inspiration.
Caddy
This is one of our favorite centerpiece designs and we actually shared it before. It features this charming metal caddy filled with fall flowers, berries and such and we think it's absolutely perfect for the Thanksgiving table. Be sure to follow sweetroseandwren for more inspiring ideas.
Green leaves
Simplicity can be a really good strategy in general and that also applies to all sorts of great DIY projects. A nice example is this beautiful fall tablescape shared by homestoriesatoz. We really like the subdued colors and all the subtle golden accents.
Traditional Thanksgiving table
Another nice idea is to focus more on the warm colors of autumn. The typical orange pumpkins are perfect in that sense. You can also make some placemats out of faux leaves and also use leaves, branches and seasonal flowers to decorate the table and to make a nice centerpiece. Check out thelongawaitedhome for inspiration.
Brown Accents
Browns are also very beautiful and you can definitely take advantage of that to create some beautiful Thanksgiving tablescapes. This one shared by southern_nell_gracious_living is really cool because it also uses light colors and plays with the contrasts between the different nuances.
Colored leaves
Fill a big vase with some branches and beautifully-colored leaves, maybe a few autumn flowers as well and place this at the center of your Thanksgiving table. Surround it with a few small pumpkins, pinecones and whatever else you can find in the yard. This idea comes from julie.thedesigntwins.
Vibrant tablescape
You can also choose to give your Thanksgiving table decor a more cheerful and vibrant look by using bold colors. You can surely still find some beautiful greenery outside and perhaps you can also find some flowers in a vivid shade of orange. The combo looks amazing and tiny pumpkins are a great fit for this little project. Follow theperkyproject for more cool ideas.
Wood plates
Another really cool idea is to play with various different nuances of the same color. For example you could use different shades of green to create a fresh Thanksgiving table decor using pumpkins, leaves and flowers. We got this idea from houseofmargo.
Bold colors
Check out this amazing Thanksgiving tablescape shared by serrettastyle. The greens and the purples complement each other beautifully and create a very mystical and rich decor. You can create something similar by combining your own favorite colors. If you want a super simple look you can always rely on the timeless black and white combo.
Posh decor
If you want to go all out this Thanksgiving then go for it. Decorate your table with everything from candles to flowers, pumpkins, statues and of course a beautiful table runner. Since your table decor will be very diverse, it might be nice to use only a few simple colors throughout the design. Check out the_decor_society for more ideas.
Simple and neutral
We really like the idea of using simple and natural elements to create organic tablescapes and decors. For example, incorporate some wood slices in your design along with an assortment of fresh and dried flowers. Also, don't cover up that beautiful wooden table. Follow woolandflaxcandleco for more inspiring ideas.
Farmhouse style table decor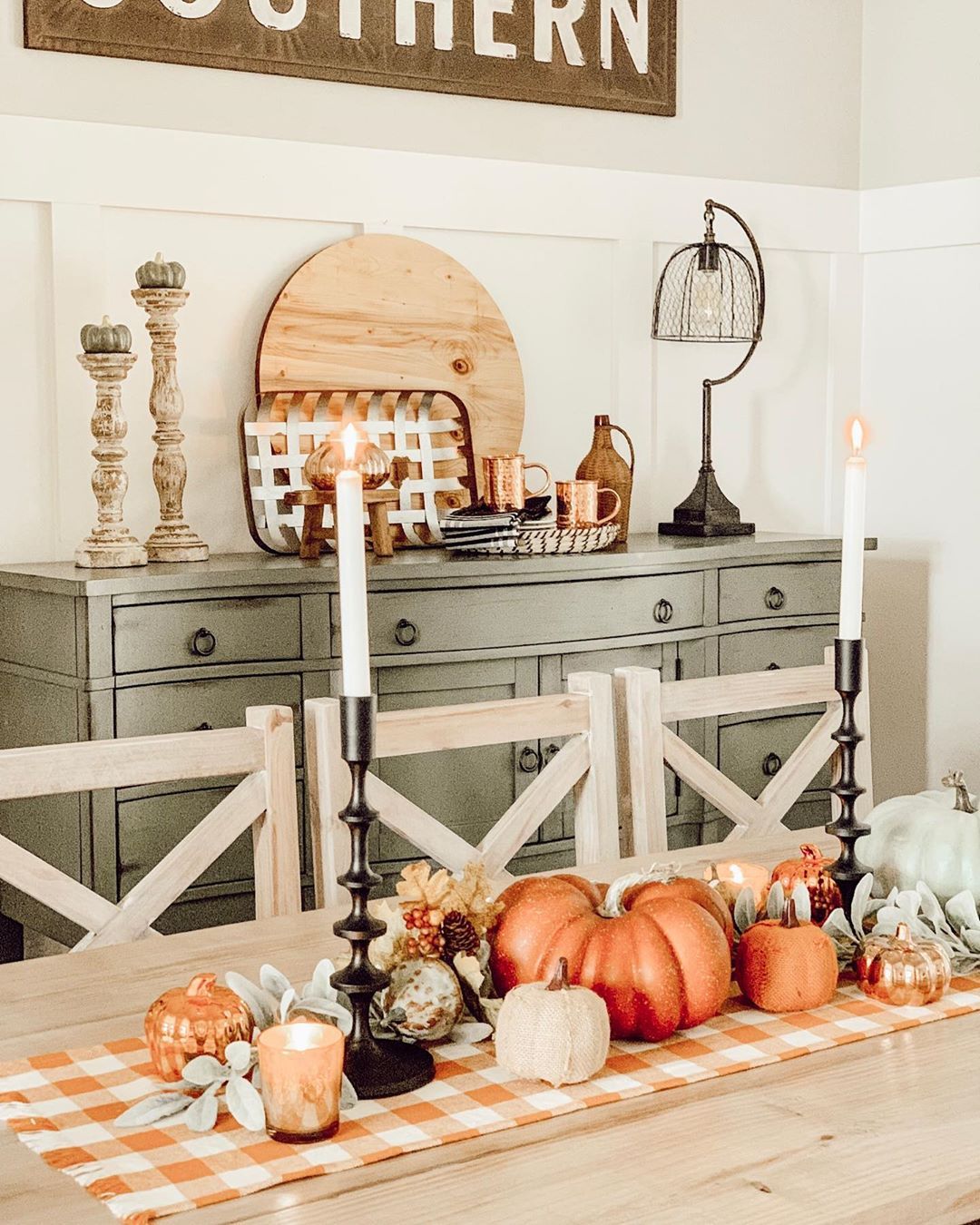 There's no need for fancy materials when all you need is a few cute pumpkins, a pair of candleholders and a simple table runner to create the perfect Thanksgiving table decor. Use spray paint to customize everything however you want. This post from southernsurroundings can be your source of inspiration.
Surrounding decor
It's not the table decor that you should focus on but also the big picture. Create centerpieces that match the surrounding decor. You can find inspiration in another already existing decor element. One detail that we really like is the plaid table runner featured here by carmennavarrodesigns.
Table runner for Special Thanksgiving
Perhaps you'd like to make a special table runner from scratch for this Thanksgiving celebration. A really cute idea is to use leaf stencils or stamps to create something similar to what rubberstamps_com shared here. Paint them in the colors of autumn to create a warm and inviting ambiance in the room.
Mix and match
There's a lot of cool things that you can do with pumpkins. You can mix and match some of them to create a truly beautiful and charming Thanksgiving tablescape inspired by this example shared by home_loving_rosa. Cover some of the pumpkins in fabric, paint some, turn one into a vase and just get creative.
Fall related
Another strategy you can use is to put together all sorts of fall-related and Thanksgiving-themed items and create the ultimate tablescape. It's an idea that we got from timefordecor. You can use things like pumpkins, leaves and branches, pinecones, acorns, fruits, berries and other such items.
Modern and rustic in the same time
In case you're aiming to create something simple and better-suited for a modern or a contemporary setup, check out almafied's post and let it inspire you. We love how simple and fresh this entire Thanksgiving table decor is. It's perfect for a small and casual celebration with the loved ones.
Ballance and symmetry
It's important to maintain a nice balance between all the different colors, textures, forms and materials you combine in your design. The tablecloth in this case is the main focal point of the Thanksgiving tablescape shared here by jennifervogtdesigns. Its colors are then reiterated in the form of various different elements.