30 Buy and DIY Candle holders to Cozy Up Your Entire Home
Winter's cold gray days beg us to amp up our coziness game in our homes, no matter how much square footage we have or don't have. We collectively add a few throw pillows and a basket of blankets. We put together a hot chocolate station for whenever the mood strikes. We plan a few more nights in with pizza and Netflix.
And then to top it off, we light a candle. Candles are definitely the easiest way to instantly add a feeling of warmth to any room. Thankfully there are many ways accomplish that without opting for store bought candles in not so pretty containers. Check out these 30 candle holders you can buy or DIY to use pretty tapers or tealights to cozy up your entire home this winter. Scroll down for three Video Tutorials!
Buy
Sometimes, simpler decor is better when your sofa is covered in pillows. These lovely black and gold tapers would be the perfect addition to your dining room table or even the coffee table. (via World Market)
Marble holders like these give off such a chic yet natural feeling. If your home is full of wood accents and house plants, these are definitely the holders you should go for. (via Urban Outfitters)
Tealights are so pretty when they're grouped together on the mantle or the sideboard. Place them in these mercury glass holders for the sparkliest effect. (via West Elm)
Are you cuddling under plaid throws with a vintage book and a speckled mug this winter? Add a couple punched candle holders like these to finish the rustic effect. (via Terrain)
There are definitely those days of winter blues when you just miss the blue sky. Light a few candles on these tall holders tinged aqua to help make up for the lack of color. (via World Market)
You can't go wrong with a pineapple, no matter what season it is. While these would be wildly appropriate for a Florida winter, you can totally use them on your Michigan table. (via Anthropologie)
If you're a sucker for wooden decor pieces, you're probably swooning over these. The simple lines and rich color would make these the perfect centerpiece for even the most common weeknight dinner. (via Crate and Barrel)
Need a cheap and easy way to bring candlelight into your home? Buy a pair of these candle holder stoppers and stop throwing away your bottles. (via Urban Outfitters)
This might be the most brilliant idea for any candle holder ever. A candle holder in the center and a vase around the outside that you can fill with whatever you can think of! (via Terrain)
Just because it isn't spring yet doesn't mean you can't lean on pastel decor. Especially when they're gorgeous duel tone pastel candle holders like these. (via West Elm)
There's nothing like a large decorative piece that can fill that extra empty space perfectly. These faceted hurricanes promise to fill the space with warm candlelight in your bedroom or your dining room or any other room. (via Anthropologie)
Candle holders that double as an art piece? It doesn't get much better than that. These art deco looking holder will be the perfect accent for your mantle or on the bookshelf. (via World Market)
Maybe you're looking to give your home a cabin feel this winter. Invest in some birch candle holders because you'll end up leaving them out all year round. I should know. (via Terrain)
House shaped decor is definitely a Scandinavian trend. If that's the look you're shooting for in your home, you'll want to add a pair of these pretty tealight holders to your coffee table. (via Hatch)
When it's white and gold, you know that it will match any style you could possibly decorate with. That's why these candlesticks are the perfect splurge since they will always match your house. (via Anthropologie)
DIY
Not all candle holders must be large and flashy to make an impact. You can easily make these candle holders by dipping wood objects from the craft store and drilling holes in them. (via Homey Oh My)
Get out your glue gun because you can have this project done in a jiffy. Choose your favorite lace ribbon in any color and glue it onto vases to give your candle a ladylike glow. (via The Sweetest Occasion)
Dipped wood might be a favorite crafting product because why wouldn't you dip it? Cutting balsa wood into holders makes a very simple but colorful candle holder. (via My Everyday Life)
There are so many bits and pieces at the hardware store that, when put together, can create something totally new. Like putting together wooden furniture legs and brass fittings. Who would have thought! (via Passion Shake)
Believe it or not, these tealight holders are not pure granite. They are holders sprayed with stone effect spray paint. Now that's totally something you can do. (via Burkatron)
When you can add a little copper, you definitely should add a little copper. Wrap some copper foil tape around a small glass jar or vase and you have an instant candle holder. (via Bird's Party)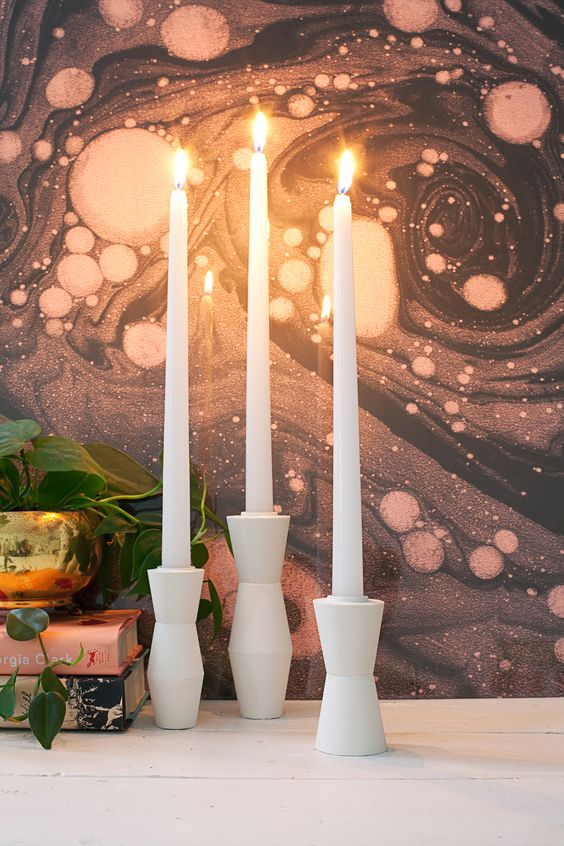 That's plaster! You would never know it because they look just like candle holders you'd buy from Target. But you can have these for a little effort and a lot cheaper. (via A Beautiful Mess)
Love the geo candle holders but can't afford them? With wooden skewers and some paint, you can easily make your own version that will fit your budget. (via A Joyful Riot)
Ignore the Christmas trees and suddenly, you can use these candle holders all year round! Simply paint the top of the birch wood holder whatever color matches your dining room. (via A Kailo Chic Life)
You've definitely seen them. The sad brass candlesticks at the thrift store. Next time, buy up a few, shine them up and give them a dip in paint to give them an entirely new and sassy look. (via Life is a Party)
What do you do with the leftover snippets of rope from a project? You wrap it around a little glass container to holder your tealights in! The perfect addition to any lake house or beach cottage. (via Freutcake)
Dye isn't only for fabric. With a few simple wood pieces in different sizes, you can dip them in your favorite color dye and turn them into a pretty duel tone piece for the dining room table. (via Almost Makes Perfect)
When it's so cold outside, it's no surprise that even your candle probably wants a sweater. Use an old or thrifted sweater, cut it into pieces and sew it into sleeves for all your glass candle holders. (via Just Crafty Enough)
Tired of your birch coasters? Stack them up and set a tea light on top. If that makes you nervous, you can always screw them together before you light the wick. (via Sustain My Craft Habit)
While those candle holders look like a million bucks, all you need are some marble tiles, copper end caps and glue. And the tapers to put in them of course. (via My Kailo Chic Life)
Video Tutorials
DIY:Candle holder from Picture Frames.