Feng Shui Your Kitchen: Tips for Optimizing Positive Energy in the Heart of the Home
The kitchen has long been considered the heart of the home, and in feng shui, this is no different. In fact, a feng shui kitchen symbolizes health, abundance, and even wealth. Because of its importance in the lives of the residents, the kitchen is a key space that benefits significantly from feng shui. In fact, it is considered one of the three most important areas of the home (the other two, surprisingly or not, are the front entryway and the master bedroom). In this article, we'll discuss the history of a feng shui kitchen, feng shui kitchen colors, and how to go about improving the feng shui in your modern kitchen to ensure that the flow of positive qi is free and plentiful.
KITCHEN FENG SHUI HISTORY
Anciently, the Chinese felt that the place in the home where food was prepared, namely the kitchen, was incredibly important to maintain as a safe, well-designed, and healthful space. Because of the importance placed on this room, various feng shui guidelines were established.
However, these same ancient Chinese also cooked over open fires. Which meant that the open fire pit inside the kitchen area had to be kept clean and safe, and starting and dousing the fire required care and technique to preserve the health of the surrounding area. Some of the kitchen-related feng shui principles revolve around these processes.
Modern kitchens eliminate the open fire pit and, therefore, don't fall under some of the same feng shui rules as ancient kitchens. In fact, if we tried to apply all kitchen feng shui to our kitchens today, the result would be frustrating and nonsensical…and leaning toward the oddly superstitious. That being said, some feng shui principles stand the test of time and can (should!) be integrated into the most contemporary of kitchen spaces in order to maximize the health and wealth of the homeowners.
FENG SHUI KITCHEN COLORS
Everyone has different reactions to different color schemes, so there is not a one-size-fits-all approach to choosing a color palette for your feng shui kitchen. What draws you in and makes you feel comfortable is probably the best place to start. But here are some ideas for feng shui kitchen colors.
Blue.
Blue is the complementary color of orange, which is a well-known appetite stimulator color. Not surprisingly, blue has the opposite effect on the appetite, some say because blue food is rare in nature. Blue is best used in a feng shui kitchen as an equalizer to orange, to balance out the energy. But too much blue in the kitchen brings down the appeal of food, which might be discouraging to aspiring cooks and those who love to prepare food for loved ones.
Orange (and Red).
Orange, along with red, are closely associated with the joys of eating…much and often. This can be satisfying to a budding chef whose goal is to prepare food that others will love to eat; however, using too much of these appetite stimulating colors in one's kitchen can become a problem if they cause overeating. These colors work better in a feng shui kitchen in smaller, yet impactful, doses.
Black.
Good feng shui kitchens avoid black in the kitchen, due to its somewhat depressing effect and ability to visually shrink a space. Black is also very dramatic, but in the kitchen, drama can often feel cold and isolating. Some modern kitchens are black and white; feng shui recommends that these stark contrast kitchens would benefit from accents in red, whether a tea towel or a teakettle or even a bowl of red apples on the countertop.
Feng shui recommends, however, avoiding altogether a black and white kitchen. Instead, pair a black countertop with earthy tones such as taupe or tan or even olive, to lessen the contrast of color and increase the warmth and friendliness of the kitchen.
Soft Yellow or Gold.
Along with earth tones, these soft, muted golds and yellows work beautifully in a feng shui kitchen. They evoke feelings of relaxation and comfortable intimacy (coziness), along with safety, security, and happiness. These are the colors of gathering and bonding, which is ultimately a dream kitchen's, well, dream.
MODERN KITCHEN FENG SHUI APPLICATIONS
Because the preparation and storage of food is important in nourishing and sustaining the family members of a home, it also plays a part in making it possible for those same family members to thrive and create abundance within their own spheres. In that way, cooking and cleaning up after the meal preparation are ways to illustrate a person's desire to take care of not only her/himself, but also those s/he loves.
Feng Shui Kitchen Tip: Pay attention to lighting.
After the bedroom and the bathroom, the kitchen is typically the next room in the house that a person will go to in the morning, and it's a good idea to keep the space as cheerful and "sunny" as possible. In fact, exposure to sunlight directly affect us, as serotonin and melatonin production is stimulated and mood improved.
Some kitchens abound in natural light, which is fortunate. Other kitchens simply don't have that option. In these instances, it might be beneficial to install a skylight or even a solar tube through the ceiling.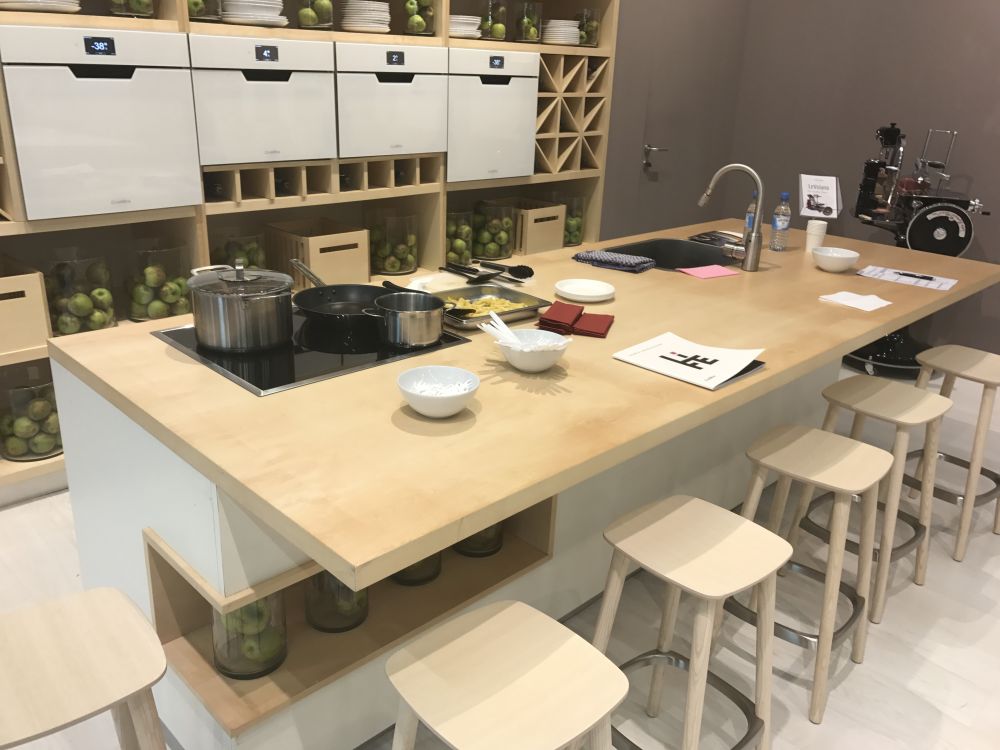 Feng Shui Kitchen Tip: Ensure kitchen things work properly.
This seems obvious, but it is an important part of a well-functioning kitchen. Everything, from keeping appropriately sharp kitchen knives to maintaining cupboard doors to close all the way to easily opened drawers, works together for the good of the whole kitchen. Chipped bowls should be replaced, and chipped paint should be touched up.
This is, though common sensical, actually quite vital for a feng shui kitchen. Ensuring a well-maintained kitchen signifies that a person is capable of maintaining and caring for themselves, too.
Feng Shui Kitchen Tip: Respect the kitchen stove.
As a significant feng shui symbol of wealth, the stove is a powerful appliance and requires particular respect. Keep the stove clean and in excellent condition. Rotate through the stovetop elements (burners) to distribute the energy evenly and draw positive qi into your space and life.
Feng Shui Kitchen Tip: Hang a mirror above the kitchen stove.
This tip doesn't apply to everyone, of course, but if the space under your range hood is particularly dark, feng shui recommends hanging a mirror to reflect the light and warmth of the stove. This is especially beneficial if the mirror can somehow reflect a window in the kitchen, which will (visually) double your windows!
While a modern myth has permeated that a mirror in this position will double the wealth of the home, we don't recommend holding your breath for that to just magically happen. But another benefit of having a mirror placed behind the stovetop is that a person cooking at the stove will now be in what is known as a "command position" in feng shui, being able to see behind them despite their back's being toward the room. That makes the person feel inherently more comfortable, which is good feng shui in any space.
Feng Shui Kitchen Tip: Keep it clean.
As you may or may not be aware, feng shui places great importance on cleanliness, particularly in spaces that involve health so directly (e.g., the kitchen). This includes more than wiping down the counters once a day. Drawers and cupboards, both inside and out, should be regularly cleaned, as should appliances. Backsplashes, walls, and countertops should be wiped down frequently. Sweep and mop the floor for a clean foundation.
Feng Shui Kitchen Tip: Keep it clutter-free.
There is a distinct difference between a clean space and a clutter-free space, although sometimes the two concepts are lumped into one general whole. Countertops in the kitchen have a tendency to become a catch-all in a busy home life – mail, pamphlets, homework, bills, and other miscellany can quickly take up the space that you need for food prep.
A good feng shui guideline is that only things that are used often (daily or up to three times a week) should reside on the countertops. Everything else will look and feel like clutter and should be stored in a kitchen cupboard or closet.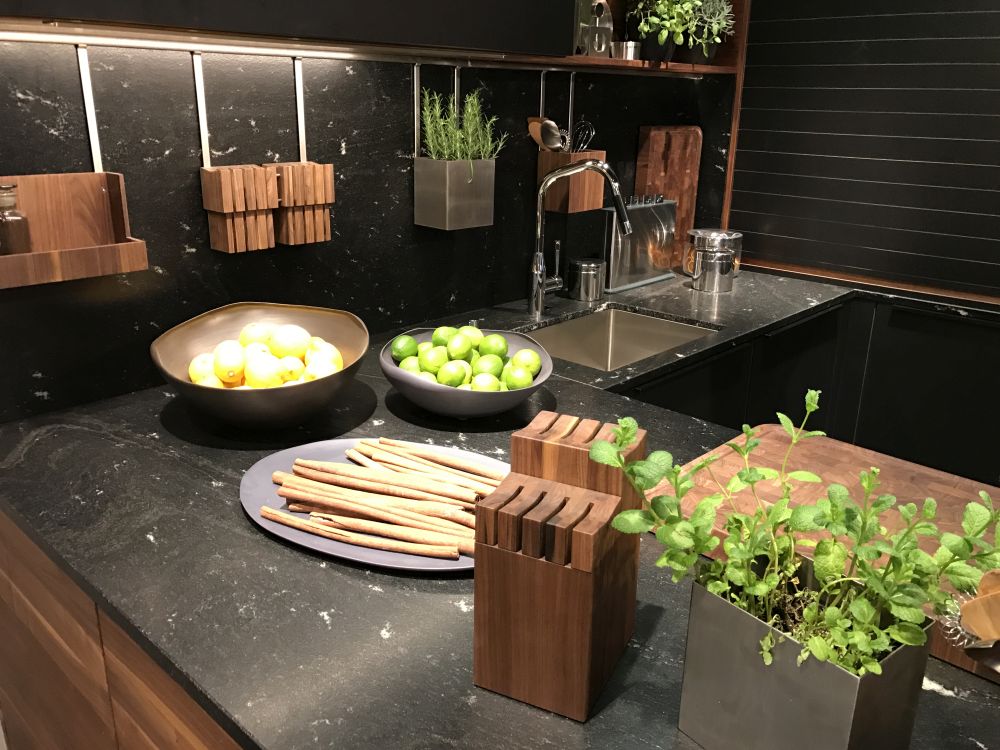 Feng Shui Kitchen Tip: Store knives out of sight.
Feng shui recognizes that knives inherently make people feel uncomfortable at best, threatened and vulnerable at worst. So, while it is currently popular to store knives along a wall-mounted magnetic strip or in a butcher block, a feng shui kitchen will tuck knives out of sight in a drawer. This is also safer.
Feng Shui Kitchen Tip: Don't forget wood element.
So many modern kitchens easily have fire (stove), water (sink), metal (appliances), and earth (color) represented, but it often takes a proactive stance in order to ensure that wood element is represented in the kitchen. It's not hard – you don't need to redo your cabinets to be wood or anything like that.
Incorporating wood could be something as simple as placing fruit into a wooden bowl on the kitchen counter, or leaving a wooden cutting board or butcher block visible (as long as you actually use it, of course). Even a small potted plant, or a painting of a potted plant, would easily do the trick.
Feng Shui Kitchen Tip: Only keep what you actually use.
A general rule of thumb in feng shui is to keep only those things that you use, need, and/or really love. (This is also a guideline for many interior designers, whether or not they use structured feng shui principles.) In your regular kitchen cleaning, removing items from cabinets and drawers to give them a good wipedown, constantly assess whether or not the item is used enough to warrant the real estate it requires in that cupboard. Infrequently used items can and should be moved to more storage-heavy places (e.g., top shelf of the pantry) or removed from the home altogether.
While you're at it, you may as well organize your kitchen items during the cleaning process. It will make your kitchen function more efficiently and satisfactorily if like items are put with like – the toaster near the bread shelf, and baking needs near the measuring cups and spoons, for example.
Feng Shui Kitchen Tip: Use large kitchen spaces for dining.
For those kitchens that are quite large layout, you may find that the best energy flows within and through the kitchen if there is a dining area within the kitchen itself. While dining rooms serve an important purpose in feng shui, that same purpose can be served within the kitchen, provided it's large enough to accommodate the separate function of eating the food that has been prepared.
Feng Shui Kitchen Tip: Avoid large items overhead.
Another popular kitchen trend is to hang pots and pans from the ceiling. While the copper pots are visually attractive and lend an air of authentic farmhouse to the kitchen, they are not good feng shui because heavy objects overhead tend to make us feel unsafe. A feng shui kitchen will keep large pots and pans and other large, heavy objects out of sight in pantry closets or kitchen cupboards.