Beautiful Kitchen Design Ideas That Make A Statement
The goal of interior design is to make a statement. People want their living spaces to reflect their personalities. Here, we will present beautiful kitchen design ideas that make a statement. Since most people use their kitchen daily, it should feel like any other room in their homes.
Beautiful small kitchen designs may not be right for your home. When designing your kitchen, you don't need a background in ergonomics, but you need to know what you want. Keep an open mind. This right design could find you before you found it.
Kitchen design ideas that make a statement.
Island With Mirrors
Mirrors make a room look bigger. They aren't popular in kitchens. Since kitchen islands are versatile, mirrors could be the newest trend.
Another impressive feature is the mural. This kitchen does more than make a statement, and that is inspiring.
Island For Utilities
Many people use their kitchen island as a bar, installing their sink and stovetop on their counters. Adding appliances to your kitchen island can impact functionality.
We're going to use our kitchen as a bar since we don't have a specified dining room. You could go with an industrial stainless steel kitchen island for a hard-chic look. After you discover how a kitchen island for utilities provides extra food prep space, you won't look back.
Featured Tile Walls
People think tile walls in a kitchen are for backsplashes, but that's not true. You can have featured tile walls anywhere in your kitchen. Whether it be above a microwave, on an island, near the door.
As you can see, the kitchen relies on a statement wall by itself and without cabinets. You could also choose an oven style to feature a tiled wall. If you want to stand out, 3D wall tiles are transforming bathrooms and kitchens and offer exciting design possibilities.
Floating Cabinets
If you look at most kitchens, you'll notice that the upper cabinets touch the ceiling or almost do. This is because the ceilings are too low to allow anything else. Floating cabinets are an economical option that allows you to make the most of your tight space.
When there are a few feet between the top of the ceiling and the cabinets, the kitchen will look more spacious. High ceilings add to a room's size and appearance.
Floating Shelving With Lights
Floating cabinets might make a room look bigger, but there is no guarantee. You can install floating shelves with lights in most kitchens. Add them to the wall if you don't want your kitchen to look crowded.
To make floating shelves look more appealing, add lighting underneath. Or, if you don't want something permanent, string fairy lights above them. Hang your Kitchen lights with precision. They are just as important as the cabinets.
Walk Beneath Bar
While you can't walk beneath a bar, but with the design we're referring to the style. Removable floating bars allow you to decide when and where you want them.
If you designate multiple areas where it can stay, you'll have options for extra seating. Have a place for it in the kitchen, dining room, and living room for parties. That way, your eating area remains versatile.
Industrial Appliances
Commercial kitchens aren't for everyone. The industrial look is popular, and this kitchen reveals why. The lines are clean, and the industrial appliances make it convenient.
An industrial kitchen is not complete without chrome or stainless steel. Dishes, appliances, or simple home décor will help you achieve this look. Forgetting them is acceptable, but the standard is to include them.
Reflective Colors

While having mirrors on your cabinets and counters can be ultra-chic, other options are available if you want a reflective surface. Black and white come in reflective materials and look amazing in any kitchen. The result is stunning.
Black is an exceptional choice because most appliances are reflective, so merging them together works well. Any color will work, but you may have to pay more than expected.
Splashes Of Bright Color
We cannot stop talking about how perfect a neutral kitchen looks with a touch of bright color. If you use one color, choose yellow. Considered the brightest color, yellow makes for a wonderful example.
While you can add splashes of home decor and accents for that color, a more permanent piece makes a statement. Shelving is one of the easiest options. You can paint shelves any color you desire without paying too much.
Separated Cabinets
If you're worried about your cabinets fitting in your kitchen, then consider standalone cabinets. Any kitchen can have separated cabinets as they're not made to fit. The extra inches you save won't make a difference.
This makes breathing easier if you have an odd-shaped kitchen. Choose a long cabinet for your sink and stovetop and a short one for the other appliances. You can add cabinets above for your microwave and air fryer.
Square Islands
Yep, that's a square island. They aren't popular, but they look different than the standard kitchen island. Square island kitchen layouts are favorable and complement most designs.
If your kitchen is small and rectangular, you may want to stick with a thin, long island. Small square islands aren't as common due to the space they consume underneath. With that in mind, you might consider a square kitchen island with storage.
Related: Seriously up Your Storage Space with a Kitchen Hutch or Kitchen Pantry
One Solid Color Throughout
A bold choice, and not for everyone. However, if bright colors make you happy, then use one as your primary color. You can color your floors, which would look fabulous.
There are a few ways to have bright floors. Laminate and linoleum are cheaper options. Tile comes in brighter colors and is expensive.
Grey Cabinets With Bright Colors
If you decide on a bright color kitchen background, you may want to offset it with a relaxed neutral color. Grey cabinets will help you achieve this. The best part is how every cabinet doesn't need to be grey.
A feature cabinet doesn't need to be bright. It can be a plain, neutral color surrounded by bold and bright colors. "Feature" refers to those things which are different and stand out in a room.
Keeping Sharp Lines
The best way to make your kitchen look modern is by keeping sharp lines over everything. Go easy on the hardware and omit handles when possible.
In this kitchen, the appliances are out of view. This is another way to make your kitchen look modern. A hideaway oven is another simple solution. Minimalist kitchen design for small spaces is what you desire, then start here and let your imagination run wild.
Mixing Neutral Tones
Who said using one neutral color was the standard? If you don't like bright colors but want excitement, try mixing neutral tones.
With black and brown, choose the best brown hue. Black and brown often clash. If you use a brown shade found in natural wood grains, it will work.
Glass Cabinets
Glass cabinets make a statement. They are brave, bold, and yet peaceful. Not every kitchen can pull this off, but when it happens, it's extraordinary. The cabinets look great with white marble.
Kitchen cabinets with glass doors on top will need regular cleaning. Do not neglect glass interiors and exteriors. The cabinet displays should remain clear. Also, they might require some vacuuming.
The "Closet" Wall
You can add closets by building half walls and closing them in. They're a wall extension but do not protrude from it. Create the same thing in your kitchen to achieve a uniform look.
You won't lose space in your kitchen if you do this right. Adding walls around cabinets and appliances makes the kitchen look sunken. And the effect will make your kitchen look bigger.
Bubble Lights
If you're not familiar with a bubble chandelier, you're in for a treat. The tiny lights create a whimsical feeling. You can arrange them together or separately.
When grouped together, they're like one big lightbulb. If you scatter them, they resemble Christmas lights twinkling above your kitchen.
Wall Art Above Cabinets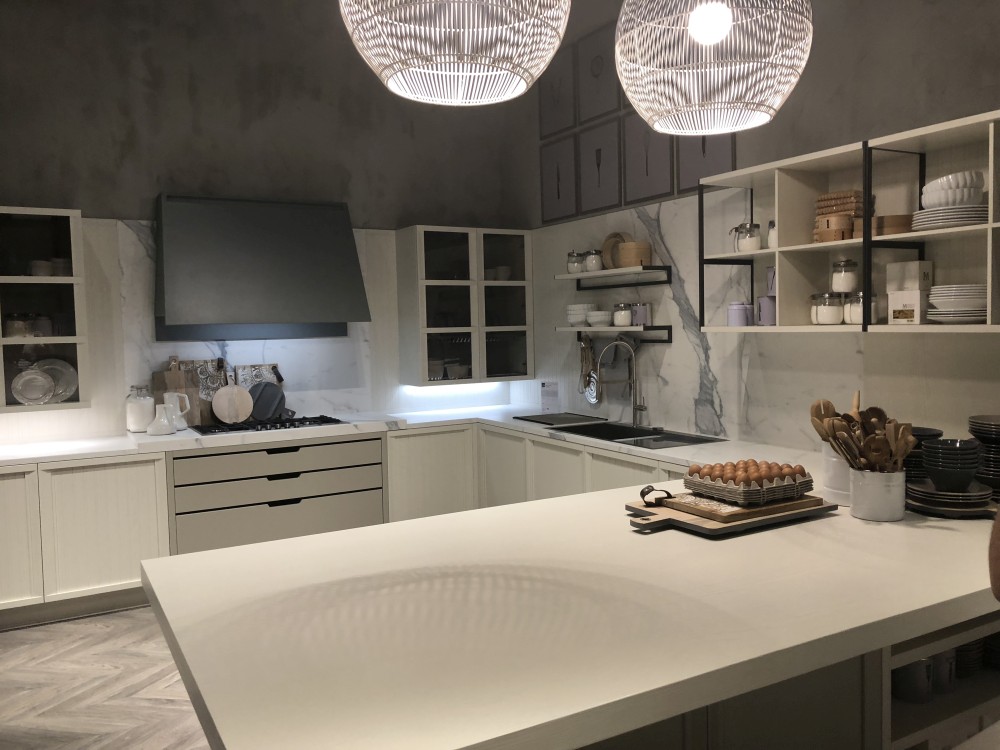 You won't see wall art in kitchens often and for no good reason. Wall art is a fun way to express yourself.
One way to ensure food and water won't stain is to hang wall art above cabinets and appliances. When you do this, you protect the wall art while it remains in view.
Using A Table Island
Using a table island will give you more floor space. With a table, you'll have the entire floor and open, allowing more breathing room. You'll need to make sure you get the right size.
If you place one in the middle of the room, it won't be important. An L-shaped table connected to your cabinets should have the same width but also shouldn't be too long.
Related: 15 Ways To Set Up A Kitchen Nook You Can Be Proud Of
Nostalgic Ovens
You don't want an oven that's older than a century, but you can find a new one with the same look. Affordable, vintage-looking appliances are easy to find.
While searching for nostalgic ovens or vintage appliances, you'll discover they come in blue, red, and green. The colors complement trending kitchens.
Slide-Out Table
A slide-out table is a mobile homes and RV feature, but that shouldn't deter anyone. Furniture that slides out is a simple way to use every inch of your tiny home.
Small spaces and tiny houses are trending. There are many things you can do with a small kitchen. Fold-away appliances and furniture will give you more space when you don't need them.
Simple Murals

Flashy murals are great for bedrooms and living rooms. But simple murals work best with kitchens. Making a statement doesn't have to be overwhelming. It's hard enough to keep a kitchen decluttered.
If you can't find a simple mural design, wall decals are your best option. Small decorations are temporary and can be placed wherever you want.
Two-Toned Kitchens

The best way to achieve a two-toned kitchen isn't with two colors and then decorating at random. For two-toned kitchens, start with a two-toned piece, which can be natural or painted.
A sink cabinet makes a statement in this adorable farmhouse kitchen. Green cabinets and white drawers complement this two-tone design. With the kitchen island drawn in, the room comes together with ease.
Invisible Wires
This kitchen is stunning. One thing you'll want to apply is the method used to hang the light. Invisible wires are too versatile to ignore.
Related: Keep Up With The Waterfall Countertop Trend – Looks That Inspire
In this example, they support the overhead light. The light appears to be floating in thin air. The effect makes your kitchen look bigger and impacts the room's flow.
Frequently Asked Questions (FAQ)
FAQ
What are the advantages of floating your kitchen cabinets?
The biggest advantage of floating your kitchen cabinets is the visual effect it provides. In smaller kitchens and bathrooms, you want to capture a sense of volume. With limited space, every inch counts. The second advantage is the price. Floating cabinets are inexpensive. Minimalism is in, so why not take advantage of it in the name of style.
Where do you put glass kitchen cabinets?
Glass cabinet doors are for upper cabinets. Common sense would dictate on this one, especially those with children and pets. As a design element, they're flexible. You're not obligated to install them in every cabinet. You can mix and match however you want. Remember, it's your kitchen. You can do whatever you want.
How will keeping sharp lines improve my kitchen?
Minimalism is about convenience. If a sharp, simple kitchen design, after you've finished, you won't have to do anything until you're ready for a new design. Simplicity is an art form that many do not know how to achieve. 
Kitchen Design Conclusion
You don't have to spend a fortune on a kitchen design that will change your life. There isn't a rule that says when you're designing your kitchen, you need to be in a hurry. Do not make the same mistake others make and settle for second-best. The kitchen is the most exciting and dynamic space in every home. Why not give it an appearance that reflects you and your family?