40 DIY Kitchen Island Ideas That Can Transform Your Home
A kitchen without a freestanding island feels empty. Luckily, there are many DIY ideas that can help transform your kitchen. You won't realize it until you have one, but once it's installed, hanging out in your kitchen will be pure bliss.
It does not have to match your cabinets. You don't need to buy a pre-made model. You can design your cooking area to suit your needs.
History Of The Kitchen Island
In 1930, world-renowned architect Frank Lloyd Wright invented the kitchen island. The idea was born out of a desire for hosts to remain connected to their house guests while they cooked food. The first home built kitchen islands emerged in the 50s. However, the shaker kitchen island didn't become the norm in US households until the 80s. Since then, hand made kitchen island units have also become popular.
DIY Kitchen Island
Do you know how to build kitchen island from scratch? You never know when inspiration will strike. When it does, you could be overcome with a desire to improve or make an addition to your home. Some home add-ons are simple and don't require professional experience.
What Tools Are Required To Build A DIY Kitchen Island From Cabinets?
You can repurpose many different items to create a an island. Old or ignored furniture pieces will work fine. You should think twice before you throw something away.
The following household items make for innovative kitchen islands:
Filing cabinet
Sideboard
Dresser
Desk
Table
Bookshelf
Wood pallet
Wine barrel
Old carts
Wash tubs
Shutters
Old windows
Build A Kitchen Island With Only Basic Tools
If you want to know how to build an island with seating, you'll need the following tools:
Drill
Tape measure
Level
Framing square
Miter and circular saw
Nail gun
Sander and paper
Caulk and gun
After you have your tools, you can explore your seating ideas.
Build the ends and attach the bottom shelf support.
Secure the top part of the frame and centerpieces.
If you're using wood, good ahead and stain or paint the frame at this point.
Once it's dry and finished, add the top counter.
How Do You Redo A Kitchen Island?
Renovating your island is just as easy as making one.
Here are 4 DIY ideas to help you renovate:
Painting – most islands have a dated base and wood finish which means they take paint well.
Resurfacing – this involves changing your countertop. With a new countertop, your island will look brand new.
Replace molding and trim.
Beadboard – after you over the piece you can paint it and it would change the dynamic of your kitchen.
The Best DIY Kitchen Island Designs
Whether for storage, functionality, or design, the following ideas will inspire:
Nina Hendrick DIY
If you want to live on the edge, a kitchen cart would complement the corner area of your space. For a better idea, think of a small table as a springboard for other ideas. You can add drawers, a cutting board, or a smooth top and wood filler. A design with a unique island like the one featured on ninahendrick is a good place to start.
Country Kitchen Island with Storage
How to build an island is one thing, but cabinets are another. There are similarities between kitchen islands and cabinets, which inspired this simple project on Instructables.
When building an island with seating, you'll need glue, screws, panel, plywood, and a few coats of paint.
As you'll see in the video, the cabinet ideas began as pre-made cabinets were flush with everything else was positioned around it. It has extra shelves on the opposite side and between the gap, and for good measure a solid wood top.
House by the Bay Design
Small kitchen islands are easier to build. Model kits are available, which doesn't mean you can't build one from scratch. We found this easy tutorial on housebythebaydesign, which shows you how to build one with a bar and extra side compartments to store things.
Narrow Island with Wine Racks
If you like the idea of having a large freestanding cabinet in the middle of your kitchen but don't want it to take up space, a small DIY table could be what you need. You can have one that gives you more counter top room but doesn't make the area feel cluttered.
This narrow model featured on Instructables offers more DIY kitchen bar plans. Use both shelves as wine racks to go with your bar.
Shanty 2 Chic Small Kitchen Island
You can make a DIY user-friendly by adding wheels so it can easily move around. Add hooks and hangers for towels and utensils to keep things organized. Check out shanty-2-chic for another easy DIY project.
Reclaimed Wood DIY Kitchen Island
You can build this piece from scratch. One nice thing about it is that you can use reclaimed wood. This can give your project character, while lowering costs.
Mom in Music City DIY
This idea is from mominmusiccity and offers tips on how you can make an island with cabinets. Three small panels with knobs mimic drawers but are decorative. The knobs can function as hooks to hang towels from your upcycled DIY kitchen island. Other kitchen decor ideas include baskets on the opposite side of each other to complete the look.
Repurposed Washtub
It's possible to build a new one and repurpose some old items and leftover supplies in the process. Check out this cool tutorial from magazineyourhome.
The video shows you how to repurpose an old washtub into the body of a cute island. Give it four legs, a top surface and opening and you'll have the island you've always wanted and at a fraction of the price. You can lift the lid to store items.
Functional Island by Sawdust 2 Stitches
Cabinets are the easiest to repurpose. A good example is a project featured on sawdust2stitches, which shows how easy it is to make an island. This easy setup includes two trash bin slots, a set of open shelving in between, and a towel rod. When you make your kitchen island blueprints, double check the measurements.
Bookshelves
Bookshelves also deliver and can be repurposed into custom furniture pieces, like the one featured on redouxinteriors. You can adjust bookshelf. Removing or adding a shelf or two depending on the position of your plywood or boards. your blueprints for the building proportions and final design.
Simple Wood Island
If your kitchen lacks character, you can make a center piece with cabinets. You can build one with wood, with nothing but a solid top and an open shelf at the bottom. It doesn't have to look perfect. Imperfections give it character. For more ideas, check out krusesworkshop.
Kitchen Island on Wheels
You could create industrial kitchen island like the one featured on blueroofcabin. The worn metal suggests a long and intriguing history and the wooden top contrasts with the frame. The wheels allow for maneuverability so you can use it as a cart.
Small Kitchen Island Ideas
Why not try an industrial vibe? For example, you could use metal pipes as legs. The overall frame would complement the island with a wooden top and a matching bottom shelf. If you want to learn more about kitchen décor ideas, check out this tutorial on imgur.
Concrete Table and Rolling Island
Check out this concrete table with a rolling kitchen island underneath and homemade island countertops. It is a space-saving solution offers easy DIY ideas for smaller homes. From the imgur tutorial, you could make one from stock cabinets.
Convenient Storage
Create your plan based on the proportions and layout of your kitchen. You should leave plenty of room so the unit can move freely. This one is right for a medium-sized kitchen. Both shelving pieces come in handy. Check out imgur for more details.
Lights for Kitchen Island Decor
Designer models are available at different prices. They have built-in appliances, that are daunting for kitchen plans. The best example here would be a project from Instructables.
Beyond the Picket Fence Shutter Island
This is a shutter island, in the literal sense. It's a cool idea that we found on beyondthepicket-fence. It shows how repurposing older objects giving them a second life is rewarding. It won't require large floor space but has character.
Unique Kitchen Island with Seating
Creating the plans for your project and building it takes quite a bit of time and skill. But there's another step that's just as important and only comes after you plan and build everything.
We're talking about where you customize the island and make it look beautiful. This can include painting the wood and adding baseboards or panel. Perhaps this turquoise island featured on nestinggypsy can be your edge source of inspiration.
Practical Kitchen Island with Storage
The dark blue color, light wooden top, small wheels, and overall organization serve as an inspiration on how to build a one. There's room for the microwave oven on the top shelf. The small nooks can hold baskets which allows you to organize small items. If you want more ideas on this, check out the instructions on realitydaydream.
Related: 30 Breakfast Nook Bench Ideas That Will Cheer Up Your Mornings
Farmhouse-Style Island
This is from ana-white. The tutorial demonstrates how to build a farmhouse-style kitchen island. You'll need reclaimed wood that looks aged or make it look rustic with wood, paint, and sandpaper. Sand the wood and add stain to it for a country rustic vibe.
Versatile Island with Bookshelves
Nobody said you had to use a kitchen island to store pots and pans. It's a versatile and adaptable piece of furniture. This one has more side storage for utensils or a small chalkboard. Check it out on Instructables to learn more.
DIY Kitchen Island with Seating
This one features upcycled kitchen ideas. A small model is easy to assemble and a good beginner DIY enthusiast. Furthermore, you can customize it with materials and finishes to match your kitchen. The original design featured on instructables has a long-lasting feel.
Moveable Island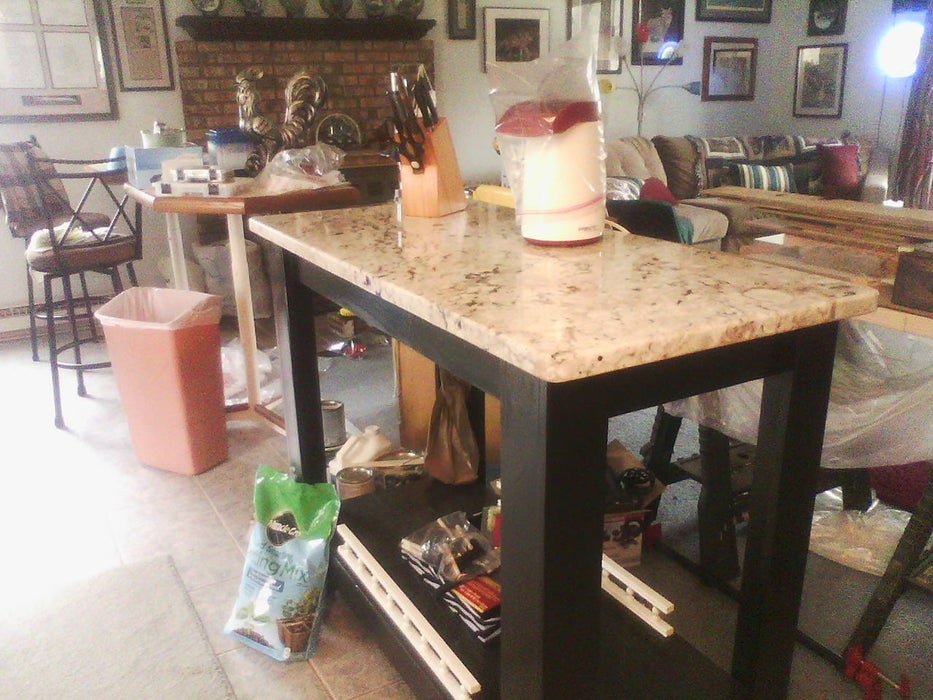 It's about flexibility. If you have a narrow kitchen island you might not want it a permanent spot. A rolling one would be your best solution. Check out the tutorial on instructables to find out how to build one yourself.
Useful Small Kitchen Island
Even tiny ones can be useful. The beauty of building one yourself is that you can choose the exact size and the proportions that make you feel comfortable. The cart is easy to move. It has a cute top with a marble effect and a shelf that's high enough to hold bottles, utensils, and other things. Head over to instructables to see how to build this model and make one like it for your kitchen.
Repurpose Old Furniture
Here's a tip: it isn't necessary to start from scratch when building handmade units. There are many kitchen island décor ideas like repurposing an antique dresser. With modifications, they can be smart additions for home. You could add a colorful panel base with glue or implement a baseboard design. Watch the tutorial on Instructables for inspiration.
Homemade Kitchen Island
Maybe building a large kitchen island from scratch by yourself would be too much work. It takes time to create a DIY with seating plans. Here's an informative YouTube video that offers more than one tip on how to build one.
Plenty of Storage
Stock cabinets appeal to different interiors. Bar plans would fit in an L-shaped kitchen or an open-space one. You can leave flat and plain or add shallow shelves and ornaments. Check out how to put it together with this video on YouTube.
Kitchen Island with Stools
Take your skills to the next level and create a kitchen island that includes appliances. This example is also a bar and matches the stools. It's the focal point of the kitchen, and the source of the accented color. You can learn more about this project on YouTube and see how it's built from start to finish.
DIY Small Kitchen Island
Before this became a freestanding cabinet, it was a bookshelf. The transformation involved getting rid of the back panels and redecorating the sides. A fresh coat of paint energized this piece, giving it a new look. Check out the journey from start to finish on littleglassjar.
Unique Kitchen Island
This design is also one of the most inspiring and interesting ones. It has a cool top and if it looks familiar it's because it was once a door.
The handle was taken out and the hole filled in, the same with the rest of the hardware. The door was primed and painted. And the base was custom built to fit the top rails. Check out tcdesigns1968 to find out more about this part of the project.
Built-In Kitchen Island Ideas
A built-in kitchen island with a stove and sink is called a full-island. As inspiring as inspiring as they are, they may not be for everyone. We found some beautiful kitchen designs to share with you, like this one by Normandy Remodeling.
Bar and Breakfast Table
This design features an extended island. In addition to the regular space underneath and a countertop, there's an extra section that can be used as a bar or a breakfast table. You can see a difference in shape and materials between both sections. Check out Kitchen Distributors for more ideas.
Island Design by Divine Custom Homes
This design has two stock cabinets. You need basic tools to assemble the unit. The design has a solid base and four support pillars in the corners. The top is sleek and contrasts with the white base, which suits the room's style. This design is from Divine Custom Homes.
Centerpiece Kitchen Island with Seating
A large island that doubles as a bar might be the missing DIY countertop element in your open space. This design by Francie Milano Kitchens is inspirational.
Colorful Accent Island by Studio Trehus
A colorful piece will deliver and stand above your kitchen furniture and won't clash with your décor. This is the glue that holds the kitchen together. You can introduce an accent color that feels natural but not trendy. Studio TreHus balanced this eclectic kitchen.
Island and Table Combo
You could sacrifice your dining room table and make it a standalone piece. Or bring it closer to your kitchen by attaching it to the island. In doing so, it would create a hybrid extended piece. This concept by b+g design shows how to achieve such a combination.
Island with Individuality
The island and cabinetry can have matching designs and the same countertop and hardware. While that position looks great, a different approach might deliver a better result. Hang baskets from one side and screw a board and rails in and fill it with more pots and pans. You can also use plywood as backboard.
Modern Unique Kitchen Island Ideas
Lighting enhances wood texture. Also, the combination of wood and marble, two timeless and versatile materials, would be a good fit for modern kitchen.
Penninsula Island with Built In Appliances
A peninsula suits a kitchen island better than a classic freestanding model. It can add space but is more practical. In this setup, the peninsula extends past the countertop and features built-in appliances.
Island Table with Seating
The subtle lighting emphasizes the different finishes and textures used in this elegant kitchen. The backsplash stands out, and the centerpiece invites you to sit and spend more time in the space, which is very wholesome.
Island Elegance
This kitchen island is a good example because it's minimalist at the core, but it has a distinctive look. The island has a cool top and the sink adds depth to its design.
Bold Island Design
A design can be both bold and straightforward at the same time. This is an example of minimalism at the core. The island has a really cool top and the sink actually adds depth to its design.
A-Symmetrical
This one has a black marble top that matches the island and an asymmetrical shape.
Wrap Around Island with Accent Lighting
Adding accent lighting to a kitchen helps to give it a more sophisticated and beautiful look. One cool idea is to highlight the bottom for a floating effect. It helps create a pleasant mood and makes the room feel more spacious.
Flat and Robust
It's not easy to add depth with an island without it looking flat and robust. Open shelves are a good way to avoid that.
Unique Kitchen Island and Table
Combining an island with a dining table, here's a modern and cool way. The table section is made with materials compared to the island and has a contrasting shape.
Kitchen Island Ideas On A Budget
Adding a pattern to the front or back can make a big difference in design. Check out this geometric pattern that adds a distinctive look to this island / bar featured by Rad Dad Builds. The dark blue color also gives it a refined and elegant look.
Building a Kitchen Island with The L Wood by Lucy
Building an island doesn't need to be expensive, regardless of the style you choose for it. Set a budget that won't force you to forgo functionality. Here's a helpful tutorial by The L Wood by Lucy.
How to Build a Kitchen Island with Living Redefined
You could take your old one give it a makeover or repurpose another piece of furniture. Paint or stain it and add a new top, and that should be enough to make a big difference in the overall aesthetic. Check out this tutorial by Living Redefined if you'd like more details and ideas
Simple and Practical Islands by Ethan Chelbowski
Add an island to a kitchen that doesn't have a conventional design or structure. The one featured here from Ethan Chlebowski doesn't have a solid base like the others. Instead, it's open and has hanging rods and hooks for utensils, and pots and pans.
Kitchen Island Plans by Free Range Cottage
You'll find beneficial tips in this tutorial by Free Range Cottage. It emphasizes how easy and charming it is to have an island with a wooden top. The video also highlights the advantages of well-organized drawers and kitchen storage.
Complex Island by Workshop Edits
If you're building a classic design with plenty of space built into it and potentially some integrated appliances as well, this turns into a fairly complicated project. However, it's doable, and with time and help from tutorials like the one shades by Workshop Edits this can turn into a satisfying project.
Farmhouse Island by Martgage and Mitre
One of our favorite designs comes from Martgage & Mitre. It's a farmhouse-style island with a clean and simple design. It features a white wooden frame and a stained tabletop with two matching open shelves.
Kitchen Island with Stools by Ana White
Including as much space as into the design of the is tempting but sometimes a different approach is better. For example, if you want to use the center piece as a bar or breakfast table, a design like the one shared by Ana White gives you the best of both worlds. This is also good if you want a space where your family can eat together
How to Make a Kitchen Island From Scratch with Jonny Builds
A wooden design that you build from scratch gives you the option to experiment with stains or painting. One idea inspired by an easy tutorial from Jonny Builds utilizes charred wood finish known as shou sugi ban.
Build Your Own Kitchen Island with Home Made Modern
We love simple and small island ideas. Check out with an open frame design like the one shared by HomeMadeModern. It's not efficient, but it's versatile and great for if you're working with a small floor space.
Frequently Asked Questions (FAQ)
FAQ
How Tall Is A Standard Kitchen Island?
A standard counter-height is three feet (36 inches). Bar-height islands are 3.5 feet tall (42 inches)
Is It Cheaper To Build A Kitchen Island?
The cost of a kitchen island varies on the type you want. If you're going for simple and want to do-it-yourself, you can spend anywhere from a few hundred dollars to over $1,000 on tools, supplies, and materials. 
However, if DIY is not your thing and you want to hire a professional, be prepared to spend $5,000 to $10,000 or more.
Can You Buy A Kitchen Island?
You can buy an island anywhere, including your local retail store, or rder one online. You can get them in all shapes, sizes, colors, and designs. And they come with instructions for assembling the pieces. You'll find the top deals during weekend holidays.
Are Kitchen Islands Going Out Of Style?
Kitchen islands are far from going out of style. They're becoming a more functional piece of furniture and the highlight or centerpiece of a kitchen. You can get islands designed to hide trash cans and recycle bins. Or for decor purposes.
What Do You Call A Kitchen Island With Seating?
These are known as table islands because they come with a built-in table and room for chairs. You'll see some table islands serve as counter workspace connected to a raised counter you can dine at. And this is another way kitchen islands are becoming increasingly useful and functional.
What Is The Best Size For A Kitchen Island?
You want to get the most out of your kitchen island. And to do that, your island should be at least four feet long by two feet deep. Anything smaller might not be useful in the sense of what you use an island for. And unless your kitchen is more than eight feet deep by 12 feet long, an island shouldn't be considered. 
Get Started With Your Kitchen Island
As you've seen so far, kitchen islands come in all shapes and sizes. And whether you want to repurpose furniture or create one from scratch, there are several guides to help you along the way. So, take these ideas and run with them for your new kitchen island.