40 DIY Kitchen Island Ideas That Can Transform Your Home
A kitchen without an island can often feel empty and incomplete and sometimes you don't even realize it until you get to experience just how great life with a kitchen island is. It's completely ok to add an island to your kitchen even after everything else has been set up. It doesn't have to match your cabinetry and you don't even have to go out and buy a ready-made one because you can actually design your own kitchen island plans just the way you want them to be.
In a lot of ways, the kitchen island is similar to a table so you can borrow some design ideas from there, then add the key features that make the island special such as storage shelves, drawers or a solid top. A simple design with traditional vibes such as the one featured on ninahendrick can be a great place to start your DIY journey from.
There are also plenty of similarities between kitchen islands and storage cabinets and that's actually what inspired the project featured on instructables. This little island started out as a pre-made cabinet and everything else was built around it. It got extra shelves on . one side and a solid wood top and it looks pretty great plus it's also very practical.
Small kitchen islands are easier to build and often quite simple but that doesn't mean large islands are out of the question. In fact, we found this great tutorial on housebythebaydesign which shows you how to build a kitchen island with a bar and storage on the side. It's not just functional but also very elegant.
If you like the idea of having a kitchen island but you don't want it to take up a lot of space, build a small island, one which gives you a bit of extra counter space but doesn't make the room feel cluttered. This narrow version featured on instructables could be just what your kitchen needs. It has these two shelves which can be used as wine racks which is pretty cool.
Another little thing which can make a DIY kitchen island extra practical and user-friendly can be to add casters or wheels so it can be easily moved around as needed. Also, you can add hooks and hangers for towels and utensils so you can store and organize them, maximizing the usefulness of a small island. Check out shanty-2-chic to find details about this lovely rustic island.
Speaking of rustic DIY kitchen islands, there's also a nice project on ourvintagehomelove which describes how you can build something like this yourself from scratch. A nice thing about it is that you can use reclaimed wood for this project and that can actually give your island a lot of character plus it will reduce the cost significantly.
Here's another example of a low-cost DIY kitchen island project. This one comes from mominmusiccity and has a simple design perfect for beginners. The three small panels with knobs mimic drawers but are mostly decorative. You can use the knobs as hooks for kitchen towels and you can add more on the other side if you want to.
It's possible to build a new kitchen island and to repurpose some old items and leftover supplies in the process. For example, check out this cool tutorial from magazineyourhome which shows you how to repurpose an old washtub into the body of a cute little island. Give it four legs and a top and that's pretty much it. You can lift the top to store items inside the tub.
Cabinets are usually the easiest to repurpose. A good example is the project featured on sawdust2stitches which shows just how easy it is for anyone to add an island to their kitchen. This one includes two very practical trash bin slots, a set of small open shelves in between and a towel rod on the site.
Bookshelves also have a lot of potential and can be repurposed into custom furniture pieces, including a kitchen island like the one featured on redouxinteriors. You can adjust the size of the bookshelf and either remove a few shelves or add a few, depending on the initial proportions and the final design that you have in mind.
A kitchen could use a little bit of warmth and character and a DIY island is a great way in which you can make that happen. You can build one out of wood and it can be very simple, with nothing but a solid top and an open shelf at the bottom. It doesn't have to look perfect. In fact, imperfections give it character. Check out krusesworkshop for more details.
What about a kitchen island with an industrial appearance? The one featured on blueroofcabin is quite interesting and definitely stands out. The worn metal suggests a long and intriguing history and the wooden top contrasts with the frame but not necessarily in a negative way. The wheels make it easy to push the island around so you could also use it as a cart.
You can also give your DIY kitchen island an industrial vibe without being too obvious about it. For example, use metal pipes for the legs and overall frame and complement that with a wooden top and a matching bottom shelf. If you want to find out more about this idea, check out this tutorial on imgur.
Want to take this project a step further? Check out this concrete table that has a rolling kitchen island underneath. It's a great space-saving solution for small homes and also a very versatile idea which can be customized in all sorts of ways. Based on this tutorial from imgur you can your own custom kitchen island and table combo.
Create your DIY kitchen island plan based on the proportions and layout of your kitchen. You should leave plenty of room to freely move around the island. This one seems just right for a medium-sized kitchen that's either part of an open floor plan or separate. The two shelves come in very handy, letting you store most-used items and other things on a daily basis. check out imgur for more details about the project.
There are a lot of amazing designer islands out there to be inspired by and a lot of them have built-in appliances which is definitely great but also quite intimidating when it comes to DIY kitchen island plans. However, it can be done and it's not nearly as complicated as it seems. The best example in this sense would be a project we found on instructables.
This is a shutter island, in the literal sense of the term. It's a very cool idea which we found on beyondthepicket-fence and which cleverly shows how rewarding it can be to repurpose old objects and to give them a second chance. The island is small but has a ton of character and that's a great combo.
Creating the plans for your new kitchen island and then building it takes up quite a bit of time and skill but there's another step that's just as important and it only comes after everything is planned and built. We're talking about the part where you customize the island and make it look beautiful. This can include painting the wood and adding hardware that can complements the design. Perhaps this beautiful turquoise island featured on nestinggypsy can be your source of inspiration.
Isn't this kitchen island just adorable? We love its dark blue color and light wooden top, the small wheels and the clever and practical way in which everything is organized. There's room for the microwave oven on the top shelf and the small nooks can hold storage baskets which lets you organize small items in a very nice way. If you want to find out how to build something similar, check out the instructions on realitydaydream.
Related: 30 Breakfast Nook Bench Ideas That Will Cheer Up Your Mornings
The last project on today's list comes from ana-white and shows you how to build a farmhouse-style kitchen island. The key here is to either use reclaimed wood with an aged appearance or to artificially create the worn look using paint and sandpaper.
Nobody said a kitchen island has to be used for the storage of only pots and pans. It's actually a very versatile and very adaptable piece of furniture which you can use in a lot of different ways. We like the approach of giving it a few shelves with different heights and proportions so you can keep on them all sorts of items including books. This one also has more storage on the other sides for things like utensils or a cute little chalkboard. Check it out on Instructables to find out more about it.
With everyone pretty much being stuck inside the house for most of this year that opened up a lot of possibilities for creative projects that can be done at home. You might have considered building something yourself and maybe this can be an incentive to follow up on that. This small kitchen island is fairly easy to put together and is a nice beginner DIY project. Furthermore, you can customize it with your own choice of materials and finishes to make it match your kitchen. The original design featured on instructables has a really nice homely feel.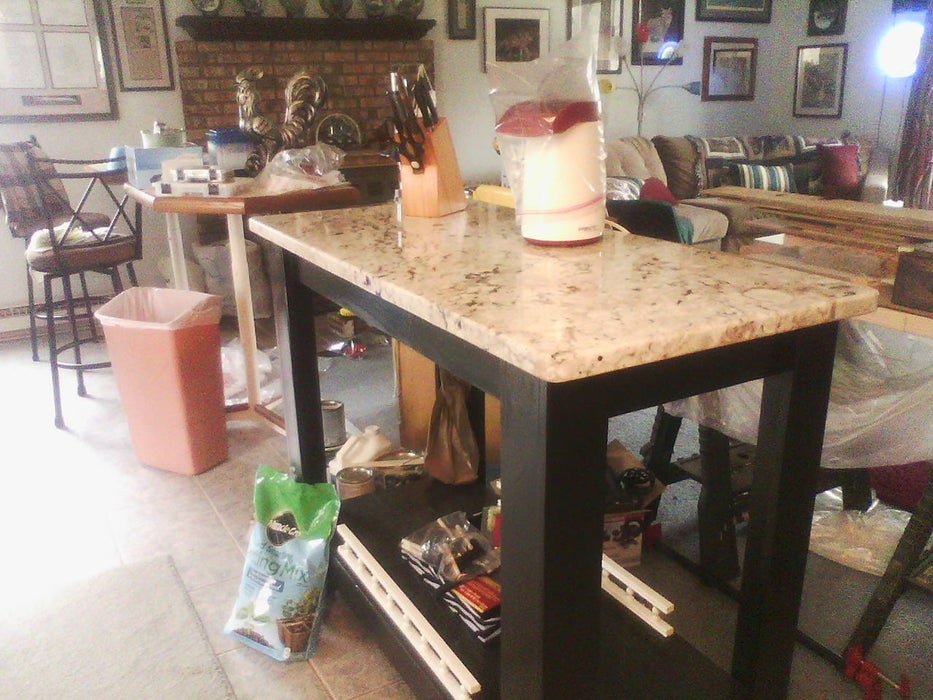 One of the things that might have stopped you from getting or building a kitchen island until now could have been the fact that you don't think you have enough space for one. While that might actually be the case, a lot of times it's just a matter of being a bit flexible when looking at the problem. It might just be that you don't want to commit to having the island in a permanent spot which you could also want to occasionally use for something else. In that case, a roll around island like this one would be the perfect solution. Check out the tutorial on instructables to find out how you can build one yourself.
Even tiny kitchen islands can be useful. The beauty of building one yourself is that you get to choose the exact size and the proportions that you feel comfortable with. This for instance looks very much like a cart and it could be used as one thanks to the casters that make it easy to move it around. It has a cute top with a marble effect on it and a shelf that's high enough to hold bottles, utensils and all sorts of other things. Head over to instructables to see how this cute island was built and how you can make one just like it for your own tiny kitchen.
You don't have to start from scratch when putting together your new kitchen island. In fact, it doesn't even have to be new. A cool and interesting idea is to repurpose an existing piece of furniture such as an old dresser. With a few modifications it can become a wonderful and useful addition to the kitchen. Decide which elements you want to keep and which have to be taken out, then figure out how everything will come together in the end. There's a really nice transformation tutorial on instructables that you can check out for inspiration.
You might be thinking that building a large kitchen island from scratch by yourself is just too much work. Although it's true it takes some time to come up with a design and to plan everything, such a project can also be a lot of fun and very rewarding in the end when you vision finally comes to life. On that note, there's a really great youtube video which shows this journey and gives you useful tips in this regard so go check it out if you're interested in starting a similar project yourself.
Here's a more medium-sized island with a design that appeals to a lot of different styles and interiors. As always, it can be customized and adapted. This would fit nicely in an L-shaped kitchen or an open-space one and you can either leave the back flat and plain or you can add a few shallow shelves and ornaments. Check out this video on youtube to see how this was put together.
How about taking your DIY skills to the next level and building a kitchen island that has built-in appliances, storage, an elegant design and all? This one can even function as a bar and goes super well with these simple stools. It's definitely the new focal point of the kitchen and the change of color adds a lot to the space as a whole. Check out the whole project on youtube to see how this was built from start to finish.
We mentioned earlier that you can turn an old dresser into an island for the kitchen and on a similar note we'd also like to share with you this lovely island which once used to be a bookshelf. The transformation was really easy and mainly involved getting rid of the back panels and redecorating the sides. A fresh coat of paint gave this piece a completely new look in the end. Check out the whole journey from start to end on littleglassjar.
This design is definitely more unusual than most but it's also one of the most inspiring and interesting ones. As you can see, this kitchen island has a pretty cool top that looks familiar. That's because it used to be a door. The handle was taken out and the hole filled in, the same with the rest of the hardware, then the door was primed and painted. The base was custom built to fit the top and you can check out tcdesigns1968 to find out more about this part of the project.
Some non-DIY kitchen island inspiring ideas
As interesting and inspiring as many of these DIY kitchen island designs are, noneverything enjoys the process and sometimes a different approach is preferred for various other reasons. With that in mind, we found some beautiful kitchen designs to share with you, like this one done by Normandy Remodeling. It's very bright and airy and the island in particular really helps to tie the whole room together.
Here's another interesting and inspiring kitchen design, this time with an extended island. In addition to the usual island with storage underneath and a countertop there's an addition that can be used as a bar or a breakfast table. You can see a clear difference in shape and materials used between the two sections. Check out Kitchen Distributors for more designs and ideas.
And what about this super inviting kitchen and its magnificent island? The design of the island out for a few reasons, like the fact that it has a solid base as well as four fairly robust support pillars in the corners. These add a sculptural touch to the design and are decorative more than anything else. The top is sleek and contrasts with the white base which suits the overall style of the room. This is a design by Divine Custom Homes.
A large island that also doubles as a bar can be the missing element in a big open space like this one. It's functional and practical in several different ways as well as a nice centerpiece that can tie the room together as a whole. This design by Francie Milano Kitchens can serve as a source of inspiration.
How about a colorful island, a centerpiece that stands out from the rest of the kitchen furniture but doesn't clash with the rest of the décor? This is a wonderful way to introduce an accent color into the room in a way that feels natural but not as mainstream as other strategies. Studio TreHus did a wonderful job at balancing out this eclectic kitchen.
Another interesting idea is to give up the dining table as a standalone piece of furniture and to bring it closer to the kitchen by physically attaching it to the island and creating this hybrid extended piece. This kitchen by b+g design shows how such a combination can potentially be achieved.
Most often than not the kitchen island and the cabinetry have matching designs, with the same type of countertop and the same hardware and so on. While that can sometimes look great a slightly different approach can in some cases prove to be more refreshing and better suited. We really like this particular kitchen and the way in which everything shares a similar style but also shows individuality.
Modern kitchen island ideas
The wood texture on this kitchen island is very beautifully enhanced by the lighting. Also, the combination of wood and marble, two timeless and versatile materials, is a great fit for an elegant and modern kitchen.
A peninsula can sometimes suite a kitchen better than a classic freestanding island. It can add more storage space and it could also be more practical. In this setup the peninsula extends the countertop and features built-in appliances.
If you can't decide between a kitchen island and a table, consider having both of them combined. This is a neat and simple way of combining the kitchen and the dining area and it can look natural and seamless.
The subtle lighting puts emphasis on the different finishes and textures used in this elegant kitchen. The backsplash stands out and the island basically invites you to have a seat and spend more time in here which is very wholesome.
A design can be both simple and bold at the same time. This kitchen is a great example because it's minimalist at the core but it has a very distinctive look. The island has a really cool top and the sink actually adds depth to its design.
It can be both interesting and practical to add an addition to the kitchen island. It could serve as a table, a sort of casual dining setup right there in the kitchen. This one has a black marble top that matches the island and an asymmetrical shape.
Adding accent lighting to a kitchen always helps to give it a more sophisticated and beautiful look. A particularly cool idea is to have highlight the bottom of the island and to give it a sort of floating effect. It helps to create a nice mood and to make the room feel more spacious.
It can be difficult to add depth to a kitchen island and to not make it look flat and robust. Including open shelves on the sides can be a good way to avoid that. Also, asymmetry in the design can help as well.
Going back to the idea of combining a kitchen island and a dining table, here's a modern and cool way to do so. The table section is made from different materials compared to the island and also has a contrasting shape.
DIY Kitchen Island Video Tutorials
Simply adding a pattern to the front or back of the kitchen island can make a big difference in design. Check out this geometric pattern that adds a distinctive look to this island/ bar featured by Rad Dad Builds. The dark blue color also gives it a refined and elegant look.
Building a kitchen island doesn't need to be an expensive project, regardless of the style you choose for it. Make a plan that allows you to save money without sacrificing looks or functionality. A very inspiring and helpful tutorial in this sense was shared by The L Wood by Lucy.
You might also be able to take your old kitchen island and just give it a makeover or to repurpose another piece of furniture in the process. Paint it or stain it and add a new top and that should be enough to make a big difference in the overall aesthetic. Check out this tutorial by Living Redefined if you'd like more details and ideas.
Another cool idea is to build a super simple and practical kitchen island that doesn't have a conventional design or structure. The one featured in this tutorial by Ethan Chlebowski doesn't have a solid base with the usual shelves and drawers. Instead, it's open and features hanging rods and hooks for various utensils, pots and pans and so on.
There are also some really cool tips in this tutorial shared by Free Range Cottage. It emphasizes how easy and charming it is to have an island with a wooden top and it also highlights the importance of well-organized storage drawers.
If you're building a classic kitchen island with plenty of storage built into it and potentially some integrated appliances as well, this turns into a fairly complicated project. However, it's definitely doable and with time and help from tutorials like the one shades by Workshop Edits this can turn into a very satisfying project.
One of our favorite DIY kitchen island designs comes from Martgage & Mitre. It's a farmhouse-style island with a clean and simple design. It features a wooden frame that's painted white and a stained tabletop with two matching open shelves below it. It's not just convenient but also very beautiful.
Including as much storage as possible into the design of the kitchen island is tempting but sometimes a different approach makes more sense. For example, if you want to also use the island as a bar or a breakfast table a design like the one shared by Ana White gives you the best of both worlds.
A wooden kitchen island that you build from scratch gives you the option to play around and experiment with different staining or painting techniques. A really cool idea inspired by a tutorial from Jonny Builds is to opt for a charred wood finish also known as shou sugi ban. It looks amazing and it can be customized in lots of different ways.
We love simple and small kitchen islands, especially the ones with an open frame design like that shared by HomeMadeModern. It's not the most storage-efficient but it's great for small spaces and highly versatile.