35 Corner Cabinet Ideas That Optimize Your Kitchen Space
Corners are problematic, especially in kitchens where functionality and space-efficiency are crucial. We've identified this problem a long long time ago so by now we've come up with some pretty great ways to deal with it, a lot of them having to do with corner kitchen cabinets.
Curious to find out how you too can optimize your kitchen's design? Check out our top ten kitchen corner cabinet ideas to find out more about each type.
Ingenious corner cabinet ideas
Double handles for convenience
Pull from the left or from the right….it doesn't really matter in this case. Each of these corner drawers has two handles, a choice which is partially aesthetic and partially practical. The drawers feature 90 degree angles which allow them to perfectly mold around the corner. Sure, they look funny and unusual and not very spacious but they actually allow you to use every bit of space under your kitchen counter.
A more fluid transition
If you don't like the pointy shape of the blind corner pull-outs we just showed you, there are alternatives and a lot of them avoid those 90 degree angles in favor of a more cohesive and fluid design. This eclectic kitchen shows just how practical this design direction can be. This diagonal cabinet includes drawers at the bottom, room for the microwave oven other small appliances above the counter and some open space at the top. There's even some counter space left too.
Open corner shelves
If you don't want to clutter your kitchen with closed corner cabinets you can opt for open shelves instead. These too can allow you to make good use of a corner space. Install several shelves to create a sort of open pantry. It can be framed by regular cabinets on either side or it can occupy an empty part of the kitchen. Either way, it's better than a dead corner.
Swing out corner cabinets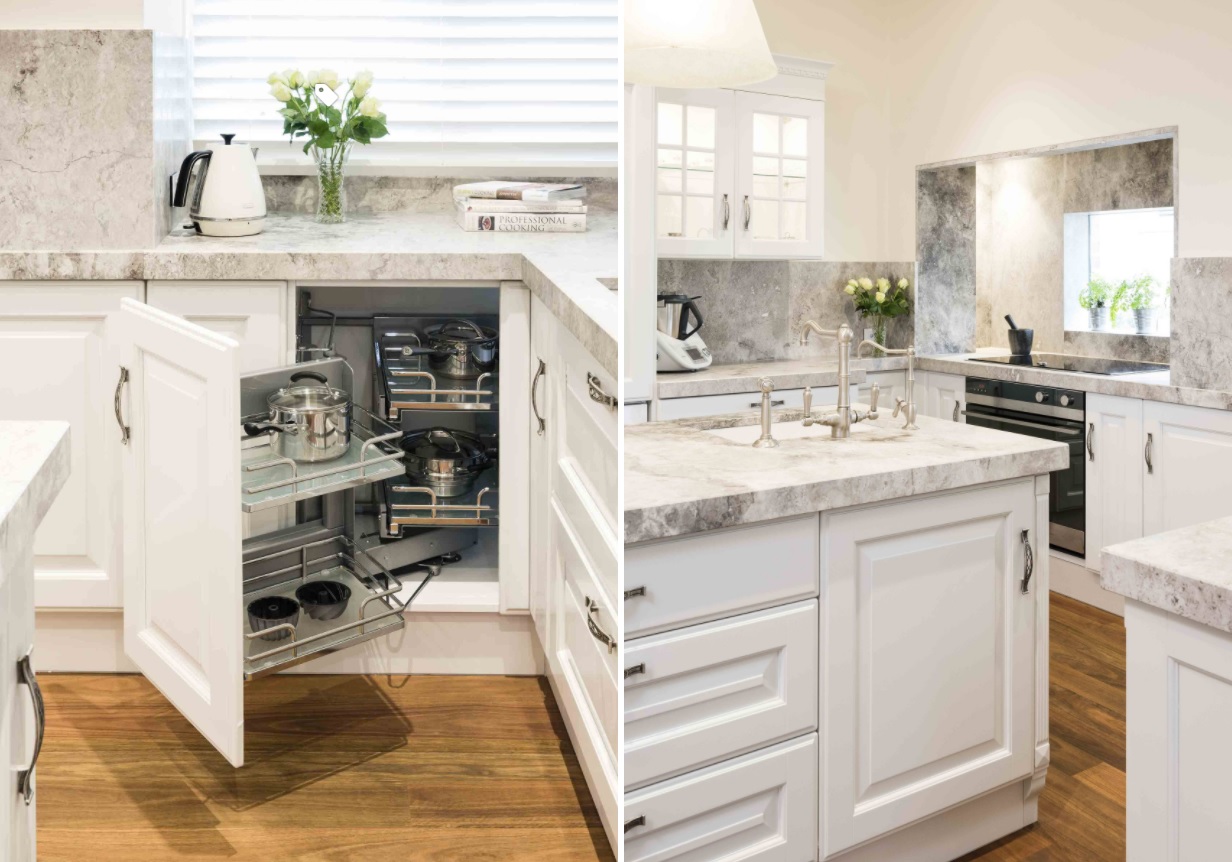 Swing out corner cabinets are a good way to maximize the storage capabilities of a kitchen. In this traditional kitchen you can see a set of wire shelves, some installed inside the cabinet, under the counter, and some attached to the door. This combination offers easy access to all the shelves and their contents.
Shelves attached to cabinets
You can still transform one of your kitchen's corners even if you already have cabinets in place. As long as you can install wall-mounted corner shelves, there's still a way to make up for the lost space under the counter, if any. These wooden shelves, for example, are attached to the wall-mounted cabinets on one side and continue along the walls, filling the corner in a simple and stylish manner.
A tall and slender cabinet
Strictly regarding the space above the kitchen counter, there's a number of ways in which you can use it in order to maximize storage. An option is to add a tall corner cabinet which rests on the counter and has square-shaped interior shelves. The cabinet can have glass panels so you can see inside without having to open the door.
A curved corner cabinet
Curved cabinets are really great at concealing and transforming corners. They can accommodate pull-out drawers, open shelves or lazy susan shelves which rotate for easy access to their contents. In fact, a curved corner cabinet can make a great pantry.
A diagonal approach
A similar option but without the curves would be a diagonal kitchen corner cabinet which also connects adjacent walls and fills an empty corner but in a more linear manner which in some ways is better-suited for modern or contemporary kitchens.
Corner appliances instead of cabinets
Cabinets aren't the only things that can be installed in corners. Even though it's less common and perhaps even difficult, it's possible to place large appliances in kitchen corners too. For example, the cooktop or the stove could fit in there and you could have an exhaust hood installed above it, with a custom mask moulded around it.
A combination of shelves and cubbies
A simpler and more versatile option compared to some of the others we've mentioned is to have the wall-mounted kitchen cabinets build from end to end and to have open shelves, racks and cubbies installed around them on the adjacent walls as a way to maximize corner spaces.
Tiered shelves on the counter
This tiered shelving system was specifically designed to fit into your kitchen corner area and to allow you to use this space in a practical way. You can place this on your kitchen counter and turn this corner into a little storage area for things like spices, condiments and so on.
There are of course lots of other ways to use it. The shelves are made of natural bamboo boards and they're attached to a stainless steel tube frame with plastic feet that prevent it from slipping.
A stylish freestanding tower
Here's another storage system that could fit nicely in one of your kitchen corners. This one is designed to sit on the floor and looks like a slender tower with multiple shelves on which you can store and organize various items.
The overall dimensions of the entire unit are 11.6''W x 11.6''D x 57.7''H. It's made of engineered particle board and PVC tubes which makes it lightweight and easy to put together. You can get this in a variety of different finishes.
Hanging shelves with a sleek design
This beautiful corner piece is meant to be hanged from a wall or from the ceiling. It has three thin and slender shelves connected by twisted jute rope and it looks simple but also stylish and elegant. You can hang this in one of your kitchen corners as a way to take advantage of the space above your counter.
You can find various uses for it. For example, this could be your new spice rack or you can place it by a window and have potted herbs and plants placed on its shelves. The distance between the shelves can be adjusted.
A small and simple rack
Another nice accessory for the kitchen corner is this tiered storage rack which you can use for things like plates, jars, spices and various other items that you want to keep close at hand and organized.
The design is simple and versatile. The rack has a heavy0duty structure with rust-resistant coating and plastic feet that prevent scratches on your counter. The overall dimensions of this product are 9''L x 9''W x 9''H.
Adjustable corner shelves
A fully empty and unused room corner can be easily transformed into a functional storage area with this very simple and basic storage rack. It has five tiers in total and each shelf can hold up to 175 lb (80 kg) which is impressive considering the size and the proportions.
Furthermore, the shelves are adjustable which allows you to fully customize the rack. The overall dimensions are 14''W x 47''H x 14''D when assembled. This would also fit nicely in a pantry or a closet.
A stylish organizer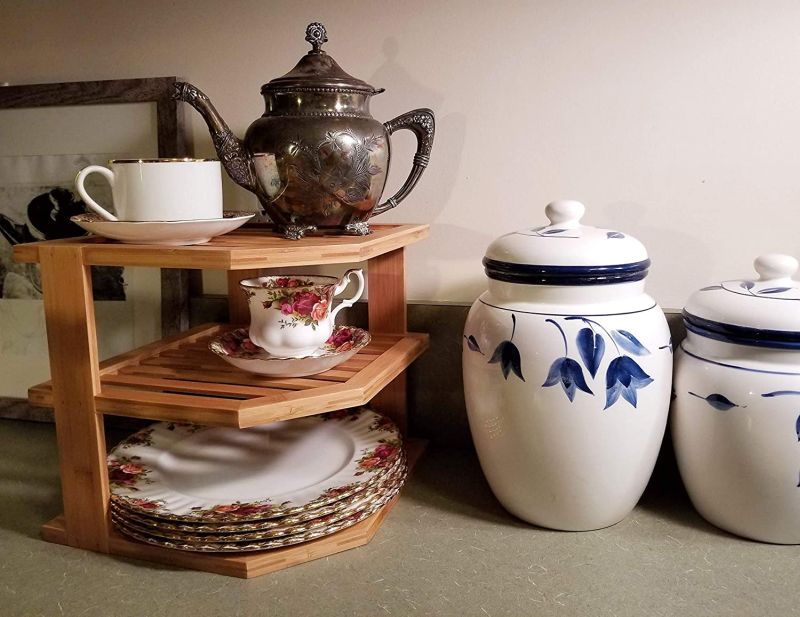 If you want to fill one of your kitchen corner spaces with something that's useful and practical but also looks nice and makes the room seem welcoming, we suggest something like this. You can place this on your counter and use it as an organizer for plates, bowls and other kitchen-related items. It's a 3-tier rack made out of bamboo wood and it measures 10'' x 10'' x 9-1/2'' in total.
Modern with a sculptural appeal
This simple and sleek corner shelf would fit perfectly in a modern kitchen. You can place it on the counter and make good use of the corner space, whether it's to store and organize cleaning supplies, spices, utensils or anything else.
This is made of brushed stainless steel which makes it very durable and resilient. It's easy to assemble, easy to clean and quite versatile. You can get this shelf in two sizes. The large version measures 19.5''L x 10''D x 9''H and the small one is 13.5''L x 10''D x 6.5''H.
A combination of wood and metal
Although not specifically designed to fit in corner spaces, this storage unit would definitely look great in there. This design is very versatile and you can add this to any room of the house, including the kitchen.
The unit consists of a pair of metal frames and several shelves made out of particle board. It's compact and takes up very little floor space. The overall dimensions of this module are 17.7''L x 13.7''W x 59''H. There are five shelves in total.
A metal wire shelf for small things
If you don't want to overcomplicate things, you can just get a very simple metal wire shelf like this one to take advantage of the corner space in your kitchen. It's a small piece which only measures 13.1''L x 9.8''W x 7.5''H and has three shelves with a distance of 3-3/8'' between them.
You can use something like this to store and to organize things like plates, some pans, bowls or other items that you want to keep close at hand in the kitchen. You can also place this inside a cabinet or in your pantry.
Zig-zag corner shelf
This corner shelf design is one of the most interesting ones out there. This is a five tier unit made out of laminate MDF with a beautiful natural finish and it's designed to be installed in an empty room corner.
It's both decorative and functional and can fit in variety of different spaces and decors, including in a modern kitchen. You can fill the shelves with potted herbs and plants, books, cups and bowls and all sorts of other things. The overall dimensions of these shelves are 7.75''L x 7.75''W x 48.5''H. They're very slender and have a really cool design as well.
Corner stove placement
Kitchens are sometimes tricky to furnish because there's limitations when it comes to certain elements, usually the appliances. Don't let that stop you from thinking outside the box. A stove can fit in a corner just as easily as a cabinet or a shelf can. There's plenty of examples like this design by Minch Construction.
Continuity in design
Regardless of what you decide to put in the corner, try to give your design continuity. This kitchen designed by The Cabinetworks for instance has matching cabinets framing the corner cooking area. This gives a sense of fluidity when looking at the room.
A special corner backsplash
Positioning the stove in the corner can help to potentially save you some space and to make the room as a whole more convenient and user-friendly. Keep in mind however that the stove needs a backsplash. How about a special design, something that stands out from the rest of the kitchen? This design by The Kitchen Shop can give you some inspiration.
Small U-shaped kitchen
This kitchen makes use of not just one but two corners. It was designed by Dream Kitchens and in one instance it features a corner stove and in the other a corner sink. This leaves the space in between nice and open. Even though the kitchen is small, it has a good amount of counter space.
Stacked corner appliances
If you really want to make the most of a corner space you can have not just one appliance placed there but two. How about an oven with a space above for a microwave or a different combo? That still leaves room for storage if you want to include some cabinetry or some shelves as well. Check out this kitchen designed by Hendel Homes for reference.
Corner pull-out pantry
There's plenty of products that are specially designed to fit in corners. This for instance is corner pull-out pantry by Rev-A-Shelf. It's compact, practical, convenient and very user-friendly, allowing you to easily see and access the contents without much effort.
Lazy Susan inserts
Even if your corner kitchen cabinet was not designed from the start to be super convenient and easy to use, that can change. A perfect example is this lazy susan addition from Rev-A-Shelf which you can add to an existing cabinet. It's a great organizer that maximizes storage and improves accessibility.
Metal Lazy Susan shelves
The Sinead lazy susan by Rebrilliant might be better-suited for a modern or a contemporary kitchen. It's easy to install in an existing corner cabinet and it gives you two metal wire pie-shaped shelves to store things on.
Classic wood rotating shelves
Wood lazy susan shelves like these ones from Hardware Resources have a very classic look and feel. These are made of birch plywood and have a solid wood rim. Each shelf rotates independently. You can insert in upper and lower corner cabinets to make them more accessible.
A simple paint upgrade
Corner cabinets or not, every kitchen could use a makeover or an upgrade every once in a while. A fresh coat of paint can make a big difference. You can see that in this beautiful transformation featured on carriethishome. The white cabinets and the new backsplash really change this whole space.
New cabinet doors
There's all sorts of additions and improvements that can be made to a kitchen. For instance, you could build some new doors for the cabinets or even new cabinets from scratch. Perhaps this would be a good opportunity to put that empty corner to good use. Check out chriskauffman for more ideas.
A corner plate rack
You know what else would fit well in a kitchen corner? A plate rack. It could be wall-mounted or it can sit on the counter. You could also include a couple of extra shelves and storage spaces with it. There's a really nice design on remodelandolacasa that we think you'll like.
New paint and hardware
Paint is one of your best options if you want to transform your existing kitchen cabinets. If you choose this route you'll have to remove all the hardware first so perhaps this would be a good opportunity to replace it altogether. Go with something more modern and better-suited for the new paint color. Check out this project on designertrapped for some inspiration.
Corner coffee station
There's a lot of great remodel ideas that you can borrow from this kitchen transformation project on inspirationformoms.porch. What stands out for us is the wonderful use of the corner which became a coffee station. It's a very practical and clever use for it.
Clean and simple lines
There's another inspiring kitchen transformation on amber-oliver that you can take a lot from. It's an L-shaped kitchen with ample counter space and built-in appliances. Although the corner area is not particularly special, the clean and simple lines make it look very accessible.
Maximum use of corner areas
Apart from looking a lot more open and airy after the transformation, this kitchen featured on finditmakeitloveit also shows a really great use of the corner spaces. Both the lower and upper cabinets make the transition look smooth which allows the kitchen as a whole more balanced and inviting.