Modern Farmhouse Bathroom Decor For Rich Textured Settings
Farmhouse bathroom decor offers a rustic aesthetic. To achieve this look, all you need is the right bathroom decor. The modern design adds authenticity and style to a bathroom setting.
According to real estate magazine, Realtor, farmhouse bathroom design is, "All about layering different and unexpected textures, like placing rough hewn wood accessories against clean white subway tile or using rustic milk jugs with varying patinas as a side table, the mix prevents the style from becoming too predictable and helps the design appeal."
For your next remodel, consider modern farmhouse bathroom decor. You wouldn't need to commit to a full design. Start small and go big when you're ready.
What Is Farmhouse Decor?
Modern rustic farmhouse bathroom decor offers functionality, charm, and simplicity. In this example, a modern farmhouse single sink vanity fits with this small space.
The stained wood and white sink offer contrast and charm. A stained wooden footstool provides extra seating for your little ones.
Farmhouse interiors are influenced by rural architecture but also feature modern touches.
Pragmatic Aesthetic – Pragmatism is at the center of the modern farmhouse bathrooms. In original farmhouses, furniture was scarce. Today, it makes sense for every object to have a utilitarian purpose. The raised sink, for example, provides more room for adults. Unlike traditional furniture with ornate details, farmhouse furniture is simple by design.
Large Furniture – While farmhouse décor retains a minimalist aesthetic, farmhouse furniture is typically larger in scale, focusing on comfort and function above everything else. If you're arranging a modern farmhouse living room, choose furniture pieces. Bigger furniture offers greater visual appeal.
Natural Materials -Unlike the original farmhouse feel, you are not required to use just materials found right outside your home. Modern farmhouse interiors, on the other hand, continue to appreciate natural materials such as wicker, stone, or reclaimed wood. To recreate the modern farmhouse country-chic vibe, go with low shine materials and matte finishes for warmth and elegance.
Accept Imperfection -Modern farmhouse embraces the appeal of imperfection. Indeed, when choosing wood furniture, knots and scratches, as well as distressed finishes, can add to the authenticity of the style. Consider a worn metal finish for metal embellishments.
How To Decorate Bathrooms With Farmhouse Decor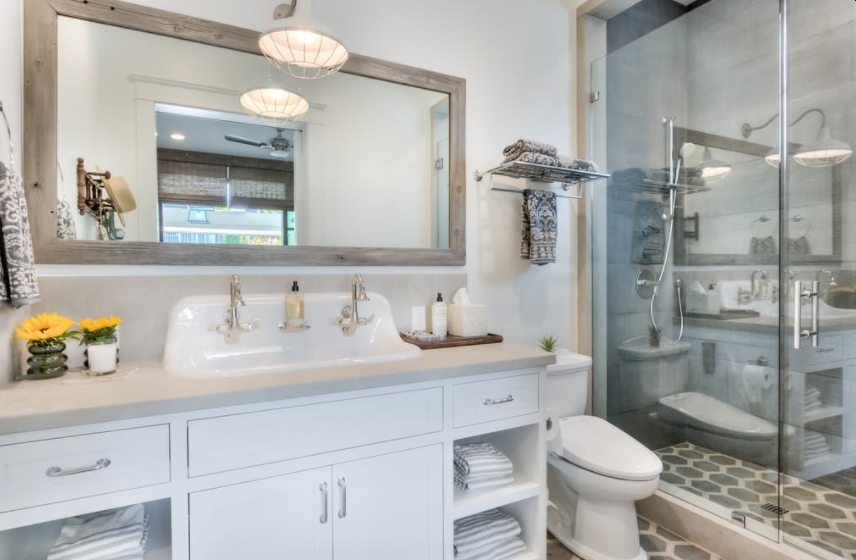 According to the Home Design Institute,"Modern farmhouse bathroom decor is a fusion of two conflicting styles that work well together. One is homey, warm, and inviting, while the other is cold and basic in design and style."
Whether rustic touches, reclaimed wood, or vintage embellishments, the details are critical within this design approach.
---
1. Natural Wood
Wood decor is undergoing a renaissance. If you want warmth and texture in a cold environment, white oak is an excellent choice for a vanity.
---
2. Farmhouse Bathroom Lighting
Sconce lighting enhances farmhouse bathroom decor. Another option is white distressed lanterns, which feature clear glass panels, and are good as standalone items on a bathroom counter or marble vanity.
---
3. Farmhouse Sink
One approach to infusing a plain bathroom design with modern farmhouse ambiance is to replace the usual sink vanity with a metal basin.
---
4. Farmhouse Bathroom Shiplap
In the design industry, you either like or despise wood shiplap. When combined with contemporary elements, shiplap walls add texture to the modern farmhouse bathroom.
---
5. Farmhouse Bathroom Accessories
Objects are one of the simplest ways to incorporate modern farmhouse style into your home. A stunning pitcher or vintage accents are an excellent, low-maintenance way to add rustic touches to your bathroom. Or, add some more farmhouse wall decor ideas.
---
6. Bathroom Storage
Creating bathroom storage has certain challenges. If you want to add additional space for your essentials, consider floating shelves with reclaimed wood. The shelving system provides additional space for amenities while maintaining a modern farmhouse bathroom aesthetic.
---
Easy Mistakes When Decorating Farmhouse Decor
While farmhouse style can be described as "comfortable" and "chill," it's possible to make mistakes when trying to achieve that cozy home decor style. So, let's look at some of the most common mistakes that people often make.
---
Replacing "worn out" furniture
The modern farmhouse feel conjures an extremely distinct mental image. You're picturing pristine whites and calming neutral colors. However, true farmhouse style is all about endurance.
Replacing pieces as they begin to show signs of wear or purchasing "quick furniture" in the farmhouse style overlooks the style's essence. Consider mixing and combining vintage pieces.
---
Additional Styles
Since farmhouse style appears to be so neutral, it's easy to go overboard when combining types of decor. People frequently choose farmhouse décor because it's simple to incorporate for a personal, homey touch.
You may run into difficulty if you combine too many distinct styles. While incorporating farmhouse characteristics into a modern home can work, adding a whole other aesthetic can result in a design disaster.
---
Overcommitting
Perhaps you live on a working farm in a real farmhouse. If this is the case, delving into farmhouse style may be both practical and fashionable. If you live in a modern home and want a farmhouse feel, proceed with caution.
---
Formal Style
With modern farmhouse design, the general belief is that we adore it for its low maintenance and uncomplicated nature. Dining rooms that match this style are oh-so-comfortable.
---
Easy Farmhouse Bathroom Decor Ideas For 2022
Handpicked by our team of interior design experts, we think you'll enjoy the following decor suggestions for your farmhouse bathroom.
Bathtub Wood Paneling
It only takes one element to change the look and feel of a room. In this example, the bathroom received a makeover and new rustic-industrial decor. And all it took was a few wood panels to cover one wall.
If you plan on doing something similar for your modern farmhouse bathroom, check out blesserhouse.
Farmhouse Bathroom Lighting
If you don't want to change your walls or get buy new furniture, you could alter the ambiance with farmhouse-inspired decor. Little things and accessories like light fixtures and sink faucets will impact your space. Consider industrial bathroom fixtures like the ones in this example.
Farmhouse Bathroom Mirror
Other little but important things that can help give your bathroom the cozy farmhouse-style decor ideas that you always wanted include the mirror, which could have a simple wooden frame.
Perhaps it is one made of reclaimed wood for more character. Some open shelving can also change the mood of modern farmhouse bathrooms. Check out homemadelovely for more inspiring ideas.
Vintage Toilet Paper Dispenser
You can also add accessories that your bathroom never had but that would make it more welcoming and comfortable. For example, a toilet paper dispenser storage module could fit in the corner.
Farmhouse Bathroom Accessories
Another idea is to take advantage of the usual bathroom layouts and necessary items and add visual interest. Modern farmhouse bathrooms include a cute vintage window panel that doubles as a towel holder. It's a pretty unique combo with the wall art and if you want to find out more about it check out lilluna.
Farmhouse Sliding Barn Doors
Rustic and farmhouse decor ideas are common choices for mountain cabins and alpine retreats in general. The hideaway featured on peacedesign is an example of how to use a sliding barn door.
Notice the style of the sliding barn door, the natural wood and stone on the walls, and the large mirror which prevents the bathroom from looking cluttered and tiny. The wood flooring ties the bathroom together with the bedroom area.
Related: The Best Sliding Barn Door Hardware Kits For Your Next Successful Project
Flower Basket Decor
If your bathroom has an exposed toilet tank placing a planter on it instantly changes the visual interest and the decor.
Similarly, you can have a wooden box that holds mason jar vases filled with flowers. It's one of the great bathroom ideas for modern farmhouse decor that comes from oldewindmillfarm.
Farmhouse Bathroom Vanity
Modern farmhouse bathroom design might include a wood vanity with a single sink like this one featured on mylove2create. A chrome farmhouse bathroom faucet adds flair and light. An easy bathroom design and rustic furniture make the most of its imperfections, which could be your next DIY project.
Rustic Farmhouse Bathroom Shelving
Open shelving is ideal for a farmhouse bathroom. Shelving adds storage and style. Plus, the wood boards make the space look and feel complete. Check out cherishedbliss to learn how to make shelves with wood, metal pipes, and fittings.
Wrought Iron Lighting Fixtures
There are plenty of small bathroom farmhouse ideas to choose from. The wrought iron light fixtures capture the farmhouse aesthetic. When you can't decide which color to use, go with a grey modern farmhouse bathroom. And the round mirror with a wooden frame also offers rustic flair. For more details, check out lizmarieblog.
Maximizing Space
In this example, the walls frame the tub. The open wooden shelving above the bathtub provides easy access to your everyday items. The space was transformed into a modern farmhouse bathroom with a few simple touches. To learn how it's done, check out the details on thriftyandchic.
Soap Dispenser
A DIY Mason jar soap dispenser can also give your modern bathroom a charming farmhouse-inspired look. The project is simple and all you need is a jar with a lid, a soap pump white lacquer spray paint, glue, and sandpaper. You'll also need something to cut a hole in the lid with.
Sliding Door Cabinet
A sliding barn door is a popular replacement for regular doors. This is also an easy project for the most part. It's one that you can do yourself with a few materials and tools. Check out shanty-2-chic to find out all the details.
Rustic Towel Hooks
A modern farmhouse-style towel rack is something you can do yourself with little time, effort, or money. Just assemble the rack and mount it on one of your bathroom walls, or the inside of the powder room door. You can find detailed instructions on angelamariemade.
Farmhouse Bathroom Vanity
A DIY farmhouse bathroom sink vanity is one way to achieve a rustic vibe. For more information, visit shadesofblueinteriors. You'll find a list of supplies and tools needed for the job plus detailed instructions on how to build the vanity.
Burlap Curtains
Burlap fabric curtains are the ideal fit for a modern farmhouse bathrooms. They're simple and nostalgic. Complement this type of feature with other farmhouse-style rustic accessories for a cohesive look.
Farmhouse Bathroom Accessories
This example is from therusticboxwood. It focuses on the modern farmhouse bathroom accessories such as the soap dispenser. It can sit in a little tray that has a worn look and suggests a rich history and a cool story.
Water Trough Farmhouse Sink
Believe it or not, you can even build your own modern farmhouse bathroom sink. You could make one out of a repurposed water trough. Give it four legs and a small shelf and make the necessary plumbing adjustments. The galvanized silver looks nice alongside the subway tile.
It's easier if you have wall-mounted faucets. You can even use the space underneath for extra storage. All you need to know about this project can be found on countryliving.
Farmhouse Bathroom Tiles
Subway tile, like in this example, looks sleek and contemporary. It also fits with this modern farmhouse bathroom from jennakateathome. The grout is one detail that makes this space different.
Before & After
Redesigning a bathroom and giving it a farmhouse-inspired look can refresh the décor and the ambiance and make this space look more up to date than before.
In this example featured on blessthisnestblog lighter and brighter colors augment worn finishes.
DIY Double Vanity
This example features small furniture pieces and repurposed accessories combined with a natural color palette and finishes. The double vanity featured on twelveonmain is a centerpiece for this modern farmhouse bathroom.
It's complemented by two round mirrors and it looks just right with the black and white design.
Modern Farmhouse Bathroom Makeover
White is the most popular color among modern farmhouse bathrooms. It also goes well with natural wood and helps to highlight the beauty of many finishes specific to this style.
The makeover featured at homemadelovely, the color palette is based on a classic black and white color scheme with wood accents. A built-in vanity with sink offers stability and a modern touch.
Farmhouse Bathroom Renovation
Modern farmhouse bathroom ideas are suited for small spaces. The style goes well with light and bright colors, which make a room feel bigger. Incorporate lighter wood flooring, too. For more inspiration, check out martysmusings.
Fine Details
Modern farmhouse bathrooms can be eclectic. Draw inspiration from contemporary design elements of farmhouse decor. Keep it clean and simple or emphasize the finishes. With the right decorations and accessories, you'll find yourself with an original and stylish bathroom.
Dark Walls
From the studio Hart & Lock Design, this farmhouse bathroom utilizes darker tones to enhance texture. A white countertop combined with wood tones offers a farmhouse touch. The dark blue backdrop complements the wood shiplap walls without taking over the room.
The wood vanity with a white Duravit style sink makes for an ideal centerpiece. The vertical oval mirror and sconces ease the intensity of the backdrop.
Large Farmhouse Bathroom Concepts
It may seem like wood and certain finishes wouldn't suit a bathroom, but you can only tell when you take the entire context into consideration. A modern farmhouse freestanding tub is the ideal addition when creating a rustic vibe.
Also, notice how the farmhouse-style double vanity adds to this modern farmhouse bathroom vibe.
Frequently Asked Questions (FAQ)
FAQ
What Decor Should You Have In A Farmhouse Bathroom?
Outdated farm tools like a wooden milking stool, cast iron sheep shears, a hoof pick, or corn sheller would make for ideal farmhouse bathroom decor.
Other tools from the 19th century include long handed pruning shears, a corn knife, potato planter. If your bathroom is big enough, an antique weathered wheelbarrow would be a nice farmhouse bathroom focal point. 
What Colors Go Best With Farmhouse Decor?
For farmhouse decor, colors like brown, tan, beige, and creamy whites are popular. If you need accent colors, green, yellow, and light blue would be your best options. 
How Do You Build A Farmhouse Powder Room?
Repurposed furniture pieces capture the farmhouse vibe. Wood pallets and old barrels offer more than stationery decor. Vintage items with a farm flair will enhance your farmhouse powder room. For a rustic aesthetic, wrap old chicken coop wire around the base of your sink. 
What Is Coastal Farmhouse Bathroom Decor?
Decor items that offer a rustic beach and nautical vibe fit in this design category. Repurposed driftwood, antique jars filled with seashells, and rusty lanterns make for stylish accent pieces. As a focal point, an antique wooden helm would be the ideal coastal farmhouse style vanity mirror frame. 
What Is French Farmhouse Decor?
Combine eclectic and ornate with a dash of country rust to achieve a French farmhouse vibe. Off white backsplashes, distressed wood, and vintage chandeliers will provide a rustic French vibe. 
Farmhouse Bathroom Decor Conclusion
We live in an era where farmhouse bathroom decorating is filled with surprises. As you've already observed. modern country bathrooms are popular for a reason. The style is easy to achieve. It doesn't matter if you're implementing tiny farmhouse bathroom ideas or working with a large space, there's something for everyone.
DIY farmhouse bathroom decor is another design path you can take. There isn't a shortage of rustic farmhouse bathrooms and decorating ideas, but choosing the best style requires time and patience.