50 DIY Fall Decorations You Can Do Right Now
In spite of all of the rain and cool weather, we find autumn to be very charming. There's much to love about it and we're not referring only to the beautiful foliage although this seems to be the season's main attraction.
We love the colors of the autumn and the idea of bringing them indoors through DIY fall decorations. It just happens that we prepared a few very simple ones for you today. They're our favorite examples of DIY fall decor. They capture the essence of the seasons in some pretty cool ways.
Best Time For Putting Out Your DIY Fall Decorations
The kids are back in school, the days are getting shorter, and the air is beginning to have a cooler bite- it must be fall! As the landscape around your home begins to morph from greens to brilliant reds and oranges, it's time for your home decor to change as well.
Knowing when to exchange your home's indoor summer look for fresh new DIY fall decorations is a bit subjective. While there still may be some warm days ahead, bringing out your fall decor toward the end of September is generally the best time to make the switch.
Any sooner, and you run the risk of getting burnt out on the look way before the winter decor switch. On the other hand, waiting longer to put out your fall look robs you of enjoying your home's makeover before you have to change things up again for the next season.
What To Use For Your DIY Fall Decorating Ideas
As you look around your home, surrounded by the same whatnots and decor you've had up for the last few months, you know it's time to give your space a seasonal makeover. But where to start?
Having the right crafts and materials on hand before you begin decorating can simplify the process and allows you to make quick design changes on the fly. Look out your window or take a walk outside, nature can provide you with all of the inspiration you're going to need!
Trees ablaze with spectacular red and orange hues, fall foliage replacing the greens of summer, and crisp cool winds filling the air with the unforgettable aroma of a distant wood burning stove all work to create a unique and beautiful atmosphere that, with the right materials, you can bring inside your home!
Common DIY Fall Decorations
Acorns
Pumpkins
Planters
Wreaths
Garland
Baskets
Multi-Colored Leaves
Seasonal Throws
When To Add A Scare To Your DIY Fall Decorations
You already have your DIY fall decorations displayed around your home; why not add a spooky look as Halloween approaches. Halloween and fall go hand in hand, so incorporating the scary holidays look into your fall decor shouldn't be hard to pull off.
Whether you go sinister scary or lighthearted spooky fun with your decorations is going to depend on your kiddos and your personal taste. Either way, it's important to plan ahead and know what Halloween decorations you're going to want to use.
Common Items To Spook-Up Your DIY Fall Decor
Haunting Lighting
Frightening Figurines
Witch's Hats & Brooms
Decorative Cauldrons
Creepy Signs
Bowels of Candy!
When To Take Down Your DIY Fall Decorations
After Halloween has come and gone, you're most likely going to want to get those spooky decorations down as quickly as possible. Undoubtedly the first week after the scary holiday is going to be best. The great thing is, your DIY fall decorations will still be seasonal and look great till the next holiday, Thanksgiving.
Most retailers will have had their Christmas decorations out for weeks, if not a month, before Thanksgiving. Your fall decor, though, will be fashionable and look great all the way through turkey day. So feast till you're ready to explode and enjoy your fall DIY decorations for a few more days- it's almost over!
Go ahead and begin changing over your DIY fall decor to your Christmas decorations the week after Thanksgiving. The next few weeks, for many of us, are going to be hectic and see much of our time spent on shopping and planning family get-togethers, so getting those fall decorations down and the Christmas ones up will be one less thing you will have to worry about! Just remember the most important thing this time of year- have fun!
50 DIY Fall Decorations to Brighten Up Your Autumn
1. DIY Stovetop Potpourri
Don't you love the smell of autumn and winter? It's usually the oranges and cinnamon sticks that remind us of these cozy seasons. You can intentionally bring the scent into your home with some DIY stovetop potpourri.
You can make some using orange slices, red apple slices, rosemary, and cinnamon sticks. You'll need a dehydrator and an air-tight container such as a jar if you plan to offer it as a gift or a pot and some water if you want to make the most of these ingredients yourself.
2. Simple Fall Garland
If you want to make something that will last more than the beautiful scent of the potpourri, maybe you'd like to make a simple fall garland using fallen leaves and branches.
It should be easy enough to find all you need in a park or even in your own backyard. The garland looks great against a neutral background and you can display it in the bedroom, living room, even in the kitchen, or in your home office.
3. Fall-Inspired Wall Hooks
These fall-inspired wall hooks are cute and quirky and the method used for making them is actually pretty simple.
The leaf and pumpkin have simple shapes and you can paint them using earthy autumn colors. This is what you'll need: plaster, orange dye, silicone molds, wall hooks with screws, a cup, and some water. You can choose any form you want so get creative.
4. Acorn Centerpiece
Did you know that plastic eggs can be made to look like acorns? They're very cute too and you can paint them in any color you want.
Use this idea to make a lovely table centerpiece for Thanksgiving or a fall decoration that you can display casually on a shelf, a console table, or on your living room coffee table. Here's what you'll need for the acorn eggs: jute twine, spray paint in fall colors, glue, and of course a bunch of plastic eggs, preferably small.
5. Cinnamon Pumpkin Candles
Pumpkins are very popular during Halloween but in fact, they're a symbol of fall in general and can be turned into all sorts of nice home decorations such as these cinnamon pumpkin candles.
To make them you need small to medium pumpkins, soy candle wax flakes, some cinnamon stick candle scent, candle wicks, bamboo skewers (pencils work too) as well as some glue. Feel free to paint or decorate the pumpkins if you want.
6. Foiled Throw Pillows
Throw pillows are excellent decorations for spaces such as the living room or the bedroom. that being said, you can have different themed pillows for special events or you can change them with the seasons.
For fall, we suggest making some chic leaf-themed pillows using white fabric, hot melt adhesive sheets, decorative foil in various metallic colors, pillow inserts, and iron and leaf-shaped templates.
Try metallics in gold, silver, or copper for a neutral look, or go with brighter colors to make the pillows a more eye-catching statement piece. Either way, these foiled pillows will definitely stand out.
7. Copper Pumpkin Centerpiece
It's pretty cool how many interesting things you can do with pumpkins. It's no wonder they're so popular, and it's not just real pumpkins but the faux kind too. If you like this centerpiece, you can use two artificial pumpkins to make one just like it.
These DIY pumpkins are painted using copper metallic spray paint and they look pretty nice. When you pick the pumpkins, make sure they're not too big or too small so they can fit on the candleholder that you're going to use as a base. I guess you can just put the pumpkin centerpiece directly on the table if you want.
8. Pumpkin-Inspired Planter Box
Pumpkins can be a source of inspiration without even being an actual part of the project. For example, this is a pumpkin-inspired basket/ box designed to hold potted plants and other such things.
Its back panel is actually shaped like a pumpkin, with a stem and all and the entire piece is painted orange to further highlight the connection.
If you want to make something similar, start with an unfinished wood planter or just a simple box and a wood pumpkin cut out. You'll also need orange and brown paint and wood glue. You'll have a pumpkin fall basket in no time.
9. Fall Foliage Candle Centerpiece
You can make a beautiful fall centerpiece by simply bringing some of that beautiful foliage we all like into your home. Go ahead and gather a bunch of fallen leaves of different colors and maybe even some berries, cones, or anything else you like and gather them in a bouquet.
Display it in a vase or in a jar. It would be nice for the container to feature a fall color as well. You should also check out candle jar upcycling ideas.
10. Lettered Pumpkins Fall Sign
We keep coming back to pumpkins, being drawn by their charm and versatility. That being said, here's yet another pumpkin-based fall project.
This time it's a fresh take on decor and the pumpkins are small and light-colored. There are four of them here, each featuring a letter on it. Together they spell out "fall". Look closely and you'll see that the letters are actually made of antique keys. This is the part we like most about this updated pumpkin project.
11. Mason Jar and Twine Centerpiece
As popular as pumpkins are this season, Mason jars are even more popular. There are tons of DIY projects based on the simple glass jar and this is one of them.
The simplistic look of this decoration is a huge part of its appeal. As you can see, there's not much to it. Each jar is decorated with a bit of twine and a metal washer is attached to the twine section, sort of like a tag. You can use the jars as vases. This Mason jar and twine centerpiece are one of the easiest DIY projects ever.
12. Flower Dotted Pumpkin
Just because fall features some of the more masculine and rustic colors in interior design doesn't mean that you can't make it pretty too.
This daisy-dotted pumpkin from A Beautiful Mess is a great way to keep some cheerful foliage around the house even after the weather begins to cool off.
This is also a fun way to decorate some Halloween pumpkins without having to clean them if you don't want to deal with any carving. Try replacing the daisies with faux sunflowers or other false blooms for a different variation on this decoration.
13. Painted Acorns
These charming and colorful acorns help add some much-needed brightness to your fall decor. You can even add glitter or mica powder to make them even more striking.
Acorns can be gathered outdoors if you live near an oak tree or you can order some online. Once preserved, these acorns can be painted with craft paints or even leftover nail polish if you have some you need to use up.
Make sure the acorn caps stay firmly attached by hot-gluing them in place. For a full tutorial on creating these magical acorns, check out Home Stories A to Z.
14. Autumn Leaf and Acorn Garlands
Here's another DIY fall decoration that uses acorns as part of the motif. This autumn leaf and acorn garlands at Eliza Darlings will make it look like falling leaves are settling throughout your home.
They're useful for draping over bookshelves or other pieces of furniture that you don't move items around on much. You can either get a bunch of leaves in similar patterns and colors for a unified aesthetic or get a broader range of different faux leaves for a more natural and eclectic look.
15. Buffalo Check Mason Jar
Buffalo check is one of the hottest patterns for fall decorations, and these buffalo check Mason jars combine buffalo check with pumpkin orange for a cheerful autumn look.
Mason jars can be acquired cheaply from a dollar or bulk stores. With just acrylic and chalk paint, you can transform them into small vases or even candleholders for your favorite fall scent.
Learn how to make them yourself at Weekend Craft. If you don't like the orange and white buffalo check, you could replace the orange with gray and black for a more traditional buffalo check.
16. Pumpkin Basket
A pumpkin basket like this basket from Two Paws Farmhouse is a great accent to make your home feel more cozy and rustic in the fall. Smaller pumpkin baskets can be used for your fall table centerpieces, or you can position one at your fireplace.
Simply find a basket you like, line it with a throw such as a chunky knitted blanket, and then layer different pumpkins inside it. You can use live pumpkins, faux plastic pumpkins, or even handmade fabric and velvet pumpkins – let your imagination run wild!
17. Cheap DIY Farmhouse Pumpkins
One of the biggest gripes many crafters have with faux pumpkins from the craft store is that they look too artificial. But there are ways to get around cheap-looking artificial pumpkins.
This tutorial from DIY With My Guy shows you how to take affordable plastic pumpkins from the dollar store and turn them into fall decorations that scream farmhouse chic. These pumpkins can be customized to match a variety of different interior designs and color palettes, making them a great thrifty glow-up decoration for your fall menagerie.
18. Maple Leaf Mason Jars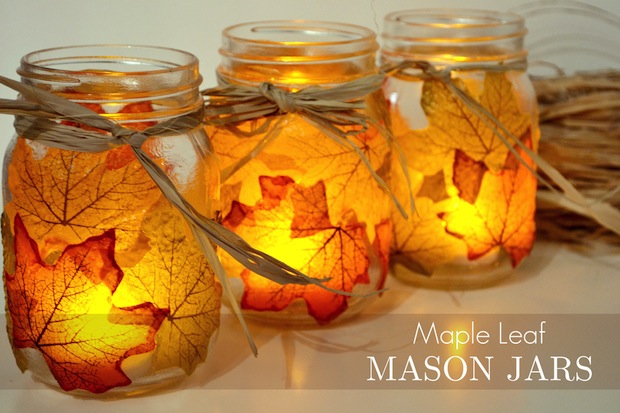 Maple leaf mason jars are popular in fall crafting circles, and with good reason. These gorgeous autumn lamps help bring an inviting warm glow to your home while also pulling a fall motif throughout your interiors.
With just a little modge podge, some Mason jars, and some artificial leaves, you can create beautiful fall lamps to place throughout the house. This craft is easy enough for kids to help out, too. Read more about how to make maple leaf mason jars over at Spark and Chemistry.
19. Broom Gnome Banner
The broom gnomes on this broom gnome banner from Southern Crush at Home aren't just adorable to look at. By using cinnamon-scented brooms, these gnomes can help bring the scent of fall into your home.
To up their aromatic allure, try spritzing them with other fall-inspired scents, such as gingerbread or pumpkin spice. Perfect for your fall mantel or the top of a bookshelf, this banner is a fun way to bring a touch of fall whimsy to your decor.
20. Rustic Woven Fall Wreath
Using rustic materials in fall decorations helps give them a homey and inviting feel. This rustic woven fall wreath from Just That Perfect Piece incorporates twine and sunflowers for a decoration that manages to evoke the last days of summer right before true fall hits.
The darker elements of this wreath such as the dark center of the faux sunflower make it stand out well against lighter walls and doors.
21. Fabric Fall Wreath
Fall is a traditional time of year to put some wreaths on the doors around your home, and this fabric wreath is easy to make with a selection of fall-inspired fabrics and crimping scissors.
Use scissors to cut your chosen fabrics into crimped ribbons, then arrange the ribbons thickly around a wreath frame. One of the advantages of this fall decoration is that you can go wild choosing whatever fall patterns you like in your fabrics.
Whether you want to go with a harvest theme or you want to do a spooky Halloween wreath, it's easy to put your personal touch on this project. Learn how to make your own wreath over at Quilty Therapy.
22. DIY Wood Bead Pumpkin
Sometimes you don't have to go big with your fall decorations to still make a big impact. This DIY wooden bead pumpkin from Domestically Blissful is simple to put together with just a few crafting supplies.
It makes a nice addition to a fall-themed centerpiece or you could just put them around in different unused corners as accent pieces.
These are a fun project to make while you hang out on a chilly fall weekend since the act of stringing the beads is calming. If you don't like the look of the wooden beads, you could also try this project with other bead types.
23. DIY Sunflower Wreath
Fall decorations don't have to mean just pumpkins, leaves, and acorns. Embrace the flowers of fall with this DIY sunflower wreath at Grillo Designs.
Large sunflowers take a long time to grow and are usually just beginning to show their best colors in early fall, making them an iconic bloom of autumn. The yellow and black in this wreath look especially good against a light-colored door for contrast.
24. DIY Yarn Pumpkins
When it comes to making your fall decorations look and feel cozy, you need to pay attention to the materials you use as much as you do the motifs.
Soft crafted pumpkins are a great way to introduce different materials, textures, and patterns to your fall design. These DIY yarn pumpkins from Ava Shields only require novice crafting skills to end up with a professional-looking result you'll be proud to set out.
Use yarns with metallic accents woven in to add even more glamor to your homemade pumpkin display.
25. Preserved Acorns
Foraging for fall decorations outdoors is one of the most fun parts of crafting in the fall. Everything from fallen leaves to nuts and twigs can be repurposed indoors for a natural and sophisticated design aesthetic. This is especially true if you preserve them.
Learn how to preserve acorns for fall decorations at Staying Close to Home and you can use them in all kinds of indoor fall decor without having to worry about the nuts going bad or bringing insects in.
Adding a gloss to preserved acorns can also make them a brighter accent by adding reflections, but it detracts from their realistic look.
26. DIY Velvet Pumpkins
In recent years velvet pumpkins have become a popular crafting choice for fall since these squeezably soft fabric pumpkins can allow you to include homemade crafts in your interior design without them looking cheaply made.
Velvet is a high-quality fabric with a sumptuous feel and appearance, making it a good choice for creating long-lasting DIY fall decorations.
Include velvet in multiple shades of orange for a softened farmhouse look or choose unique colors that suit your existing interior. See how to make velvet pumpkins at My Wee Abode.
27. DIY Sweater Sleeve Pumpkins
Fall is a good time of year to clean out your closets and get rid of any clothing you have that doesn't fit anymore or needs repairs. If you find yourself with sweaters you can't wear, consider cutting the sleeves off and using them to create some of these DIY sweater sleeve pumpkins.
Sweater textiles make a cozy and beautiful material for craft pumpkins, and if constructed carefully these decorations can last for several years.
It's a great way to give your old clothes a second life, especially if you're attached to the sweater's pattern or fabric. Make your own sweater sleeve pumpkins using this tutorial from DIY Beautify.
28. DIY Felt Garland
If you don't want to use faux leaves in your fall decorations, you can always make your own. The felt leaves in this DIY felt garland from Ellen Hutson are easy to work up while you're sitting around socializing or watching a movie, and they're a fun project to do with friends and family.
The key to making this garland look good is using a wide variety of different colored felts for the leaves. You could even get your family together to write things you're grateful for on the leaves before stringing them up.
29. DIY Fall Pillow Wrap
In the fall you need plenty of throw pillows lying around to keep the atmosphere snuggly, but you get bonus points if you can keep them autumn-themed while you do it. If you have some basic sewing skills, try this DIY fall pillow wrap from Orange Bettie to add some cheerful orange pumpkins to your existing throw pillows.
These pillow wraps are removable, which means when the season is over you can easily take them off and store them for the following fall.
30. DIY Leaf Bowl
Fallen leaves are one of the most iconic symbols of fall, and using faux leaves in home crafting projects can help bring a little bit of the autumn outdoors inside even after the leaves have started to die off for the year.
This DIY leaf bowl from Made With Happy is simple to make with modge podge, a balloon, and some faux leaves. Try pairing this leaf bowl with an electronic candle in the center to help give the leaves a translucent golden glow. These leaf bowls are also great as makeshift candy bowls during the Halloween season.
31. From Canning Rings to DIY Art
Who would have thought canning rings could be so beautiful? The folks at Creative Moments did, and they were gratuitous enough to share these gorgeous DIY canning ring pumpkins with us!
Simply secure the canning rings around a wooden dowel or a cinnamon stick, for a little added aroma, with some twine and you can create these beautiful rustic-looking pumpkins. Paint the individual rings any color you want to personalize the canning pumpkins to fit your style!
32. Country Chic DIY Fall Decorations
A single small plank of stained wood combined with a few galvanized letters can create a charming DIY piece that you will cherish for years to come. Wilshire Collections shows off a beautiful example of this simple project anyone can make.
It should be easy to find a few metal "harvest," "family," "thankful," or "fall" signs at a craft store. Add in your own mix of bows and flair to make your own unique DIY fall sign.
33. Adorable 4×4 DIY Pumpkin Decor
To create these cute 4×4 wood block pumpkins that Crafty Lady Lindsay shows off, you will need access to a saw. After you cut the blocks to your desired length, the fun begins!
Use painter's tape or stencils to add sections or oranges and whites to your creation to get a classic fall pumpkin decor look. Don't forget to use some wood glue to attach a wooden dowel to the top of the block!
These DIY fall decorations can look great indoors or out. Leave your blocks longer to fill an outdoor area better, or make them a little stubbier to fit perfectly on an indoor table. Why not make both?
34. Fall Pumpkin Plank Decor
If you close your eyes and imagine the perfect fall farm scene, I can almost guarantee wooden planks will be in there somewhere. Laker Girl Paints shows us how to take worn wooden planks and turn them into beautiful rustic plank pumpkins. Add a wooden stick to the top to complete the look!
Depending on your space, you can stand the pumpkin planks on the floor or use a hook to hang them up on a wall. Pumpkin planks make a tremendous DIY fall decoration project!
35. Kid Friendly DIY Leaf Garland Project
DIY projects are great fun, but they're even better when you get everyone in the family involved! Celebrate and Decorate shows off this fun real leaf garland project.
Get the kiddoes to collect a bunch of leaves; then, you carefully work some twine through the center of each leaf. Add in a few decorative bows at steady intervals to create a beautiful, all-natural strand of garland.
36. Picture Perfect DIY Fall Candy Corn Decorations
This fun, kid friendly craft is a great way to create a lasting memory for years to come. All you need is a lot of buttons, reds, oranges, yellows, and whites work great, some glue, and a picture frame to create beautiful fall-inspired art. You can copy the design from Repeat Crafter Me or come up with your own fun idea!
37. Versatile Fall or Halloween Themed Mason Jars
Easter doesn't have to have the monopoly on holiday painting fun! As The How to Home shows us, all you need to create fun fall or Halloween-inspired DIY decorations is a few mason jars and some paint.
You can let your imagination run wild as you and your family create a fun pumpkin, scarecrow, and Frankenstein-themed mason jar works of art! These fun DIY fall decorations will be lasting keepsakes you and your family can enjoy for years to come!
38. DIY Old Wooden Plank Crafts
Jami Ray Vintage shows us once again, the things you can create with old wooden planks are almost limitless! Paint, stencils, and some wood planks joined together are all you need to make a rustic-looking fall or Halloween-themed sign. Get extra crafty and paint one side for a classic fall look and the other for spooky Halloween fun!
39. DIY Simple Stencil Cutouts Painted Pumpkins
This project starts on a novice level and gets a little more complicated in the middle, but the end result is a beautiful DIY fall decoration you will cherish for years to come. Inspired by the carving project at Megan Plus Five, the family will draw and cut out their favorite fall and Halloween shapes onto a piece of paper.
Then use the cutouts as stencils to cut pieces of wood into fun shapes. Next, paint the blocks to suit your style and enjoy! A jigsaw, or something similar, works best for cutting out complex shapes. Be Careful and make sure you or someone else knows how to operate the saw properly. The most important thing is to stay safe!
40. Brilliant DIY Fabric Pumpkin Decor
This fun project does require some sewing skills, but the end results are amazing! You can take quilting cotton, canvas, velvet, or similar materials, to create fabric pumpkins with a timeless look. For an in-depth guide to making these gorgeous pumpkins, check out Scattered Thoughts of a Crafty Mom.
41. Tiny and Adorable Scaredy Pot DIY Fall Decorations
You'll never look at tiny clay pots the same after you lay eyes on this adorable little scarecrow. Hobby Lobby Crafts used clay pots, paint, and twine to create the cutest scarecrow you will ever see, but you can use the same materials to craft anything from a pumpkin man to Frankenstein. These DIY clay pot figures are only limited by your imagination!
42. Classic Hay Bales and Pumpkins Fall Decorations
Things become classics for a reason! And nothing screams classic fall decor like pumpkins and hay bales. This elegant and simple layout over at Nifty Mom shows just how easy it is to pull off a fall DIY make-over around your home. Add in some fall signage and cornstalks to add a more traditional feel to your design!
43. DIY Fall Pumpkin Monogram Decoration Project
Everyone loves using their initials in their decor. While Craft Cuts shows off this single letter monogram and pumpkin design, feel free to go wild with your ideas!
You can use your kids' initials or perhaps you and your spouses together, all against the background of your choosing. This DIY project is simple to make and loaded with potential style directions!
44. Elegant DIY Fall Candles
Grand displays and radiant colors all have their well-deserved places in your go-to fall decor arsenal. But sometimes, small and simple can leave the strongest impressions, like these acorn candles at Live Laugh Rowe.
All you need is a glass container, a handful of acorns, cut-up strands of grapevine, and a tall candle to create a simple and beautiful piece of fall decor. The design is classic and elegant enough to be used in any room of your home.
45. Faux Outdoor Pumpkin Topiary
Want to create a stylish pumpkin topiary but don't have access to real pumpkins? Well, thanks to The Stoenybrook House, we can see an amazingly brilliant alternative!
Fill a few garbage and plastic supermarket bags with paper or leaves, and use a little masking tape and spray paint to create almost life-like pumpkins! Place the faux pumpkins into a decorative crate or pot to create a stunning DIY fall pumpkin topiary!
46. Fall DIY Candle Corn
Corn is one of the most versatile things on the planet! It can be a delicious food source, turned into fuel, or made into beautiful DIY fall decorations.
All they did at Passionate Penny Pincher was place a long candle into a clear glass jar and fill it half full of corn kernels, and it turned out beautifully! Add a decorative ribbon to the outside, and you have the perfect piece for your mantel.
47. Simple Candy Corn Candles
Love it or hate it, candy corn is a staple of fall and Halloween. One thing that can universally be agreed on is that the candy corn candles we found at Simple Joy are absolutely beautiful. What's better, they are super simple to make!
All you need to get this classic candy treat look is a couple of white candles and some orange and yellow spray paint; it's that simple. Spray the candle with an undercoat of orange, wait about 30-minutes and spay a section with yellow; no need to be precise. You won't find a more straightforward DIY fall decor project!
48. Upcycled Book Page Pumpkin DIY Fall Decoration
If you have a few old worn-out books taking up space around your house, you don't have to just throw them out. You can upcycle them into a clever DIY fall decoration.
If you follow the steps and example Creations by Kara gives us, you will be able to create your own paperback pumpkin out of book pages in no time! After you've mastered the technique, you can create pieces for every holiday!
49. Kid Friendly DIY Leaf Wall Art Decor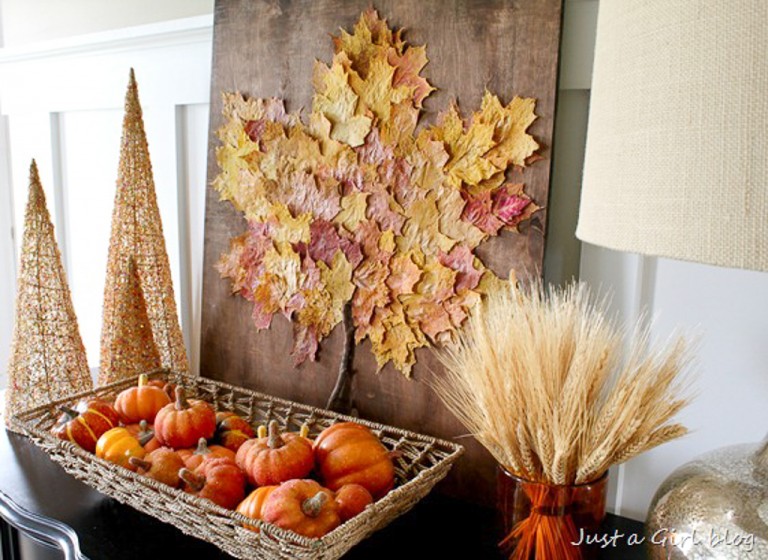 This leaf project at Just a Girl Blog is another excellent way to get your kids and family involved in crafts. While you get a wooden board and the glue ready, have the kids go out and gather up a bunch of crisp, colorful fall leaves.
Next, you can either trace out a pattern for them to follow while they glue the leaves onto the board or let them go freehand and see what wild creations they come up with! Either way, you will have a unique and sentimental piece you can use year after year.
50. Capturing the Essence of Fall in a Glass Vase
Simple, beautiful, and entirely fall, the clear glass vase we see at Style Burb captures the elegant natural beauty of the fall season. Take a clear glass jar and fill it with acorns, small pumpkins, and other gords, leaves, and an assortment of fall foliage to create this eye-catching DIY fall decoration. Feel free to use faux materials to help keep your creation looking fresh for the entire fall season!
FAQ
When to Begin Planning Your Fall DIY Decor?
Fall officially begins in late September, but you're going to want to start brainstorming ideas for your fall decor a few weeks earlier than that. Pull out all of your fall decorations and take stock of what you have that you may want to use this year and what pieces you're going to want to replace. A little forward planning will save you time and give you the freedom to develop great new DIY ideas.
When to Start Shopping for Your Fall Decorations?
Shopping for the next season on the calendar starts sooner every year, it seems. It won't be surprising to begin seeing fall decorations on sale in August. If you love to go all out on your fall DIY decor, that will be the perfect time to start looking for the season's newest items and stock up on those must-have pieces!
Where is the Best Place to Shop for DIY Fall Decorations?
When it comes to shopping for your fall DIY decor, don't sleep on Dollar Stores! They are incredibly budget-friendly, and you can find some absolutely fantastic fall items there. Here are a few more places you can check out as you shop for your fall DIY decorations.
Arts and Craft Stores

Grocery Stores

Cracker Barrel

Department Stores

Online
Where in Your Home is the Best Place for Your DIY Fall Decor?
Look around your home; no matter where you're at, you can decorate it for fall if you can see it! There is literally no area, inside or out, of your home that can't be decorated for fall.
Front and Back Porches

Fireplace Mantel

Bed Rooms

Bath Rooms

Living Room

More!
When it comes to decorating your home for fall, you are only limited by your imagination!
Should You Buy Your Fall Decorations DIY or Ready Made?
Whether you buy ready-made or DIY fall decorations will depend on your time, budget, and how crafty you are. There isn't really a wrong way to go. There is nothing wrong with mixing in a few store-bought items with your own DIY projects. Just have fun and make your own unique look!
Conclusion
Making fall decorations is a fun tradition for many households, and there are tons of DIY projects available to match just about any decorating aesthetic or design theme. Some crafting projects might require some basic skills such as sewing or light woodworking.
However, many others require minimal skills and supplies to pull off a decoration that will look nicer and bring you more pride than anything you could buy in a store. Try some of these creative DIY fall decorations this autumn to wow your houseguests all season long!