23 DIY Shelves Perfect For Beginner Craftspeople
For someone who never crafted anything before from scratch, it's hard to find the courage to start a big project. That's why we love the idea of DIY shelves so much.
This is the perfect project for a a beginner, a DIY enthusiast who wants to build something that's equally simple and useful.
You can find below 23 ideas that we think you're really going to like.
Minimalist hanging shelf for any room
This cute hanging shelf can be something you're adding to your living room, home office or perhaps other spaces too like the entryway, bedroom or dining room. To make a single shelf you need a wooden board, some paracord and a ring. You'll also need a few tools so make sure you have those ready. Check out the list on acraftedpassion.
A bubble shelf made of repurposed embroidery hoops
Now let's try something just a little bit more complex but just as simple: a hanging shelf made out of embroidery hoops. To make one you need a wood embroidery hoop and a rigid cork trivet plus a few other things such as craft glue, clamps and some rope. That little tassel at the bottom is optional but sure looks nice. Check out stitchedmodern for more details.
Chic alternative to your basic nightstand
There are many different uses for a hanging shelf. For example, you could use one as an alternative to the typical bedside table. In this case it would be a bedside shelf and you can hang it from the ceiling to save floor space. Consider this lovely design idea from diys as your source of inspiration.
Cute shelf with a planter going through it
This cute little DIY shelf has a little space carved out for a planter to fit in. It also has leather straps which give it a chic and elegant look. It may be small but it can surely hold your favorite photo and a cute little succulent planter which is enough to make a space look pretty. Check out themerrythought for more details.
Hanging shelf and accent table combo
Here's a different way to look at a hanging shelf. This one serves as an accent table and is perfect for corner spaces, outdoor porches, maybe even gardens if you can find a tree branch to hang it from. In any case, you can find out all about the project on angelamariemade.
Simple shelf made from rope and a wooden plate
A hanging shelf such as the one featured on abeautifulmess offers an opportunity to add more greenery to your home without thinking about the floor space restrictions. You can hang the shelf in a corner to actually make good use of an otherwise wasted area. To make the shelf you need a round wooden plate, some thin rope and a staple gun.
Geometric macrame hanger for planters
You might also enjoy making this macrame hanging shelf. It sure looks nice and pretty and you can pair it with your favorite planter for added charm. The supplies required for this project include a plant pot, a square piece of plywood, some twine, a drill, a jigsaw and sandpaper.
Tiered rope shelf for extra storage
This hanging rope shelf takes things to the next level, quite literally. We can easily picture it in spaces like the kids' bedroom, the entryway or even the kitchen or the bathroom. Make your own version of this shelf using plywood, some thick rope and a few basic tools.
Slender and shallow shelves for books and pictures
In case you're worried that regular shelves would stick out too much, wouldn't fit or would not suit your minimalist decor, be sure to check out this lovely project from abeautifulmess first. It should how you can make slender rope shelves just wide enough to hold some picture frames or a few books.
A hanging organizer for the bathroom or the kitchen
If you want to get more out of your shelves, perhaps you'd enjoy making a hanging organizer similar to this one featured on ana-white. It's a quirky way of spicing up the decor in the bathroom or the kitchen without relying on bulky furniture.
Tiny display shelves for Lego toys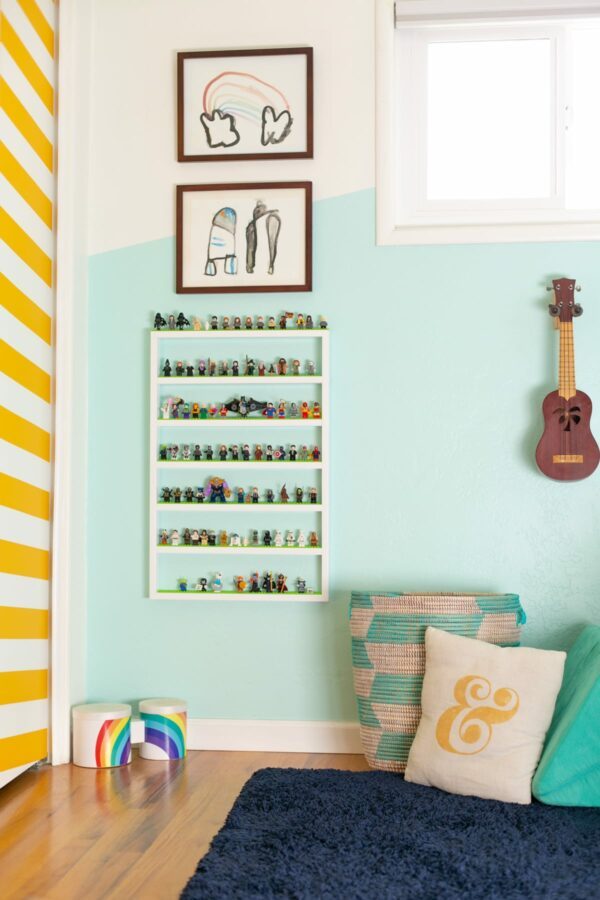 These shelves are specifically designed to hold things like Lego figurines or other similar collectibles and what makes them stand is just how slender they are. They take up very little space but they put all these little things on display in a super cool and interesting way. Check out lovelyindeed if you want to find out more about them.
Versatile laundry shelves
There's certain parts of a house where shelves are super practical, like the laundry area for example. Whether you have a separate space for this or it's just a part of your bathroom, adding one or two of these open shelves can make it a lot more user-friendly and practical. Check out the tutorial on ctrlcurate if you want to find out more about this sort of project.
Floating bathroom shelves
In the case of a bathroom there's usually not a lot of space to work with when decorating the area so it's important to take advantage of every little bit of space. A nice way in which you can put that awkward space above the toilet to good use is by installing a couple of floating shelves here.
They can hold a few things like extra toilet paper rolls, air fresheners and toiletries and you can squeeze in a few cute decorations too. Check out these shelves from themerrythought if you like simple and clean designs.
Wood slice plant shelves
These vertical wall-mounted shelves featured on pillarboxblue are really nice for cases when you want to add more greenery to a room but you're short on space or when you just want to take advantage of a small piece of wall in your kitchen for example. Each wood slice acts as a shelf and you can attach several of these to a wood board to create a custom configuration.
Colorful wall organizer made of tubes
Can you even believe you can make something this cool out of just some humble cardboard tubes? This is basically just a bunch of cardboard shipping tube sections cut to different lengths and then painted in different colors and glued together to create this eye-catching wall organizer. If you want to find out more about this project, head over to akailochiclife for details.
Drop-shaped hanging shelves
These shelves are something simple and stylish to display on a wall and they serve a dual purpose, being both practical and decorative. The drop-shaped back panel adds an interesting twist to an otherwise very simple and basic concept. Also, the shelves have rounded corners which suits this sort of aesthetic. For details, head over to ohohdeco.
Stylish metal pipe shelves
As you might already know, you can use metal pipes and fittings to build all sorts of useful things, including furniture. This can also be applied when building shelves and this design from acraftedpassion is an excellent source of inspiration. This is a shelf made of copper pipes which have been painted black for a sleek and modern aesthetic.
Small triangle shelves made of wood
When it comes to decorative shelves, a cool idea is to create geometric shapes. A triangle-shaped shelf is really easy to make and also looks interesting. These ones were made of ¼'' birch plywood pieces connected with wood glue. Each one has a unique look due to how they were painted. There's a tutorial on acraftedpassion that you can check out if you want to craft these shelves yourself.
Old drawers turned into shelves
Looking for something to do with random old furniture pieces? There's always something creative and original that each piece can possibly be used for. Thinking outside the box really helps. For instance, an old drawer from a desk or a cabinet could be repurposed into a box-like shelf. You could even the handle or the knob in place for some extra charm. Additional details can be found on craftifymylove.
Tiered copper pipe shelving unit
This is a cool project idea for a space like the kitchen or the bathroom because you can't really have too much storage in here. A nice thing about a design like the one featured on heylilahey is the modularity. You can customize these shelves to be as big as you want and to include as many tiers as needed.
Repurposed shutter shelves
Some of the most rewarding DIY projects are the ones that repurpose items and resources in new and unexpected ways, like this one from simplicityinthesouth. This project turns a set of old wooden shutters into a stylish pair of shelves with a distressed and rustic aesthetic. Something like this would fit beautifully in a farmhouse kitchen.
Hexagonal two-toned shelves
There's two things that make these shelves stand out. The first one is their interesting geometric shape and the second one is the color palette. The interior of the shelves is painted light blue while the rest has a light wood stain color. Check out the tutorial on sheknows to see how these are made.
Floating shelves with copper edges
These shelves are super simple, so simple in fact that you can't even see the hardware that holds them in place. They appear to be just floating there which is a cool look, especially for a modern or a contemporary interior. At the same time, there's something very special about these shelves: they're wrapped in copper. The edges have a textured look which also helps to make these minimalist shelves stand out even more. If you want to see how this was done, head over to vintagerevivals.