Simple Embroidery Hoop DIY Projects With Fun Designs
If you enjoy doing DIY projects but you've never worked with embroidery hoops before, you're about to discover a whole new exciting world full of possibilities and cool ideas.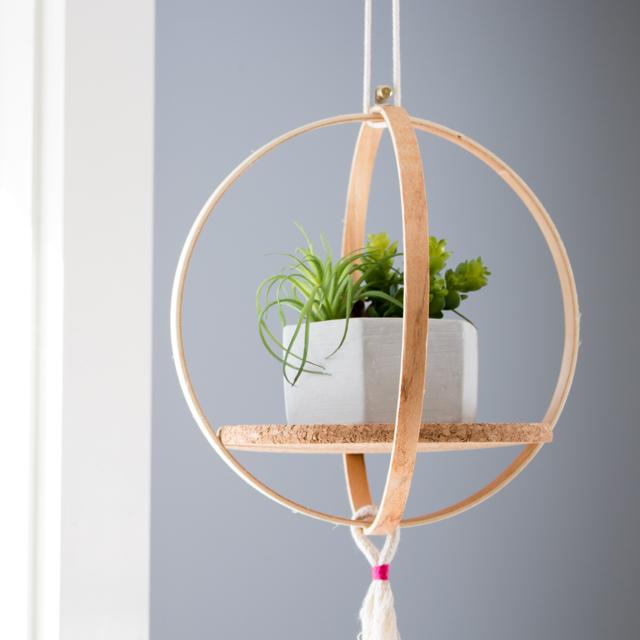 You can repurpose this simple item in so many different ways and create all sorts of decorations and accent pieces so go ahead and get your embroidery kits ready because we have some awesome projects to show you.
27 Simple Projects To Make With Embroidery Hoop
A Halloween-themed bat mobile
An embroidery hoop is a key component when crafting this lovely bat mobile. The full list of materials needed for this little project also includes some black construction paper and scissors for the bats, white yarn to hang them and also some clear tape.
This is a really simple project and it shouldn't take long at all to complete. You can turn this mobile into a spooky Halloween decoration but you can also just have fun with it any time of the year.
Colorful mobile with yarn balls
Here's another lovely mobile but this time with hanging yarn balls instead of bats. To make these colorful balls you need the following: cotton string in any color you prefer, school glue and small balloons. You can hang these with fishing line to make them look like they're floating but using regular thread can also look nice. Mix and match different colors and sizes for a more dynamic look.
Spooky bat ornament for walls and shelves
Baby mobiles aren't the only things you can make using embroidery hoops. You can also use these to make holiday decorations. For example, check out this Halloween art project from diys.
It shows you how to use simple things such as a wooden embroidery hoop, thread and foam to make this spooky ornament which you can display on your mantel, on a shelf or up on a wall. This could even serve as a cool wreath.
A different kind of wreath
A large enough embroidery hoop can be used to make a cool-looking wreath. You can decorate it with a lot of things such as yarn for example. There's a cool design idea on scratchandstitch which makes use of that. The supplies required for this project include the hoop, some clips and yarn, cord or string in any colors and patterns you prefer. Obviously you can customize your own design in any way you want and really make it your own so have fun being creative.
Canvas art using paint and stencils
Another cool idea is to use embroidery hoops as a sort of canvas frame and to make beautiful artwork that you can display around your home or offer as a gift. Coming up with a design or an idea is probably the most difficult part of this project.
Once you have something in mind you can go ahead and start creating. Have all the supplies ready to make things easier. That includes the wooden embroidery hoops, linen art canvas, scissors, acrylic paints and stencils in case you want to use this particular strategy. Check out sustainmycrafthabit for more details.
Valentine's day 3D heart decoration
You can basically make something cool for any occasion using embroidery hoops, including Valentine's Day. In fact, there's a nice tutorial on littleyellowwheelbarrow which you can follow if you want to make this lovely wall decoration.
First, get your supplies ready. You're going to need fabric scraps in different colors, sheer fabric, iron-on fabric fusing, craft paper and a hot glue gun plus of course the embroidery hoops.
Cute fabric wall décor for the bedroom
This is a nice little project that would be perfect for the bedroom. It's a set of three embroidery hoop decorations which you can hang on the wall above the bed. They're super easy to make using white fabric, colored felt (in this case gray), letter templates and a hot glue gun.
You can change the text if you want to or use different-sized hoops depending on the type of decor that you want to create. More details can be found on wecanmakeanything.
Double hoop and string design
If you like simple designs and minimalism, in general, we have a feeling you're going to enjoy this simple project from thelovelydrawer. It uses two embroidery hoops of different dimensions and it really makes them stand out.
They're decorated with white embroidery thread and a single large bead. It's a really modern and stylish design which would look nice in a variety of different spaces and decors.
Minimalist wreaths with string lights
On the same note, these wreaths are super chic and also simple and versatile. They're not made with embroidery hoops but you can definitely use those if you want to. Alternatively, you can use copper soft refrigerator coil if you want to get the same look as here.
Be sure to also get some copper pipe strap fittings and copper string lights to match everything. Lots of interesting variations could be made based on this design. For more details you can have a look at the project featured on abubblylife.
String art silhouette on white canvas
This project from consumercrafts is a bit similar to one of the previous ideas on this list but this time the design is stitched onto the canvas instead of being painted on. The cat silhouette is definitely really cute and the black thread on white canvas is a simple but also very elegant and timeless combo. The same project can also be customized with other designs, colors and patterns.
A colorful weaving loom using assorted yarn
Another really cool project involving the simple and versatile embroidery hoop involves making a weaving loom. It all requires only a few simple items:an 8" round embroidery hoop, a large plastic canvas needle and a bunch of assorted yarn in different colors.
You can create all sorts of interesting patterns using this DIY loom and coming up with ideas can be a ton of fun. Check out consumercrafts for more inspiring ideas.
Modern wrath with bunting and fabric flowers
Wreaths are always fun to make and they're not just for Christmas or special occasions. You can decorate your front door with a cute wreath any time you want to and you can easily do that if you use embroidery hoops.
Add some nice fabric, bunting and a few ornaments such as flowers for example to really complete the design. You can also check out dwellinginhappiness if you want to find out a bit more about this particular wreath design.
Innovative organizers using old jeans and embroidery hoops
This project from homemademodernblog involves embroidery hoops and old jeans out of all things. This time the hoops are not just decorative but can also serve a practical purpose.
The only part of the jeans that you're going to need is the back pockets. The idea is to frame them using the hoops and to turn them into little storage pockets for things like pencils and other small items. You can hang these in your home office or craft room.
Cute felt and embroidery art decorations
There's plenty of DIY projects and crafts that are easy enough to do with the kids as a way to introduce them into this wonderful world of creativity. One idea is to make these cute decorations using small embroidery hoops and colored felt. They can be customized with all sorts of things like buttons, embroidery art and so on. Check out createwithmom for more details
Spring wreaths with banners and flowers
It only takes a few minutes to make one of these beautiful wreaths and this is a wonderful way of celebrating spring. You can use circular or oval embroidery hoops and artificial flowers and the banners featured on ohohdeco can be made from colored sheets of paper using the templates linked in the tutorial.
Small hanging denim baskets
You may have wondered what you could possibly use old pairs of jeans for so you don't just throw them out when they're no longer useful. Well, here's an idea to keep in mind for the future: you can turn old jeans into small storage baskets and all you need to do this is small embroidery hoops and a bit of fabric. Check out pillarboxblue for more details.
Succulent pockets made of felt
If you're looking for something small and cute to display on a blank wall, consider making some of these cute succulent pockets. They're really easy to make and all you need is embroidery hoops and felt in different colors plus a piece of ribbon for hanging. The succulents are made of felt in this case but you can experiment with other ways of decorating these pockets if you want some diversity. There's a tutorial on lostmom that you can check out.
Embroidery hoop hanging planter
We absolutely love hanging planters. They're very space-efficient and wonderful if you lack any sort of space on your counters, shelves or windowsills for indoor plants. This is a cool and interesting way to hang a planter using a series of embroidery hoops and string. The process is described on aliceandlois.
Decorative display shelf
Shelves are a really nice way of filling out empty wall spaces and creating spots for storage and for displaying various items. This shelf has a really interesting geometric design and makes use of a rather unusual set of materials: embroidery hoops and wood trim. If you want to find out more about its design and how you can craft a shelf just like this one, head over to ohohdeco to check out the complete tutorial.
Hanging planter stand featuring embroidery hoops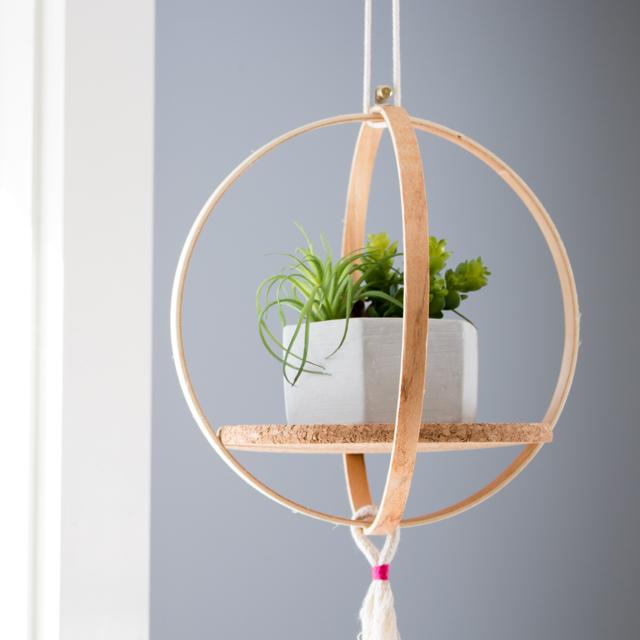 Here's another type of hanging planter that you can make from wooden embroidery hoops. This time the hoops intersect with one another and hold up a repurposed cork trivet which acts as a platform for the planter to sit on. It's a super simple design which you can make in different sizes. Check out stitchedmodern for the details.
Floral front door wreath
Hanging a wreath on the front door is just a cute way to welcome any visitors and to make your home more attractive. This floral wreath design is lovely, easy to make and versatile. You can customize it with seasonal plants and flowers and keep the burlap banner throughout the year. Check out this design amylattacreations if you want to find out more about the project.
Embroidery hoop Christmas tree ornaments
You can get embroidery hoops in a variety of different sizes and for this project from abutterflyhouse you're actually going to need a bunch of 3'' ones. You can either leaves them as such or stain/ paint them, depending on the color palette of your Christmas tree. Assembling the ornaments is pretty easy and you can find the instructions on abutterflyhouse if you want to give this idea a try.
Modern Christmas wreath idea
This is an embroidery hoops wreath that you can make for Christmas or the winter season in general. The design is pretty simple and modern and it can be made using some basic decorations and supplies like some faux greenery, berries and magnolia leaves. Have fun combining these in different ways until you come up with an original design. Check out tagandtibby for some useful tips before you get started.
Thanksgiving wreath decoration
Making wreaths out of embroidery hoops is not just easy but very practical as well and this design from averageinspired gives an idea of how this can happen. In this case the wreath features a pocket made from crafting felt and is decorated with miniature pumpkins, feathers and some leaves. The pocket is filled with popsicle sticks.
Modern decorative orbs
All you really need to make these decorations is a few wooden embroidery hoops. Optionally, you can paint or stain the hoops and you can use thumbtacks, push pins or glue to secure the orbs once you have all the hoops in place. You can make these in any size you want and you can use them as decorations for your desk, shelves and so on. They're very versatile. Check out the tutorial on lanternlanedesigns for additional information.
Minimalist greenery wreath
Wreaths don't need to be covered in lots of decorations or be very colorful in order to look beautiful. In fact, some of the best designs are also the simplest ones, like this minimalist wreath featured on thehoneycombhome for instance. All you need to make something like this is an embroidery hoop, some faux greenery and clear fishing line.
Hanging succulent planter
The first step when making a hanging planter like this one is to arrange the embroidery hoops in a configuration that you like. In this case three hoops was the ideal combination. They're secured with a bit of hot glue in the spots where they overlap. You may have noticed that these hoops also have an interesting finish on them. To get this galvanized metal look you need black and silver paint. For more details check out the tutorial on ourcraftymom.