DIY Bathroom Shelves To Increase Your Storage Space
It is a truth universally acknowledged that a bathroom can never have enough storage space. There are the stacks of towels and wash clothes that need a shelf. There are bottles of shampoo and bars of soap. Boxes of Q-tips spill over and bags of cotton balls are stuffed into the empty spaces. And let's not get started on the feminine necessities for health and beauty. Every bathroom needs a good set of shelves to store all these fundamentals, but you don't have to empty your piggy bank for them. Try your hand at one of these DIY bathroom shelves that will increase the storage space in your bathroom.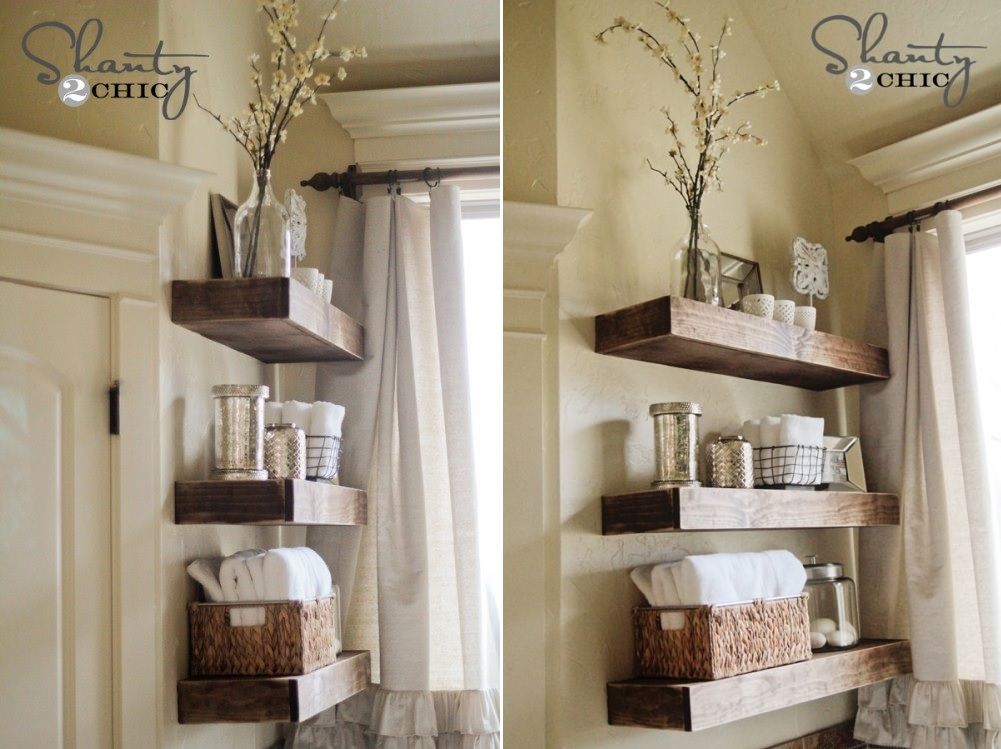 Simple wooden floating shelves are possibly the easiest DIY solution for bathroom storage. You can build them however long you need them to be and they will match with a myriad of decorating styles. (via Shanty 2 Chic)
We've seen photo ledges used as shelving before and here they are again. They make a really great option for tiny bathrooms that need storage without the bulk. Make sure you get the pretty shampoo bottles to display. (via 4 Men 1 Lady)
Pallets are a dime a dozen. You might even have one or two sitting in your garage. Repurpose them into vertical shelves that will give your bathroom storage wherever you might need it.
Everybody wants a rolling barn door nowadays. If you've been pining over a lack of funds, create yourself a miniature version for your bathroom! It's a great way to hide bathroom necessities like toilet paper and feminine products. (via Shanty 2 Chic)
Thinking you need a storage solution that's modern and simple? You found it right here. Straightforward boxes on the wall create a clean aesthetic that will flow with the rest of your modern home. (via Bob Villa)
Sometimes, a DIY project can be as simple as using an object for a purpose other than what it was created for. Namely, the IKEA spice racks. They make a great set of shelves to hold bottles and boxes in the bathroom. (via Your House and Garden)
Who ever complained about having an extra mirror in the bathroom? Especially when you live with girls. DIY this mirror cabinet that will also serve as a hidden storage space. (via Shanty 2 Chic)
Pipe is an obvious choice for any DIY when you're going for an industrial look. Keep it going even in the bathroom with these black pipe shelves. They'll give your bathroom storage a sleek pop. (via 7th House On The Left)
One bonus of rustic decor is that you can get away with leaving a piece paint chipped and a little discolored. Like using an old window as a door for shelving in your bathroom. The perfect place to display all your apothecary jars. (via Liz Marie Blog)
Perhaps you're on the market for a piece that will hide the unsightly bathroom fundamentals. Craft this clever shelf that will hide behind the sink and keep all your unmentionables within reach.