DIY Bathroom Shelves Offer Stylish Storage For Tight Spaces
DIY bathroom shelves offer extra storage in limited spaces. It doesn't take much to clutter a bathroom. Without shelving, toiletry items and other personal necessities are hard to locate.
One could always use extra bathroom storage shelves. Towels, shampoo, and toilet paper, to name a few, require shelving. If you're not sure what type of bathroom shelving you should install on your walls, we have a few examples and tips to get you started.
With bathroom over the toilet storage, like this example, you can maximize space and remain organized. Q-tips spill over and cotton balls are stuffed into the empty spaces. Every bathroom needs a shelf or two for personal hygiene products, and you should know there are plenty of inexpensive ways to create them.
DIY Bathroom Shelves For Small Spaces
The following DIY bathroom shelving concepts were handpicked by our team of editors and indoor design experts. You could also try your hand at one of these DIY bathroom shelves to maximize your bathroom space.
Simple Wooden Bathroom Shelves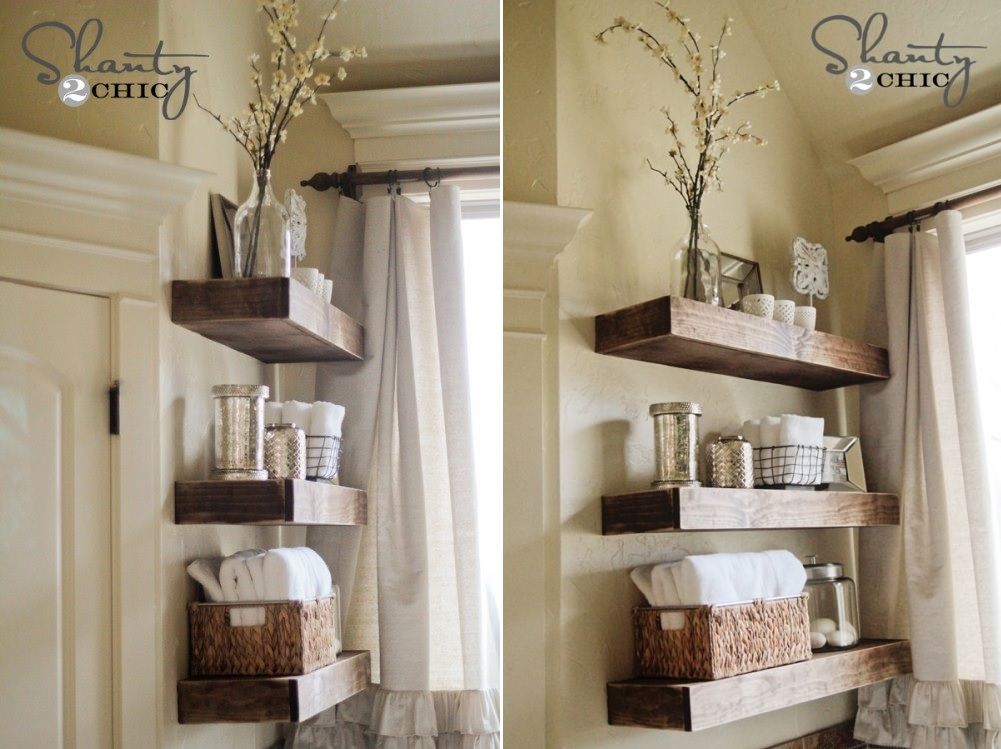 Adding simple wooden floating shelves are an easy DIY solution for bathroom storage. You can make the shelves as long as you wanted and they will match any decorating style. With open shelving, your most important bathroom items will always be on display, providing easy access.
Photo Ledge Bathroom Shelves
We've seen photo ledges used as shelving, and here they are again. This shelving style is a simple way for you to display your photography. There are plenty of ways to maximize your wall space with personal items that will give your home an individual style. This is a solid option for narrow bathrooms that need more storage without the bulk.
DIY Bathroom Pallet Shelves
Pallets are easy to find and also a good fit for any bathroom space. You don't have to build anything, other than saw the wood according to your wall space. You may already have a few in your garage. Repurpose the pallets into vertical shelves to create bathroom storage wherever you might need it.
Rolling Barn Door Bathroom Shelves
A rolling barn door is the hottest home decor item today. If you've been pining over a lack of funds, create yourself a miniature version for your bathroom. It's a convenient way to hide bathroom necessities like toilet paper and feminine products.
Bathroom Box Shelves
Bathroom rack storage projects are simple. As you can see here, small floating shelves for bathroom spaces create a farmhouse aesthetic that flows with your modern home. (Bob Villa)
Spice Rack Shelves
A DIY project, like these bathroom storage shelves, can be as simple as using an object for a purpose other than what it was created for. They make a great set of shelves to hold bottles and boxes in the bathroom. (Your House and Garden)
DIY Bathroom Mirror Cabinet
Whoever complained about having an extra mirror in the bathroom? Especially when you live with girls. DIY this mirror cabinet that will also serve as a hidden storage space. (Shanty 2 Chic)
Industrial Pipe Bathroom Shelves
Pipes are a common choice for any DIY shelving project. If you want an industrial look, then pipes offer the best remedy. Keep it going in the bathroom with these black pipe shelves. (7th House On The Left)
Bathroom Apothecary Shelves
The thing with rustic decor is that you can get away with leaving a piece chipped and discolored. Like using an old window as a door for shelving in your bathroom. The perfect place to display all your apothecary jars. (Liz Marie Blog)
DIY Bathroom Sink Shelves
Maybe you're looking for bathroom storage pieces to cover your personal toiletry supplies? Craft this clever shelf to hide behind the sink while keeping your private items within reach.
Bathroom Plywood Pegboard
One of the best ways to find some extra storage space in the bathroom is to go vertical, and this plywood pegboard DIY is a fun way to add some storage above your bathtub for houseplants, and stuff like shampoo and body washes, or other itsm that would otherwise end up scattered over a counter.
Leaving the wood unfinished gives this pegboard a crafty Scandinavian vibe. Add a variety of houseplants with different textures and colors to give the pegboard a more eclectic look. (Most Lovely Things)
Wicker Basket Shelving
If you want to add a natural element to your bathroom decor, adding elements like wood and stone is the way to go. The DIY containers add a wooden element to your bathroom's interior design without making it look bulky.
Even though this is a lightweight design, it's sturdy enough to hold bathroom items like hand towels and extra stuff like shampoo and conditioner. The angled design makes it easy to look in and see what you need to pull out, even if you're sitting on the toilet. (Snap Society)
Above-The-Door Shelf
You want the most out of your bathroom storage. This involves looking at some off-the-wall ideas. With this example, the above-the-door bathroom shelf uses vertical space and transforms it into a bathroom shelf.
This short shelf is good for storing stuff like bath rags, soap, or toilet rolls. It's a smart way to store extra toilet paper in the open without making it the focal point of your bathroom's interior design. (Homedit)
Rustic Wall Storage Bins
The biggest challenge in creating extra bathroom storage space is whether you have available wall space. Wall storage ideas capitalize on your vertical areas. With this example, the shelving unit adds an element of farmhouse charm while increasing organization. With the proper storage, your bathroom will have a streamlined feel. (Remodelaholic)
Antique Egg Basket Bathroom Shelf
For another take on the farmhouse bathroom vibe, this antique egg basket shelf is another reliable option. You want access to items that you need to see at a glance. Searching through bathroom cabinets for hairbrushes and cotton balls, for example, is a waste of time.
With this wire basket shelving system, you can leave them out in the open where they're easy to find. An organized bathroom can save time in the morning and before you go to bed at night. (Hello Hayley)
DIY Storage Ladder
In this example, you can see how a wooden ladder shelf bathroom system makes efficient use of available space. The ladder style features different shelf sizes in one unit. This example lets you organize your bathroom items since you'll have shelves small enough and big enough for toiletries.
Storing small objects on the smaller shelves and bigger objects on the larger shelves at the bottom of the ladder keeps the storage ladder looking balanced and uncluttered. (HGTV)
DIY Bathtub Spa Shelf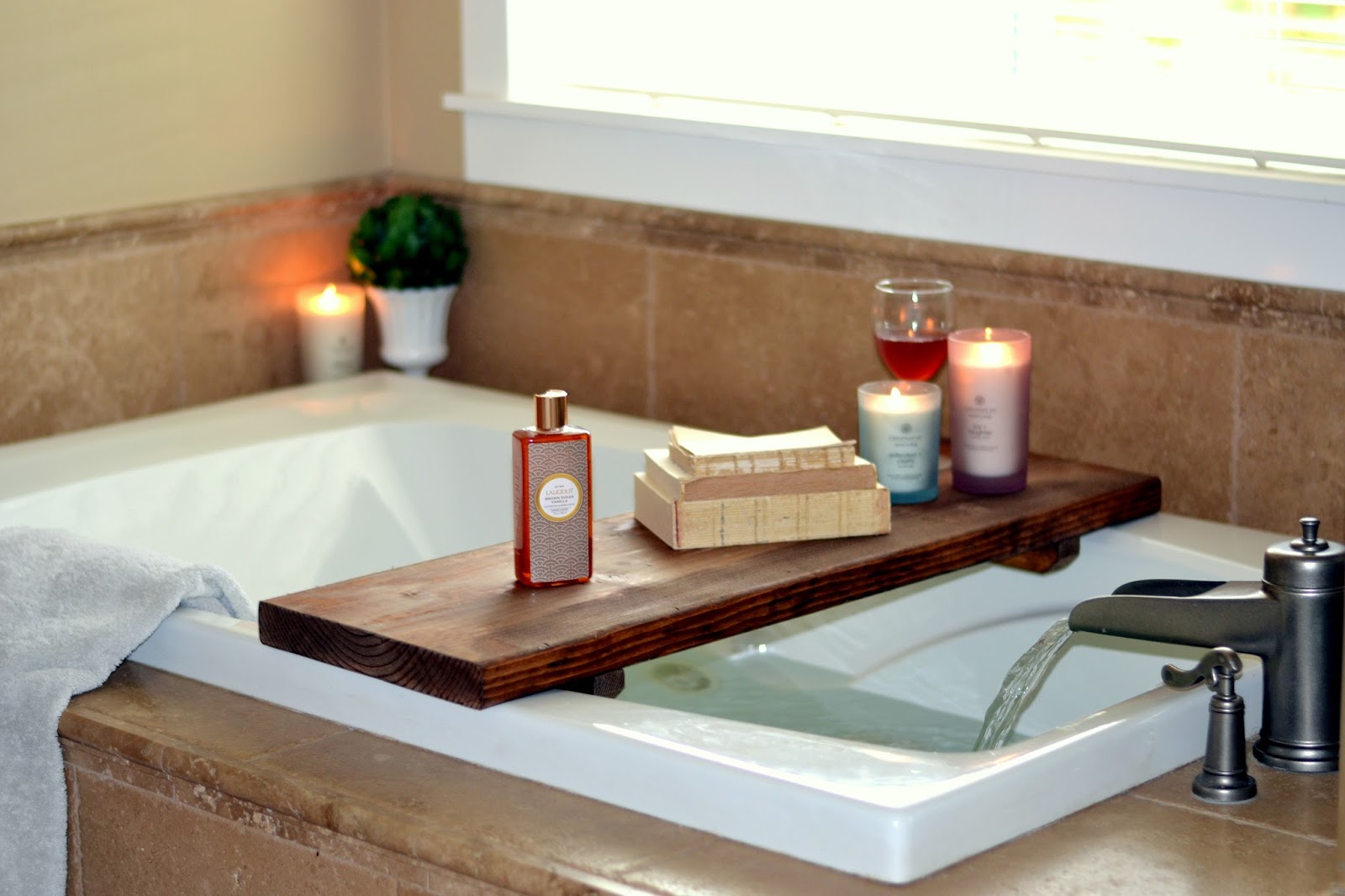 This bathtub spa shelf may not carry much, but it's the ideal size to hold your books, a candle, and a glass of your favorite wine. This bathroom shelving unit enhances a luxurious vibe without much effort on your behalf. You can also stain the shelf with a color suited to the palette of your bathroom's decor. (Rachel Teodoro)
Easy Rustic Bathroom Shelf
One of the coolest things about DIY projects is that you can create new items by upcycling old materials. This rustic bathroom shelving system at Remodelaholic uses an old piece of fencing to create a distressed wooden storage unit. You could also use new fencing or paint it to create a modern-looking shelf.
This shelf also fits well over the toilet so you can maximize your wall storage space in the bathroom.
DIY Leather Hanging Shelves
Hanging shelves may not hold as much weight as shelves with a solid base, but they add style and class to indoor spaces. The shelves use strong leather straps to hold them up and are a good match for storing lighter toiletries in the bathroom, such as toilet paper rolls and cosmetics.
These hanging shelves can be created with a few materials and offer a sleek minimalist look. (Collective Gen)
DIY Wooden Crate Shelf
This DIY project takes relies on salvaged materials to create extra bathroom space. The wooden crate shelves offer more storage than other DIY styles, but they may need more wall space to accommodate them.
Group like items together in this open shelving unit to prevent it from looking cluttered. They can be stained or painted to match a wide variety of bathroom designs, and they're tall enough to fit larger personal hygienic supplies like large shampoo and conditioner bottles. (Haute and Healthy Living)
Tic Tac Toe Toilet Paper Shelf
If you're looking for a more whimsical look for your bathroom storage, look no further than this Tic Tac Toe shelf from Hallmark. These game-themed shelves can be constructed with simple wooden planks cut down to size with a jigsaw, and the Xs in the design are painted to make them stand out.
You need a few toilet paper rolls to form the Os and that's it. You'll have ideal storage for a child's bathroom or anyone else who enjoys playing Tic Tac Toe.
(Hallmark)
DIY Toilet Paper Holder Shelf
Nothing is worse than running out of toilet paper when you're already in the bathroom, and this toilet paper holder shelf helps prevent it from happening. This small shelf is also a handy place to store your smartphone well away from any sources of water that might accidentally damage it if you want to keep it nearby while you bathe.
Add a piece of high-end hook hardware for a guest towel and some dark stain to give this DIY shelf a sophisticated look. (DIY Show Off)
Shower Corner Shelf
Installing a shower shelf on an already tiled wall is not complicated. Although bathroom shelving doesn't have to be waterproof, it's better if it is. Check out these shower stall shelves from Wit and Delight. This corner storage is ideal for your shampoo, conditioner, and body soaps.
The shower shelving system can hold your bath accessories in one convenient place. Keeping your soaps up on a shelf instead of leaving them where they can fall into the floor of the shower can help prevent a slip and fall situation, too. (Wit and Delight)
DIY Bathroom Radiator Shelf
Older bathrooms often have radiators, making the spaces difficult to design. This DIY radiator cover integrates the radiator into your bathroom design while adding a small shelf for extra storage.
Hiding bare radiator pipes can create a much sleeker look in your bathroom and can also make it appear more modern. (Shannon Claire Interiors)
Small Bathroom Floating Shelves
Due to limited space, creating extra storage in a small bathroom has unique challenges. Small bathroom floating shelves take advantage of vertical wall space. In this example, mounted storage bicycle wire baskets function as minimalist shelving units. Their light design makes them ideal for smaller toiletry necessities or decor items like potted plants.
Add a wooden insert to the bottom of each unit and won't have to worry about items slipping through the wire. (A Beautiful Mess)
FAQs
Will Polyurethane Protect Wood From Water?
Bathrooms are high moisture areas. As you know, moisture can harm unprotected wood. To protect your wooden storage system, you apply a polyurethane layer to your wood surfaces. This will safeguard your wood shelves from water and moisture. Polyurethane is also the most durable clear coat for wood.
What Is A Natural Alternative To Polyurethane?
Linseed oil is just as effective as polyurethane for your wooden bathroom shelving system. It's a non-toxic substitute that increases the durability of wood.
How Do You Hide Toiletries In A Bathroom?
If you don't want to install new shelving, then you could use a straw picnic basket, as an example. A straw basket would also compliment your country farmhouse decor if that was your interior style. As another option, you can use an old metal lunchbox to achieve a retro vibe.
How Deep Are Bathroom Wall Cabinets?
Most bathroom cabinets have a depth of under two feet. This applies to all shelving styles including countertops and floating cabinets.
What Are The Shelves Over A Toilet Called?
A shelf installed over a toilet is an over the toilet organizer. The storage item is an essential element for small bathrooms. It allows you to optimize vertical bathroom space while organizing your personal items.
DIY Bathroom Shelves Conclusion
The bathroom might be one of the smallest rooms in the house but also the busiest. It doesn't take much to clutter the small spaces. From toothbrushes to toilet paper, there's no shortage of things that need to stay in the bathroom. Most have personalized stuff they keep together in their bathrooms, which creates more disorganization.
Without plenty of storage, these items end up sprawled all over the bathroom counter and make it much harder for people in the home to use the space efficiently. Increasing your vertical storage by adding bathroom shelves can help make up for the lack of floor space. Making these shelves yourself can also help you add a personalized touch to your space that everyone who visits your bathroom will appreciate.