What Makes A Contemporary Living Room Look Beautiful And Welcoming? We Have The Answer
Designing a contemporary living room that looks edgy, simple and trendy without losing functionality and without diminishing comfort isn't easy. Finding the right combination of looks and function is always a struggle especially when there are so many different design strategies and so many cool and interesting ideas to explore. We'd like to make that process easier for you by sharing some of our favorite contemporary living room designs.
A comfortable sofa is a big part of what makes a living room feel welcoming and friendly. Another element that plays an important role in the overall look and ambiance of the living room is the coffee table. Here you can see a live-edge coffee table set complementing the rest of the furniture in a very charming way. This is a design done by studio JWA.
Simplicity defines most contemporary living rooms. That means no unnecessary furniture and not too many colors or finishes. Also, a lot of living rooms these days are part of open floor plans that also include the kitchen and dining area. Here you can see that even though these functions are clearly delineated, they still remain connected. A nice compromise created by studio Pierattelli Architetture.
You can choose to be trendy by opting for a timeless design. Yes, it's an unusual statement but it works. Check out this stylish living room designed by Maya Sheinberger. It makes use of the classic black and white combination and it combines these with soft gray nuances, shades of blue and natural wood.
The architects at SAOTA chose to play with contrasts and to put together raw concrete and velvet, bland grays and rich blue tones. These extremes give this living room lots of flair and character and also make it seem surprisingly warm and inviting.
A dark color palette doesn't necessarily make a living room feel gloomy. It's all a matter of finding the perfect balance between the different color tones, materials, textures and finishes involved. Here you can see a beautiful representation of that in a living room that plays with light and dark surfaces in a very graceful and enjoyable manner – a project by studio Daha.
A big sitting area is sometimes essential, especially if you entertain people a lot or if you have a large family. A sectional sofa in the piece of resistance in this case, occupying most of the living room floor plan. Modular sectionals are a very practical option as they allow you to reorganize the space with ease. This particular living room was designed by Didonè Comacchio Architects.
A contemporary living room doesn't need to be large in order to look airy, fresh and inviting. A small setup such as this one has the advantage of being extra cozy. The area rug adds a geometric twist to the decor and turns the floor into a focal point. This apartment was designed by Dana Shaked.
Every living room needs a focal point. A big painting or any type of artwork in general can successfully take on that role, adding color to the room and expressing a unique style at the same time. In the case of this living room designed by Life Spaces Group an oversized painting is casually leaning against the wall, complementing the minimalist furniture.
Warm colors, soft textures and organic forms always help to create a pleasant and comfortable ambiance and you can use these elements in your favor when designing a contemporary living room. This design done by The Room Studio is a good example.
Large windows are often a part of a contemporary living room's design. They open up the room and let in lots of natural sunlight plus they often frame beautiful views. A disadvantage is however the fact that you can't place furniture against them so everything needs to be clustered towards the center of the room. This living room designed by studio arches makes the most of its huge windows.
A minimalist aesthetic gives this living room a very clean and airy vibe. The interior design is almost exclusively revolving around whites with a few light gray and beige accents. Full-height windows and sliding glass doors seamlessly connect it to the outdoors while also letting in lots of natural light. This was a project by Gallardo Llopis Arquitectos.
White walls and a minimalist decor also define this stylish space designed by [i]da arquitectos. The living room has wooden floors, a divider with a built-in corner fireplace, large sliding glass doors and casual furniture with a hint of industrial charm.
Wood surfaces and earthy colors are great at creating a warm and comfortable ambiance in a room, whether the style is contemporary, traditional, rustic or even industrial. In this living room designed by Gianserra + Lima arquitectos you can see exactly how that plays out.
This is a living room designed to put the entire focus on the views. It's framed by full-height glass windows on three sides and it has minimalist furniture reduced to a modular sectional, a low freestanding unit, sleek side tables and comfy crochet poufs. The fireplace is the only dark-colored feature in the room. This is a design done by Reitsema and Partners.
The staircase wall makes a nice backdrop for the living room sofa and together with the media center adds warmth to the space and creates a pleasant connection between the interior decor and the backyard which is right outside, separated by sliding glass doors. This is a house designed by Ronnie Alroy Architects.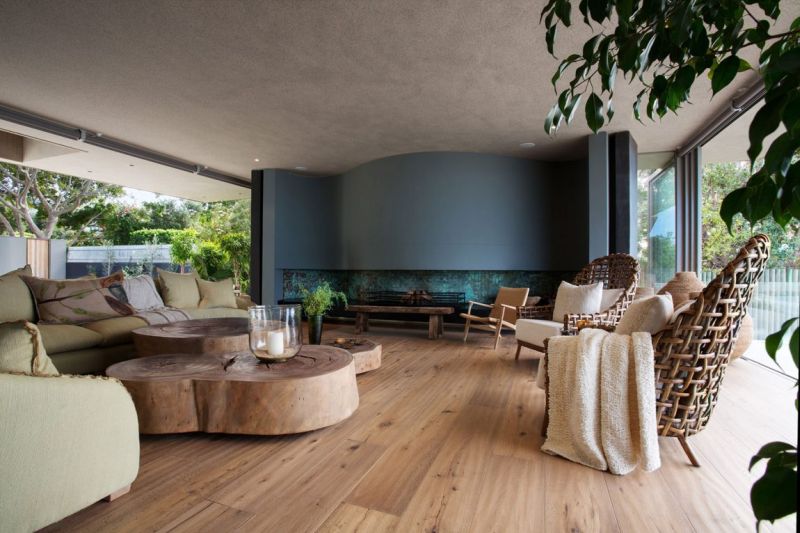 In the case of this holiday home, like many others, the inspiration for the interior design comes from outside. The gorgeous views and the surrounding landscape are translated into a living room setup defined by smooth curves, natural materials and earthy colors. This is a project by SAOTA.
A seamless transition between the indoor and outdoor is a must if you want to open up your living room to the backyard or the garden. In this case the matching flooring and sliding glass doors do a great job at ensuring that. The high wooden ceiling adds warmth to the entire floor plan and gives an airy and spacious feel. This lake house was designed by FARQ Architects.
A white floor and similarly crisp walls and ceilings create a very fresh ambiance in this living room and the rest of the house. To add contrast, studio W&Li Design chose darker shades of gray with hits of blue and stylish metallic accents complemented by glossy black surfaces.
Instead of solid walls, this open plan living area uses different types of flooring to delineate its different functions. You can see here how the tiles meet the living room flooring and create a clear visual separation between the sitting area and the dining nook. The same type of tiles was also used in the kitchen which is adjacent to this room. This was a W&Li Design project.
Darker color tones was used in this living room and they look amazing. The blue surfaces have a calming effect of the space while also looking majestic and modern and the light brown leather on the sofa is complemented by darker browns featured on the area rug and the mural. Once again, this was a project by studio W&Li Design.
Neutral colors are not always synonymous with bland and boring decors. Gray may not seem like the type of color which has lots of character but you'd be surprised at how much success you can have with it when decorating a contemporary living room. This right here is a perfect example.