Living Room Lighting Ideas That Inspire Us To Think Outside The Box
In case you didn't already know this, the artificial lighting can greatly emphasize the way we perceive a space, the mood created inside and the important given to certain functions or design elements. Today we're focusing on living room lighting, particularly on the different types of fixtures one can choose from and the numerous interesting ways in which they can be displayed or organized throughout this space.
Pendant lamps above the dining table
Most living rooms these days are actually open spaces and also include the kitchen and the dining area. That means you have to plan the lighting accordingly. The dining table needs its own source of artificial light and a pair of hanging pendant lamps are often a very good solution.
Think symmetrical
Sometimes it helps to create a symmetrical arrangement and that's especially true in the case of interior lighting. In the living room, you could have two matching floor lamps placed in opposite corners of the space or at each end of the wall unit.
Layered lighting
Basically all interior designers suggest layering various types of light fixtures and sources in the house. You should have ambient lighting, task lighting and accent lighting in the room, although the latter is optional. In this particular case the ambient lighting is provided by the ceiling fixture while the floor lamp offers task lighting.
Turn a light fixture into a statement piece
When it comes to living room lighting strategies, the chandelier often serves as a focal point for the space. It's a statement piece and also a feature that completes the room and offers overall illumination for the space.
A lighting installation
Speaking of focal points and statement pieces, one idea is to hang multiple pendant lamps or fixtures and to create a cluster of light sources, each possibly directed towards a different section of the room in order to provide uniform lighting throughout the room.
Corner lighting
As it turns out, room corners are perfect spaces for putting task light fixtures in. Most often you'd see a floor lamp or a table lamp there, sitting to the side of the sofa and offering focused lighting for reading or mood lighting when the ceiling lights are off.
Small and portable
In a living room is can also be practical to have some sort of task lighting which can be moved around, like a small table lamp for example. You could keep it on a side table by the sofa, on a shelf or pretty much anywhere else you think you might need it.
A floor lamp by the sofa
The living room sofa is the central piece of the room and it's important to have proper task lighting in this area. A large floor lamp like this one would be great for reading plus it would also serve as a visual focal point and a decoration for the space.
Low-hanging pendant lights
You've probably seen this type of fixtures in stores and you thought they sure look nice and sophisticated but your low ceiling wouldn't really let you have them in your home. Well that's not entirely true. Low-hanging pendant lamps can become living room lighting sources and visual focal points for corner spaces.
A cluster of lights
Some light fixtures, modern chandeliers and pendants in particular, let you play with the length of each individual segment and feature clusters or lights rather than a single structure which incorporates them all. This offers more flexibility and more room for creativity and customization.
Focused ceiling lighting
Multiple ceiling lights can provide a somewhat uniform glow throughout the room but can also be strategically placed to highlight certain areas of the room. In this particular case the mirrors reflect the light which is quite helpful.
Sculptural floor lamp
There are a lot of cool floor and table lamps that have these beautiful, sculptural designs. They have a double role, that of light fixture and that of ornament. Also, tall and curved floor lamps are cool because they provide light from above without requiring ceiling installation.
Multiple lamps in the same room
If you feel like a single lamp isn't enough for your living room, add another and another and consider matching designs with different proportions. For example, a tall and a short lamp can sit side by side.
A pendant lamp installation
Think of a pendant lamp as more than just a source of artificial light but also as a decoration for the living room. An interesting idea can be to mix and match various pendant lamps with simple, geometric forms.
Chandeliers complemented by spotlights
While most living room lighting installations place the chandelier at the center of it all, sometimes that's not enough. It's practical to have additional ceiling light sources spread across the room in order to create a comfortable ambiance.
Wall lights
Ceiling lights are super common and almost every living room has them so if you want your home to be special you have to think outside the box. An idea could be to install some light fixtures on a wall to create an eye-catching display.
Every light fixture is an ornament
Every light fixture is an ornament for the room you put it in and that's true not just for chandeliers and pendant lamps but also for every other type of fixture. It's important to consider both sides before choosing a design over the other.
Looks and function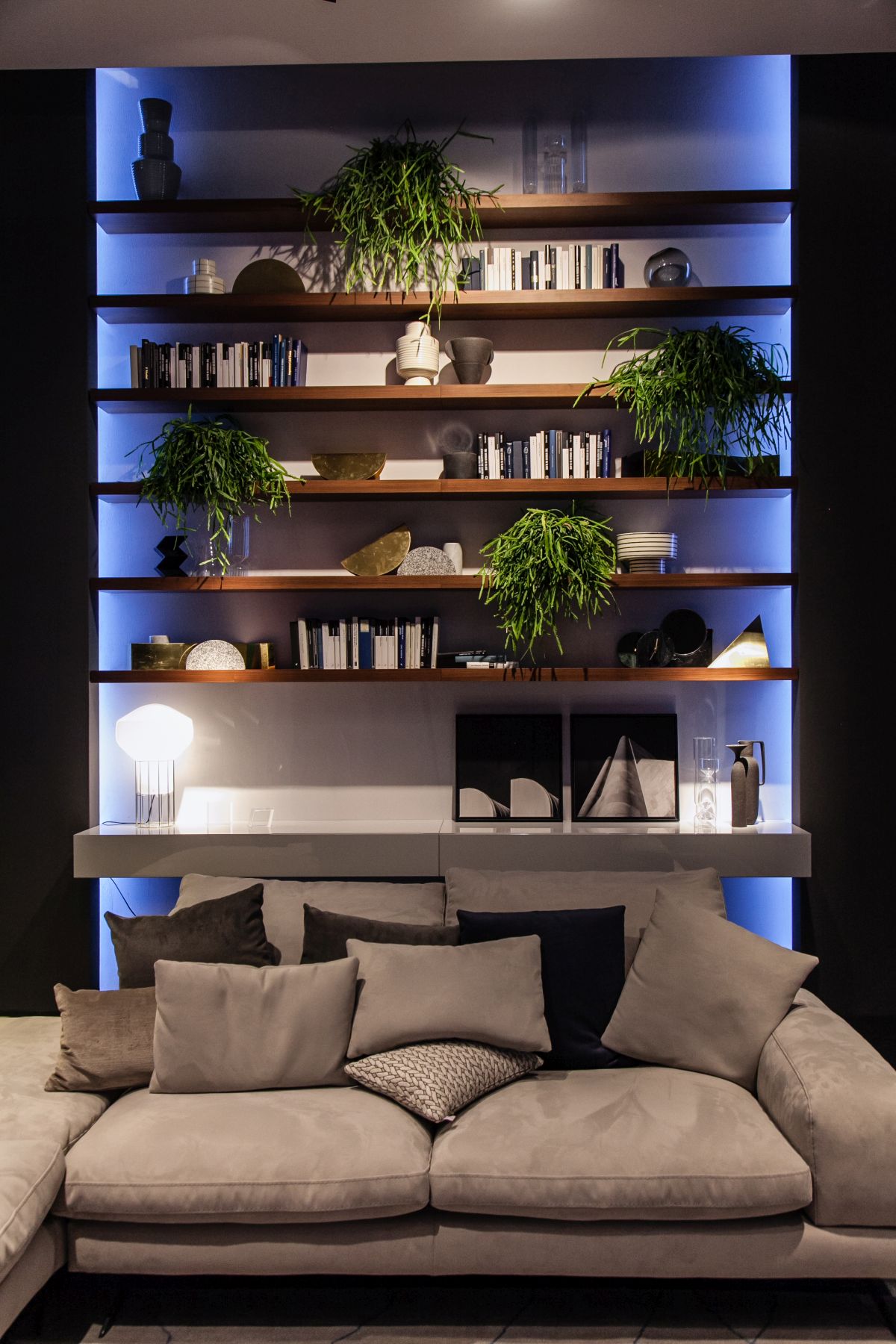 When it comes to choosing task or accent lighting, it's important to consider not just the design but also the exact placement of the fixture. A small table lamp for example can have a special spot on a shelf behind the sofa so it can offer indirect and comfortable light.
Perfectly centered chandelier
There's often a question we're faced with when hanging the living room chandelier. Should it be positioned at the center of the room, above the sofa or directly above the coffee table? Sometimes this decision is made for us but sometimes we have to offer a solution. The option that's usually preferred is the chandelier hanging above the coffee table.
Mix and match
The direction often preferred by most interior designers involves the use of multiple types of light fixtures and sources in a living room. For instance, a chandelier used in combination with a floor lamp, a table lamp and even one or two sconces.
Decorate with pairs
There's one more idea that we'd like to mention here today. We've seen a lot of charming spaces decorated with pairs or groups of matching objects. That's a lovely way of highlighting a certain design detail or attraction attention in a subtle and pleasant manner. This applies to floor lamps, planters, chairs and pretty much everything else.