Cool Ways To Save Space With Built-in Bunk Beds
Small bedrooms raise all sorts of challenges, most of them related to the fact that there are too many things to put in there are too little space for everything to actually fit. Common solutions include multifunctional furniture designs and space-saving options such as Murphy beds or if it's a shared bedroom, bunk beds.
In each case the customization possibilities are almost endless. Today we're focusing on built-in bunk beds and the many ways in which they can be useful and cool-looking at the same time.
When they designed a family home in Ullastret, Spain HARQUITECTES explored ideas which would allow them to maximize the floor plan and to keep the design simple and practical without making compromises when it came to looks or comfort. These built-in bunk beds are just one example.
In the design created by h2o architectes for a home in France, the bunk beds are seamlessly incorporated into a complex custom-built unit which covers a large section of the room. This design allows a multitude of features and elements to be connected and clustered on one side of the room, leaving the rest of the space open and able to serve a variety of different purposes.
The built-in bunk beds in this kids' bedroom are not just very practical and space-efficient but also very stylish and cool-looking. The attention to detail really pays off in this case and the fact that the style is minimalist doesn't diminish that in any way. This was a project completed by Minimal Design.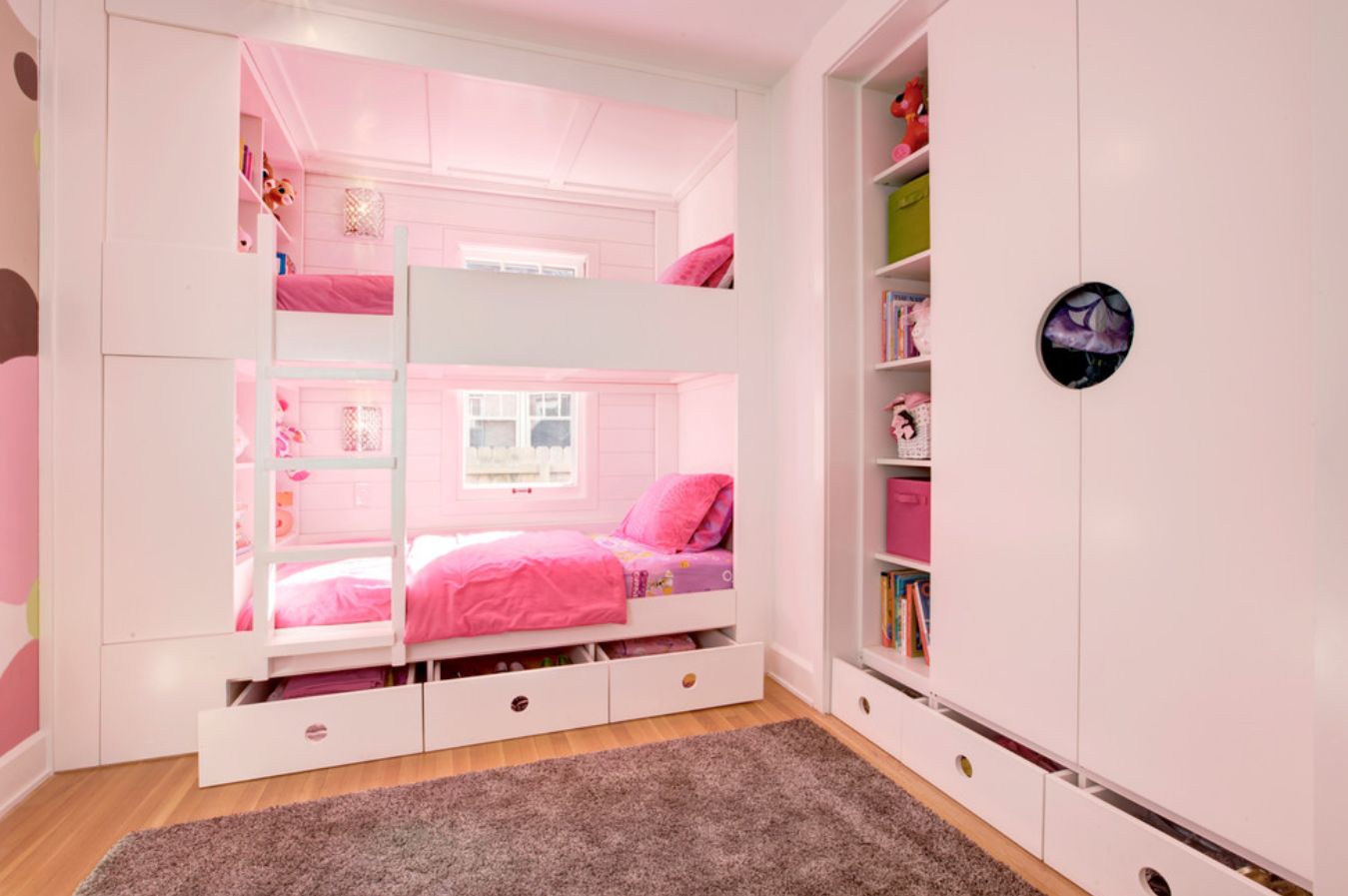 Architecture and design studio HAUS also came up with a great way to integrate bunk beds into a custom, multifunctional furniture unit which takes care of all the users' needs. This is a cute design for a girl's bedroom which features pull-out storage drawers under the bottom bunk and open shelves for each sleeping nook.
Built-in bunk beds are most common in children's rooms but they're actually super versatile and also a great space-saving option for cabins, holiday homes and guest rooms in general. Sometimes it's even convenient to design a shared bedroom which has the usual king-size bed and, in addition to that, 2 more bunk beds neatly integrated into a built-in furniture unit. This, for example, is a design done by studios SeARCH & CMA, part of the Villa Vals project in Switzerland.
When they were asked to remodel a top floor apartment in Moscow, studio Ruetemple put a lot of effort into making their design both functional and playful. One of the coolest they designed is this built-in bunk bed unit which is space-efficient, taking advantage of the attic space, as well as super fun for the kids. At the same time, safety and comfort were top priorities.
This bedroom designed by Zone 4 Architects has not two but actually four beds. The built-in bunk bed system they designed maximizes the small floor plan and even leaves a bit of room for other things as well. On top of that, there are also pull-out storage drawers under the two bottom beds which eliminates the need for separate closet space.
A triple bunk bed system makes the most of this otherwise small bedroom designed by Manchester Architects. Each bunk has a sort of bedside table and a small wall nook with shelves. The top bunks also have safety railings. The all-wood structure gives the design a traditional look with rustic hints.
The built-in bunk bed system designed by studio Demesne transforms the sleeping area into a separate section of this rustic bedroom. This creates a clear distinction between the day and night zones. At the same time, the bunk bed module featured built-in bookshelves on one side.
Mountain-style cabins and built-in bunk beds go hand in hand, as shown in this rustic lodge designed by Reitz Builders. This small bedroom can sleep four and the ambiance inside is warm and cozy thanks to all the wood and the pleasant ambient light.
Architecture and design studio Incorporated managed to squeeze four beds into a single bedroom. Their design takes advantage of the corner space and blends the ideas of comfort and fun. As a result, the built-in bunk beds allow this area to serve as a playroom, featuring a playful design with carved out holes and even a small chalkboard surface.
Here the idea of turning the built-in bunk beds into a separate sleeping nook is taken one step further. Each bunk has curtains which can offer privacy and which can hide the beds during the day. The separation is useful not just for aesthetic purposes but also because it completely changes the ambiance in the room. This was a project by Sarah Bernard Design.
A small house or studio apartment sometimes doesn't have enough room for a living space and a sleeping area, not if they're both to be spacious and inviting anyway. Since completely giving up one of these functions isn't really an option, connecting them into a single space can be a suitable compromise. Check out this ingenious design created by Significant Homes. The bedroom is actually a built-in bunk bed unit hidden behind sliding barn doors.
Built-in bunk bed systems like the one designed by Kistler & Knapp are ideal if you want to compartmentalize a large space into sections without actually relying on traditional walls. The bed form a separate and very cozy sleeping nook but remain a part of the open floor plan. In a way this is like sleeping inside a big box which you can put in your living room. You don't need to build walls. You just need a sliding door. A curtain can work too.
Built-in bunk beds are also a practical option for guest bedrooms. If there's enough space in there you can have a queen-size bed and in addition to that two (or more) bunk beds. This way your guest room can be flexible and can adapt to the number of guests you want to accommodate at any given time. It's always good to be prepared and this is actually a very cool idea. This particular room was a project done by Coburn Design.