The Best Micro Apartments In The World Reveal Their Clever Interior Designs
How small does an apartment actually have to be for it to be considered small? What's small to some people might be tiny to others or standard to some. What about a micro apartment?
Well, we can assume that it would have to be pretty tiny so how do you imagine such a space looks like and what could you fit in such a small space anyway? Would you be able to live in such a tiny space?
While it's true that anything smaller than 35 square meters is challenging in terms of interior design no matter how you organize it, you'd be surprised to see just how spacious some of these micro apartments actually are. Some even make you wish you lived there yourself. In the images that follow we'll show you the best micro apartments around the world, from smallest to largest.
13 square meters packed with function
At only 13 square meters, this apartment designed by hammock by the window.
A 15 square meter rooftop apartment
Located on the rooftop of an old building from Beirut, this micro apartment has a total floor space of only 15 square meters. It's a space designed by studio Eliemetni who named the project Shoe Box. The apartment was specifically designed with visitors in mind, the client wanting to rent it to guests via AirBnB. That being said, the designers tried to pack as much function as possible in this tiny space and it order to do that without making the apartment actually look minuscule they painted the space white and even coated the floor in white epoxy.
15 sqm attic remodel
What could you possibly do to make an attic space of only 15 square meters be functional and pretty? Well, let's see. Batiik Studio was faced with this exact challenge when they had to transform a tiny attic in Paris into a cool and modern space that someone could actually live in. This used to be a dark and outdated space but now it looks modern and chic. To achieve this result, the designers first removed the partitions and opened up the space. They moved the kitchen to enlarge the bathroom and they placed it on a platform that features a bed inside. When it's sleeping time, the bed can be just rolled out and during the day a kitchen counter unfolds and the area can be used as a dining space.
15 square metres of organized storage
You wouldn't expect a 15 square meter space to include a lot of storage but wait till you see this artist's studio from Tel Aviv. It was designed by Israeli architect Ranaan Stern and, because it doesn't need to function as a complete living space with a bed, a kitchen and everything else, that left plenty of room for storage and workspace. The owner, an artist, is a collector of art pieces, books and other things. It was important to have enough space to store and to display all these items and the team spend a total of four weeks planning everything, measuring each object and organizing everything into categories and then into groups. You can see the results in the pictures.
19 square metres organized with plywood units
As you're probably suspecting already, there are many ways to make the most out of a
tiny space
. We're excited to show you the solutions that creative architects and
interior designers
have found so far so we'll continue with a 19 square meter micro apartment from London. The interior was designed by studio Ab Rogers Design and the solution found was to create two plywood units, each incorporating multiple functions. One of the units features a set of
steps with drawers
built into them. Inside the unit there's also a double bed and under it there's a series of cupboards. The other unit frames the bathroom and the cooking area plus some extra storage are organized on its exterior.
20 square meters and a wall of secret storage spaces
This micro apartment is located in New York City and was designed by MKCA. The coolest thing about it is the secret storage wall which makes the 20 square meters actually seem spacious. The storage wall consists of a large cabinet full of features including a pull-out dining table which can also be used as a desk, a small pantry and a computer compartment. In addition to that, the apartment has a Murphy bed which greatly reduced the used floor area and makes it possible to fit a bedroom, a living room, a dining area and a kitchen in such a tiny space.
A 21 sqm apartment with a high ceiling
It definitely helps if the apartment has a high ceiling. This opens up a whole range of possibilities. One option is to create a mezzanine level. That's exactly what studio Spamroom and architect John Paul Coss chose to do when they were asked to remodel a 21 square meter flat in Berlin. The original layout of the apartment had already been altered several times in an effort to increase functionality but that only resulted in a bad distribution of the spaces. That's why the team emptied the apartment and even removed all the interior walls. Starting with a blank canvas, they were able to come up with a better plan. A pine-clad unit was placed at the center. Its role is to house the bathroom and to separate the entryway from the kitchenette. Further more, they added a mezzanine bedroom and a floor-to-ceiling storage unit.
22 sqm flat with a full bath
22 square meters is not a lot of space and usually the bathroom is such an apartment only has a shower. However, the owner of this micro apartment from Taipei City really wanted to have a tub in her bathroom so the studio A Little Design found a way to make that happen. The team also managed to a lot a other cool features in this tiny space, including a floor-to-ceiling storage unit, a kitchen with space for a washing machine and a mezzanine level with a bed and a desk. There's also a living area with space to exercise.
25 square meters of cozy living space
One piece to rule them all – that's how we'd describe the design strategy used by Naimi Architecture in the case of this micro apartment from Barcelona, Spain. The idea here is that the apartment is subdivided by one main piece of furniture. this piece is a hybrid unit which incorporates a bed, a wardrobe and a cupboard for the washing machine. It's one of the several space-saving design solutions employed by the team. Its role is obviously to save space but also to serve as a space divider. The apartment is only 3 meters wide and has a total floor space of 25 square meters.
A 26 sqm artist's studio
It's not easy to become detached from the outside world when you're living in a busy city so when an artist came to Spheron Architects requesting that they transform a 26 square meter micro apartment in London into a hermit retreat where he could live and work, they took the challenge head on and started searching for creative and unique ideas that could help them achieve that. The main goal was to recreate the tranquil beauty of a remote monastery in Belgium into this London flat. In order to achieve that, the designers came up with the idea of two large storage unit placed at either end of the space, each able to hide various functions. One of the units is clad in timber and conceals a kitchen and wet room. The other one incorporated a fold-down bed, a wardrobe and a storage area and is covered in large mirrors. This leaves the rest of the apartment empty and the designers only furnished it with a simple desk and a chair.
A 29.5 sqm micro apartment with a moving wall
Since there is no physical way to add more space inside a micro apartment, alternatives have to be found in order to maximize the functionality of the space. We've already seen some pretty amazing ideas so here's another one that comes from architecture firm PLANAIR. They recently designed a micro apartment in Milan, Italy. The apartment only measures 29.5 square meters but somehow manages to incorporate everything that one would need in a full-size home. This was possible by adding a moving wall. The wall can be moved to hide or reveal certain spaces and functions and is packed with features such as a fold-down desk, a table, open shelving, storage and a mirror. The apartment also has a small kitchen, a living area with a sofa, a dining space and a Murphy bed.
30 sqm rentable apartment with a modular peg wall
There's a lot going on in this 30 square meter apartment from Budapest so let's check out the main features. First of all, you should know this apartment can be rented via Airbnb and was designed by Position Collective. One of its main features is a plywood storage unit that has a bunch of detachable shelves and pegs. These can be reconfigured in lots and lots of different ways based on each visitor's needs. The modular system makes the apartment highly functional, customizable as well as pretty fun and playful.
Everything you need in 31 square meters
Downsizing has become a thing lately as we start to run out of space in big and crowded cities. When you think about it, 31 square meters of space isn't that little. It's enough to include a cozy sleeping area, a small kitchen, a bathroom and a living and dining space. This micro apartment located in Manhattan, New York has all of that and more. Its interior is designed by Allen + Killcoyne Architects and, as you can see, it's pretty spacious-looking, bright and welcoming.
35 square meter apartment with a wooden sleeping box
It's a bit annoying that the sleeping area occupies so much space in a home. Fold-down beds are really great in that sense because they help us save a lot of floor space during the day but they're the only space-saving solution. Another one is featured in this micro apartment from Moscow which was designed by Studio Bazi. It has a total floor area of 35 square meters so it's actually one of the largest ones in this category. Inside you can find an open plan living area with plenty of natural light and a very cozy-looking wooden box. The box serves as a sleeping area and is raised above the floor. A set of stairs with built-in storage offers access to the space.
A 35 sqm apartment with two beds
The apartments are getting pretty spacious towards the end of our list so let's see what a 35 square meter apartment packed with cool space-saving features looks like. We've chosen as an example this apartment in London designed by CIAO. The client requested that the apartment be able to accommodate visiting friends and family without having to compromise on space and the designers came up with the idea of an open-plan interior with built-in furniture. One of the main pieces is a plywood bed platform which has a second double bed hidden underneath. The steps leading to the platform have built-in drawers for extra storage capacity.
36 square meters organized via storage units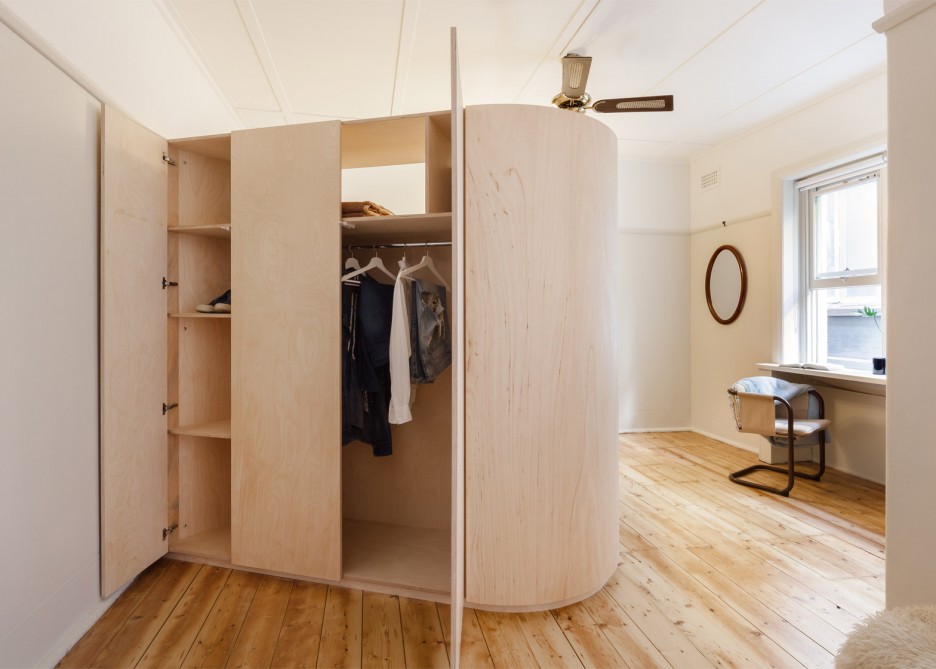 This micro apartment in Sydney has a floor area measuring 36 square meters and is organized into three rooms. The apartment was renovated by studio Catseye Bay. It has a bedroom, a kitchen and a bathroom. Designer Sarah Jamieson was in charge or remodeling these spaces in order to be able to also incorporate a living area and a dining space. One of the most important decisions that ensured the success of the project was the addition of a wooden module which divides the functions and incorporates big elements such as the wardrobe and the bookshelves.
51 sqm in Hong Kong
Measuring 51 square meters in total, this apartment in Hong Kong is the biggest one on our list. Its interior was recently remodeled by Design Eight Five Two (DEFT) who were tasked to reorganize the layout to make it less cramped and cluttered. The solution in this case was to add a series of modular furniture pieces and sliding walls. The furniture can be moved around and the sliding partitions can be used either to divide the apartment into rooms or to leave it as one single space.