Modular Shelving Units That Grow With Your Collections
There's always some kind of flexibility when decorating with shelves as they can be used in multiple ways either to display things or to store and organize items. Modular shelving takes all that to a whole new level by being even more practical and even more versatile and flexible. They're designed to be installed and showcased in various different configurations and to be rearranged based on one's needs and preferences. Let's see what else they offer.
Whether you need a simple shelf to complete an already diverse and storage-friendly decor or you need a complex shelving unit to hold a large book collection or to fill an empty wall, the DYNKS shelves can be of great help. The individual modules are made of birch plywood available with a variety of finishes and they can be connected to others like them using fixing screws.
Designers Eva Paster and Michael Goldmacher created a stylish bookcase which can be used as a single individual wall piece or in combination with several others to create larger shelving units. It's made of MDF and it comes in several different colors which can be mixed and matched as desired.  The hanging bookcase is called Randomito and was first introduced in 2011.
The Stacked system is the very definition of modularity. This is a system composed of several modules which can be rearranged and repositioned to serve various different purposes. For instance, they can be stacked to form a side table or several can be connected with clips to make a room divider or an entertainment center.
Cubit is another extremely versatile shelving system made up of individual modules which can be combined and organized in endless ways. Not only that, but you can get the modules in various different colors and you can even combine those if you'd like to create a multicolored arrangement.
It's definitely great to have shelves readily available right when you need them but if you have nothing to put on them, they lose their practicality and can even make the space look less appealing. With Fläpps there's no need to worry about that because they can fold up and disappear on the wall. It's also possible to mix and match them, all using the same mounting mechanism.
This graphical shelving system designed by Luca Nichetto of Nichetto Studio tricks the eye with its playful appearance. The design is based on the Zodiac hexagonal framework which allows the system to be configured in various different ways.
Perfect for displaying books, collections and pretty much anything else, the Brass Rail Shelving system features shelves made of solid wood and a metal frame. The shelves can be installed at various different heights and you can have as many as you want as long as they can all fit. Each shelf can hold up to 100 lbs which is around 45 kg. The unit was designed by Ryan Taylor.
The CV Shelving System is incredibly versatile and practical for the simple fact that it can be used in more than one setting. For instance, it can serve as a storage unit for the office or as a furniture piece for the living room. It can even be used in stores.
Vertical gardens never looked so great. Thanks to the geometric shelves designed by Luisa & Lilian Parrado, potted plants can be beautifully displayed on walls in a simple and stylish manner. The shelf features several sections which are made of thin steel tubes connected by polypropylene strings. The shelves which hold the plants are made of concrete.
The idea behind the design of the Plakativ system is a simple one: a 3D grid that doubles as a modular shelving unit. It consists of a perforated back panel with pins that needs to be attached to a wall. Various shelves and modules can then be attached, featuring built=in holes that allow them to be rearranged at different angles.
In addition to being very practical and versatile, the Basso Shelf System is also interesting through the fact that it's made of readjusted fiber cement which is a very eco-friendly and sustainable material. The modules in this series are designed by Thomas Feichtner. they're rigid and lightweight as well as weather-resistant.
The customization possibilities of the Kit G Sticotti shelving system give it a highly flexible character. The whole system is attached to a master wall-mounted bracket and the shelves are connected using a customizable interlocking system. More shelves can be added whenever needed and the system can be expanded.
It's easy to get extra storage in a room when there are so many great modular systems to choose from. One of them is called Plane and it's designed by Sebastian Bergne. It's the type of unit you can add to any room of a home, in various different forms. The system adapts to fit the space you put it in.
The inspiration for this modular shelving system came from the designs of reconfigurable children's toys. The shelves themselves look playful and fun. They're designed by Khalil Jamal and they're just one of the three pieces included in the series. The other two include a side table and a seat.
This is Tekio, a modular shelving unit with mid-century inspired design. It's made of a combination of wood and metal, including oak, walnut, aluminum and steel. Nine configurations are available. They differ in size and complexity and they all have adjustable heights.
This is a design that shows just how versatile a modular shelving system can really be. The concept was custom-made for the interior of an AlpStories cosmetic store designed by Brigada. The store features these rows of wooden panels on their walls and a bunch of square modules hanging from them.
It's called the Link Shelf and it's a modular system designed by Studio Hausen. It's composed of a series of thin boards made of ash wood and sets of thin black steel mounting brackets. They can be mixed and matched in a variety of ways to create custom shelving systems.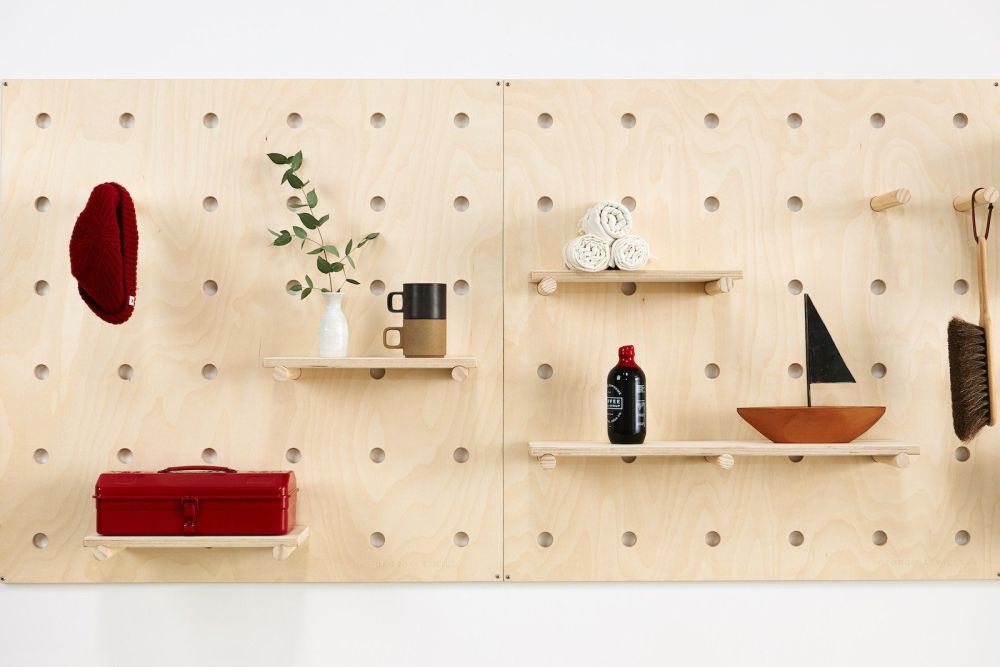 Pegboards are known to be practical and highly versatile but they're not usually considered an elegant option for spaces such as living areas or homes in general, being usually restricted to offices and workshops. The Bang Bang Pegboard is a beautiful and inspiring exception.
Anything that can hide clutter easily is an excellent storage and display solution for pretty much any type of space. Thinkk Studio created a system of storage modules which can either be used individually or in groups. They're available in several different colors and finishes and they consist of wooden shelves and perforated aluminum panels.
Given how simple and well-balanced the design of these shelves is, it's possible to stack several without compromising the integrity and balance of the unit. The shelves are interconnected using rods and bolted joints. They can be easily assembled and they're excellent for storing growing book collections or other items.