Backyard Pool Designs: Innovative Ideas For Your Outdoor Space
There are many backyard pool designs that can make your living space a more enjoyable environment. When you browse for swimming pool ideas and styles, think of your backyard as a refreshing outdoor living room.
There are things to consider when planning a backyard swimming pool. You'll need the right information for your contractor and designer to capture the dynamism that you desire. It isn't hard to turn your backyard into a place other people will enjoy, but it is a huge undertaking so you'll need to determine a budget before you begin.
If you don't have a big backyard don't let it discourage you as you can still develop a backyard swimming pool environment that benefits you and your family. A backyard pool design can feature many styles. Continue reading to learn more.
You can optimize your stunning pool view or focus on creating an inviting and relaxing vibe in your backyard, just in time for summer.
Modern Backyard Pool Designs
If you need backyard pool ideas, the following examples serve as the latest in modern pool designs.
Outdoor Lounge
A swimming pool and lounge area are an ideal match. You don't have to make it harder than what it is. A poolside deck, lounge chairs along with stone tiles and umbrellas would transform your backyard into a social destination.
The concept also includes landscaping features that make it a great place for you and your guests to relax. The strategy works well and was designed by architect studio Richard Beard Architects.
Backyard Pool Design
Infinity pools, also known as zero edge pools, are a top brand for backyard pools. When you don't have foliage to worry about, you have more freedom to focus on the pool design.
The hardscape layout from studio 05AM Arquitectura concentrates on the beautiful view. The aesthetic prevails in response to the topography and distant landscape, providing an unforgettable backyard experience for serious swimmers. With lounge chairs next to your pool area, every sunset will be a memorable one.
Combination Decking
Designed by Enrique Cabrera, this pool layout would not stand out by itself. Instead of lounge chairs, this design features a hammock above the small pool offers a separate perspective by adding simple comfort. The finished look offers a relaxing, zen area, making it an ideal place to achieve relaxation.
Pool Design Privacy
The backyard of this boutique hotel, La Casa sull'Albero, is a source of inspiration. It's a small space bordered by a stone wall that creates an intimate environment. The minimalist lounge chairs add style and character to the pool area.
Backyard Lap Pool
An Infinity pool is worth considering if your home environment has a fitness theme. This lap pool suits a narrow residential space and is ideal for an evening swim or outdoor party.
The straight lines featured in the landscaping create a beautiful pool area. Notice how the swimming pool runs along the edge of the property while leaving room for the outdoor lounge area. This is from studio Aidlin Darling Design.
Pool Centerpiece
Another strategy can be to turn your huge swimming pool into the centerpiece of the whole backyard. In this design by Swatt | Miers Architects the pool consists of different levels and takes up a large section of the backyard.
Small Custom Design
Given the rugged topography of the land, this backyard highlights the ocean view. Designed by Antoni Associates, the concept keeps the outdoor area small. The swimming pool has a design with a custom shape that fits with the area and outdoor space.
Attractive Harmony Design
When designing a backyard it's important that you don't limit yourself with boundaries or focus on the backyard itself. This project, by Idee Architects, is a source of inspiration.
Box Pool Design
It's easy to do what everybody else does, but if you can, consider something different. For example, instead of a lounge area by your backyard swimming pool why not dedicate a small island in the middle of your pool and surround it with stairs? The design is from Biombo Architects.
Related: Inspiring Backyard Patio Makeovers For Big And Small Spaces
Narrow Backyard Pool Design
There are situations when smooth transitions between areas or certain features make sense and look good. There are also moments when it's nice to delineate between the swimming pool and your surroundings. The point, more than anything, is to achieve an inviting look. Traditional designs in the country will include plants that suit your tastes. Building a frame around your pool can serve as a boundary for your pool space.
Rectangular Pool Design
Check out this layout from Argentina by ARarquitectos. When working with a sloping plot or steep hillside, you can push the rectangular pool toward the edge of your property.
When you do this, you maximize the view with a zero edge design. Even if you see tree canopies it's a nice way to take advantage of the landscape and nature's beauty.
Dividing Feature
There's are different ways to integrate a swimming pool into a lawn area. One idea is to turn it into a dividing feature, placing it between the garden and the outdoor entertainment area for instance. This design is from Gallardo Llopis Arquitectos in Spain.
Multiple Layers
A design that features large tile slabs provides depth and character to your backyard space. You can spend the summer relaxing or walking around your pool without your feet touching the ground.
The transitions are subtle and the multiple layers take a variety of forms. This design by studio DSDG Architects can show what it's all about.
L-Shape Design
Not every backyard swimming pool needs to be rectangular. There are many shapes you can choose to help define your outdoor space that offers a variety of layouts and designs.
An L-shaped pool fits well in this backyard by Randy Angell Designs. With this layout that includes a hot tub, you have access to your pool wherever you choose.
Pool House
Depending on where you live, the summer months can be too hot. When you don't feel like swimming, but you don't want to go inside, a pool house provides an area where you can hang out and take a dip whenever you want. If it's too cold, turn on the hot tub so you can enjoy your outdoor environment. Among backyard pool ideas, a pool house is one our favorites.
Designate one corner for your pool house and try smooth stone flooring for your ground surface. Now, you have somewhere to sit down and enjoy the shade. This design is by Envision Landscape Studio even has a fireplace and TV.
Elegant Pool
A hot tub is yet another feature that could fit in a backyard. You can have it built into the deck or place it by the rectangular pool, allowing these two water features to complement each other. It could be a nice look for a modern backyard like the one designed by studio Allan Edwards Builder Inc.
Classic Pool Fountain Design
This design from Arrow. Land + Structures takes a safe and easy way by incorporating fountains and plants and shrubs around the pool. Take a dive into luxury and enjoy the traditional aspects of your swimming pool. If you have a large backyard, then take advantage of your space.
Backyard Pool Resort
Doesn't this little guest house look stunning? It's placed at the back of the garden, framed with the swimming pool. The functional symmetry adds charm, especially with the farmhouse-style design and trees. This is from designers Greey Pickett.
Related: Cool Ways To Make Your Summer Better With a DIY Swimming Pool
Go Green
Landscaping is just as important as the swimming pool, so use your surroundings. Color is a factor with any swimming design. Blue tiles are by far the most common and they can look great but green has a charm of its own.
The emerald water gives this backyard a fantastic aura. Created by studio Anthony Wilder Design/Build offers ideas and inspiration.
Sleek Pool Design
It's hard to say what the best spot for a rectangular pool would be in general because each backyard and each site are different and unique. For this beautiful holiday home created by Bates Masi Architects, elegance is achieved on top of the hill, below the building's upper floor.
Modern Pool Design
If you can elegance, then go all the way. Although it can be nice to be out in the sunlight a shaded area is often very valuable for a backyard. We love how the flush design was added here by Fran Silvestre Arquitectos by extending the upper floor and creating an overhang.
The roof terrace is a shaded area which ensures a smooth indoor-outdoor transition.
Transforming Appearance
There's a lot to be inspired by from this rectangular pool design, but the detail that we like the most is the way in which this spectacular view of the city is revealed. Instead of stone or brick, the ground area features wood planks, which stay cool during the summer months.
The transition between the closed indoor spaces and the fully-open exterior and swimming pool in the middle point. This project is from Caramel Architekten.
Rectangular Pool
The architectural style of the house often also influences the aesthetic of the outdoor areas such as the backyard and garden. If you haven't noticed, the rectangular pool has become a favorite among homeowners. Here for instance a clean and modern style was applied throughout the indoor and outdoor spaces allowing the transition between them to feel smooth and seamless. This is the backyard of a contemporary house designed by studio Selencky Parsons in London.
2-in-1 Design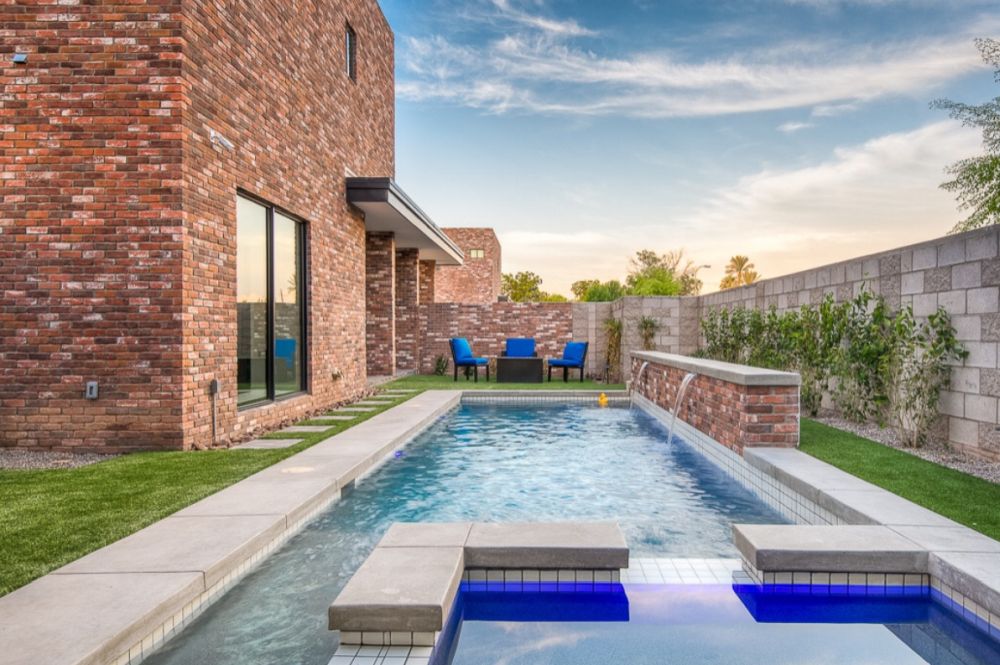 A hot tub is a nice addition to the backyard but a 2-in-1 design where the hot tub is installed with the swimming pool is an option worth considering.
When you incorporate different elements, you can transform your backyard into a premier destination.
This could also be a cool way to save space in a small backyard like this one from designers Two Hawks Design and Development.
Fire and Water
It's always fascinating to see contrasting elements like fire and water paired. With that in mind, it's possible to create cool designs out in the backyard, like this one by designers DRC Pools.
We love the addition of the pool fountains and especially the one that's hidden inside the fire pit. It's such an iconic and eye-catching element for this area.
Frequently Asked Questions (FAQ)
FAQ
Do You Need A Fence If You Have A Backyard Pool?
If you have a backyard pool, then you just have a fence around it. It is illegal to have a pool that isn't enclosed. In California, for example, a home built or remodeled after 2007 requires a pool fence. 
Am I Responsible If A Guest Drowns In My Pool?
If drowns in your pool then you can be held accountable depending on the circumstances. However, if you have a general homeowners insurance policy, you should be protected as it covers accidents that take place in swimming pools. Make sure you check your insurance policy before you install a swimming pool just to be and to avoid potential lawsuits should someone drown in your pool.
How Much Does A Backyard Swimming Pool Cost?
Swimming pools on average cost $35,000 and range between $28,000 and $55,000. The cost of your pool will depend on the type, shape, and size. 
How Deep Are Backyard Pools?
Most pools are seven to eight feet deep. Today, residential pools will have a deep end that ranges between 4.5 to 5.5 feet. As pools aren't as deep, this latest pool style is called a "play pool" or "sports pool."
How Much Does It Cost To Maintain A Backyard Pool?
To maintain a swimming pool you can expect to spend between $50 to $120.  
How Many Gallons Of Water Does A Backyard Swimming Pool Hold?
A five-foot rectangular pool that's 12 feet long will hold around 10,800 gallons of water. On average, a 20 by 40 foot pool holds up to 30,000 gallons.
Backyard Swimming Pool Designs: Conclusion
Swimming pools add comfort and value to backyard living spaces. And adding a hot tub would leave plenty of opportunity to optimize your surroundings. Pool designs, like an Infinity pool with lounge chairs, a pool deck, and a pool house offer greater luxury for an outdoor living space.
There are many design ideas to choose from when installing a modern pool. There are things to consider like a pool wall, seating area, tanning ledge, and bar area. Also, your backyard pool will depend on the size of your own backyard.
Those with a small yard are not without options, although they do not have the same flexibility due to limited space. A pool is more than just a place to swim. Today, pools are fun social gathering areas where your family and friends can relax in a lush and modern environment.
Entertaining friends and guests when you have a backyard pool complete with modern amenities. If your backyard location overlooks a city or beach, then take advantage of the stunning view and create something where you can enjoy watching the sun go down every day.