15 Beautiful BBQ Area Design Ideas For A Complete Backyard
One of the best things about having a backyard or a little bit of outdoor space around the house is that you can spend time there with friends and family.
Having a bbq outside brings people together and lets everyone have a great time. So what can you do to make your bbq area even better and how would it look like after the makeover?
Well, you could start with the griddle. It might be in need of an update and there are plenty of outdoor built-in grills that look nice and are user-friendly and efficient too. If you're not a fan of the grill perhaps something else catches your attention, like a pizza oven for example. Let's have a look at some designs and see what other ideas they inspire.
What Type of Outdoor Grill Is the Best?
Not all barbecues are created alike, and the main differences between the six existing types (as well as their characteristics) will help you determine which type of outdoor grill is the best one for you.
Charcoal grills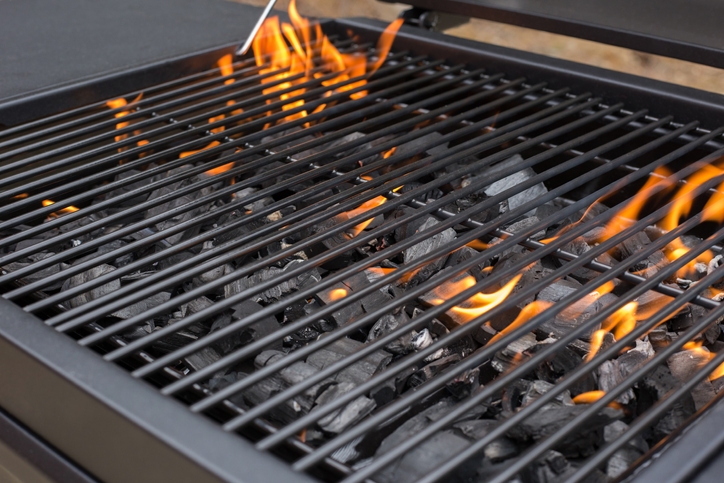 Grilled flavor is infused into burgers, chicken wings, and ribs, among other foods. Charcoal grills are normally the cheapest grill option. They can be used to grill directly over the coals, indirectly (by pushing the charcoals to one side, you can cook foods more slowly), or even to smoke foods.
Charcoal grills run on briquettes or lump charcoal, which can be challenging to ignite, particularly if you're new to cooking. Because there are no knobs, temperature adjustment requires more finesse than with a gas grill.
Finally, the process of heating/cooling takes longer because of the high heat retention. Nothing, however, can replicate the delectable barbeque flavor of charcoal briquettes, thus this technique is best suited to grill purists ready to work for it.
Charcoal kettle grills
Kettle grills are perhaps the most well-known sort of charcoal grill. They are simple in design, resembling a kettle: they have grill grates, stands, removable lids, and a rounded bottom. Charcoal is placed in the grill's bottom section, as the grill uses a small grate to elevate the fuel source, thus allowing ash to drop farther away from the heat source.
One of the primary advantages of this type of barbecue is its portability. Typically made of metal, kettle grills are quite lightweight. They exist in a variety of sizes but are often more portable and require less charcoal to operate.
Gas grills
This is the most common form of outdoor barbeque grill and is quite popular due to its convenience. With the click of a button, gas grills ignite and instantly heat up and cook. Gas grills are an excellent choice for individuals who want to grill frequently and easily.
Additionally, they provide the cook a great deal of control over the temperature and heat of the unit via temperature control knobs. The fact that the majority of gas grills have numerous burners enables you to establish distinct cooking zones, allowing you to prepare foods with different cooking requirements, all at the same time.
They will not, however, reach the same temperatures as charcoal grills, as they normally reach a maximum of 400° F to 600°F. Grills that draw fuel from a propane tank require a 20-pound tank that lasts around 25 hours before needing to be replenished; natural gas grills require the installation of a natural gas line from the barbecue to your home.
Pellet grills
Although pellet grills have been around for over 30 years, they have been a common option for grilling in the last five years as a convenient and delectable option. One of the most intriguing features of the pellet grill is that it functions as both a grill and a smoker, which makes the combination of the two an excellent selling point.
A hopper is loaded with food-grade wood pellets (which are very small in size) and an auger is used to transfer them to a burn pot. Depending on the temperature you select on your grill, the burn pot and thermostat function electrically to maintain the proper temperature on the grill.
Since the electronic temperature controls automatically adjust to maintain the grill within the desired range, there are little adjustments required once the cooker is functioning according to your specifications.
This is helpful, especially for longer cooking such as ribs, briskets, and huge roasts, as it allows you to leave the meat alone to cook. Due to the electronic controls, this grill requires a power supply that must be connected during the cooking and cooling processes.
Kamado grills
The shape of the kamado grill is more elongated, mimicking the outline of an egg. They are far heavier than kettle grills, as they are normally composed of a thicker ceramic material that can be as heavy as 500 pounds (this depends on the size of the grill).
While temperature and air flow are still adjusted through the top and bottom of the grill, due to its thermal bulk and highly engineering design, even a little alteration on a kamado grill can result in a substantial temperature shift.
Due to the weight and thickness of this particular type of grill, the lid is often left attached to the grill's base by heavy-duty, spring-loaded hinges.
Although kamado grills thrive as a source of extremely intense heat, their adaptability makes them appealing. A heat deflector is a popular addition for the kamado grill.
It has the appearance of a thick pizza stone and acts as a barrier that protects the food, you're preparing from the heat source. By including a heat deflector, this type of grill cooks more like an oven and evenly distributes heat to your food.
Electric grills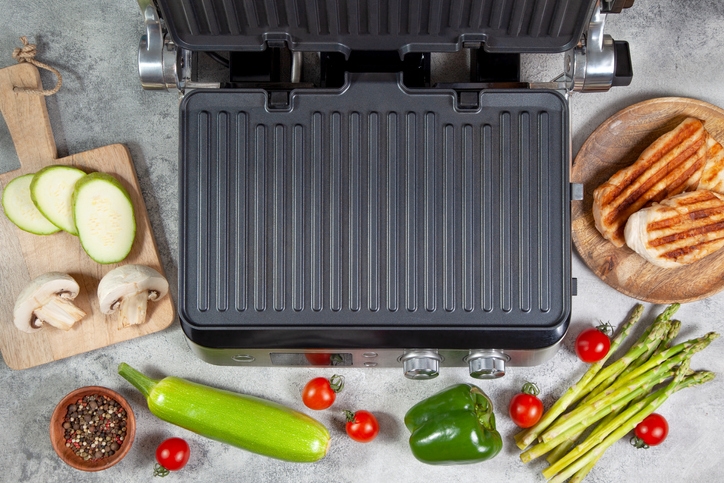 Obviously, an electric grill is powered by electricity. The wonderful thing about this is that you do not need to deal with charcoal every time you want to light up the grill. You won't need to bother about propane tanks or ensuring the grill has enough gas.
You will need to operate your electric grill in close proximity to an electrical outlet. To heat the grill, you will need access to a socket, either indoors or outdoors.
Many grills come with long cords that allow you to plug them in while keeping them at a safe distance from the heat. One significant selling point of an electric grill, and one worth considering, is its ease of use. There is no need to organize the charcoal each time you wish to use it.
Where Should I Put My BBQ in My Backyard?
It's important to remember that a BBQ is an open flame, and as such, you should always be aware of your surroundings. Maintain a safe distance from the house to the grill.
Avoid placing the grill just outside the rear door, especially if there are children running in and out. Always position grills on a flat, clean area away from any combustible waste, such as trash bins or mulch. Similarly, low-lying plants and hedges are prohibited. Ascertain that there are no branches hanging too low near your BBQ.
When installing a BBQ, it's critical to consider sight lines from inside the house. Individuals within the home must be able to view the BBQ clearly via doors and windows.
Can I BBQ on My Patio?
Only if the patio isn't covered by a roof or if the deck doesn't consist of flammable materials. Grills must be placed at least ten feet away from the side of a building, unless the manufacturer's instructions specify otherwise. Ascertain that grill are not positioned beneath overhanging trees. Grills are not permitted on porches, balconies, or decks that have roofs.
Can You Put a BBQ on Decking?
When you're firing up your BBQ, you should know there will always be a fire risk due to cooking over an open flame, but with the necessary safety precautions, a charcoal barbecue is completely safe to use on your patio.
Backyard BBQ Area Design Ideas
Encased in Stone
This beautiful bbq area is outfitted with a big Wolf grill which is the centerpiece of the whole setup. It's nicely built into the stone island, with counter space to the left and to the right that's ideal for prepping all the delicious food that needs to be put on the grill. There's more space on the mini islands with lower tops and a similar stone base.
Modern Wood Look
If a modern style suits you better perhaps something like this would be to your liking. Notice the simple lines and lack of unnecessary ornaments throughout this whole bbq area and the wonderful choice of materials as well. The wood adds a warm and inviting feel to the space and the concrete and stainless steel give this area a professional look. This is a design done by studio Chicago Roof Deck & Garden.
Kitchen with Pergola
A bbq area or an outdoor kitchen don't need to be very large in order to be practical and to serve their purpose.
A small and simple setup like this one done by studio SJ Renovations seems just right for a regular-size backyard or patio. The style is traditional, with lots of exposed wood and a few distinct accent details. The grill is the piece of resistance and the counter has an interesting shape in order to also be usable as a bar.
Related: Our Most Recommended BBQ Shelters – A Cover Story For Grilling In Any Weather Conditions
Ultra Modern Outdoor Kitchen
Here the outdoor kitchen is covered and shares a strong connection to the indoor area that is directly adjacent to it, with only a glass wall in between.
The extended roof protects this space and gives the impression of a semi-indoor area. The overall design and decor are also inspired by the interior. This was part of a project by Bagnato Architecture & Interiors.
Boxed In
Although simple, this outdoor kitchen and bbq area has a lot of charm. The cedar cladding suggests a fairly traditional design approach but the built-in appliances, grill included, add a modern vibe to the space.
The result is a fairly eclectic setup with a classic aesthetic. It perfectly shows that compact designs have a lot to offer too. Check out studio Urban Bonfire for more outdoor kitchen options.
Custom Stonework
Fireplaces and fire pits are always great outdoor features. They're usually accompanied by a seating area so everyone can relax and enjoy the warmth and the cozy atmosphere.
Here you can see that the seating area, the fireplace and the bbq area and by extension the kitchen have all been combined and the result is a very wholesome and inviting setup. All in all, a lovely creation by Copper Creek Landscaping.
Doubled Up
This time the strategy was a bit different. Rather than adding the bbq area to the deck and combining it with the seating area, Studio 6 Architects placed it some distance away, in the garden, surrounded by greenery.
There's a nice little pathway connecting it to the house. This strategy is nice because it creates a distinction between these areas and it gives the bbq area a unique and special purpose.
A Statement Piece
Isn't this backyard deck just perfect? It may not be very large but it really fits the house and the site. We really like the contemporary design with a few retro details mixed into it for the outdoor kitchen. The grill is the main feature and the centerpiece, with sleek stainless steel accents and other appliances to match.
Pull Up Bar
This traditional patio has one of the most charming designs. First of all, the bbq area and the bar are parallel to each other, with plenty of space in between for the cook to move around.
They have an earthy and organic color palette which goes really well with the pavers as well as with the lush and amazing-looking greenery that surrounds this entire space.
Spacious BBQ Area
Open decks and patios can be a wonderful source of inspiration. This one stands out because of the way it's designed to surround and to frame the house.
The geometry of the space is quite interesting as well and the deck floor boards emphasize that in a creative way. The bbq area is positioned at the far end of the deck, leaving plenty of room for casual seating and lounging furniture. Check out American Deck and Patio for more details about similar projects.
Related: How To Build A Deck – Step by Step
Everything You Need
Here's another beautiful bbq area, this time integrated into a patio inspired by a craftsman backyard kitchen. The gray and blue hues in the stone go really well with the stainless steel appliances built into the kitchen. This time you can see there's also a backsplash which creates a dividing wall between this space and the adjacent land at the back. It was a project by JCI Construction Corp.
Vertical and Modern
This design chosen by Michael Haverland Architect for this modern house in New York is very clean and simple. The backyard is small but it looks and feels like a natural extension of the indoor living areas. The wooden wall that acts as a backdrop for the bbq area extends all the way across and is really tall for maximum privacy. The linearity of the design is refreshing in this particular case.
Great for Entertaining
Combining the outdoor kitchen and the dining area is sometimes beneficial. It creates a familiar and wholesome setup and brings everyone together seamlessly plus it's practical for various other reasons as well. You can that strategy being applied here by studio Realm Architecture + Design. The kitchen matches the pillars that support the roof extension which helps it to easily integrate into the space.
Light and Airy
This is an open backyard without a cover, a breezy and airy look which suits its design really well. The light and coastal palette of colors, finishes and materials gives this space a timeless vibe and a modern appearance. The fireplace and the bbq grill creates a beautiful stone-clad backdrop for the seating area. Check out studio JODI FLEMING DESIGN for more details and more inspiring projects.
Sports Bar Look
The curved bar is one of the key features for this beautiful craftsman patio. The pergola roof follows the same contour, extending over the entire bbq area, kitchen and dining area.
This creates a dedicated entertainment space out here which can be used in a variety of different ways and which can accommodate both big and small groups. It was Nature's Touch, a masonry and landscape company, that helped to bring this vision to life.
FAQ
How Close Can a BBQ Be to a Fence?
The consensus is that a BBQ needs to be at least three feet away from the fence. However, the United States Consumer Product Safety Commission states that it's best to keep the unit at least 10 feet away from structures.
Can You Complain About BBQ Smoke?
While smoke is an integral part of the outdoor BBQ experience, it also seeps into your hair, clothes, lungs, and eyes, and while we may enjoy the aroma of the char grill, it is best to avoid inhaling. Carbon monoxide and other hazardous compounds are produced when grease burns – whether over an open flame or over hot charcoals.
While allowing BBQ smoke to escape your property is not unlawful, your neighbors may find it annoying and still file a complaint. If you barbecue many times a week, or the smoke that comes from the barbecue lingers for an extended period of time and floats into their home, they can sue or have you ticketed. Take the needs of your neighbors into consideration and ensure that your BBQ party does not cause them distress.
Can I Do Barbecue in My Garden?
While there are no laws to stop you from having a BBQ in your garden, there are still a few "buts" to consider. Smoke from a barbecue, outdoor fireplace, or even garden fire may be illegal. You should exercise caution if your grill or that of your neighbor is located in close proximity to houses, since this could pose a fire hazard.
A technical matter is to check the title deeds to your property and that of your neighbors to determine if there are any limits on barbecues. If you are in a scenario with neighbors whose grill is causing you problems and they ignore your courteous objections, you may have a nuisance lawsuit.
If this is the case, review your buildings and/or contents insurance policies to determine whether you have legal expenses coverage that could aid you with your claim. A local council has the authority to investigate complaints about smoke near residential properties that constitutes a "statutory nuisance".
If you and your neighbor are unable to settle the issue, you may contact the council's environmental health officer. The council will consider the amount of smoke produced, the frequency with which barbeques are held, the average duration of barbeques, and if the activity is regarded as inappropriate. Cooking smoke is unlikely to constitute a statutory nuisance.
How Many BTUs Do You Need for a BBQ?
The industry guideline for required BTUs per square inch of heating surface on a grill is between 75 and 100 BTUs. When shopping for a grill, customers should consider the construction quality, the cooking area requested, and the capacity to distribute heat equally across the cooking area.
Grills with a lower BTU output, notably those with less than 71 BTUs per square inch, may function at lower temperatures, resulting in longer cooking periods.
On the other hand, a grill with a BTU output greater than 100 BTUs per square inch may generate excessive heat and may scorch your food. A grill with an output of between 80 and 100 BTUs per square inch of cooking surface would typically produce rapid and steady heat.