Chaise Lounge Chair Offers Stylish Comfort
A chaise lounge chair offers comfort and stylish interior decor. The chairs are upholstered and make for ideal additions to bedrooms, family rooms, and living rooms, among others.
Furniture design is rooted in the human condition. The chaise lounge is no exception. Most people spend 75 percent of each day in some type of body support.
Some believe that sitting is the new smoking. "Sitting is more dangerous than smoking, kills more people than HIV, and is more treacherous than parachuting. We are sitting ourselves to death," said James Levine, Professor of Medicine at the Mayo Clinic.
What Is A Chaise Lounge?
To understand the chaise lounge, you should know what it is.
A chaise lounge is a sofa-chair hybrid. Due to the length of the chair it doesn't need an ottoman or footstool.
If you compare a chaise lounge to a sofa, the furniture piece looks like a sofa backrest on one end. Some chaise lounges have partial backrests.
Chaise Lounge Vs Ottoman Lounge
The term "chaise lounge" is the same as a "chaise longue." "Longue" is the French word for "lounge."
During the Victorian Era, chaise lounge chairs offered ladies a place to sit and rest.
An ottoman lounge is a chair that is paired with an ottoman. The two complete the design whereas a chaise lounge is just one piece of furniture.
Indoor Chaise Lounge
The indoor chaise lounge is the most popular style. You'll find the furniture piece in bedrooms, living rooms, and study rooms.
Hanging Chaise Lounge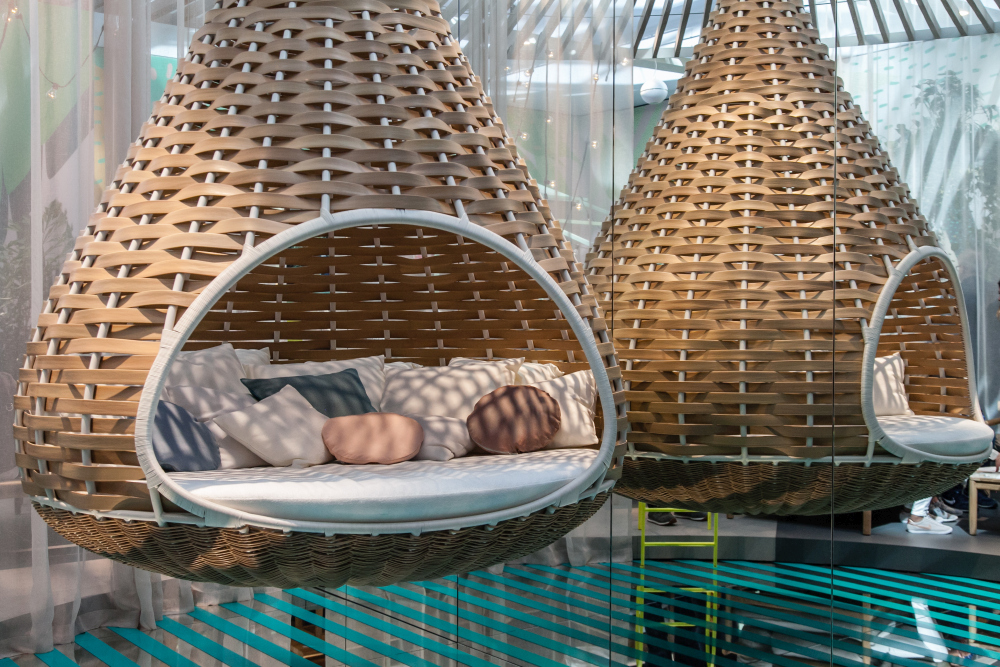 The hanging chaise lounge is the latest chair design. Chairs were suspended in different ways. Today, freestanding hanging chaise loungers are common.
Chaise Lounge With Storage
A chaise lounge with built-in storage is a space saver.
Patio Lounge
Patio furniture wasn't common until the beginning of the 20th century. The chaise lounge became a popular outdoor seating option.
Swimming Pool Chaise Lounge
The adjustable chaise lounge has been in production since 1966. A chaise lounge by the swimming pool should be waterproof. Lawn chairs are often made in the form of chaise lounges. Their design allows for sunbathing and relaxation.
3D Printed Chaise Lounge
The 3D-printed chaise lounge is the newest addition to the chaise family. Printed with filament made with wood, thermoplastic elastomers, or polymer, the chaise lounges are almost as durable as the real thing.
Chaise Lounge Materials
Different materials are used to make chaise lounges.
Leather – the most common chairs.
Upholstered – microfiber, canvas, or velvet.
Wicker – go with a complete wicker design or a wicker base with a fabric cushion.
Rattan & Wicker – Wicker is a method of weaving but rattan is a material.
Chaise Lounge Styles
The chaise lounge is available in many different styles.
Mid-Century Modern
The mid-century modern chaise lounge is popular. The chairs have sharp edges and straight backs.
Victorian
The cabriole legs and S-scroll upholstered armrest highlight this Victorian chaise lounge. The chair is tufted and patterned with a painted gold wood frame.
Vintage
Vintage chaise lounges cover a variety of styles. If a chaise lounge is vintage then it was made between 20 and 100 years ago.
Antique
The long-stepped serpentine backrail is this chair's signature touch. Vintage and antique are similar but not the same. Antique furniture is made more than 100 years ago. It is not antique if it is newer than 100 years.
Contemporary
A contemporary chaise lounge is a current chaise lounge chair. If it follows current trends then it can be contemporary unless it fits into a specific category like a farmhouse.
Modular
A modular chaise lounge chair is a work of art. The word modular means that is a system of smaller parts that creates a whole. Imagine a Rubik's cube taken apart and reconstructed.
L-Shaped Chaise Lounge
An L-shaped chaise lounge leather sectional sofa is a sofa on one end and a chaise lounge on the other. The L-shape offers seating for large rooms.
Visionaire Dubhe Bear Chaise Lounge
This lounge chair by Samuele Mazza is amazing. It is shaped like a bear. You won't find a more unique lounge chair.
Aluminum Chaise Lounge
Aluminum chaise lounges are outdoor lounge chairs. They are modern and look great beside the pool.
Monochromatic Chaise Lounge
A monochromatic chaise lounge chair is grey, black, and white. There aren't any bright color schemes.
Dark Industrial Aesthetic Chaise Lounge
Industrial chaise lounges are for industrial design styles. The dark setting goes well with steampunk, cyberpunk, and more.
Studio 54 Disco Chaise Lounge
Studio 54 is a broadway theater and former disco nightclub. The aesthetic of the club is an inspiration for many people to design their living rooms with chaise lounges.
Popular Locations For A Chaise Lounge
As a consequence of early 20th-century health reform initiatives, the needs of tuberculosis patients, and modernist preferences for open design, the chaise lounge spread its wings into other living areas.
Mid-Century Psychiatrist Chaise Lounge – The psychiatrist chair is a traditional leather chaise lounge made for comfort and sophistication.
Double Chaise Mobile Outdoor Lounge – The double chaise outdoor lounge is made similar to a futon. The back is adjustable either as one piece or two.
Ergonomic Health Chaise Lounge – forms to the body. The chairs are often pair with massage chairs.
Chaise Lounge Recall And Risks
If you have heard that certain chaise lounge chairs have been recalled, then you have heard right. The chair in question is a lounge chair from Dollar General. The chair has consumer reports of amputations.
The True Living Sling Loungers are the chairs in question. After a chair is recalled, it cannot be sold again until the problem is fixed. To find out if the lounge chair you own has a recall, search it online.
Frequently Asked Questions (FAQ)
FAQ
How Do You Build A Chaise Lounge?
There are many ways to build a chaise lounge. An easy way to do so is to use boards to build the frame. From there, you can add cushions and paint it.
Can A Chaise Lounge Fit In A Tiny House?
Yes. You can place a chaise lounge in a tiny house. Check the dimensions before you purchase one and find out where it will fit. 
What Is The US Federal Limit On Chaise Lounge Lead Levels?
A recall was set for Rooms To Go chairs after high levels of lead were found in their chairs. The total lead allowed in products for children is 100ppm.
Why Are Chaise Lounges Popular Among Psychologists?
We have Sigmund Freud to thank for this. Freud thought asking a patient lie down, without making eye contact could provide new insights. They could be more open and say what came to mind.
How Are Chaise Lounges Good For Feng Shui?
For chaise lounges to improve Feng Shui, place them in an area with the least amount of traffic. If you have a place out of the way to rest, it will have more positive energy. 
Where Should A Chaise Lounge Go In A Living Room?
A chaise lounge should go on the least busy side of the room. Near a window is good if you like natural like. Keep good flow by ensuring there is plenty of space to walk through.
How Much Does It Cost To Reupholster A Chaise Lounge?
The average cost to reupholster a chaise lounge is around $900. There is a range and it depends on the designer of your lounge and the fabric you use to upholster it. 
How Do You Clean Chaise Lounge Cushions?
Baking soda is a good substance to clean most materials. But for best results, contact the manufacturer for specialized instructions on how to clean the cushions. 
Chaise Lounge Conclusion
Chaise lounge chairs offer a place to relax. As a decor item, the chaise lounge offers style and class to your interior settings.
Placement is crucial with chaise lounges. For example, a chaise lounge in a master bedroom requires planning. The chair needs to be out of the line of traffic os you can walk through the room. If you have a bookshelf, a chaise lounge would look good placed in front of it.