Steel Doors: Combining the Best of Strength and Style
Steel doors, along with wooden and fiberglass doors, are among the most popular for exterior door options. There is a good reason for this popularity with homeowners.
These doors are cost-effective compared to other exterior door options and they are long-lasting and versatile in style.
How are Steel Doors Made?
Steel doors consist of two sheets of galvanized steel that has been stamped with a design and an inner foam core. The most common foam cores are polyurethane and polystyrene. There are solid steel doors that are used for security or military applications. They are too heavy for standard home use. In addition to the steel sides and core, there are the edge assemblies and hardware.
Certain door styles, steel entry doors, have glass built into the frame. Glass can make the steel doors more attractive and bring light into interior spaces. Yet, glass decreases the energy efficiency of exterior steel doors. Also, if you are interested in steel doors for security, glass can increase the security risk.
Manufacturers finish steel doors in the factory with a spray-coated layer like powder coating or epoxy. This creates a smooth finish and comes in a variety of colors. Others have a vinyl coating. This can create a textured finish that they make resemble a wood texture.
Steel Doors Pros and Cons
Steel doors are a popular exterior door option, though there are also interior steel door styles. Consider the pros and cons to decide if they are a good option for you.
---
Pros
Weather Resistance – Steel is not resistant to moisture on its own, but the coating on steel doors make them stand up well to outdoor weather. According to the US Department of Energy, steel doors have an R-value of 5-6 which is 5 times more insulated than wood doors of the same size.
Maintenance – Steel doors do not require constant painting and staining like wood doors. You should clean steel doors on a regular basis in order to maintain the finish.
Durability – Steel doors that you maintain will last for many decades and will not rust, warp, or crack.
Versatile Style – Manufacturers are creating more versatile styles of steel entry doors that work with a range of home styles.
Strength of Material – Steel is one of the strongest metal exterior doors that you can buy.
Fireproof – Most exterior steel doors are fire-rated, though it is important to check the door specifications to verify this.
---
Cons
Repair – Steel doors are more difficult to repair if they become dented. If the finish deteriorates, it is possible to paint the steel door if you take care to prepare the surface.
Cost – Steel doors are more expensive than comparable PVC doors.
Appearance – Steel doors have a cold look and feel compared to wood doors.
Retrofitting – Steel doors cannot be adjusted to fit certain openings like wood doors that can be cut or planed to fit new openings.
Steel Door Styles
Homeowners and designers use steel doors in both interior and exterior spaces. Many steel door options include addition of glass to improve the cold and sterile look of steel.
Steel Entry Doors
Because entry doors are a natural focal point of your home, they should have a distinct and beautiful look. Most steel entry doors are made with 20 to 24-gauge steel to create exceptional strength. There are also high-definition panels or smooth finish varieties to create different styles that work with various home designs. While glass panes do decrease the security and energy efficiency of steel doors, they also beautify them.
This is a Legacy steel entry door from ProVia. This is finished in 20 gauge steel with an insulated core. These are available in various finishes and frame styles.
Steel Garage Doors
Steel garage doors are some of the most popular metal door options. These have steel layers of 20-28 gauge steel with a rigid foam core. Manufacturers fabricate these steel doors in a wide variety of styles with both raised and flat panels. These doors have both traditional and modern styles. Most garage doors manufacturers offer baked-on finishes and some offer doors that you can paint to customize your home's color.
Forja Designs provides these contemporary glass and steel garage doors. The glass has a white opaque finish to provide light in the interior space but preserve privacy.
Steel Sliding Doors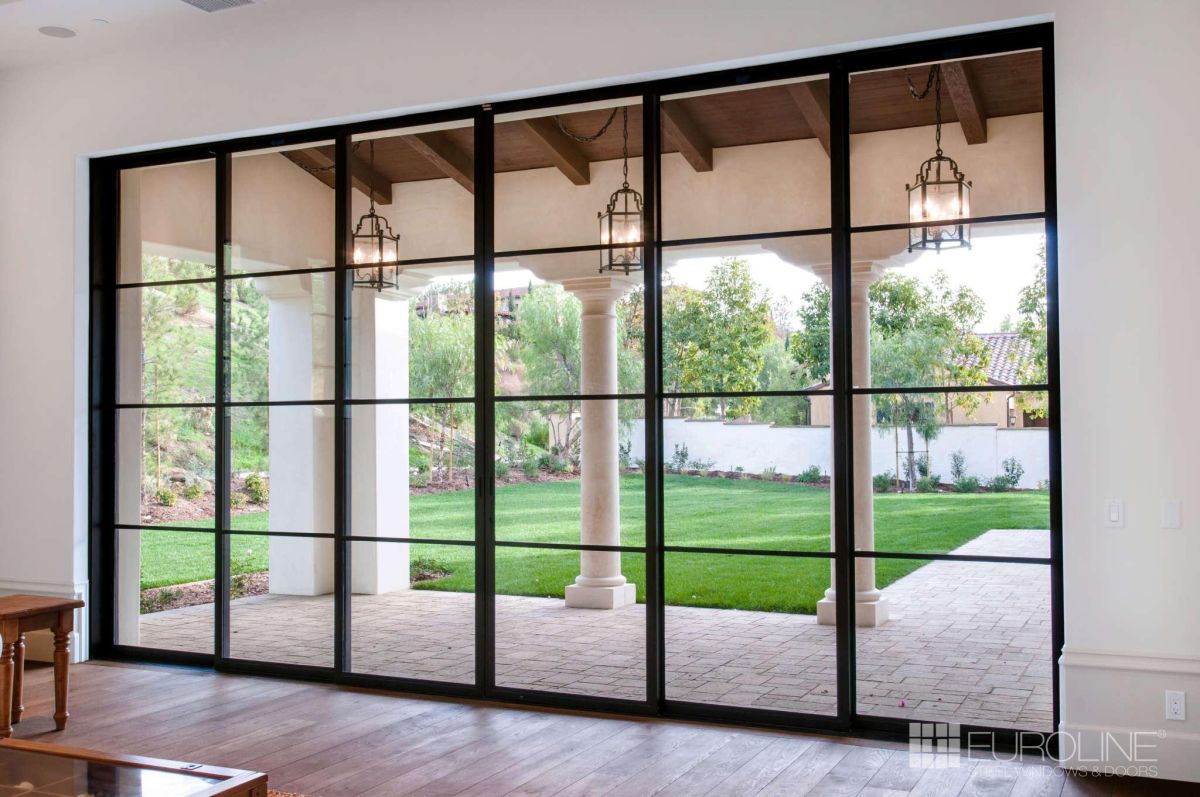 Sliding patio doors are one of the best ways to connect the indoors with the outdoors. Sliding steel doors are fitted with glass panes to allow a view of the outdoors even when the doors are closed.
These sliding steel doors from EuroLine are unique because they are pocket sliding doors. These steel doors slide into recesses in the wall so that the doors are invisible when open.
Interior Steel Doors
Most steel doors are exterior doors, but these are some exceptions. Steel interior doors are useful to create secure spaces within the home or also to create a unique look. There are various interior steel door closure options including single-hinged steel doors, double French steel doors, and barn steel doors that slide on the exterior of the wall.
This is a gorgeous steel and glass door and wall installation from O Studio, Inc. It is a beautiful way to create a distinct space but maintain connection with other spaces.
Folding Steel Doors
Folding doors also called accordion and bi-fold doors, are an ideal way to open up a large space between exterior and interior spaces. Some designers also use them as closet and pantry door options. Steel folding doors with glass panes are similar to aluminum folding doors in that they create a clean and modern style.
Jada Windows installed these glass and steel folding patio doors. They connect the areas of this home for seamless indoor/outdoor use and entertainment.
Frequently Asked Questions (FAQ)
FAQ
How does a steel front door compare to a fiberglass front door?
Fiberglass and steel doors are both popular exterior door options. Steel and fiberglass both have insulated cores and are energy efficient. In general, there are more style options available with fiberglass doors than steel doors. Fiberglass doors require less maintenance, but both are low maintenance options. Both steel and fiberglass doors are less expensive than wood doors but more expensive than PVC doors.
How does a steel front door compare to other metal front doors like aluminum?
Steel doors are heavier duty than aluminum doors, thus aluminum doors are better for applications that need a lightweight option. Steel doors are better for security. Aluminum is more weather and moisture resistant compared to steel, but both have anti-corrosion properties. In general, steel doors are more expensive than aluminum doors.
What are the best steel doors for home security?
Steel doors are heavy duty, but there are ways to make them even more secure. If you are concerned about security, use a door without glass panels as they decrease the strength of the door and do not maintain privacy. Also, use a steel door in conjunction with a steel frame and the best quality hardware.
How do I hang curtains on steel doors?
There are a few options for hanging curtains on your steel door. You can either hang a curtain on the steel door or above the door. If you choose to hang a curtain on the door, you can use a magnetic curtain rod for lightweight curtains if you do not want to drill. Also, you can screw a rod into the door. Hanging curtains above the door creates the look of height. If you do this, be sure to hang a large enough rod to open the curtain on either side of the door to not inhibit the use of the door.
Conclusion
Steel doors on both interior and exterior spaces combine strength, durability, and beautiful style. While they lack the warmth of wooden doors, steel doors offer better weather resistance and security. Steel doors are comparable to fiberglass doors but are a more cost-effective solution. All options considered, steel doors are one of the best exterior door solutions that combine all the factors that people value most.