The Complete Guide to The Best Thanksgiving Table Ever
While we may be surrounded by Christmas adds and twitters of carols, Thanksgiving is much more imminent on the calendar. A holiday that revolves around turkey should never be ignored in my opinion. Thanksgiving brings to mind such warm memories of family and laughter and good food being passed around the tablecloth-laden table. Because the table is the gathering place for this occasion, it's important that you have your dining room table looking it's best before dinner is even served.
We're talking best linens and plates and serveware. If you're panicking right about now, take a deep breath and keep reading. Below you'll find 100 ideas and tips that make up the complete guide to your best Thanksgiving table ever.
DIY Table Linens
While you're cooking asparagus and potatoes and corn, why not buy a few extra veggies that you can use to make naturally dyed napkins for the table? The pale watercolor effect will look stunning against your best patterned dinner plates. (via Sugar and Charm)
Burlap is definitely a favorite decorating medium among crafters for Thanksgiving and it's no surprise. The texture looks wonderful against cotton napkins and ceramic dishes. I know I wouldn't mind having some gold polka dots on the table either. (via Inspired by Charm)
Indigo dye has definitely risen in popularity over the past year so if you thought you missed out, now is the time to get in on the trend because Thanksgiving is the perfect excuse for new napkins. Put your dyeing skills to work with these lovely blue beauties. (via Homey Oh My)
A painted tablecloth? Why not? A simple white tablecloth can be painted with any pattern you desire. The swiss cross design is lovely for a modern Thanksgiving celebration or you could play with swirls and leaves for something more traditional. (via A Subtle Revelry)
Some people get worried about trying to cram all those people and all that food together around the table, not to mention table decor. Save on space by combining the napkins and the place cards. Just pencil the name on the corner and use some fine stitching with embroidery thread to make a lovely personalized napkin for each guest. (via Flax and Twine)
It is a fact that tassels make everything better. If you're short on time and resources, make some tassels yourself and stitch them onto a tablecloth you already have. They will bring that fun flair you're looking for but without breaking the bank. (via Fall For DIY)
Have you ever tried block printing before? It's so simple, even your kids can help you! Make two different designs and alternate napkins to give your table more of a fancy feel. (via Everything Golden)
Everybody loves gold leaf. This idea to incorporate everybody's favorite into your tablescape is perfect. Make a brushed gold leaf runner that will suddenly make all your food and decor look luxe, no matter how simple. (via Sarah Hearts)
Drop cloths mud cloths are fairly affordable so it's always a great idea to keep one in your crafting supplies for times like these. A little paint and an hour or two can give you these napkins that you won't be able to find in any other store. You'll end up using them every day till next Thanksgiving. (via Almost Makes Perfect)
Time for a good dip dye project, don't you agree? Use a plain white tablecloth or a drop cloth and your favorite fall color of dye to make something truly lovely for your dining room table. Dip the ends to fill out every bit of decorating space around the table or dip the center to keep everyone's eyes on the food. (via House to Home)
I heart flannel. If you have an old flannel shirt or blanket, consider chopping it up into napkins before giving it to Goodwill. They certainly make lovely napkins for fall and will be the star of the Thanksgiving table. (via Hey Wanderer)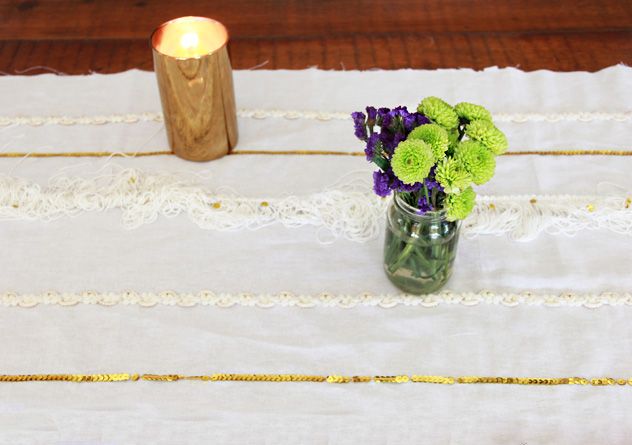 Looking for some table linens that give off boho vibes like the rest of your home? Make a Moroccan wedding blanket table runner with a strip of fabric and some sequin ribbon. It will promise to make any turkey look good. (via A Bubbly Life)
Avid printer people, listen up. You can print images on freezer paper and transfer them to cloth. Think about that for your Thanksgiving napkins this year. If that doesn't appeal to you, definitely make a gift set for your mom for Christmas. (via A Cozy Kitchen)
Yes, it's another drop cloth project. But with those frayed edges, it will look like you spent a million bucks on a gorgeous linen runner for Thanksgiving. Whether or not you share you secret is up to you. (via A Daily Something)
Just because orange, red and yellow are traditional fall colors doesn't mean you need to keep to that for your Thanksgiving table decor. Turn some white everyday napkins by double dipping them to give them an ombre effect… with bright colors that you'll want to keep around all year long. (via A Beautiful Mess)
Get ready to go paint crazy! Save half of a potato when you're peeling and start stamping away on a plain colored tablecloth. It will make a fun family friendly background that you'll see everywhere on Instagram the day after Thanksgiving. (via Oh Happy Day)
So you'd rather have a set of modern designed napkins that will jive with the rest of your dining room. Stick to the metallic tones and brush away on a plain white surface. You'll be surprise how so simple an idea can make such a difference. (via DIYs)
On the flip side, some of you probably want something nice and traditional but affordable and versatile. That may sound like a large wish list but with no-sew linen napkins like these, you can have it all. Let them make their debut at Thanksgiving and then pull them out for an encore on Christmas. (via The Casual Craftlete)
Out of time and energy for much table decorating? Roll a piece of paper across the table and use some fall themed stamps with gold paint. Just a few minutes and you'll have a lovely instant table runner fit for even the best Thanksgiving table. (via Design Improvised)
Thanksgiving is obviously not just about turkey. It's also about thankfulness. Take a Sharpie to a couple white napkins and write out quotes about thankfulness or things you are thankful for to remind your guests the real reason for the holiday. (via The Surznick Common Room)
Place Cards
Bringing a bit of nature indoors is always preferable around Thanksgiving. Plus, using the great outdoors as table decor can help you create some majorly affordable beauty, like using dried leaves as place cards. (via Once Wed)
West coast dwellers, I understand if the heat has you in an un-festive mood. But your unending summer weather means you can go bright on your Thanksgiving table and get away with it. Put some succulents in a hallowed out lemon to act as place card and party favor. (via Everyday Dishes and DIY)
Wood slices are about as rustic as you get and if you paint them with chalkboard paint, they suddenly become reusable for every holiday. Write a name or if you have a small crowd, spell out "Thank you" in different languages. (via Nalle's House)
Place cards are another chance for you to go gilded. Take a trip to the dollar store for some plastic animals and spray those babies with metallic goodness. They'll be sure to make your guests smile. (via Alyssa and Carla)
Food being a big part of the Thanksgiving celebrations, it seems appropriate to use it on the table too. Dipped pears or apples make a pretty sight paired with a name card. (via Almost Makes Perfect)
Got some wooden blocks leftover from a project? Give them a dip dye makeover and then any printable place card you use will look smashing. If you use bright colors, they'll be appropriate to break out at all your dinner parties ever after. (via Design for Mankind)
Get ready to be amazed. You can use stamps on feathers! Yes, stamp out a name for each guests and let the pretty feather do the rest of the decorating work. It's so simple and yet so effective. (via The Style House)
While this project may take a little more time, it will be worth sending each guest home with a silhouette. Have each guest send you a picture of their profile and turn them into a silhouette place card. You'll set your standards really high for Christmas. (via Camille Styles)
Get your calligraphy ready. Send your kids out to collect rocks and then you go to work with your brush or pen, giving your guests' names all the frills and curlycues they deserve. (via Elyn Lettering)
Pinecones are plentiful and free. Next time you're out on a walk, pick up as many as you have guests and give them a coat of paint when you get home. Then you can either print the names from your computer or with your own hand. (via Domestically Blissful)
If you've been wanting an excuse to buy blank wooden business cards, this is it. Stamp guests' names onto the cards and use binder clips to stand them up. (via Hippanonymous)
Yes, it's an edible place card. Make more dried pears than necessary because once your guests get a taste, they're going to want more. Your appetizer is taken care of. (via Food52)
Instead of fighting over the wishbone from one turkey, give each guest a wishbone of their own. Painted gold, they won't need to snap it because they'll already have both halves for extra luck. (via Style Me Pretty)
It's cork time. Just stick a feather in each one and you'll have place cards that are reminiscent of the Native American's who also shared the first Thanksgiving table. (via Homework)
With an embroidery hoop and a couple of air plants, you'll have the perfect place card holder for Thanksgiving in a warm climate. Guests will adore getting to take a new little houseplant home with them. (via Lovely Indeed)
For a strictly gold Thanksgiving tablescape, these place cards are just what you need. Not only will they add to your gold decor, they will give each place setting that bit of golden flair. (via Freutcake)
Personal pies? Best Thanksgiving ever. Go the extra mile by making your name cards on patterned paper. Or add a strip of washi tape to give each a little pattern play. (via The Merrythought)
Trying to think of a place card idea for a large number of people that won't break the bank? Clothespins are the answer. With a coat of gold spray paint, they won't even realized how easy and simple this was. (via Centsational Girl)
Fresh herbs are a lovely idea for a place card holder! The greenery will look amazing against your plates and your guests will get whiffs of rosemary along with the mouthwatering smell of turkey. (via Spoon Fork Bacon)
Printables for the win. It is absolutely acceptable to print your place cards last minute. After all, if you're doing the hosting, you're probably also responsible for the turkey and stuffing. (via Tori Grant Designs)
Centerpieces
This is the year to do it. You know that floral arrangement you've been wanting to create for the rest of your Thanksgivings to come? Let this template help you and you'll have your Thanksgiving centerpiece ready in no time! (via DIYs)
Magnolia leaves are beautiful and attainable in the hot southern states. Wind some together to make a runner that will set off your candles and turkey and whatever else you put among them. (via Apartment 34)
Yes, this is a geometric cheese block, but don't pass it up just because cheese isn't on your Thanksgiving menu. You can use a block like this to raise some other tray of food above the tabletop, or create a candle display. It's purposes are endless. (via The Merrythought)
Once you've cracked open your cans of corn and peas, don't pitch the cans themselves! Give them a good wash and a coat of paint and you've got a lovely vase, especially when filled with a feather bouquet. (via Design Improvised)
The traditional Thanksgiving menu ensures you have colors of green and red and orange on your table. So start off with a gold tablescape and suddenly your food just became all the more gram worthy. (via A Pumpkin and A Princess)
Need more space for the delicious fare on your table? Make a compact centerpiece by filling a plate with candles and fruit and greenery and whatever else you have lying around the house. It will give your table a feel of style without taking up room. (via Julie Blanner)
Make sure your drill is handy for this project. Put some holes into a thick stick and you'll have the most rustic candelabra you've ever seen. All your guests will be asking where you bought it. (via Farm Fresh Therapy)
If you're stuck on florals, consider finding a bouquet tutorial for Thanksgiving. This Dutch Bouquet is simple to recreate and gives the feeling of a bouquet out of a painting. (via Green Wedding Shoes)
Acorns should probably be part of your decor someplace. These giant acorns, whether you cover them in glitter or chalkboard, will look smashing among your other Thanksgiving dishes. (via Julep)
Vintage colored glass is so pretty and yet rarely does it get the opportunity to decorate the table. Take the opportunity this Thanksgiving to fill your table with the color of yesteryear. Use the colored glass for votives or vases or bowls for treats. (via Hello Love)
You don't need to be a student of art to have a color story on your Thanksgiving table. Choose a theme and stick with it throughout your Thanksgiving table elements. (via Design Love Fest)
There's nothing like making the great outdoors sparkle and shine with metallic hues. These votives do just that and are exactly the kind of thing you want running down your Thanksgiving table. Just some sticks, glue, paint and plain glass votives will give you the sparkliest centerpiece you've ever seen. (via Freutcake)
Stop, it's succulent time. Maybe where you live, you just can't bear to cover your table with fall leaves and pumpkins and that's okay. Fill a box or trough with succulents that will make a lovely centerpiece as well as addition to your decor when dinner is over. (via Stagetecture)
Candlelight is definitely one of the best ways to make a large party feel more intimate. Instead of filling your table with flowers, put groups of candles down the table. I promise you will enjoy the ambiance they create. (via Free People)
Most crafters have a collection of empty bottles stored somewhere. Put them to use on your Thanksgiving table by wrapping them in twine and filling them with sprigs of flowers or greenery. It's simple but the variety of textures will compliment your cotton napkins. (via The Kitchn)
Fruit is one of my favorite tips for decorating a holiday table. Fill a basket or bowl with orange persimmons and twigs and you'll have the most unexpected and unique centerpiece this Thanksgiving. (via The Sweet Occasion)
Are you trying to keep your Thanksgiving table neutral? Swap a floral bouquet for a bucket of cotton. It will create an interesting addition to the table and you can pluck the cotton off for a snowy Christmas project later. (via Just Destiny)
Lazy susans are a wonderful idea for a crowded table. Outfit yours with stenciled words like "thankful", "grateful", "family" and "blessings" to make a common household piece into a piece of decor. (via At The Picket Fence)
Don't let any pumpkins go to waste! Paint them in colors that will match your Thanksgiving theme and let them do the decorating work on your table. (via A Beautiful Mess)
Whether you have too much food to fit a centerpiece or too much to do to think about one, know that it's okay to simplify! If the best you can do is put a pumpkin in the middle of your table this year, that only takes the focus from the table to the faces around it which is where the focus should be anyway. (via Dreamy Whites)
Placemats
Placemats may seem superfluous when you have a tablecloth or runner, but they serve a very distinct purpose: to direct the guest's attention to his or her individual place setting. How perfect to use a chalkboard placemat to remind your friends and family that thankfulness is the reason you are all gathered. (via Two More Minutes)
A wood charger can be a pretty addition to any table, no matter what else is on it. Plus, being a piece of nature, it will match with any dishes or linens or festivities from here on out. (via My Scandinavian Home)
I mentioned Shibori napkins above and it's showing up again in these placemats. That indigo blue is too beautiful to leave out and will make a nice addition to whatever color story you have already going on your table. (via Lovely Indeed)
Time to harness the power of thanksgiving. Research the word in other languages and stencil them onto whatever placemats you might already have. It's an easy project with instant results. (via A Bubbly Life)
However minimal your sewing skills, you'll be able to handle this project. Stitch a pom pom edge across the top of your placemats and you'll instantly turn something plain to something frilly and fun. (via Sugar and Cloth)
Get your printer ready! Use your favorite font to record quotes about thankfulness and family, print them out on thick paper and place one atop each placemat. (via Oh Joy)
Are you looking for something to put your speckled ceramic dishes on that speaks of coziness and home? Try making these stitched shashiko placemats. They look similar to quilts when placed on the table. (via Purl Soho)
Yes, that is a slate roof tile. They are fairly cheap when you're not covering your roof in them! Put one at each place as a charger and whatever you put on top will suddenly look very French chic. (via Fifteen Twentyfour)
If you can go gold with it, then go for it! Using a paintbrush or the eraser of a pencil, cover some solid colored placemats in gold dots. It will end up looking like you sprinkled the table with sparkly confetti. (via A Bubbly Life)
Cork placemats can serve two purposes. One, to make your places and flatware look amazing. Two, to protect your table from hot food. Dip them in paint and they'll look sneakily like decorating. (via Sarah Hearts)
It's a wonderful project that can combine two purposes in one, like a placemat that acts as a place card too. Look up the meanings of all your guests' names and print them out on thick paper. They'll definitely make a conversation starter. (via Kate's Creative Space)
Who says watercolors are just for paper? Try it on fabric and I promise, you'll be watercoloring every fabric DIY from now on. (via Style Me Pretty)
A placemat of rocks is going to be the most modern and unique idea on your Thanksgiving table this year. Glue some felt onto the bottoms of store bought rock tiles and you'll be all set. (via Life Without Expectations)
Burlap is where it's at on Thanksgiving. Set off your smooth ceramic dishes and closely woven cotton napkins with a frayed edge burlap placemat. The phrases are a bonus. (via The Wood Grain Cottage)
For an affordable DIY placemat option, raid your craft box for some rope and cardboard. Then you can wind and glue while you watch It's The Great Pumpkin Charlie Brown. (via French Country Cottage)
Stenciling is super easy. Therefore, pick your paint and glam up the placemats already in your drawer. They'll enjoy a fresh start for this Thanksgiving holiday. (via Brit + Co)
What's a holiday table without a good dip dye? While these colors may be a little more fit for springtime, you can use red or orange to speak of fall. (via Design Love Fest)
Got brown paper and a white marker? Put your fanciest handwriting to work and give your guests a space on their placemat to write the things they're thankful for. It will be a great way to keep the conversation running through dessert. (via Oh My Deer)
Whoever decided to mix gold foil and burlap was genius. It's a fantastic way to mix elements of feminine chic and country home on the same Thanksgiving table. (via Delineate Your Dwelling)
Whether you have a kids table or just kids to cater to, these printable coloring placemats will be a huge hit. You better make some for the grown ups to because everyone will enjoy these! (via Lindsey Crafter)
Serving Dishes
This is possibly the most gorgeous cake stand I have ever seen. It's exactly the eclectic kind of thing to make your perfect pumpkin pie rise above the rest of the Thanksgiving fare. (via Anthropologie)
Thanksgiving is probably the only holiday where it is acceptable to have more than one turkey on the table. Since you can get away with it, put one of these rustic looking gobblers next to the main course for a decor deal. (via Pottery Barn)
Isn't this serving tray gorgeous? The double decker style means you can fit all the appetizers you need for a large party… or the most epic cheese plate you've ever seen. (via Uncommon Goods)
As everyone knows, Thanksgiving must include pie or there will be riot in the streets. Display your sugary confections in this pretty patterned pie dish that will display more and more color the more you slice and serve. (via Food52)
I absolutely adore this casserole dish! Her pretty patterned sides will convince you that she needs to be displayed more often than just holidays. I'm talking birthdays and vacations and Wednesdays. (via Urban Outfitters)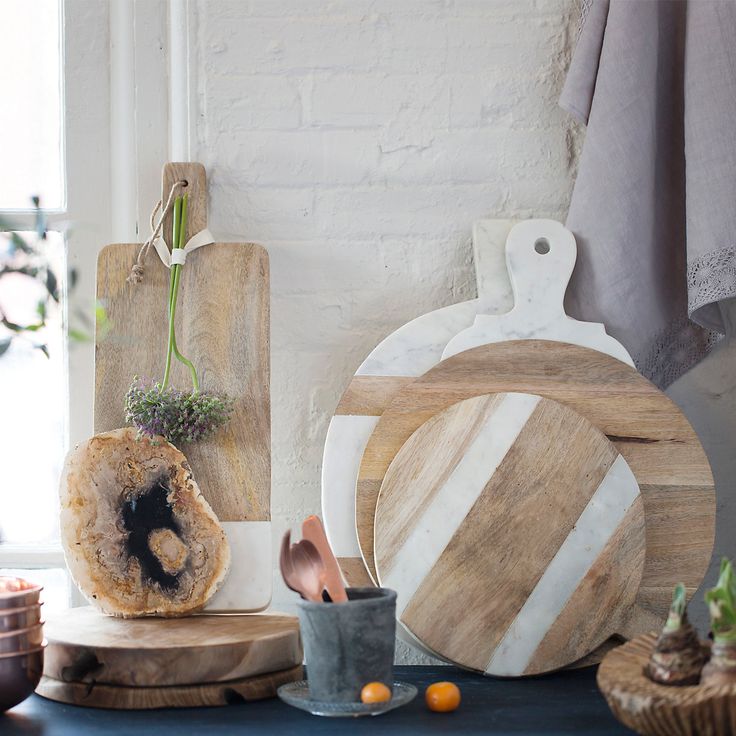 Having a pretty serving board is good for food display as well as kitchen decor. Adding these marble and wood boards to your kitchen will help you serve appetizers in style and give some chic to your kitchen counters. (via Terrain)
Whether you are serving tea or cider or just water, pouring it from a pitcher makes it seem extra fancy. Speckled ceramic is on the rise so having a pitcher like this will help you in the long run. (via Anthropologie)
How pretty is this serving bowl? It will be perfect to hold the salad or act as a bread basket. And when the guests leave, it will be glad to hold your popcorn while you watch a Christmas movie. (via IKEA)
With all the gold and red and brown you're bound to have on your Thanksgiving table, using a lovely blue platter like this is bound to draw the eye. So make sure your turkey is on it. (via Anthropologie)
Along with the main course, there are all kinds of goodies to be serve at Thanksgiving. Having small bowls on hand like these will help you make nuts and oil for bread and anything else look good. (via West Elm)
Jadeite is a vintage color that will complement just about anything else on the table. It may even remind your Grandmother of a time when her mother served cakes on jadeite stands. (via Food52)
I have found it. The most perfect gravy boat ever. It's minimal white color and pleasing curved lines mean that you can add this to any serveware collection you already have and it is sure to look smashing. (via IKEA)
If you're hesitant to put too much white on your Thanksgiving table, consider opting for white patterned bowls like these. The raised design will attract the eye, no matter what the color is. (via West Elm)
Yay for wood dishes! A platter like this is perfect for serving appetizers around the table. People can easily choose what they'd like and not accidentally pick up what they didn't. (via Urban Outfitters)
This collection is called Harvest Foliage serveware. In my opinion, it's pretty enough to display in your dining room all year round! The brushed pattern and jewel colors will be gorgeous even on a spring table. (via Anthropologie)
When somebody says "Pass the bread", you want to be sure that the basket gets some attention too. Putting your buns in a two toned basket like this will ensure that whoever wanted the bread will also want the basket. (via CB2)
I do enjoy multi purpose dishes, don't you? This little tray allows you to bake on the stone which can then go straight into the wooden holder and right to the table. So there's no time lost when it comes to fresh pie! (via Uncommon Goods)
Say hello to another pretty little gravy boat. This speckled ceramic style will grace your Thanksgiving table during the meal and your dining room sideboard the rest of the year. (via Food52)
Time for some pattern play I think. This gorgeous tray will look lovely beneath your turkey or potatoes or whatever else you decide to serve on it. Perfect for a feminine chic table. (via Leif)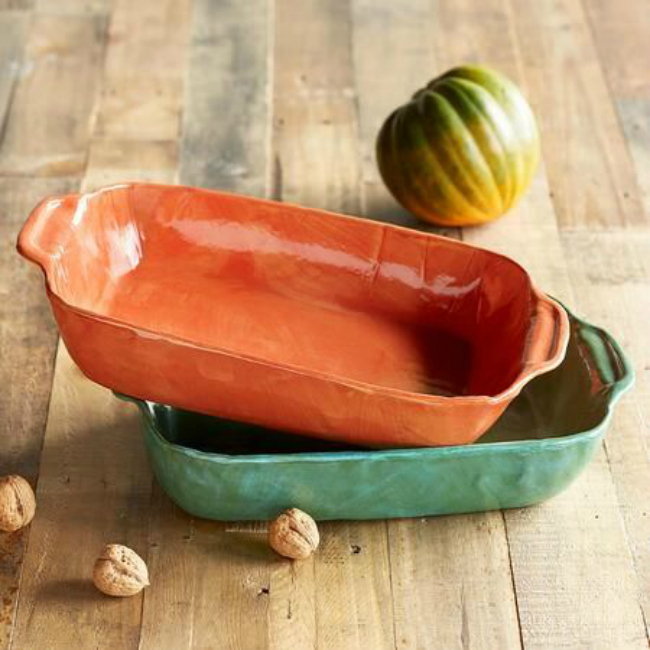 Give your green bean casserole a bit of flair in these colored casserole dishes. The warm tones say "look at me!" without screaming over your other table decor. (via Sundance)