Innovative Storage Key in a Tiny House Floor Plan
The trend for building a tiny house on wheels is going strong in many countries.  As with many non-traditional types of housing, local codes and ordinances can often a stumbling block for tiny house enthusiasts. Some cities, like Fresno, California, are meeting the challenge: Fresno recently passed laws regulating tiny houses on wheels.
In addition to such overarching issues, this type of housing presents one major challenge even for the most dedicated tiny house fan: storage and organization.
Obviously, space is at a premium. Homeowners must be supremely organized for these tiny house floor plans to function smoothly and effectively. Besides paring down what you own, to live in a tiny house you need to carefully consider what appliances, tools and accessories you really need to have. Start by making a list of what's most important to you for each space and prioritize those items.
Because space is tight, it's easy for things to get messy. As Sustainablebabysteps says: "Small spaces get messier and more disorganized much faster and much more chaotic than a larger space." That makes the old adage of "a place for everything and everything in its place" the mantra for those who live in tiny houses.
Kitchen
Speaking of the kitchen, it is probably one of the toughest areas with regard to organization in a tiny house design. If you choose this type of life, gone will be the multitude of gadgets that most of us own. Big stand mixer? Maybe not. Cupboard full of post and pans?  Nope.
If you're moving into a tiny house on wheels that has already been built, you'll have to work within the parameters it offers. If you are refurbishing or building a tiny house, you'll have more freedom to design your space.  Either way, you can get clues to organization from other small living spaces.
First, get rid of everything you really don't need, or don't want in your new tiny house.
This tiny house on wheels by Witchcraft includes a kitchen with ample storage. Open shelving, hanging baskets and storage over the window provide a lot of space for all kinds of necessities.
Check out the smaller kitchen appliances that manufacturers offer.  For example, do you really want a food processor?  It doesn't need to be a big one. There are many smaller models available that might do double duty as a blender or mixer. It also saves on your tiny house cost.
Plan to use every nook and cranny of your tiny house floor plan for smart storage, from areas above doors and windows, toe kick drawers under cabinets and hanging storage options.
Multipurpose is the word in a tiny house floor plan!  Maybe that kitchen table can be used as a work area, or fold away when not in use, freeing up valuable space.
Bathroom
The biggest decision in the bathroom after choosing what type of toilet system you want is how you will configure the shower or tub– there may not be room for both in a tiny house floor plan!
There are so many more options today for washbasins that you should be able to find something stylish that works for you.  Even top bathroom furnishing companies like Duravit are producing very small washbasins that could work in a tiny house floor plan.
Most tiny houses floor plans won't have space for a sizable bathroom vanity, so you'll need to devise storage solutions under the washbasin or up high near the ceiling.
Keep in mind that the bathroom is small and ventilation may be minimal. Don't plan to store moisture-sensitive items in a tiny house bathroom.
Living Area
In many tiny house floor plans, the living area also doubles as sleeping space.  Instead of a sofa, you can have a daybed. This is likely where you will spend the most time, so plan carefully not just with regard to layout, but also for storage.
Sustainablebabysteps notes that you need a "landing strip" in your tiny house, no matter how small. This is like an entry way — the place you hang your coat and bag, stash your keys, and so on.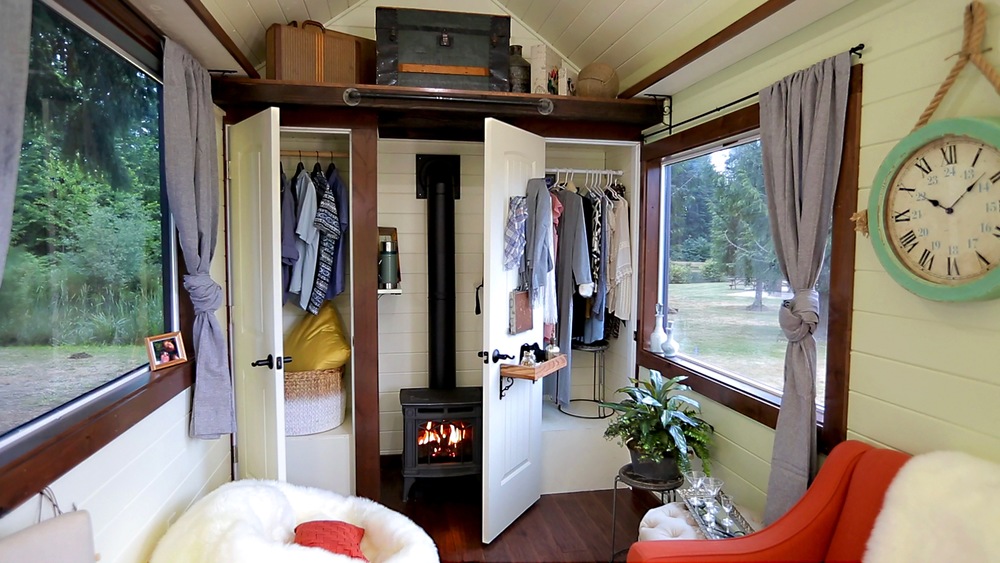 Small storage bins are your best friend in small spaces.  Follow the rule all organizers tout: Plan your space and decide what kind of containers will work best. Don't run out and buy the containers first!
Don't overlook storage areas like those under the bed or sofa, or near the ceiling. If you have stairs instead of a ladder, the area underneath is prime storage space in any tiny floor plan.
One more consideration in a tiny house floor plan is lighting, which can be an afterthought even for people who live in large traditional homes.  It's even more critical in a tiny space because it has to be very functional, particularly if the amount of natural light is limited.
Yes, life in a tiny house on wheels can be challenging, but planning and organization can help immensely.