Eclectic Cottage Home With A Vibrant Yet Balanced Color Palette
This is a home designed to suit the complex needs of a family of eight. It used to be just a simple cottage until Arkansas-based interior designer Tobi Fairley took over the project. It quickly became a dream home decorated with beautiful taste and wonderful colors.
This is an open plan home with the kitchen being part of the main living space. The color palette here was inspired by the family's love of water. Turquoise and blue accents were harmoniously combined and a white background gives the whole space a fresh and clean vibe.
The design is an eclectic mix of styles. The coffee table and the dining table have similar designs and they add a little bit of rustic charm to the room. The eye-catching chandelier communicates with the rest of the décor and ties the whole image together.
A lot of different prints and patterns were used here. The dining chairs are really interesting but there are also a series of other accent details such as the striped rug, accent pillows and the upholstery in general.
The kitchen has a crisp and elegant design. A very light shade of turquoise gives it a cottage-like look and the subway tiled backsplash brings it closer to the traditional style.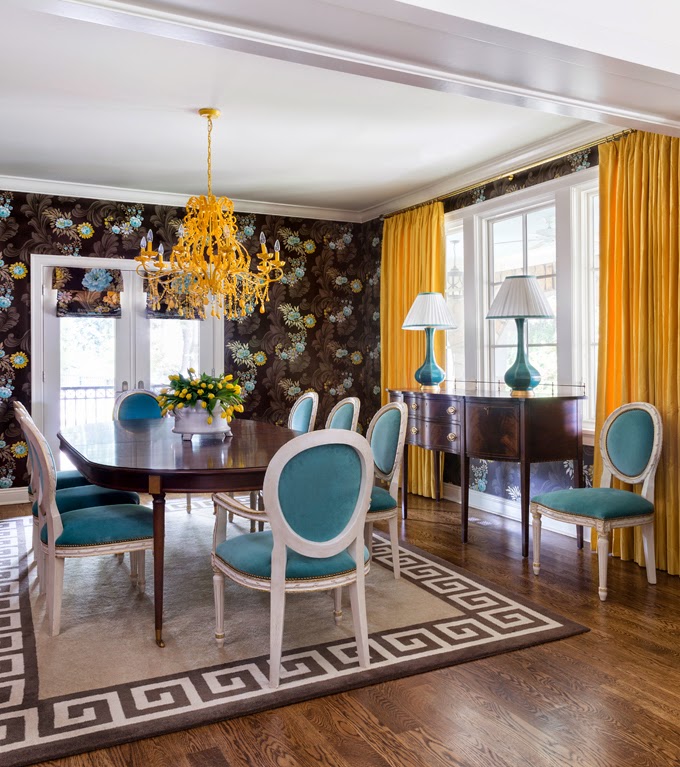 But turquoise isn't the only color used by the designer. In here it's been combined with a bold shade of yellow and, once again, the chandelier takes center stage. The brown accents tone down the bold accents.
A similar combination of colors but less striking can also be seen in the bathroom where an ornate mirror is the main decorative detail.
The color palette is toned down a little in this cozy seating area. The earthy shades give it a light and elegant look and, of course, the turquoise accent lift up the spirits.
The subtle shades of yellow combined with the gray and beige accents create a relaxing ambiance, perfect for the bedroom. It's simple but also very chic. The patterns give the décor a welcomed boost.
The colors become brighter and more vibrant as you reach the kids' bedrooms. In here, everything is highlighted with the help of color. The pink and turquoise combo is actually not as contrasting as it may seem.
The colorful polka dots create a playful look. The white cabinetry and the sleek and simple mirrors maintain a bright and open feel.
The cozy alcove reading nooks by the window make the most of the views and natural light while also maximizing the comfort. The color combinations are, once again, perfectly balanced: pink and black and red and blue with just a little hint of brown.