10 Ways to DIY Your Own Built In Shelves
It's generally thought that owners of old homes reap many beautiful benefits from their living space. Older homes like to show off with honeyed wood floors, thick strong trim, and beautiful built-in shelves and cabinets. Some people have found ways to bring these traditional elements into newer homes to give the house a storied feel, but rarely will you see built-in shelves in a new home.
Most seem to think that built ins are for old homes only. However, there are ways to can make your own built in shelves. No matter how old your home is, it will benefit from a little extra storage space. Take a look at these 10 ways to DIY your own built in shelves and no one will know that your home didn't come with them.
A few extra shelves can come in really handy in the kitchen where there's usually a lot to store. The shelves can be shallow like the ones featured on instructables and you can create this really cool structure with them where you can have modules of different shapes and sizes. They're perfect for storing and organizing spices, bottles, utensils and so on.
This is another great idea: to add built-in shelved to the bathroom. This room is usually small without much space to spare for things like decorations and accent pieces. Shelves however are an exception because they can be very practical. This design from instructables is nice and simple, custom made to be recessed into the wall between two studs.
A built-in bookcase can also look amazing and can help to frame a room in a practical and beautiful way. You can build the bookcase as a series of sections that fit together sort of like a modular system. You can have fixed sections for the top and the bottom and removable shelves in between. There's a nice tutorial on instructions which explains how something like this can be designed and put together.
A great way to use an empty wall space on a hallway or in a space like the bedroom for example is by turning it into a built-in wardrobe. You can have the unit made out of plywood and it can have a super simple frame and a basic design. Then you can built a fake wall around it and make it look as if it's built into it. It's a nice way to achieve a simple and modern look. Check out instructables for additional details about this sort of project.
Doesn't this built-in bookcase look wonderful? It's simple but it fills this corner so well. It's a perfect addition to a bedroom or a living area and you can have a comfortable chair placed nearby so you can use this as a reading nook. The shelves are made of hardwood and have an open back design so they don't cover up the wall completely. More details about the project can be found on instructables.
Here's another beautiful built-in bookcase, this time placed between two windows. These wall sections are usually left empty because it's difficult to find a piece of furniture that fits in that spot. Of course, since we're talking about a DIY project, that's something you can easily deal with. You get to measure and plan the design and structure of the bookcase however you see fit so it doesn't become an eyesore. Check out this particular design on instructables to find out more about it.
Another space that's difficult to furnish is the area underneath the staircase. Why let this space go to waste when you can put it to good use? There are many different ways in which you can do that and one of the easiest most DIY-friendly options is to add a few built-in shelves. You can use them for storage for things like shoes, bags, books and so on or you can have a bunch of decorations displayed on them. Either way, check out this youtube video to see how you can build them from scratch.
Large furniture pieces such as wall units can be quite intimidating because of their size. That however doesn't mean they're impossible to build. Anything can be turned into a DIY project and a good plan is to separate a big project into smaller sections and steps. Take these built-in shelves for example. The tutorial that you can find on youtube explains how they were made and makes this whole project sound a lot less overwhelming.
Floating shelves are super versatile and a lot of times they're the perfect answer when you're trying to figure out how to fill an empty space on a wall or how to add more storage to a room. You can make them look really stylish and sleek by hiding all the hardware. This video tutorial on youtube shows you exactly how it's done.
With proper planning, you can even take on a large project like furnishing a large walk-in closet. It's important in this case to come up with a custom design that suits your needs and a great starting point is this wonderful and inspiring makeover project featured on youtube. It shows the transformation of this walk-in closet from a less than practical space into one that's packed with different storage solutions and everything you see was built from scratch.
A few interior design ideas featuring built-in shelves
There are many instances where built-in shelves can be very practical and also look great in a room and this is one of them. The shelves here are positioned on either side of the window, creating storage nooks for books and other items and freeing this small bedroom of other more bulky furniture pieces. It's a lovely design by Dolphin Architects & Builders.
Here's a very welcoming and inviting living room which has built-in shelves positioned to the left and to the right of the fireplace, framing not just the fireplace but the windows as well. Notice the shelves are white to match the wall behind them and to maintain a clean and airy ambiance in the room. This is a project by studio Bensonwood.
Bay windows are designed to add more wall space to a room and to bring more natural light inside and they create perfect spots for cozy reading nooks. On that note, they go really well with built-in shelves. In this living room by Design Logic Limited the shelves fill in the gaps between the windows and the two adjacent walls and perfectly frame this sitting nook.
As everyone knows, built-in shelves can be integrated into lots of wall unit designs and are very commonly used in living rooms together with various types of cabinetry. This custom-built entertainment center is an example of how different elements can be combined in a homogenous structure that's both practical and space-efficient. This is a design by Martha O'Hara Interiors.
There's really no particular style that built-in shelves are associated with. They're one of the staples in modern and contemporary design but they also fit all other styles as well. Take for example this traditional living room by designer Lorraine G Vale. Shelves are part of its design but they suit the theme of the décor and they adapt to the surroundings.
Before you skip over the whole post, know that you don't have to possess crazy woodworking skills to feature built in bookshelves in your home. Use IKEA bookcases that are easily pieced together and finish with a bit of trim around the top for that built in look.
Do you need more storage in your home office? Build some built in bookcases from scratch to fit your needs. Then you get to decide which shelves are for boxes, which are for books and which are for all your tchotchkes.
One of the aspects of built in shelving that makes it look original to the room is the lack of space at the ceiling. The tops are tightly trimmed with moulding to make it seem as though that built in has been there since day one. So after you finish building your shelves, make sure you trim the edges to get that authentic built in look.
Living rooms and offices aren't the only places that can benefit from built in shelving. Make some for your playroom too! Whether custom or hacked, it will give you a space for all those bins and books that looks fabulous at the end of the day.
While you're building, you might as well figure out how to include a reading nook into your built in shelves. That seat between the stacks will become a favorite spot for you, your kids, your dog and anyone else who comes into your home.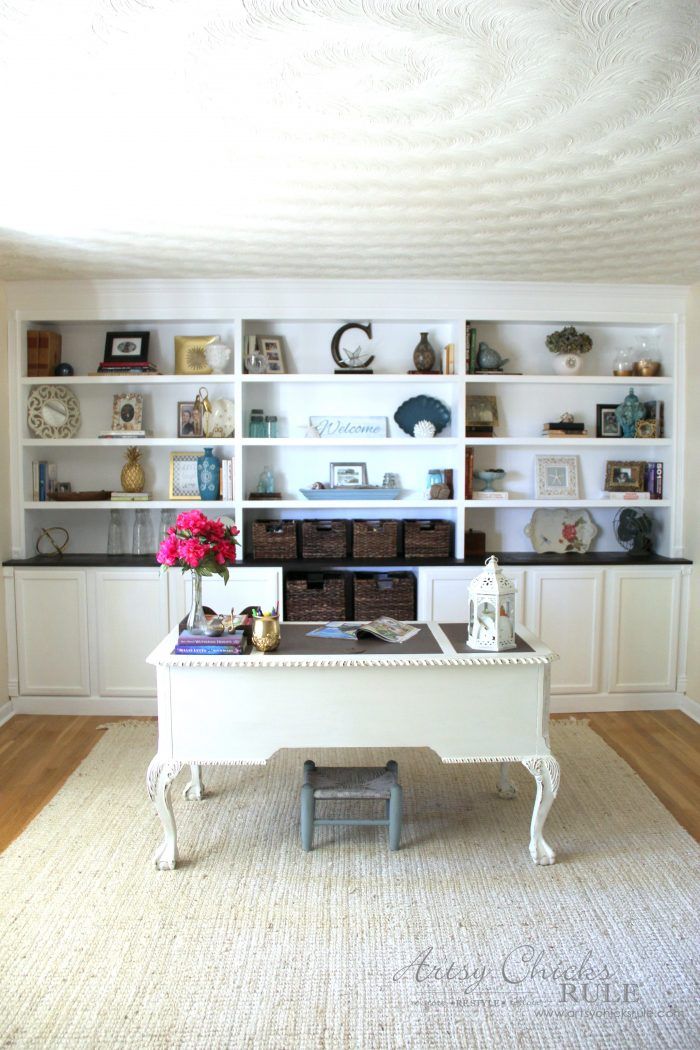 Maybe you're thinking that your built in shelves need a little more hidden storage. Opt for cabinets on the bottom half instead of shelving. This option gives you the opportunity for a countertop like shelf to hold lamps and other larger pieces.
Or, go ahead and go door crazy over your shelves. With glass fronts plus solid fronts, you end up with a really neat wall of cabinets that gives you plenty of hiding space and keeping your display space. Plus it all looks so uniform no matter what you put in them.
Sometimes you have a space in your home that just screams for some built in action, like a fireplace or a wall with just your TV on it. Flank your existing element with built in bookshelves to create a cohesive traditional look you can be proud of.
Don't have a nook to fit your built in shelves into? No worries. Build a set of library shelves out from the wall. Once you've installed some lights and styled the heck out of those shelves, it will feel natural in your space.
While we might envy those who own a home with high ceilings, it can be hard to style all that space well. Adding you're own built-in shelves can give you decorating access to all that extra head space in a snap.