Zig Zag Shelf: Modern Home Furniture From Studio deForm
The Zig Zag shelf from Studio deForm is the latest in innovative wall shelf design. The accordion like shelf system can be assembled in less than a minute by stretching it into shape. If you want convenient and modern wall shelves, the Zig Zag shelf is your best option.
First, we'll show you the basics of this innovative shelving design. We'll give you the benefits and why it may not be right for everyone.
Zig Zag Wall Shelves
If you like the Zig Zag shelves but want something within your budget, we'll show you a few alternatives. Each Zig Zag design upholds a common aesthetic that combines modern living with convenience.
You can use the shelves for books or as display shelves for your personal items.
Minimalist Design
The Hem Zig Zag Shelf is from Studio deForm. The founders of deForm, Jakub Pollág and Václav Mlynář, studied furniture design and architecture in London, England. Their academic background is evident in the construction of the Zig Zag shelf.
What you'll notice with the Zig Zag shelf is how the creation is a shelving and storage support option that transcends traditional room furniture design.
Redefining Room Furniture
One sign indicating Zig Zag is a shining example of modern design is how the shelving system uses brackets arranged in a zig-zag pattern. Each shelf is supported by an alternating pattern of tall braces in the back and front.
Modern Wall Shelves
The modern bookshelf takes its inspiration from mid-century design. The shelves are simple yet versatile. For example, this shelf would look good in a rustic, bohemian, or modern farmhouse setting.
Product Details
The Zig Zag shelf is available in oak and walnut. The base materials for the oak shelf are English Oak veneer with a lacquer coating and a solid English Oak base. Likewise for the walnut shelf. The manufacturers have constructed the base with solid Black Walnut and the shelves using a Black Walnut veneer and a lacquer top coat.
The shelves and support brackets are flat packed for easy transport. Studio deForm created the shelving system to fold like an accordion for easy shipping.
Stretch to form the correct shape when removed from the box. Metal screws, straps, and an Allen key are included. Thus, no extra tools are necessary to complete the installation. In addition, don't forget to secure the wall shelves to your wall to prevent the shelves from tipping.
Bookshelf Dimensions
Hem manufactures two main sizes and another shelf that functions as a media unit.
Measurements
High Shelf – L: 69 x W: 15 x H: 84 inches – $2,649
Low Shelf – L: 69 x W: 15 x H: 39 inches. – $1,499
Media Shelf – L: 76 x W: 17 x H: 22 inches. – $1,159
Interior Furniture
The Zig Zag Shelf has an open form that lends itself to many applications. The shelves offer storage options or display opportunities. The design creates a striking vignette that can showcase small sculpture pieces, plants, wall art, and personal items.
Moreover, because of the refined style of the wall shelves, your items will look all curated and sophisticated.
Hem and Studio deForm
The Zig Zag Shelf is a creation of Studio deForm and manufactured by furniture-maker Hem. Hem is a design brand based in Sweden that collaborates with independent artists and innovators. The company produces creative furniture and accessories from many studios.
The Swedish company is known worldwide for its commitment to excellence. Their overall work aesthetic serves as a guiding principle and inspiration for the products they produce.
Jakub Pollág and Václav Mlynář founded Studio deForm in 2011. They are both artists and innovators. The Zig Zag Shelf is their latest creation and a blend of their commercial and artistic endeavors.
Zig Zag Shelf: Pros And Cons
We have evaluated this shelf to determine its benefits and drawbacks. While this shelf has a striking and innovative design, it will not fit the needs of everyone.
Pros
Beauty – The simple form and style of this shelf is beautiful and will create a presence wherever you place it.
Ease of assembly – No tools are necessary to complete the construction of this piece. You can complete the installation in under an hour.
High-quality construction – This product uses high-quality materials, both solid wood, and wood veneer. Also, Hem includes a five-year warranty with the initial purchase.
Cons
Expensive – This product is expensive. However, the artistry and quality of materials will justify the price to many customers.
Few Finishes – There are just two finishes available, oak and walnut. Oak is a light toned wood finish and the walnut shelves have a dark wood finish.
The front supports – Unlike other shelves where the supports are on the side and the back, there are two front braces on the Zig Zag Shelf that some may find awkward.
---
Zig Zag Shelf Alternatives
If you want the Zig Zag shelf, but prefer something more affordable, consider the following options.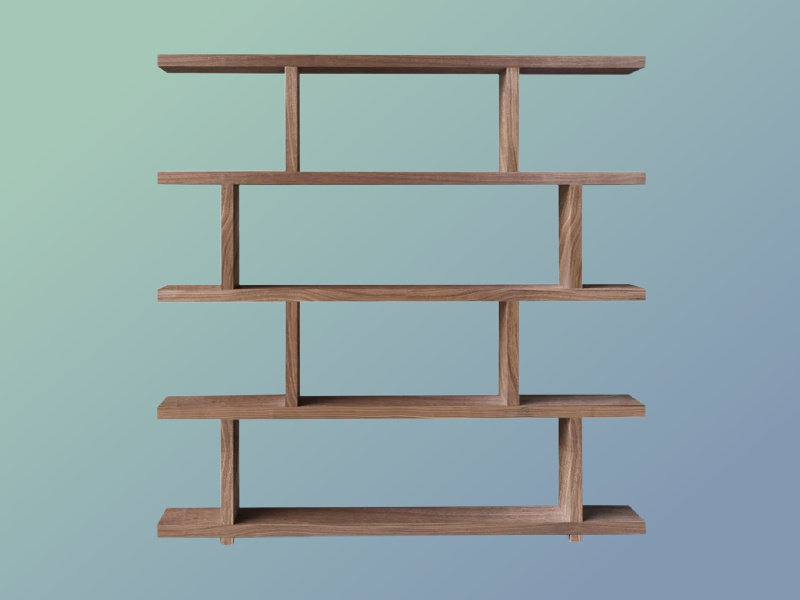 For a veneered bookshelf, you might be surprised with its weight and durability. The four-level shelving system is easy to assemble and takes less than an hour to assemble.
The geometric shelving system offers horizontal and vertical support, creating a trendy design. AllModern constructed the shelf from solid and manufactured wood (MDF).
Available in walnut or white, the shelf is equipped with a tip over restraint device. It's also good for residential and non-residential use.
Dimensions
Overall : 63" H x 63" W x 11" D
Shelf: 13" H x 63" W x 11" D
Weight: 110 pounds
Pros:
Cons
From Crate and Barrel, the Becket Gray Wash five-tier shelf system has a simple design, allowing it to blend with other home decor items.
The manufacturers constructed the shelves from solid mango with black iron tubing for support. The unit is a few inches shorter and more narrow than the Zig Zag Shelf.
Pros:
Cons

The Index Wall Shelf from Burrow is intricate yet simple. Beginning with a set of three shelves, it's a wall bookcase suitable for any home library. With two mounting positions on the back of each shelf, the frame can be placed in the outer position or inner position to accommodate horizontal arrangements.
Milled from solid ash, the bookshelf is easy and quick to assemble.
For the environmentally conscious, you can feel good about this product as it sources materials from trees which are replaced to restore all the timber used.
Index Bookshelf Assembly
Although it looks simple, hidden within its design is a trick allowing you to add new shelving units according to your space and budget. The idea of adaptable shelving is a modern concept. The shelves can be arranged horizontally, vertically, or in a grid.
The Index Wall Shelf has two-point mounting hardware that makes it easy to hang template posters.
Dimensions
Index Wall Shelf, Single Unit – 32″ W x 32″ H x 10″ D
Index Shelving: Set of 464" – W x 64" H x 10" D
Capacity 360 pounds (30 lbs. per shelf)
Pros:
Free Delivery
Three finish options offer greater flexibility
Cons
For some, assembly might be difficult
DIY – How To Clean A Wood Bookshelf
If you want your bookshelf to last longer, you'll need to keep it clean. Follow these five easy steps that help keep your bookshelf looking great.
Remove everything – before you can start cleaning, you must remove everything from your bookshelves.
Clean the bookcase – move the shelving unit away from the wall. Use a dry rag and wipe away the dust. Next, use a water and soap mixture to wipe away dirt and stains.
Treat scratches – check for scratches. You might be able to cover them with putty.
Check underneath – spiderwebs often accumulate underneath bookshelves, so make sure you check the bottom and wipe away any debris.
Vacuum – before you put your bookshelf back into position, vacuum the floor area.
And that's all there is to it. As a reminder, you should clean your bookshelf at least once a year.
Frequently Asked Questions (FAQ)
FAQ
How can I find the Zig Zag Shelf?
You can look for shopping assistance for the Zig Zag Shelf from Hem at Hem.com. First, go to the main menu and click on the furniture tab. Next, open the page for Storage and Shelving. The Zig Zag Shelf will be listed there.
What else can I buy from Hem?
You can shop for many items for home improvement including room furniture of all kinds: rugs, bedding, kitchen linens, pillows, living room furniture, bedroom furniture, and dining furniture.
How do you arrange items on shelves?
First, decide what to put on your shelves. This may include plants, books, vases, pictures, sculpture, personal objects, candles, and baskets. Next, try to create vignettes of objects that you style together in a group like a section of books, a sculpture, and a picture. Then, create several vignettes and arrange them around the shelves. Also, remember to vary the texture and height of your objects. Last, do not overcrowd your shelves, and keep at least one third to one fourth of your shelf area clear.
What do you put on the low shelf?
You can reserve the lowest shelf on the bookcase for large items or for storage. For example, find a set of baskets or decorative boxes that fit on the shelf and store things like throw blankets, toys, or games.
How can I make my shelves more interesting?
There are a few ways to create a shelf that has a more interesting design. First, make sure to vary the orientation of the objects and stack items both vertically and horizontally. Next, vary the height and texture of the objects displayed. Last, add greenery to enliven your shelves.
Zig Zag Shelf Conclusion
The Zig Zag Shelf is a contemporary room furniture design milestone. With its grid-like frame, the shelf design provides order and elegance in one move. Instant arrangement is the future of modern furniture, and the designers at Studio deForm are aware of this.
As an original high-quality creation, the shelving system is for those who appreciate alternative furniture design. However, this shelf is not in everyone's budget, but affordable alternatives exist. Those who own the shelving system appreciate its craftsmanship and functionality, which will last for years.