14 Modern Tree Floor Lamps to Brighten Up Any Room
Thinking of purchasing some lamps to elevate your home space? Tree floor lamps are great options because they help create cozy corners for those intimate conversations, have a lovely aesthetic, and also provides ample illumination for your space. Tree floor lamps are also great décor that's both easy and versatile and you don't need the help of a professional electrician to get it all set up.
Usually, tree floor lamps are placed beside a chair, sofa, or bed to provide some soft overhead lighting for your relaxation or reading needs. What's great about tree floor lamps is that they also usually come with more than one light socket so you can easily move it in different directions. To help you get started on your tree floor lamp search, we've curated some of the best tree floor lamps available. You're sure to be able to find something that you like from the list below.
This delightful tree floor lamp has a body that's made with wood and steel along with a bronze and dark brown finish that makes it great for log cabins or rooms that might have a darker finish. Its clean and modern design will add a touch of character to any space, and it also comes with a mica shade along with an added dimmer switch for your convenience. The switch is located on the body of the floor lamp, and while the height of the floor lamp is not adjustable, it fits perfectly in a range of living environments from the living room to the bedroom.
This fancy-looking tree floor lamp is a great option for those looking to brighten up their living space. Not only is it portable, but it's also incredibly easy to install. Thanks to its slim design and dangling shades, it's a fantastic lamp to add to your space for a contemporary look that won't be over the top. This particular lamp is crafted from stainless steel and features a unique tree design with three lights that are capped with drum shades made from fabric. The lamp also comes with a four-way switch feature and is a great addition to your cozy space.
Perfect for those late-night reads, this tree floor lamp will add a touch of style to your overall living space. Crafted from both wood and metal, this gorgeous tree floor lamp has a tree-inspired design with its slim trunk and branch design. Each of these branches supports the bulbs that are encased in globe-like cages for some eye-catching detail. The base finish of the lamp is dark bronze, and it also comes with an in-line switch. What's great about this particular lamp is that it also has a damp location rating which makes it ideal for an enclosed patio ensemble.
If you're looking for a sleek tree floor lamp with a modern aesthetic, this lamp is the perfect purchase. It has a slim black trunk that branches out to five globes that's sure to provide all the light you need for your space. There's a rotating dimmer switch attached to the post of the floor lamp if you're looking to dim the lights for a more intimate atmosphere. Natural light bulbs can also be used with this lamp just as long as it does not exceed the recommended 40W or equivalent. It's truly a great lamp that can help spruce up any space due to its sophisticated design.
This tree floor lamp is great if you're looking for a unique piece that's also eye-catching. It has an industrial style look that's sure to elevate any living space while its retro light bulb creates an inviting and comforting lighting atmosphere. It's a great addition to any contemporary space, and you're sure to love its charming design. This particular lamp also comes with an adjustable light head that you can adjust 180 degrees up and down, along with a plug-n-play design as well as a convenient step-on switch. The lamp is crafted with metal, easy to assemble, and will provide the right amount of light for any space.
If you're looking for a tree floor lamp that'll fit it narrow spaces, this is the ideal lamp to purchase. It has a compact marble base that allows it to be easily tucked into any narrow hallways or corners, and its minimalist design means that it's perfect for any room. The lamp comes with three spherical shades that are topped off with metal caps for an elegant look. It's an incredibly stylish lamp that's well-constructed for the perfect mid-century modern touch. The lights are also dimmable, have eco-smart bulbs along with a beautiful matte gold finish that's a complete showstopper.
This particular tree floor lamp has a unique aesthetic and is larger than some of the other tree floor lamps that we have listed here. It's crafted with metal and has a thin post body that's stabilized on a tripod base. The top of the lamp consists of angled arms that are topped with three metal bowl shades lined with gold. Construction is sturdy, made of high-quality materials, and it also comes with a wrapped cord for convenience. Due to its unique construction, the lamp emits a golden glow that's both modern yet sophisticated and is sure to jazz up your living space.
For those looking a tree floor lamp with a simple elegant modern design, this lamp will tick all your boxes. It comes with a total of three adjustable heads so you can easily adjust the lights to suit your needs. It's constructed with steel and has a cylindrical base with three metal shades. The lamp comes with a rotary switch so you're able to easily switch the lamp on and off, and it's also not difficult to assemble at all. It's a sturdy and functional lamp, won't break the bank, and will provide any space with all the lighting that it needs.
This is a great lamp to add to any contemporary space as it's incredibly stylish and is of excellent quality. The lamp has elongated brass sockets that can be adjusted according to your needs along with round frosted glass globes. The light also comes with a rotary switch that you can use to dim the lights, and it even already comes with LED lights that can last for up to 50,000 hours. Its retro-inspired look is great for any space, and it provides some really good ambient and task lighting as well. It's also easy to assemble and looks like a really expensive lamp that's decently priced.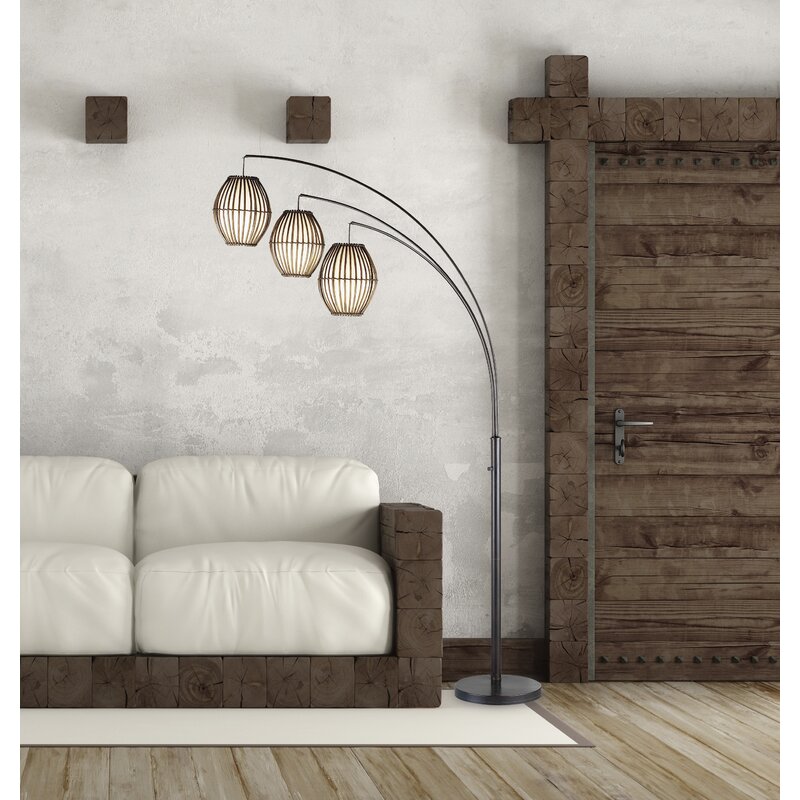 Adding this lamp to your space will take you right back to the tropics as it has a similar aesthetic to what you might see by the beach. It's best suited for tropical, modern, and industrial-style rooms and also helps add texture to any space. With a gorgeous finish and design, just the addition of the lamp will create the perfect ambiance for any room due to its globes that are lined with paper and encased with a wooden grid. Assembly is simple and is sure to light up any space. Be prepared to be transported to the tropics with the addition of this gorgeous lamp to your home.
Perfect for ambiance lighting, this tree floor lamp has fabulous quality and finish. The glow of the antique bulbs will provide a relaxing and calming atmosphere to any space and is a great elegant addition to any space. The lamp is made from stainless steel and is crafted with a unique antique brass finish. Assembly is easy, and it's a great lamp if you're not looking for an overpowering light as it casts a soft glow instead of anything over the top. Best of all it's unobtrusive in any living area, comes with a rotary switch along with replaceable bulbs.
This tree floor lamp combines both charm and elegance to elevate your room décor. It has a smooth weather brass finish that branches out to three frosted glass shades that come with its special design. The floor lamp comes with a dimmer switch if you'd like to turn the light down a notch and is a great piece that'll fit in with a wide range of environments. Crafted with metal material, it's a sturdy lamp that's meticulously constructed to provide the right amount of lighting to any living space.
This tree floor lamp is particularly unique because it doesn't come with any shades. Instead, this sleek and modern floor lamp comes with five bright arches that come with an exclusive touch dimming switch. It's a gorgeous piece to add to your living space, sturdy, and the dimmable feature means that you're able to adjust the ambiance of your room to exude a softer feel. Since it has such a unique design, it also adds flair to the décor and draws the right amount of attention. What's great about this lamp is that it also uses less electricity since it's an LED lamp – meaning that you'll be saving money on your electricity bill.
This floor lamp has all the features you could need. From LED functionality to dimming capabilities and the ability to move the lamps to different positions, this floor lamp has it all. It also has a sophisticated style and fills any corners perfectly. This particular lamp is also smart outlet compatible so you can have Alexa, Google Home, or Apple HomeKit connected to help in turning the light off. Setting up this lamp is also a breeze and is an exceptionally stunning piece to help brighten up any living space.