Tiny Apartments Plans – 10 Clever And Ingenious Ways To Deal With The Lack of Space
Size matters, especially when you're looking for a new house or an apartment that you can call home for a very long time to come. However, while most of us would prefer to have tons of space to work with, there are limitations, most notably the price tags that large apartments have attached to them. But don't let that discourage you. Tiny apartments can be amazing too. In fact, there are a lot of clever and ingenious design ideas specifically created for these kinds of spaces. We're going to share a bunch of them with you right now so let's check out together some of the most interesting tiny apartment plans and designs out there. We hope you'll find inspiration in these projects.
22 square meter apartment
Would you ever consider living in a 22 square meter apartment? Before you say no you should check out this place because it's absolutely packed with ingenious and unique design solutions. This apartment is located in Taipei, Taiwan and was renovated by studio A Little Design. The team made sure to make this place feel comfortable and to include all the essentials without making it seem absolutely tiny and cluttered. Everything in here was designed based on their client's specific needs and lifestyle. The apartment has a fully-equipped bathroom with a tub, a small kitchen with as much storage as possible and a living area with a sofa and a small dining table. There are also bookshelves cleverly positioned at the top of the wall, accessible via a ladder. The designers also took advantage of the 3.5 meter height of the apartment and created a cozy loft area where a bed and a desk are positioned.
37 square meters
This is an apartment from Shanghai, China. It's small and only measures 37 square meters across and has a linear floor plan which made things quite interesting for the designers at Atelier Mearc who are responsible for the renovation. Because the spaces are displayed in order and flow into one another, the designers wanted to combine them all and to make the apartment feel like a single multifunctional space with different areas and functions scattered around. The long and narrow floor plan posed certain restrictions and didn't leave a lot of options but the design is nevertheless unusual to say the least. There are virtually no interior walls or partitions in this apartment. Instead, the different areas are delineated through contrasting materials, furniture pieces and the occasional glass panel which becomes a barrier but doesn't block the view. This allow the light to travel freely from one end of the apartment to the other. Such a design is not for everyone but it does make the most of the space that was available. 
47 square meters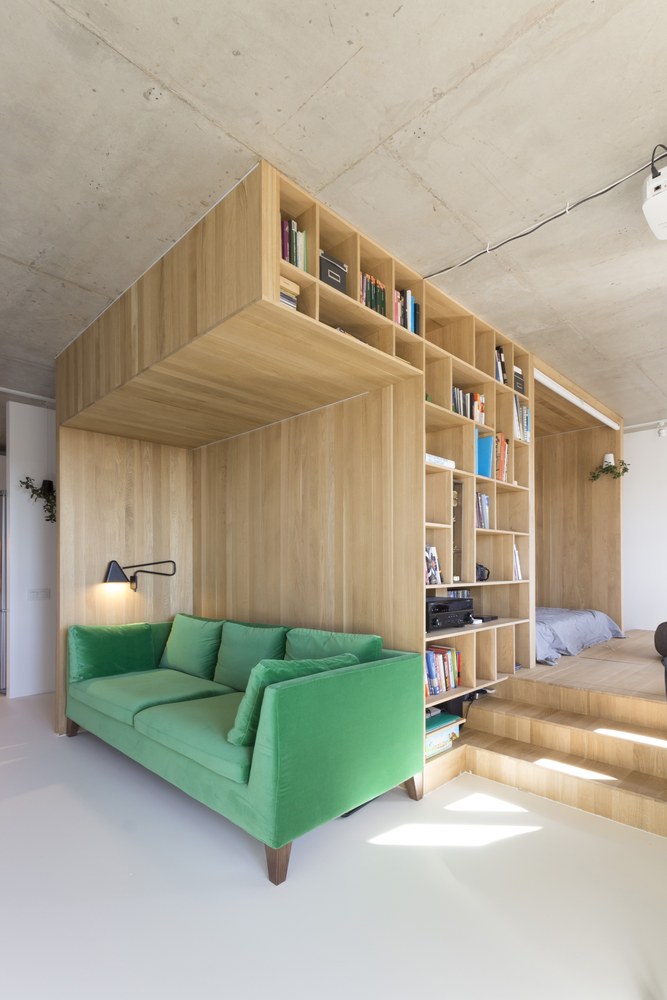 Building a giant wooden box at the center of a small apartment in order to make it feel spacious and airy can seem a bit counter-intuitive but you must take into consideration all the details and factors before you form an opinion because the results may surprise you. This small apartment from Moscow is the perfect example. It has a total floor plan of 47 square meters and its interior was completely reimagined in 2016 by studio Ruetemple. The goal was to transform the space into a convenient, functional and modern home and in order to achieve that the designers took advantage of the fact that there were no load-bearing walls inside the apartment. Also, there were two large windows on opposite walls that filled the entire apartment with natural light. As a result, they opened up the entire area and decided to build a large multifunctional structure at the center. This structure is made of wood and has an interesting and sculptural design. It incorporates a private sleeping area, a nook for a sofa and a cloakroom. It also offers lots of storage.
35 square meter floor plan
This is another tiny apartment from Moscow but this time the interior design was done by Studio Bazi. The 35 square meter floor plan made it challenging to come up with a balanced design that blends looks and function but the results are quite inspiring. The idea was to create a comfortable and inviting space and to maintain an open floor plan but also to include lots of storage and to make use of the natural light. It was also necessary to create a private sleeping area and the solution found was to build a wooden box in one of the corners, raised on a platform with storage built into it. In that same section of the apartment there's also the entrance area which can be hidden behind a curtain. The rest of the apartment is dedicated to the living spaces plus the small open kitchen and the bathroom, all enjoying stylish designs and decors.
33 square meter apartment
Here's an even smaller apartment, also designed by Moscow. It's a 33 square meter apartment situated in a historic building at the center of the city. It has a very organized system where each element has its own designated space and that includes functions such as the kitchen, laundry area, wardrobe and all the storage options. The compact kitchen is stylish and equipped with all the necessary appliances and it can be concealed behind folding doors and the bedroom is placed upstairs and has its own private area. Although small in scale, everything is well-proportioned and the apartment as a whole has a very balanced interior design. It's very clear where everything is but at the same time, all the different elements interact with each other harmoniously.
56 square meters
At 56 square meters, this apartment from Amsterdam seems rather big compared to some of the others we've seen so far. It does however remain small and giving it a spacious and airy look while incorporating all the different types of spaces, functions and features wasn't easy. This was a project completed by Bureau Fraai and the first step consisted of removing all the interior walls, doors and partitions in order to make room for a custom-designed plywood volume with cabinets extending along the walls and hidden spaces inside. Only the kitchen and living areas are visible at first and that's because the bathroom, sleeping area and additional storage are hidden inside the box-like plywood volume.
35 square meters
Although it only measures 35 square meters across, this apartment from Camogli, a village near Genoa in Italy is surprisingly roomy. It was designed by studio Gosplan and it hides a bunch of secrets. The general idea here was to offer the option to hide certain elements when they're not needed and to create multifunctional spaces that can change in minutes based on need. As such, the designers created a stylish open kitchen which can disappear when not in use, leaving only a cabinet in plain view. Also, there's a small nook with a bed neatly hidden away which can become a second sleeping area for a guest. There are numerous other cool features incorporated throughout the apartment.
21 square meter
At 21 square metes total, this is the smallest apartment in our list so far. It's located in Madrid and it was designed by studio MYCC. It may be small but it has a lot to offer. what really saved this apartment was the high ceiling which allowed the designers to include different floor levels and to create distinct areas in this manner. All the are interconnected and moving from one level to the other requires a bit of effort but is made quite fun, with various points of interest along the way. The kitchen is a transitional space as one passes through to reach the living room that's elevated above storage space. There's also a ladder that leads to a small study filled with natural light. Given the available space, everything is small scale but there's also lots of diversity in this design which gives the apartment lots of character.
29 square meter apartment
This is a very chic and stylish apartment which is situated in Wrocław, in Poland. It only measures 29 square meters across but it doesn't look or feel tiny. In fact, it's very bright and airy. The interior design is done by Ewa Czerny and takes advantage of the apartment's overall shape and proportions. Although the 3.7 meter high ceiling didn't allow a full upper floor to be added, it was however possible to incorporate a loft area where the sleeping area is placed. The living room, dining area and the kitchen are combined into one large space and are blended together beautifully without making the main floor seem too cluttered or furniture-heavy. The palette of colors and finishes is very beautiful as well.
40 square meter apartment
This is 40 square meter apartment situated at the top of a 6-story building in New York. It's a very unusual apartment and that's because it has a tiny footprint but it's very tall, with a ceiling that's over 7 meters high. As a result, the team at Specht Harpman Achitects was able to use this height in their favor and to create a vertical floor plan with different platforms and different functions. This layered look allows this tiny apartment to ultimately feel bright and airy and also to include all the necessities. There's a small open kitchen, a bathroom hidden underneath the staircase, more storage space built into the stairs, a bedroom platform and even a tiny roof garden.