52 Ways to Style Your Covered Porch
Covered porches are a luxury for several reasons. One, if you have a covered porch, you likely live on a piece of land because a porch needs the space to accommodate it. Two, if you have a covered porch, you likely have even a small corner for a chair, perfect for morning coffee and evening reading. Three, if you have a covered porch, your decorating opportunity immediately extends beyond your front door.
Yes, covered porches aren't only for the iced tea sipping southerners. They come in all shapes and sizes and give us a space to entertain beyond the four walls of our home. Just like you decorate your living room for guests, why wouldn't you create a beautiful porch to welcome friends, neighbors and anyone else who needs to sit a spell? Take a look at these 40 ways to style your covered porch, whether it's big, small or someplace in between.
Porch makeover ideas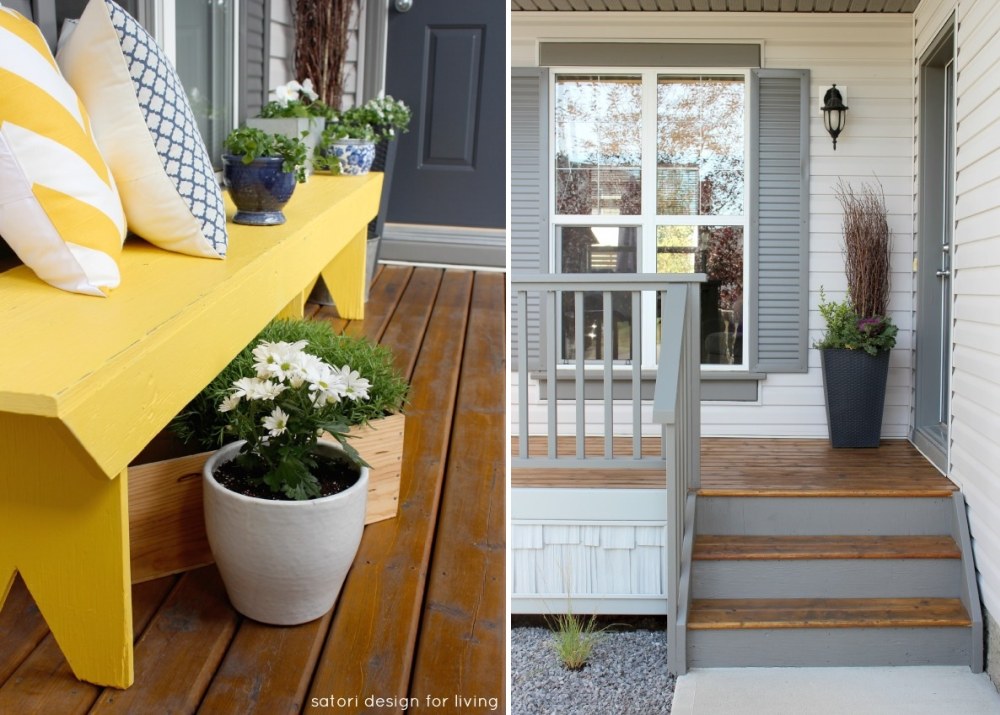 If you're stuck on coming up with a plan to transform your porch, these makeovers should give you some ideas and put you on the right track. Start with something simple, a new color for the front door, one that complements the frame but still looks fresh. This for instance is a really nice dark gray with blue undertones and it changes nuance based on how the light hits it. The other elements that spruces up this porch featured on satoridesignforliving is a modern planter filled with seasonal picks.
Sometimes a new color for the front door is not enough to really make a difference. It's quite possible that the entire porch needs a makeover in order to look up to standard. Add some paneling to the walls, cover up the floor in tiles or some other material, redo the planters or get new ones and maybe add some furniture and decorations as well like a sconce for lighting, a small table with a couple of chairs and some pots and plants. Check out tatertotsandjello for more ideas.
Another pretty impressive porch transformation is featured on shadesofblueinteriors. Notice here a change in color for both the wall and the door as well as a new design for the flooring. The existing support columns look different as well. Initially they were just wooden posts wrapped in white metal and didn't really look great. The wraps were removed and the wood was exposed, becoming the new material of choice.
Speaking of columns, here's another interesting makeover idea for them. This porch originally had these round aluminum columns which looked pretty slender but also very dated. The new square columns are more robust and change the entire look of the porch. It's only an aesthetic change and the original columns are still in place but with a better-looking frame around them. Check out keepingitcozy to find out more about the transformation.
A change in style and design for the flooring can really make an old porch look fresh again. If you have a concrete floor that's really easy to do using paint and stencils. You can make your porch floor look like tiles or like a rug and completely change its appearance without investing a lot of time or money into the project. Check out cuttingedgestencils to see this idea put into practice.
A beautiful porch can also improve the curb appeal of the house so it would be nice to make it look nice from a distance as well as from up close. This right here was a thorough makeover. The original porch was in pretty bad shape, with a lot of the boards beyond repair and outdated fixtures. A total overhaul was needed and that's what happened. The old pillars were replaced with new ones, new flooring was installed, the old lattice was replaced with plywood siding, a new custom stair railing was installed, the concrete steps were covered with wood and more. Check out the whole transformation on farmhouseonboone.
A lot of different individual elements and details can ultimately help to make a porch look nice. For instance, it may be the case that the existing window shutters don't really look great from the outside. A change of color and style could really help in that sense. As for the rest of the porch, we really love the idea of a nature-inspired design with lots of wood, plants and greenery in general. A really cool makeover that suits this design aesthetic can be found on radiobutlers.
Screened porches tend to require more work when doing a makeover just because there are more surfaces to work with. At the same time, that means you have more options if you want to go for a different style and more areas where you can add details. An interesting and inspiring change of style was featured on gardenista where the porch got a whole new color palette based on dark nuances. That actually helps to make it feel more cozy which is always a nice thing.
Simply cleaning up the porch and repainting the floor can be enough to change the overall look and feel of this space. Check out chippasunshine to find out all the requires steps if you want to repaint a concrete porch. First you need to clean it and a pressure washer can be a life saver. Then the old paint needs to be removed and there are several ways to do that. Then etch it, prime it and paint it. It's time-consuming but well worth the effort.
In case you're not yet sure what style to go for, we'd like to suggest a cottage-style porch design. It could end up looking super inviting and cozy and you can decorate it with things like rugs and cushions to give it character and color. This porch featured on repurposeandupcycle also has a swing seat which is always a cool thing to have outside.
A little sprucing up and the old porch can look amazing. It doesn't have to be a long and costly project. You can keep the existing furniture and repaint it and that can trigger a change in the overall color palette of this space. Another very effective way to transform a porch is by simply adding an outdoor rug which can bring in an accent color and an interesting pattern to the mix. A few more details like some accent pillows and a planter or two can complete the new look. Head over to honeybearlane for more ideas and inspiration.
Doing some landscaping around the porch would definitely be great too and it makes sense to focus on that if you're redoing the entire space. Check out how awesome this whole transformation from shadesofblueinteriors is. It included power washing the brick and the gutters, painting the floor, adding new plants in the flower beds, replace the small trees, adding more planters, building a pergola and adding curtains, building a bench, installing poles and hanging string lights and finally adding a bunch of accessories like pillows and some furniture.
Covered porch design ideas
Small Porches
When you're thinking about designing your small porch, you want to start at the base level. Before you pick a flower pot or a decorative garden gnome, it's important to look at the porch's details. How are the sconces? Does the ceiling have a coat of beadboard and does it need it? What color would look best on the front door? The bottom layer should be your first priority.
Every home needs house numbers someplace on its front. Sure you could opt for the classic versions you find at any ol' hardware store… or you could give your numbers a bang by choosing something big and bold. When you have to have it, you might as well give it character.
Most porches have some kind of lighting because who wants to come home to a dark doorway? Nobody. Rather than living with the builder grade sconce that your porch probably had when you moved in, consider upgrading to something more stylish and unique. Even an inexpensive one will give your little covered porch a whole new look.
Some small porches have railings, usually in the classic spindle style. But these days, railings can be anything but classic. Opt for a railing that is patterned and popping instead of basic and lined. No matter what you put on your porch after that, it will look amazing through that grid.
Now we get to talk about the fun part of styling because pots and plants are really what we want to think about. Find two planters and fill them with the largest ferns you can find. These bushy plants will love your shady covered porch and fill your space effortlessly during the warm summer months.
Ferns aren't the only bushy leafy greens that compliment a small porch. Galvanized buckets with trees planted in them will make your covered porch impossibly farmhouse looking. Hopefully you picked a good color for your front door because those trees are gonna make everybody look.
When you want large planters for your porch, it's easy to become intimidated by the price tag. Don't be fooled. Use wood and paint to build your own big box planters for your small porch. Then you'll have no qualms painting them over and over again since you build them yourself.
Small porches don't necessarily need large plants to match. A spattering of pots that show off colorful flowers can really brighten up a dark porch. You'll want to spend all your evenings out on the front step watching the wind ruffle the petals.
Do you have a blank flat wall on your small porch? Use that space to your advantage! Hang a sign on the wall to give anyone who approaches a good feel for your family. Whether you make it yourself or buy one, you will love seeing your favorite set of lyrics or house rules each time you get home from work.
Anyone who decorates small spaces will tell you, it's all about the layering. Both in height and depth. Start at the back with tall shutters or rustic wood and layer on top with seasonal pieces and lanterns. You'll create a mini vignette on your covered porch that will get all over Instagram.
When there isn't a lot of square footage on your porch, it's easy to focus on plants instead of seating. However you should give small porch sitting a try. Two small chairs by the corners can create a perfect little nook for coffee sipping with your significant other and chatting with your mom.
Wicker furniture has such a quaint English feel to it. If you're trying to bring that same feeling to your front porch, consider filling the available space with a wicker seat. Add some cushions to make the most inviting spot in your home come to life.
Sometimes the small front porch is long and narrow rather than short and squat and a bulky wicker seat would render the whole space unusable. Find yourself a simple long wooden bench for the space instead. Not only will it be a great seat for sitting and licking ice cream, you can put plant pots around the edges to make it look homey.
Just because your covered porch is small doesn't mean you can't decorate seasonally. Corn stalks wrapped around the porch pillars make a great addition during the fall. Add a pumpkin or two and a big bright mum and you'll have the sweetest porch on the block through November.
You can't forget Christmas decor! Being the season of coming and going for you and all your family and friends, you'll want to dress up your tiny porch to fit the feeling. Use some vintage pieces you already have around the house and supplement with mini trees, red berries and a green wreath, seemingly made for your tiny covered porch.
Large Porches
Oh if everyone had a large covered porch. It can be such a sweet space for sipping and chatting and cooling off in the hot summertime. Line your large porch with rockers for a classic southern porch look. Flowers become accessories after that.
When your covered porch has a view, you definitely want to create a comfortable space for extended sitting. Rather than straight backed rockers, put some cushioned lounge chairs on your porch. You won't mind sitting there evening after evening while the weather is good and the sky is beautiful.
Every porch sitter loves a good swing. You can find them in so many shapes and sizes that a little research will lead you to the perfect choice for your porch. Whether you go classic white or woven bohemian, you'll love the relaxing opportunity a swing brings to your porch.
Are you blessed with a supremely deep porch? The kind that feels cool and cave-like after a bout of gardening in the hot sun. Rather than a swing, hang a daybed on your deep front porch for your napping pleasure. Now everyone will know where to find you on those lazy Sunday afternoons.
Maybe you can't swing a daybed on the porch. No problem. Give yourself a hammock instead. It could be attached to the house or hung by its own stand but either way, you still can get swinging and napping on your covered porch.
A long deep porch can be quite a conundrum for some stylists. Once you've created your little seating area and decorated around the door, what do you do with all the empty space in between? Enter the church pew. Such a long seat can be left to it's wooden beauty or painted a bright color but either way, it fills the space and provides opportunity for seating and styling.
Another great option for long porches is the same concept you use in your home. Rather than trying to make one large space all connected, create smaller spaces for conversation and coffee sipping. A swing on one end, some rockers on the other. It will make the whole porch feel full and finished when you're done.
A large porch gives you so much more opportunity for details than a small one. Like have you ever thought about painting your porch floor? You can do a bold striped pattern, something small and lacey or even a painted rug. It would certainly give your covered porch more personality.
Let's talk plants, shall we? With a larger porch, it's easy to fill your space with furniture and seating before you remember to include greenery. If you're despairing over your square footage, breathe deep and look up. Hang some planters from the ceiling to draw the eye upward and create a well rounded entertaining space.
When your porch is so large, you are certainly not limited to outdoor plants. If they can take the light, consider bringing some of your larger leafy friends from indoors onto the porch. They'll create a vintage porch feel no matter what else you include in the space.
Plants aren't the only things you can take outside on the porch. Putting a cabinet on your covered porch can be helpful in several ways. First, you have storage for all your outdoor entertaining needs. Second, it creates some visual variations on your porch instead of the eyes stopping at the back of the chairs. Third, styling cabinets is the most fun you can have.
Want to know another thing you can take outside? Ceiling fans! While this probably makes you think of old southern homes, you'll be glad you did it when it's deep summer and you could make a soup out of the humidity. Plus a ceiling fan on the porch helps give you that living room outdoors kind of feel.
If you're worried about putting furniture on the porch, stress less and think outside the box. Rather than putting indoor furniture outside or settling for big box outdoor furniture, fill your porch with thrifted vintage pieces. The stuff that's old and chipped already so you won't care if they put a condensation covered lemonade glass on that table.
Less isn't always more when you're styling your home. Don't be afraid to clutter up your porch with comfy seats, pots of plants and a patterned rug. String some lights across the ceiling and you'll have a perfect little porch den that all your friends will want to hang out in.
Once you've placed your planters and organized your seating, it can be tempting to stop there. But if your porch has wide steps, you definitely need to give them some love or they'll look bare and left out. Small potted plants and lanterns are good options that will fill the edges without getting in the way of your feet.
Back Porch
Many home layouts have formal living rooms in the front of the house and casual family rooms at the back. Porches kind of work the same way. The front porch is usually comfortable but definitely more formal. If you have a back porch, it is likely become an extension on your livable space. An outdoor living room is a great way to bring the whole family outdoors together.
Are you renovating your outdoor space this summer? Put a fireplace on your back porch. From spring through fall, your family can enjoy cozy nights by an outdoor fire and even mild winter days can result in marshmallow roasting. Plus it's a little more luxurious than a fire pit.
When you have a covered porch right off the kitchen, it makes sense that you would put a nice long dining table out there. Not only will it give your family a sweet spot for summer pizza nights, it makes hosting large parties a breeze.
Do you really want to take your covered back porch the extra mile? Give yourself a mini outdoor kitchen for entertaining. A stationary grill flanked by countertop will be a real treat for the griller in the house. Add a mini fridge for drinks and you're all set to host the best barbecue in the neighborhood.
Whether you have an indoor fireplace that burns all winter or an outdoor fire pit that burns all summer, the back porch is the perfect place for a wood rack. Choose something stylish and you'll keep your logs dry and easily accessible.
Some families are swinging families. They just need to rock when they're sitting and relaxing. Hang two swings on your back porch, facing each other, and you'll create a space that your kids won't mind hanging out in with you.
Some back porches don't have as much privacy as you might like. Luckily there are ways to gain more that aren't as expensive as a new property fence. Hang some curtains around the edges of your porch. Cheap ones so you don't mind them taking the weather. You'll get a nice living room feel when they're open and you can close them to get the desired privacy.
Speaking of that living room feel, if you really want your covered back porch to feel like a living room, you'll need to bring some indoor accents out. A woven box for some magazines. Patterned throw pillows. A bowl for fruit and snacks. Even a table lamp wouldn't go amiss.
Maybe you aren't really an outdoors fan at all but you'd still like a space to get fresh air in your lungs. Consider taking your covered back porch and screening it in. Suddenly your not so great outdoor space becomes an inviting living area, bug free and beautiful.
Sometimes a back porch is partly covered and partly patio. Don't be hesitant to make the space flow together with seating arrangements and decor. In the end, anyone will be glad to sit on your porch with you, whether their in the sun or the shade.