50 Front Door Flower Pots For A Good First Impression
When you visit someone, whether it's for the first time or not, you get to create an impression about their home as soon as you reach the front door and you knock on the door. It's an impression you create based on what you see around you. It's why it's important to have a beautiful and inviting floor door entrance. For that, there are numerous things you can do.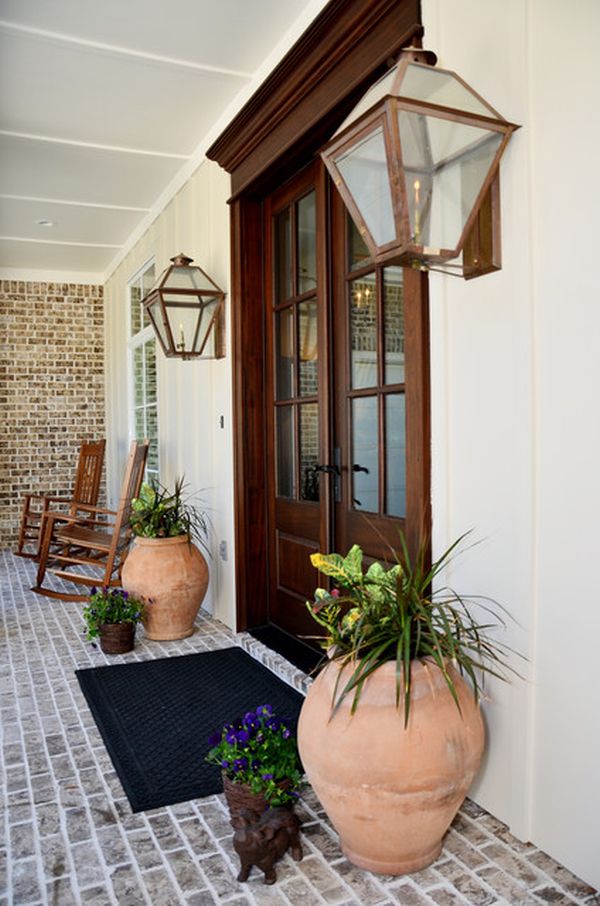 Something very simple and also very beautiful you can do for your front door entrance is to have flower pots. Display them on either side of the door or in its vicinity. If you have a covered porch then it's even better because you get to beautifully display numerous flower pots and they will be protected from rain and harsh weather conditions.
The best plants to use for the front door decor:
Sure, you should take your time choosing the right pots and containers to decorate your front porch or entryway with but it's not just them that matter. The plants themselves should be chosen carefully. Where to even start?
Well, given where these plants will be placed, you should probably choose something that lasts all year-round instead of perennial plants that only look great for a season or two. Also, opting for some heat-tolerant plants is probably a good idea because they'll probably be exposed to a lot of sun, especially during summer. Here are some of your best options:
Yucca
The yucca plant is very versatile and looks beautiful in a lot of different settings and decors. It also combines well with all sorts of other plants in case you want to have a mix rather than just one type of plant per pot. It also has this spiky and sort of architectural shape which helps it look great in modern and contemporary spaces.
Green Mountain boxwood
Unlike other shrubs, the Green Mountain boxwood naturally grown into a sort of pyramid shape and doesn't get too fluffy or round. If you put it in a pot it will also stay fairly small and won't grow to its full height and width. Another thing that makes this such a beautiful plant for entryway and front door pots is the fact that it keeps its beautiful dark green color throughout the winter.
Agave
The agave plant is another one that has this very sculptural and clean look which makes it an excellent choice for minimalistic and modern decors. It's also the type of plant that fills its container and although its leaves look very plump and soft they have very sharp tips so keep this in mind if you have pets or kids that could get hurt touching the plants.
Bamboo
In case you want to add some height to your front porch or if you want something to complement your grand entrance, consider bamboo. It can grow quite tall and it grows super fast compared to other plants which makes it a great option if you want to quickly add some greenery to your outdoor areas in early spring. The bamboo enjoys full sun exposure and needs well-drained soil to thrive.
Solanum
This is a type of shrub that can grow up to 5 ft (150 cm) tall. You can keep it on the patio and enjoy its beautiful clusters of violet flowers. It enjoys sitting in the sun and it also does well in gardens and backyards when it can be grown to create green privacy screens. You can even keep it in your balcony.
Golden creeping Jenny
This is a lovely plant to pair with other taller ones in order to create that full pot sort of look. The golden creeping Jenny cascades over the sizes of the pot and has these lovely coin-shaped leaves that look super cute and blend well with pretty much anything. Although you can expose it to the sun, it prefers partial shade and it loves moist soil.
Inspiration flower pots frond roo decor
You can use two identical flower pots for a symmetrical look and place them one on each side of the door. You can also play with sizes and have pots with the same shape and design but different dimensions arranged in the same area.
You can also have wall-mounted flower pots at the entrance if you'd rather use the floor space for something else. Oversized flower pots are also great, especially if you have a path leading to your front door. You can use them on the side, like a shield that guides you to the entrance. Of course, there are numerous other designs, ideas and combinations you can try so find the one that better suits you and your home.
In addition to being able to mix and match all sorts of flowers, colors and textures when decorating the pots, there are also numerous ways in which the flower pots themselves can be the center of attention. It can be because of their size, odd shape, color or the way they're arranged and displayed. To customize the entrance or any other space, it's also possible to actually make your own flower pots.
Picture sources: 1, 2, 3, 4, 5, 6, 7, 8, 9, 10, 11, 12, 13, 14, 15, 16, 17, 18, 19 and 20.
Some DIY planter and decor ideas:
A simple and authentic planter
Building your own planters is a great way to customize the front door or porch even more. This doesn't have to turn into a super big and complicated project. Keep the design nice and simple. This planter from chalkboardblue has an authentic look which gives it a lot of charm. You can make something similar out of some fence boards.
A planter and sign combo
If you like the idea of having a hanging planter somewhere near your front entrance but there's no roof or beam to hang it from, that's ok because it allows you to craft something like this. This is a plant hanger and sign combo, something that will look pretty and put a smile on your face every time you come home. Check out the tutorial for it on mycrazygoodlife.
Faux topiary
Natural plants can sure look amazing but they do require constant care and attention. If you're worried you're not going to be able to make this happen, try faux plants instead. You could make a really cool display for your front door with some faux topiaries, like the ones featured on oursouthernhomesc. Don't they look cool?
Not just a pretty plant
Since you're set on adding some greenery to your front door or porch area, why not take advantage of that and choose some plants that smell nice and on top of that repel mosquitoes too? Plants such a lavender, rosemary, lemon balm, citronella grass and basil are all great choice in that sense. Check out ourhandcraftedlife for more info on each type.
Repurposed laundry basket
Time to replace your old laundry basket with a new one? Don't toss it out just yet because you could actually repurpose it. Check out this laundry basket planter from elizabethjoandesigns. It looks super nice and it's also really easy to put together. All you need is a bunch of burlap and some rope. You could actually use it as a storage container too.
Burlap-wrapped planters
Similarly to how you'd make the laundry basket planter we mentioned earlier, you can also repurpose any container and make a beautiful planter for your front door or porch. These planters that we found on perfectlydestressed for instance are basically just plastic buckets wrapped in burlap and they look lovely.
Mix and match
There's lots of different ways in which you can decorate your front porch to make it look inviting and beautiful. Outdoor planters are just a part of that. You can mix and match different pots and planters and fill them with all sorts of bushes, evergreens or flowering plants to create an interesting décor that suits you and your home. More inspiration can be found on diydesignfanatic.
Vintage vibes
Sure, brand new pots and planters look nice but sometimes what you need is something with a bit of history. Consider using old wooden crates, reclaimed fence boards and other such things when making outdoor planters or when decorating your front door area. These will add a vintage touch to the décor and will give you that lived-in look. Check out sweetpeasprimitives for more ideas and inspiration.
Plan something festive
When choosing your plants and pots for the front porch consider how this whole area will look throughout the year and any events that you might want to focus on. If you're celebrating the 4th of July then it would be both practical and fun to have some red flowers so you can more easily embrace the red, white and blue theme. Check out seasonalhome to see how that might look like.
A seasonal approach
Rather than opting for an all year round sort of décor perhaps you'd like it more if the décor would change with the seasons. That way you can change the ambiance and try new plants and flowers and new decorations in spring, summer, autumn and winter. Here's a lovely spring front porch design that could inspire you. You can find it on everydayhomeblog.
A simple tapered planter
Even though it's very simple, this wooden planter has plenty of character. The tapered shape gives it a slender allure and the fact that the wood has a natural finish gives it authenticity. You could quite easily make one of these from scratch by following the tutorial on jenwoodhouse. A pair would give your front door a symmetrical aesthetic and would frame it nicely.
Repurposed drawer planter
Instead of crafting a planter from scratch another option is to re-use or re-purpose items and resources that you already have. You never know when inspiration strikes so don't throw out something before you explore a few options. For instance, an old drawer could be turned into a planter or a flower box. Isn't that creative? Check out thescrapshoppeblog to see how it's done.
Tiered planters
If you want to you could also have a bunch of pots and planters, not just one. In case you're worried there's not a lot of space for them, that's ok because you can stack them. Check out this tiered planter from mommyskitchen to get an idea of how something like this might look like.
Bring out a chair
You know what else would look good on our front porch? One of those old rocking chairs or just any old chair for that matter. You could turn it into a sort of stand for flower pots and you could surround it with greenery and flowers. This idea comes from wherethegrassisgreener.
Mix in some seasonal decorations
Whether you opt for plants that last all year long or you switch things up with seasonal plants that's up to you. Regardless of that, you can always mix things up every once in a while by surrounding your front door planters with a few decorations. For instance, in autumn you could display a few pumpkins. Head over to thepaintedchandelierblog for some inspiration.
A variety of colors
Another cool idea is to fill a big planter with both annual and perennial plants. That way it will always look full and beautiful but it won't become boring because it will get transformed as seasons come and go. That also lets you combine a bunch of plants and have a variety of colors. For more details and information head over to mstoodygooshoes.
A vertical display
If you're struggling to find space for all the lovely flower pots and planters that you'd like to frame your front door with, consider a vertical pot holder like the one featured on organizedclutter. You can make something like this out of some reclaimed wood and you can customize it to hold as many pots as you want.