Top mirrored furniture we love
Mirrored furniture has been and still is a bold trend. It's a way of making your décor pop up without using color. Also, mirrored furniture can be very useful in some spaces and can help you save space by eliminating the traditional mirror. You can two pieces in one. Let's take a look at some chic mirrored pieces of furniture that you can integrate in your home without much effort.
1. The Park mirrored dresser – 643.91 e.
With a design inspired by the 19th century Empire furniture, this dresser is wonderful for the bedroom but also for spaces such as the dining room. Its overall dimensions are 40″ wide x 21″ deep x 35″ high and it features a kiln-dried solid hardwood frame. It's mirrored on the front and it also has a practical wooden top. The rest of the dresser has a champagne-gilt finish. The drawers easily glide and have stops to prevent accidental removal. The dresser comes fully assembled.
2. The "Layla" Mirrored Chest – $1,129.00.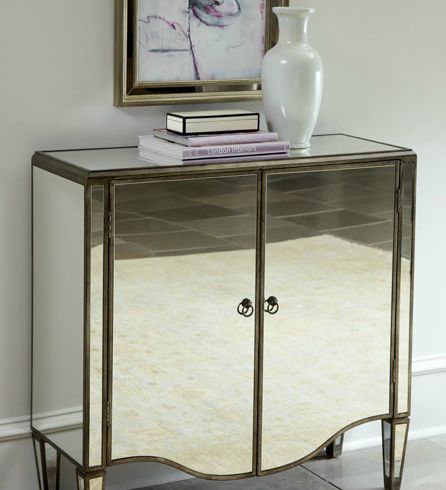 Another great piece of furniture, also mirrored but this time for the dining room is the Layla chest. It can also be easily integrated in the living room if it's a shared space or at the entry. The chest is handcrafted from select hardwoods. It has two doors and one shelf and it's great for storing all sorts of things. The overall dimensions of the chest are 38″W x 14″D x 37″T. It has a dramatic but simple look and it's easy to integrate in a variety of decors.
3. The Park mirrored tower dresser – EUR724.50.
The tower dresser is part of the same collection as the Park mirrored dresser presented earlier. It features the same champagne-gilt trim and it measures 24″ wide x 18″ deep x 53.5″ high. It has a kiln-dried hardwood frame and a mirrored front. The dresser has a total of six drawers, spacious and perfect for storing all sorts of objects and items.
4. The Park mirrored desk – EUR482.73.
And since we started presenting you this collection, let's continue with the Park mirrored desk. It has the same characteristics as the two other pieces from this collection already presented: kiln-dried hardwood frame, mirrored top, sides and drawer front and glided drawers that easily open and close. The desk is a statement piece, with a simple but visually strong design. The overall dimensions of the desk are 48″ wide x 22″ deep x 28″ high. The center drawer is spacious and perfect for office supplies and personal items.
5. The mirrored Loria vanity – $1,129.00.
Chic and stylish, the Loria vanity will bring glamour into your bedroom. It can also be integrated in the dressing room if there is one. The vanity has a lift-top mirror and can be easily folded when not needed. It features a hardwood frame with two doors, two drawers and two adjustable shelves. The overall dimensions of the Loria vanity are 43″W x 16″D x 30″T.
6. The Scrolled upholstered headboard – $3,899.00 – $3,499.00.
The headboard can be mirrored too. It might be interesting to see a fully-mirrored one but until then let's take a look at this one. It has a beautiful shape, with a very chic form. It's made of acacia wood and had finished, even though you can't see that anymore. The headboard is framed in mirrored glass and with silvery wooden accents. It's part of the John-Richard Collection and it comes in two sizes: queen and king.
7. The Demilune Mirrored Chest – $699.00.
The Demilune mirrored chest has four doors with antique silver accents that would add style and glamour to any room of the house. The chest is crafted from engineered wood and Poplar veneer. The side compartments have one fixed shelf and the center has two. The overall dimensions of the chest are 38″w x 18″ d x 32″ h. It's a very chic piece of furniture, very beautiful and also versatile.
8. Mirrored plasma TV cabinet – $3,995.00.
If you decide to hide your TV behind cabinet doors, at least opt for something stylish and eye-catching. This plasma TV cabinet has a very chic design, with mirrored doors and a black lacquer finish. It's a four-panel wall cabinet handcrafted from wood and beveled, mirrored glass with glided resin accents. The overall dimensions of the cabinet are 64″W x 10″D x 51″T; 120″W and it can accommodate 50'' and 60'' TVs.
9. The Toshie mirrored end table – $389.00.
Tables are already great accent pieces for the home. They can be even more eye-catching if you opt for a mirrored model such as this one. Perfect for ay living room décor, the Toshie end table is a handcrafted piece of furniture with beveled-mirror surfaces. It measures 20.5″W x 21″D x 21″T, it's made of pressed wood and glass and if used in pairs of two it can form a great coffee table.
10. The Concerto Nightstand – $399.00.
This stylish nightstand is part of the Concerto collection. It features an innovative mix of materials and a designed inspired by the Hollywood Regency style. It has mirrored drawer fronts and a lacquered finish, as well as a timeless look. The frame and the legs of the nightstand are crafted from solid, kiln-dried birch hardwood with cherry veneers. The drawer fronts have extra thick mirrors that are replaceable and removable. The overall dimensions of the nightstand are 28″W x 22″D x 30″H. The collection includes four more pieces.