How to Select A Tall Kitchen Table That Perfectly Completes Your Home
The table is one of the most common and most versatile furniture pieces and it's only natural to come in a wide variety of shapes, styles and dimensions. There's no single standard height but there are a few well-defined categories. Most dining tables, for example, are 28" to 30" tall. However, if you need a tall kitchen table, consider one that has the same height as the counter or even a bar table.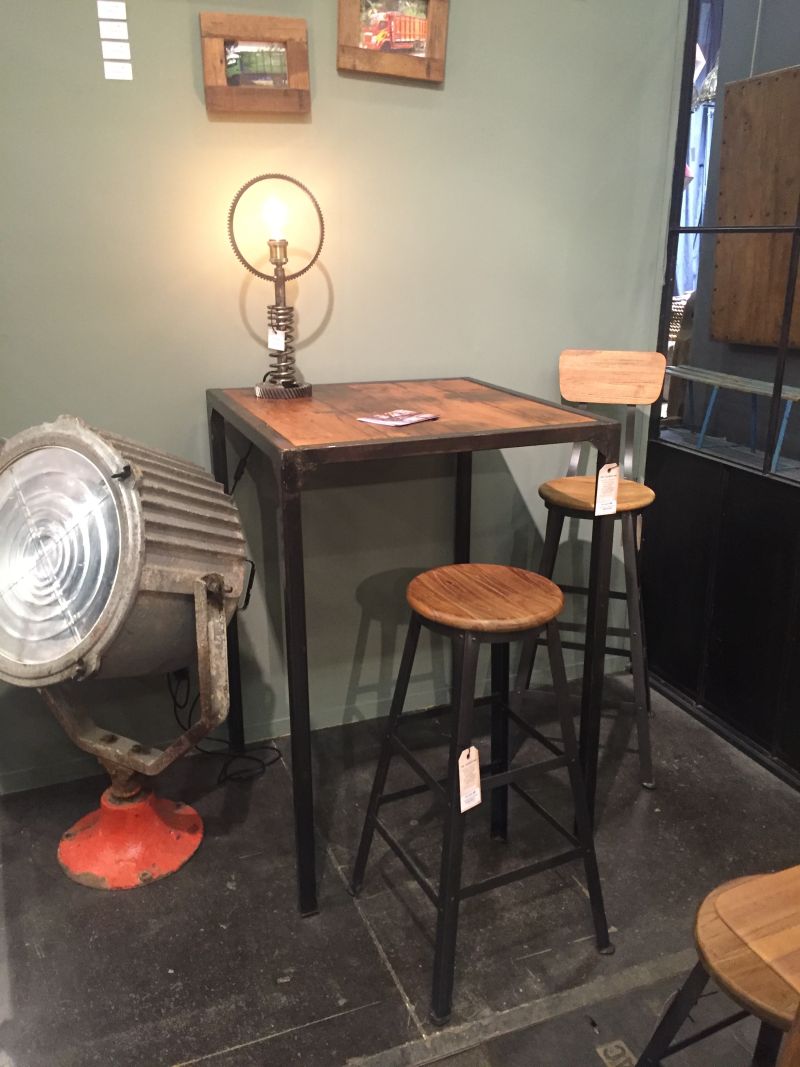 Counter-height tables are usually 36" tall and they're suitable for informal eating areas, for spaces that don't have a separate dining room. They're also great as additional prep surfaces when the counter space is limited or when you occasionally need more than that.
Like with every other piece of furniture, there are a few things that need to be considered before purchasing a table, be it tall, small, round or however else you want it to be. For example, you should start by measuring the room as well as all the furniture that will be included in the room along with it.
It's important to know exactly how big or how small the room is before even looking at the available design options. Also, take into consideration the number of people that will be seated at the table most of the time. Of course, since a tall kitchen table is multifunctional and can also be used as a prep surface or even as a bar, take these functions into consideration as well.
The shape of the table is as important as its height or overall size. Rectangular tables are the most common, being appreciated for their versatility and for the fact that they're the best for large gatherings. Rectangular tables with narrow tops are ideal for long and narrow spaces and they can also fit in areas where no other traditional table would.
However, rectangular tables also take up the most space. This might be an inconvenient in the cases when the room is small, especially considering that kitchen usually include lots of storage, large counters and various other features.
Tall tables, be they small or large, are used in combination with bar stools. Be sure to get chairs with adjustable height if the height of the table is not standard or if you want to make sure everyone is comfortable at all times. If you want the table to also include some storage under its top, then the stools won't fit there and you'll also need to consider the space they occupy even when not needed.
Square tables are interesting in the sense that they're pretty similar to round tables with a few exceptions. They're appreciated for the fact that they create a comfortable ambiance, being suited for intimate conversations. However, if the table needs to accommodate more than four people, at this point you should consider an expandable design or one with a rectangular top.
Round tables are in general considered very cozy because they allow everyone to see the others without any effort. Still, they're not the best for small spaces because they don't really make the most of the room, leaving unused areas. They are also not suited for large numbers of people. But if all you want is a small table which you can use in combination with a couple of bar stools in your kitchen, it should all be fine.
The usual table for four needs to have a diameter of 36" to 44". However, if you plan on using it with one or two bar stools most of the time or to place it in a corner or against a wall, you can decrease the size to make it more practical for the kitchen.
Here's an interesting thought: a table with adjustable height. It can prove to be a very useful feature in the kitchen. You could lower the top and use it as a regular dining table or increase the height to bring it to the countertop level. You can even make the table even taller and use it as a bar if you prefer a more casual and informal ambiance.
As mentioned before, you might find that a table with a long and narrow top is a more suitable option for the kitchen than a standard table. It's all about space-efficiency. It would be ideal to have the table custom made to exactly fit the space you have in mind for it. You could even consider building the table yourself out of some reclaimed wood or some pallet boards as long as you enjoy the rustic look.
A tall kitchen table with a narrow top can be similar to a console. You could place it against a wall as use it as an informal breakfast nook. This one has a matching bar stool which is a stylish detail although it's possible to create a variety of interesting options and combinations of styles and designs.
Because it measures only 30'' across, the Tyrese table is a lovely choice for small kitchens and other similar spaces. It has a slender and simple design with a round top made of engineered wood and oak veneers and a base with four thin metal legs and two X-shaped crossbars. The tripod-inspired base design adds a nice detail to the overall shape of the table.
The Julien counter-height table also has a circular top but the base is in this case designed with four straight legs and a single X-shaped crossbar on the lower section for added support. The top is made os solid pinewood with a natural brown finish and the base is made of metal which allows it to be strong and durable but also nice and slender. The table measures 30'' across and can sit between 2 to 4 people, depending on how you use it.
In case you want a bit larger top but you still don't want the table to be big and bulky, consider a design such as this one. The Alyssa table is 47'' long and has a simple and clean design that would look amazing in any modern or contemporary kitchen. It's a counter-height dining table which also makes it ideal for breakfast nooks and it has a rectangular top made of engineered wood available with several different finishes.
The Kade table also has a really simple design and it also features a nice industrial vibe that helps it stand out a bit more without being overpowering. This lovely pub table has a square-shaped top measuring 32'', small enough to fit in most kitchens and breakfast nook areas. The top is made of engineered wood and has a natural brown finish. It's supported by four straight legs with an X-shaped crossbar which are made of steel and have a matte finish.
There are also some really sleek and elegant table designs to choose from if you want something a bit more delicate and refined yet still simple and versatile. The Jocelyn table is one of them. It's a beautiful pedestal table made of metal and it has a slim and graceful silhouette that seamlessly connects the circular base and the square top. The engineered wood top measures 27.5'' which is not a lot but enough for two people to enjoy some drinks or even a snack on.
The Esme pub table has a really interesting design. The base is nice and simple, with clean and straight lines and four tubular legs made of metal connected by bars on each side. The top is made of wood and has an unusual shape, being oval on one side and straight on the other. This allows the table to be placed against a wall and used as a small bar of sorts.
Small pub tables with square-shaped tops are generally very versatile and make nice additions to kitchens of all kinds. The Severine table featured here also has a clean and simple design which increases its versatility even more. You can add it to a modern or contemporary kitchen and it can also look really nice in a more industrial or rustic setting as well. It measures 42''H x 30''L x 30''W and has our straight legs made of metal which support a square wooden top with a dark brown finish.
There are obviously many different variations of small and tall kitchen tables which is great because it means you have more chances of finding one that perfectly suits your décor. The Dallin table has a mid-century modern design with industrial influences. It combines and a smalls square-shaped wooden top with a metal base made of galvanized steel.
If you want something that looks a bit more like a bar rather than a regular table, consider something like this. This is the Braiden table which has a hybrid design. It's a combination between a bar and a dining table, featuring a C-shaped frame made from engineered wood complemented by a glossy metal pillar on one side. The symmetrical design gives it a chic and modern look and the top is 47'' long which is enough for all sorts of activities. There are also two glass shelves for storage which is super convenient.
The Regina table also has a bar-inspired design. It's tall, long and slender and has a simple and elegant design which would fit beautifully in any kitchen or in a small dining room. It's wide enough for two people to sit comfortable side by side. The table is made from solid and engineered wood with a rich walnut finish and has a rectangular top supported by four flared legs with a crossbar that you can rest your feet on.
Of course, something very basic without any extra features or design details is sometimes best if you don't want to draw much attention to the table or to that particular section of the room. This design seems like a perfect example. This is a lovely tall table with a square-shaped top and four straight legs. It's made of solid wood with a rich walnut finish and it measures 33.86'' x 33.86'' x 38.98'' in total.
You might also want to consider a furniture set that includes both a table and a couple of suitable chairs for it. This right here is a nice example. This 3-piece set from the Linon Tavern Collection includes a rectangular bar-style table and two matching stools. They're made of wood with an espresso finish. The table has a faux stone paper-wrapped top and the stools have padded seats with black vinyl upholstery.
Here's another gorgeous set, this time with a more modern and chic design better suited for contemporary kitchens. It includes a table and two stools and it features some interesting material choices. The table has a faux marble rectangular top and a metal base with a brass finish. The stools have matching bases with built-in footrests and padded white seats. Another nice detail about this set is the fact that the table has three storage shelves which are very convenient and practical.
On a similar note, this is a lovely table for two that's both very compact and very practical thanks to the built-in storage shelves on one side. This actually comes as a set complete with two chairs that fit perfectly underneath the table when they're not needed allowing to save a bit of space. The table has an engineered wood top which is water-resistant, a set of shelves and a solid metal frame. The chairs have matching metal bases, padded black seats and curved backrests for added support.