The Restaurant and Bar Design Awards Reach The 8th Edition
For those not familiar with this event, the Restaurant and Bar Design Awards is an internationally-recognized competition, obviously dedicated to the design of bars and restaurants. The competition attracts famous architects from all over the world, having more than 500 entries in the past seven years. Now the event reached its 8th celebration and was held at the Old Truman Brewery in London on the 29th of September 2016. Here are some of the most notable results.
Best Overall Winners
Blue Wave – best overall bar
The winner of the Best Overall Bar award this year was the Blue Wave designed by the architects at El Equipo Creativo. The bar is located in Barcelona, Spain. The concept here was to create an authentic and intriguing marine décor by using as inspiration the image of a wave about to break. The bar's proximity to water and strategic orientation are crucial for its success.
German Gymnasium – best overall restaurant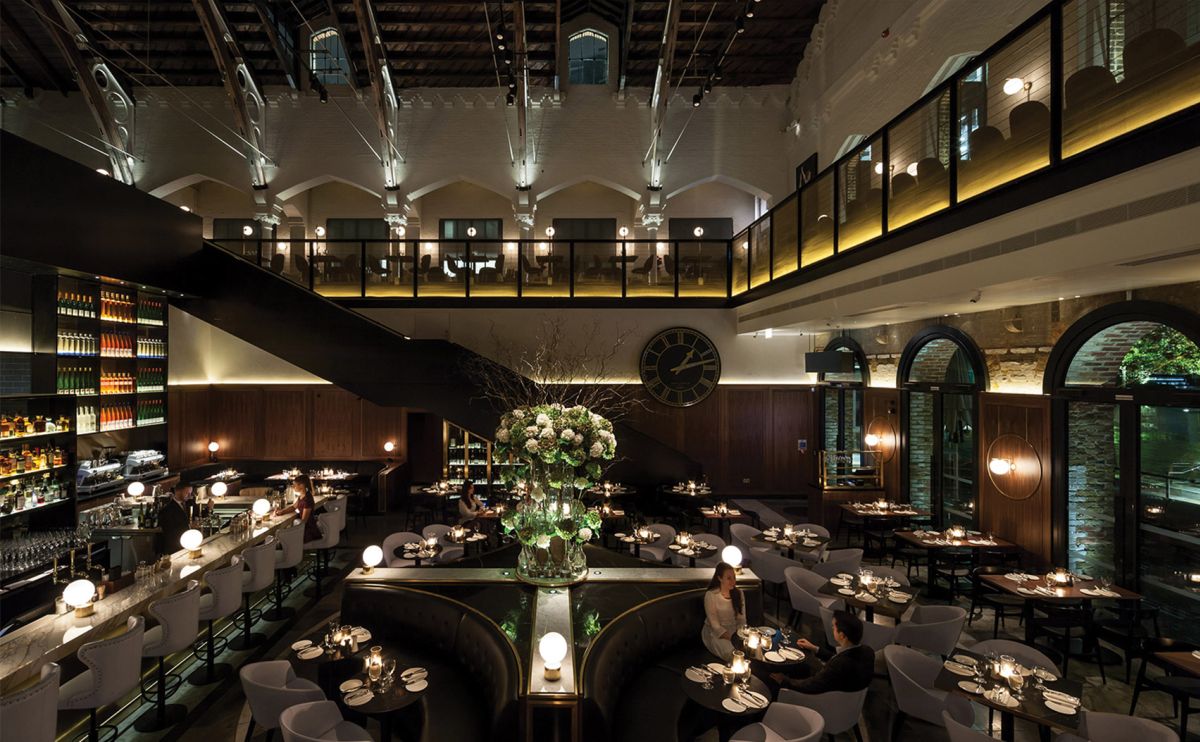 When Conran & Partners was commissioned to redesign the German Gymnasium they immediately knew that the approach had to be a unique one capable of celebrating the building's history as well as make it look forward to the future in an exciting way. The building was originally constructed in 1864 in London for the German Gymnastic Society and a lot of the original architecture and design features were preserved and integrated into the new design along with contemporary additions.
Best UK Winners
Vagabond Wines by Finch Interiors– best UK bar
The main idea behind the design of this venue was to find the middle ground between a traditional enoteca and a contemporary London bar. Finch Interiors managed to find this balance and to make it materialize into a beautiful design. At the Vagabonds Wines you can find a large variety of specially selected wines you can either enjoy at the location or take home. It has a very hip and funky look combined with old and vintage elements.
UK category winners
Archive by Haptic Architects – best restaurant or bar in a retail space
Located in Ramsgate, UK, the Archive is a lifestyle store designed by Haptic Architects. It occupies a section of a double-story Victorian arch and the interior design is defined by strong Scandinavian influences. Inside the arch you can find a series of pitched-roof structures made of birch plywood. These house functions such as the children's play space and the bathrooms. The furniture was all locally-crafted and detailed by the designers.
Craft London by Design Research Studio – best London bar
Craft London is the result of the collaboration between Stevie Perle and Tom Dixon from Design Research Studio. It's a hybrid place: a restaurant, cafe, cocktail bar and shop all in one place. Here you can find all sorts of goods created using almost exclusively British produce from farmers. The dedication for local goods is also visible in the interior design which is a combination of Scottish tweed, British limestone and London-designed furniture and lighting fixtures.
The Handmade Burger Co. by Brown Studio – best restaurant in a transport space
Best known for their burger place in the Birmingham Grand Central station, the Handmade Burger Co. is a special eatery designed with reclaimed materials and lots of unusual elements. The project was developed by Brown Studio and the goal was to make the project as cost-efficient as possible while making sure that the design defines the location. As a result, the designers chose an industrial look.
Iberica by Lazaro Rosa Violan Studio – best London restaurant
Located in Victoria, London, just minutes away from the train station, the Iberica restaurant can be found on the first and ground floors of the Zig Zag building. It's a restaurant that celebrates Spanish gastronomy and serves dishes made with imported artisan produce and exclusive Spanish wines. The design was created by architect Lazaro Rosa Violan. The restaurant also has its own bar and terrace.
Nando's Harrogate by STAC Architecture – Fast/ Casual category winner
Nando's occupies a 1960's building on Parliament Street in London. It was designed by STAC Architecture, a studio that focused on giving it a polished industrial look with warm timber accents. The result was a hybrid design, not exactly rough but not too fancy either. The restaurant has earth-colored walls, wooden tables and custom-designed light fixtures that add a pop of color to the space.
Nando's Old Street by Moreno Masey – Multiple Restaurant award winner
On Old Street in London you can find another Nando's restaurant. This one was a project by Moreno Masey and this time the interior design is rich and colorful throughout. The walls and ceiling feature a unique display of chevron lines similar to vintage parquet floors and the floor is tiled with a honeycomb pattern. A bright touch of color comes from the red leather seats.
No. 1 Duke St. by Box 9 Design & Red Deer Architects – best pub
The award for best pub in the UK went to No. 1 Duke Street, an independent neighborhood bar and restaurant with a very friendly and fresh interior. Decorated in a contemporary style by Box 9 Design & Red Deer Architects, the pub is the perfect place to go if you want to relax while enjoying a drink and maybe also something delicious to eat, welcoming you with its light-colored walls, simple tables and comfortable seats.
Tattu by Edwin Pickett – best standalone restaurant
As the name suggests, Tattu is a restaurant with a design inspired by body art and its history and meticulous detail. Located in the Manchester district in the UK, the restaurant features a contemporary design based on the original concept developed by the owner in collaboration with designer Edwin Pickett. It delivers Chinese cuisine and it's organized in three zones, one being the dining area on the first floor, another being the bar on the ground level and then the Parlour which is a private zone.
The Printing Press by Goddard Littlefair – best restaurant and bar in a hotel
The Printing Press is a bar and restaurant combo that's part of the George Hotel in Edinburgh, UK. It was designed by Goddard Littlefair and it can accommodate a maximum of 92 people. The interior is defined by materials such as oak wood, brass, ceramics, leather, velvet, glass and marble, an unusual and rich combination.
The Refinery by Fusion Design and Architecture – best standalone bar
You can find The Refinery at Reagent's Place in London. It's the perfect destination for visitors and locals alike. Here you can enjoy a bar, restaurant and al-fresco terrace developed by Fusion Design and Architecture. They used simple materials and finishes, wanting to give the place an authentic and inviting look free of unnecessary glamor.
Windwood Kitchen by Design Command – best restaurant in another space
Just minutes away from the Clayton Square Shopping Centre you can find Wildwood Kitchen, a contemporary restaurant and bar housed in a former shopping center. The entrance is 16 meters high and leads to a space where all sorts of custom treats and fresh salads are serves. The rest of the restaurant is designed with a similarly casual and trendy feel. This was a project by Design Command.
UK & International Category Winners
Dacong's Noodle House by Swimming Pool Studio – best ceiling
When designing Dacong's Noodle House in Shanghai, Swimming Pool Studio was driven by the desire to create a modern space with traditional features. The designers focused most of their attention of the ceiling, wanting to make it stand out. They started from the simple cube shape and used it to construct a complex and eye-catching installation made of wood. The result was this 3D design complemented by low tables and benches and all sorts of themed wall decorations.
El Moro by Cadena + Asociados Concept Design – best identity
When decorating a space such as El Moro which offers the best hot chocolate and churros in Mexico since 1935, it's important to understand what makes that place special and to capture its unique identity in the design. It's what Cadena + Asociados did in this case, focusing first on understanding the history of the brand in order to translate it into a unique décor defined by classic wall tiles, stained glass windows and an overall graphic and simplistic look.
Flash by MODE – best nightclub
Finding a memorable nightclub can be a real challenge. If an interesting and glamorous interior design is on your list of priorities, then you must visit the Flash club. It's located in Bansko, Bulgaria and it opened in 2015. The design was developed by Studio MODE and the result is indeed impressive. Featuring a dark color theme, the club has an opulent but also inviting interior organized into cozy and airy lounge areas.
Generator by DesignAgency – best colour
In 2015 Generator Paris was opened in the 10th arrondissement. It occupies an 8-story office building constructed in 1985 which was transformed by Studio d'Architecture Ory & Associes in collaboration with DesignAgency. As all the other Generator hostels, this one offers affordable accommodations in a prime location, being defined by vibrant colors and a very homey décor. The Parisian hostel can accommodate up to 916 guests in shared, twin and penthouse rooms. This makes this structure the largest Generator property to date.
Kino by Stonehill & Taylor – best pop-up
The winner of the best pop-up award this year was Kino, a space designed by Stonehill & Taylor, a studio established in 1986 in New York and it utilizes a collaborative approach, always trying to come up with new and innovative design ideas for every project. It takes on a variety of different projects, from luxury hotels to prototype designs
Kitty Burns by Biasol Design Studio – best café
The Kitty Burns café is located in Abbotsford, Australia. It was designed here by Biasol Studio in 2015 and it occupies an area of 360 square meters. You can find it below Melbourne's iconic Skipping Girl and it has a very playful and fresh design. The 6 meter high ceiling lets in a lot of natural light giving the space a very open and fresh feel but not taking away its welcoming and cohesive appeal.
Taiyo by Maurizio Lai – best lighting
Taiyo is a sushi restaurant located in Milan, Italy. Designed by Maurizio Lai and its most notable feature is the lighting. The space is organized into a large central area and two other rooms. The ceiling is decorated with a geometric installation and the walls are covered with a combination of glass, metal and wood. The lighting installations have a very graphic and artistic look, being designed to serve both as artificial light sources and décor elements.
La Bona Sort by Jordi Ginabreda Studio – best surface interior
Tapa's La Bona Sort restaurant occupies ann old house originally built in the 16th century. It can be found in Barcelona, Spain and it has a large courtyard, an attic and stables, just like the traditional Catalan hostels. The interior design was a project by Jordi Ginabreda Studio. The team was in charge of updating the design as well as the courtyard. The restaurant occupies the former stables and extends into the courtyard, featuring a large, partially-covered terrace.
Thaikhrun by JMDA – best street food
The best way to describe Thaikrun is as a casual dining experience that transfers the authenticity of Thai cuisine and culture into other locations around the globe. This is what literary defines them since their name is a combination between the word Thai and Khun which means "your". Basically Thaikrun is your Thailand. It celebrates street food and its authenticity. The winning design was a project by JMDA.
Torchy's Tacos by Chioco Design – best outdoor restaurant
When Chioco Design was commissioned to create Torchy's Tacos new flagship restaurant, the team knew they had to find a way to celebrate the location and the history of the brand while also respecting the standards and requirements of a modern restaurant. They imagined the restaurant as being opened to the surroundings. A series of bright red columns support the roof which featured skylights. The design is very accessible, making the restaurant feel very inviting. You can find it in Austin, Texas.
International category winners
Foxglove by NC Design & Architecture – best bar in Asia
Nobody would suspect that behind a simple umbrella shop you could find an amazing bar but that's actually the story behind Fixglove. The bar was designed by NC Design & Architecture and is disguised as an umbrella shop. You can access it via a secret doorway at the back of the shop. The idea was to make the guests feel like part of a secret society like the ones said to have existed in Britain. It's a fantasy world inspired by the adventures of an English gentleman. To access the bar one must touch a specific umbrella handle.
Jo Grilled Food by WhiteRhino Design Group – best restaurant in the Middle East & Africa
You can find this unusual restaurant in Tehran, Iran. It doesn't look like much from the outside although it does have a certain mysterious and hip look. Enter to find an industrial décor with tough wall finishes, exposed ceiling beams, wrought iron light fixtures, wooden tables with metal frames and matching chairs. It's a design created by WhiteRhino Design Group.
Kat & Theo by Aviva Collective – best bar in the Americas
The ambiance inside the Kar & Theo restaurant and bar in New York is a very special one. Aviva Collective designed the space using reclaimed materials inspired by Southern Europe, wanting to give the space an eclectic look that puts together the old and new worlds. It has reclaimed oak floors, exposed brick walls, industrial chandeliers and blackened steel trusses and the lounge areas are very inviting, featuring leather seats and wooden tables.
Les Bains by RDAI – best restaurant in Europe
Originally built to serve as a private bath house in 1885. It become popular in the 1970s when it was transformed into a gathering place for celebrities and fashion models, being frequented by artists like David Bowie, Andy Warhol or Mick Jagger. In 2010 the building was declared unsafe but one year later a redevelopment project was launched and the a new version of Les Bains with a club and restaurant can now be enjoyed. It was a project by RDAI.
News Cafe by Studio A – best bar in Middle East & Africa
The first New Cafe was opened two decades ago and this year the location in Johannesburg received the award for the best bar in the Middle East and Africa. Here you're greeted by a homey atmosphere in a space designed by Studio A. The décor is contemporary and vibrant but not without character or warmth and charm. The secret to their success is the ability to offer a unique vibe that makes people come back for more.
Pink Moon Saloon by Sans-Arc Studio – best bar in Australia & the Pacific
Tucked into an alleyway in Adelaide, Australia, the Pink Moon Saloon sits in between two office buildings on a plot that measures a mere 3.66 x 28 meters. Inside this small space the architects at Sans-Arc Studio managed to fit a bar with a kitchen and an outdoor courtyard. The interior has timber clad walls and a pitched roof with visible beams. There's a lot of wood in here and this makes the bar feel really warm and welcoming.
Shugaa by Party/Space/Design – best restaurant in Asia
If you're ever in the mood for some delicious sweets while visiting Bangkok you must definitely visit Shugaa, a restaurant created by party/space/design. The inspiration for the interior design of this unique dessert place is sugar. The hanging installation at the front of the restaurant is inspired by the structure of sugar crystals. Inside the décor is defined by a pleasant combination of light wood and mint green.
So 9 by Brandworks – best restaurant in Australia & Pacific
The number 9 is considered lucky in Vietnamese culture and this restaurant is named after it. So 9 is located in Waterloo, Sydney and is a minimalistic and contemporary setting that serves authentic vietnamese street food. Inside there are various cooking stations strategically designed for the preparation of specific dishes, giving the restaurant a dynamic and exciting feel. So 9 was designed by BrandWorks.
Torafuku by Scott & Scott Architects – the best restaurant in the Americas
Scott & Scott Architects were in charge of the design for a place called Torafuku, a modern Asian restaurant located in Vancouver, Canada. It's a small restaurant which only seats 48 people. Here you can enjoy modern versions of traditional Asian dishes made with locally-sources ingredients. The building of which the restaurant is a part of was originally built in the 1900s.