Top 10 Best Resorts From Thailand
If you're undecided about where to spend your next vacation or where to go for your honeymoon, Thailand is a great option. It's a very beautiful place with lots of attractions and it has lots of wonderful resorts. In fact, we've made a top with the most beautiful resorts found here and we hope you'll find here your favorite.
Six Senses Soneva Kiri Resort.
This is the Six Senses Soneva Kiri Resort. It's surrounded by the Thai jungle and it's the perfect destination if you want to escape from everything, from the busy city and to just relax for a few days. Located in the heart of Thailand, this resort can be found on a remote island called Koh Kood. You can reach the resort via speedboat or cargo plane. But even though it might seem like a remote destination, far away from civilization, you can be sure you'll find here a luxurious hotel.
The hotel features state-of-the-art entertainment systems and appliances and it offers beautiful rooms and a variety of other attractions. For example, the guests can visit the ice-scream store or the chocolate cellar. You can stay in a jungle hut, all of which feature sustainable designs. They huts are surrounded by nature and they are all very charming and relaxing.
You can rent them for prices between $500 and $2.500. This resort is definitely a dreamy vacation destination but it can also be looked at as a wonderful romantic getaway location. It's a great place for relaxation and for exploring nature and its beauty.
Six Senses Hua Hin Resort.
Another great resort found in Thailand is the Six Senses Hua Hin. Located just south of Hua Hin on the coast of the Gulf of Siam, this resort is just gorgeous. Its history goes way back. It all started in the 1920s when King Rama the 7th built a royal palace. Then this place became a popular resort. It is actually the oldest beach resort in Thailand and it can be found 30 minutes by flight away from Bangkok. The gorgeous resort offers 55 luxury villas. It each has its own private pool as well as an enclosed garden.
Situated close to the beach, this resort benefits from a wonderful location. Its guests can enjoy wonderful views and they can also have a great time right there inside the resort.
The Beach Restaurant features spectacular views of the ocean and they offer organic Thai dishes as well as international meals. Overlooking the lotus ponds, the restaurant is also a very romantic place. This makes the resort a great honeymoon destination. It's also a great place for family vacations as it offers a professionally managed kids' club. This allows you to relax while your kids have a wonderful time playing and having fun.
Silavadee Pool Spa Resort.
The Silavadee Pool Spa Resort is definitely a wonderful destination. Located on the eastern coast of Koh Samui and just 15 minutes away from the Samui Airport, this place is surrounded by rocky landscape and can be found in a stunning bay. It's a very peaceful, quiet and serene destination and it's where you want to go to unwind and to leave all your problems behind. It's probably not a best idea to come here in a family vacation unless you really love spending time with your family. It is, however, a perfect honeymoon destination.
The resort benefits from a private location and it offers amazing views. It's a wonderful combination, one that most people appreciate when it comes to choosing the location for their vacation.
The resort's hotel is located on a hill and it's overlooking the Gulf of Siam. It offers a total of 36 rooms and 19 villas. They have private pools and views over the sea and the spectacular surrounding landscape. Beyond the rocky borders of the resort is the lush jungle so there's nothing that can disturb your stay there. You can be sure that you'll be able to relax and to have a wonderful time here.
Six Senses Yao Noi Resort.
This is the Six Senses Yao Noi Resort. It's an island resort and it's a wonderful and pure representation of what Thailand has to offer. Located on the island of Yao Noi, this resort is an hour boat-rise away from the airport. The transportation services are offered by the hotel so all you have to do is get a flight to Thailand and let them take care of the rest. The island is also part of the Phang Nga Bay which has huge limestone walls that provide spectacular views.
The guests can choose to stay in one of the 56 accommodations. These are stand-alone buildings, all with beautiful designs and decors. They are bright and luxurious and, in addition, they each have their own infinity pool. You can relax and admire the amazing views without even going outside the resort. Of course, the guests can also enjoy a variety of other activities.
They can take cooking classes and learn the secrets of Thai cuisine or they can play golf on the nearby golf course. Also, there's a short helicopter trip they can take. And after a long day of activities, they can just relax at the spa and enjoy Thai massages and all sorts of other treatments.
Sarojin Beach Resort in Khao Lak.
The Sarojin is another remarkable resort, this time located deep within the Phang Nga province in the beautiful Thailand. It's a beach resort situated just an hours' drive away from the International Airport of Phuket in Khao Lak. The resort offers a total of 55 wonderful residence and its guests can also enjoy the spa and the gourmet cuisine which are definitely worth trying.
Each of the 55 guest residences offers state-of-the-art accommodation and huge numbers of tourists come here every year just to enjoy the spectacular views and the exquisite services offered by the resort. The residences are built and designed to be in perfect harmony with the surroundings and the environment.
Nevertheless, they are all modern and lavish. Each has a couple's bath as well as a plunge pool, a relaxation pool and a sundeck. Also, the guest can relax outdoors while admiring the beautiful private gardens. They can also take a walk on the white sandy beaches. The local lotus pond is another great attraction, especially when the sunlight reflects off its surface and creates splendid visual effects. The resort is a wonderful getaway for everyone who seeks relaxation and tranquility.
Anantara Rasananda Koh Phangan.
Another very beautiful Thai resort is the Anantara Rasananda Koh Phangan Villa Resort & Spa. Located just 15-20 minutes away from the Koh Samui International Airport, this resort features a very beautiful and exotic look. It offers exquisite services and the guests are welcomes here with a cozy and inviting atmosphere. The palm trees reflect the beauty of this exotic location. The resort can be reached via speedboat in which case the service is provided by the resort or via private transfer.
The resort offers its guests a range of traditional Thai villas. There are 44 villas and suites in total. They each have airy and stylish interiors and huge bathrooms. They are also equipped with state of the art amenities and they each have private plunge pools. The guests can relax here and they can attend the local Yoga classes or they can visit the Signature Spa. They can also relax in the infinity swimming pool white admire the breathtaking views or they can take strips on the Ocean Cruise.
A range of water sports and diving services are also available for those seek a more adventurous experience. Those that would rather take a peek at the Thai traditional and culture can visit the poolside and beachfront restaurants as well as the wine cellar.
Four Seasons Resort.
This is the Four Seasons Resort and it's located on the beautiful island of Koh Samui. The island is surrounded by the water of the Gulf of Siam and features beautiful beaches and spectacular vegetation. The resort can be found on the northeastern tip of the island and it's just five minute drive away from Nathom, the main city in this area and 30 minutes away from the airport. The views here are splendid. The azure waters are just amazing and then admiring the sea and the beach with all the palm trees seems like a dream come true.
Situated at an altitude of 350 feet, the resort has the perfect spot that allows it to provide panoramic views. The guests can stay in villas that have been built into the high terrain of the hillside. They are all overlooking the ocean and they are spread until the maximum altitude. Up there you can also find the Lan Tania rooftop restaurant which appears to be floating above the tree tops.
The resort's guests can enjoy a variety of activities during their stay. For example, they can go on excursions or they can go snorkeling or boxing with world-champions. They can also embark on daily cruises or they can play tennis and other outdoor sports.
Chiva-Som Resort in Hua HIn.
The Chiva-Som Resort is another one of Thailand most beautiful tourist attractions. This resort is the perfect place to go if what you seek is tranquility and relaxation. It's a wonderful destination for those that seek privacy and this makes it a great honeymoon destination as well. Situated within a very peaceful and serene region, the resort is surrounded by lush tropical gardens. It's located 3 hour drive away from Bangkok.
The Chiva-Som Resort is guaranteed to restore your senses and to revitalize you so there's no better place to go to than this. As a guest, you'll be able to visit the state of the art spa and the resort's health facilities where you'll be able to experience individual treatment techniques and personalized recipes.
Also, the resort's guests are constantly encouraged to adopt a healthier and happier lifestyle so you'll also be taking home with you a variety of great experiences and advice. The services here are focused on offering individual treatments and on treating each guest as an individual. Each guest has strictly chosen menus and their meals are prepared by a team of international and Thai master chefs using ingredients grown in the resort's organic garden.
Pimalai Resort in Koh Lanta.
There are many spectacular resorts here in Thailand and, as you can see, each one is unique. The Pimalai Resort is yet another wonderful destination. It's a luxury resort situated away from the crowded beaches and boutique resorts. It's where you want to go if you want privacy and if what you want to reach a tranquil, serene and relaxing state. The resort is located an hour drive from Koh Lanta and it's accessible by boat.
The exclusive resort offers 5 star accommodations as well as breathtaking views and surroundings. It's a very quiet resort where the guests are encouraged to relax and to forget about anything that's stressful. Here, all you can hear is the water and the waves which is very relaxing.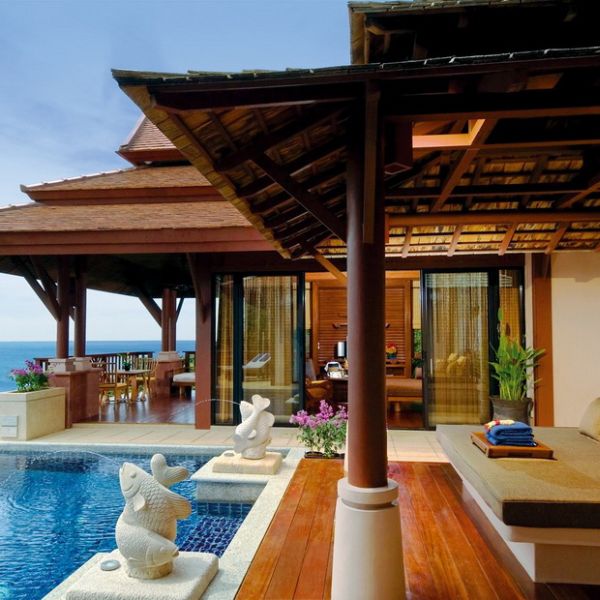 Situated within the lush tropical forest, this luxury resort is far away from everything. It occupies an area of 100 acres of tropical vegetation and it has direct access to a 900 meter sandy beach. The resort offers its guests 121 modern accommodation units and they can choose from the deluxe, the bay front deluxe or the pavilion suites. Also, beach villas and pool villas are available, all hidden in this beautiful landscape.
Rayavadee Resort.
This is the exclusive Rayavadee resort, located on the edge of Krabi's National Marine Park. It's surrounded by wonderful landscape that features limestone cliffs, white sandy beaches and the emerald waters of the sea. The resort impresses with award-winning architecture but also with the inviting and cozy atmosphere. Inspired by the atmosphere of a southern Thai Village, this luxury resort offers its guests two-story pavilions and beachfront villas that are spread over 26 acres of land.
There's a total of 98 two-story pavilions and 4 luxurious villas and they are all surrounded by lush tropical gardens and coconut groves. The deluxe pavilions are fully-equipped and they feature tropical decors, polished wood floors, brightly-colored fabrics and lots of handcrafted accent details.
They also have outdoor terraces with seating from where the guests can admire the beautiful views. As a guest, you can enjoy a range of activities that include a picnic on the beach, excursions to the most interesting sites in the area, half-a-day trips, snorkeling, wind surfing or activities at the Water Sports Centre. You can also attend the Thai cooking classes and learn how to prepare delicious meals for your loved ones. It's a wonderful destination for a family vacation.